Dill Pickle Egg Salad is the best creamy egg salad absolutely bursting with crunchy pieces of dill pickle with an extra burst of fresh dill. I made it with hard-boiled eggs that had spent the night in a jar of saved pickle brine for next level pickle lover happiness, but it can easily be made with freshly made hard-boiled eggs, too.
I have loved dill pickles my whole life. Did I always love egg salad? Not so much.
In fact, I thought I didn't like it until one day when my dear mother-in-law served up an egg and olive sandwich to me while I was pregnant with my first son. I took the first bite because I wanted to be a good daughter-in-law.
I took all of the rest of the bites of that sandwich and then ate an entire second sandwich because it was delicious. Then I made sure I showed up at my mother-in-law's kitchen at lunch time whenever I could for the duration of the pregnancy.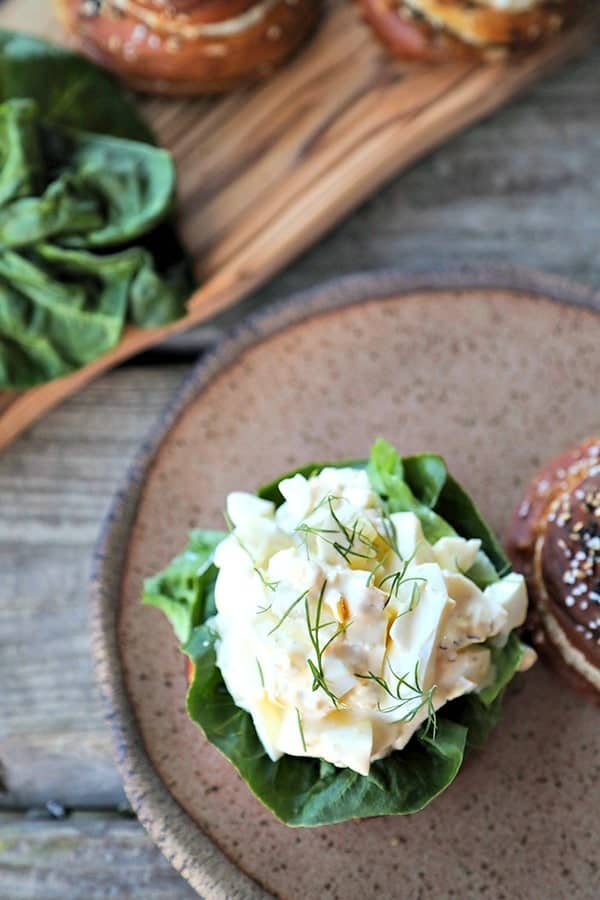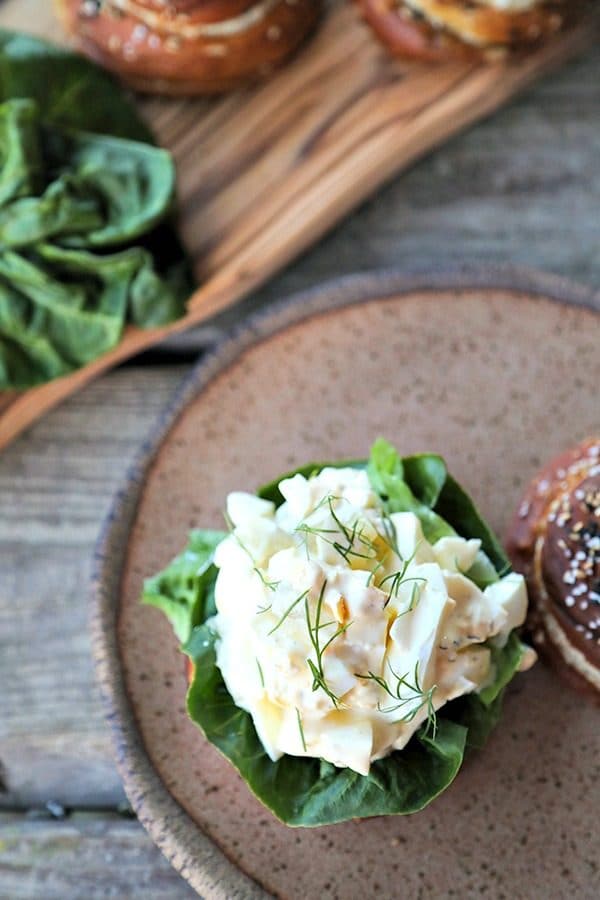 Bless her, Dolores made heroic quantities of egg and olive salad for me.
I analyzed what made it so very good to me and it realized it was the briny pop of the olive paired with the creamy, soft egg salad. From there, it was just a matter of time before this life-long pickle maniac subbed in the best dill pickles for the olives.
It doesn't stop there, though. Me being me, I had to go through roughly infinite combinations before I settled on what I am happy calling the best Dill Pickle Egg Salad. There are a couple of things that make this particular dill pickle egg salad recipe extra-special.
Forget the mayonnaise and grab the dill dip. Dill dip gives your egg salad recipe all the creaminess of mayonnaise but adds bonus dill flavour and depth.
Give your hard boiled eggs a little bath in pickle juice. If you think ahead, just plunk your peeled, hard-boiled eggs into a jar of pickle juice from which you've either eaten or taken the pickles.
As little as 8 hours can add a fantastic dill dimension to your egg salad, but you can let the eggs sit in there for up to two weeks. Bonus: Pickled eggs make a great addition to dinner salads, too.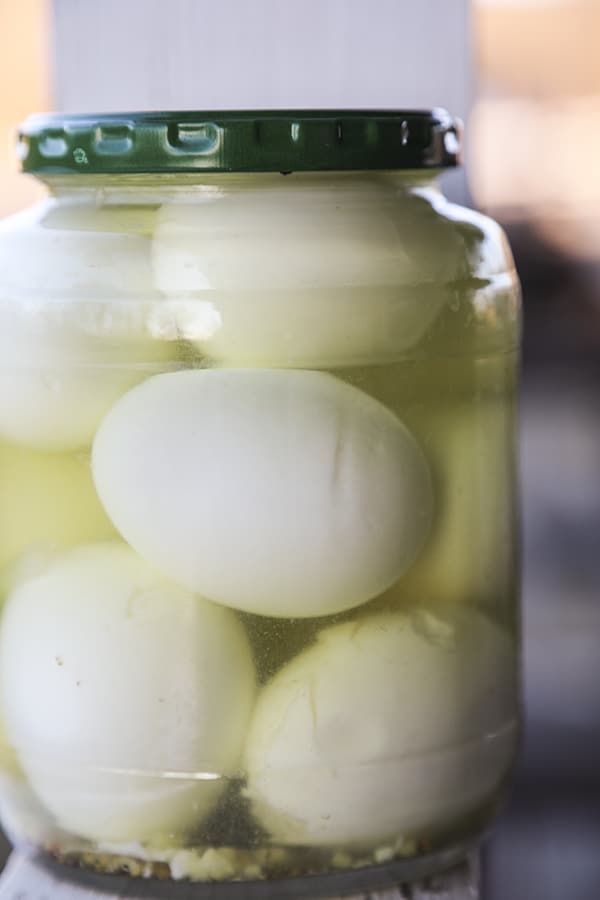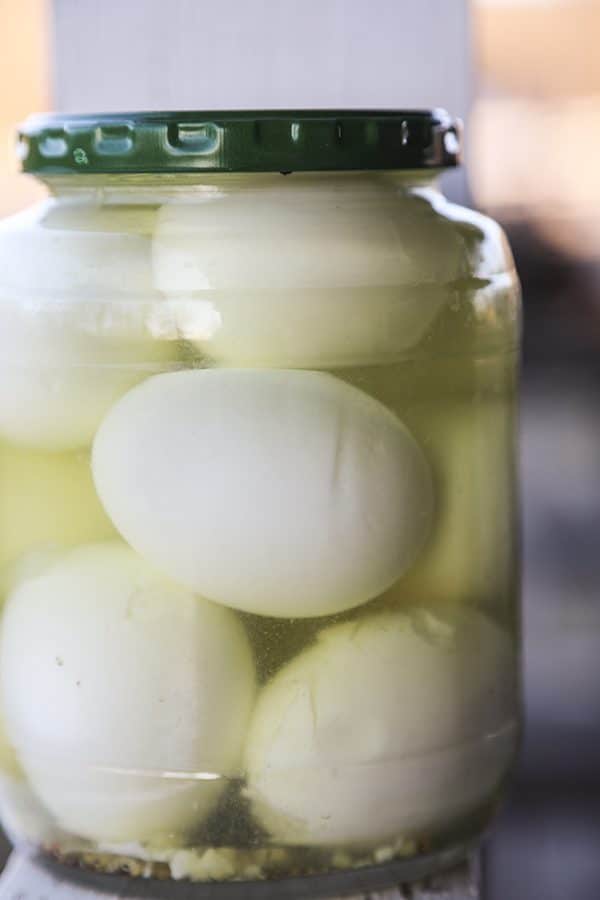 The guys and I loved this Dill Pickle Egg Salad on my perfect soft pretzel rolls, but it would also be excellent on toast -wheat, please!-, or lettuce leaves for a low-carb dill pickle egg salad wrap!
Calling all pasta and potato salad fans! I have you covered in abundance for your summer salads! Check out our Salmon Pasta Salad, Potato Salad with Bacon, Spicy Bacon Cheddar Pasta Salad, Asian Pasta Salad, Easy Bacon Pea Pasta Salad, Veggie Lover's Greek Pasta Salad, Loaded Baked Potato Salad, Easy Bacon Broccoli Pasta Salad, and Bacon Horseradish Potato Salad.
Dill Pickle Egg Salad
As I said, dill dip is my binder of choice for dill pickle egg salad. If you can't find dill dip or don't have homemade dill dip on hand, you can sub mayo in equal parts, add a little minced onion, and double the fresh dill.
Between the pickles and the dill dip, you won't need to adjust the seasonings much with salt and pepper. A couple grinds of pepper did the trick and added salt was totally unnecessary!
While I definitely recommend quick pickling your eggs in pickle brine, you can certainly make this with plain, freshly-made, hard-boiled eggs, too.
A word on your choice of pickles for brine and adding to the salad. My preference will always be for the refrigerated, Claussen-type pickle. Wegman's makes a tremendous store-brand version that I actually prefer to the brand name Claussens. There are many great small pickle makers like Bubbie's who offer excellent fermented dill pickles. The best advice I have is to use pickles (and their brine) that you love to eat by themselves.
Likewise, I do not recommend using pickle relish for our dill pickle egg salad. We're going for bigger, recognizable pieces of pickle in the salad. Relish would just disperse through the salad without providing the same oomph of chopped pickles.

Do you love Dill Pickle Egg Salad? Try these other delicious recipes!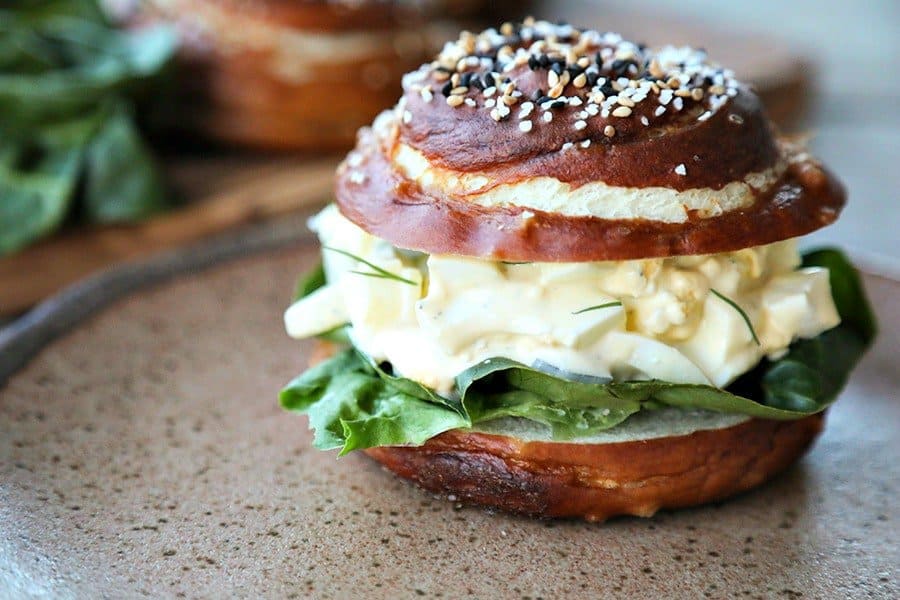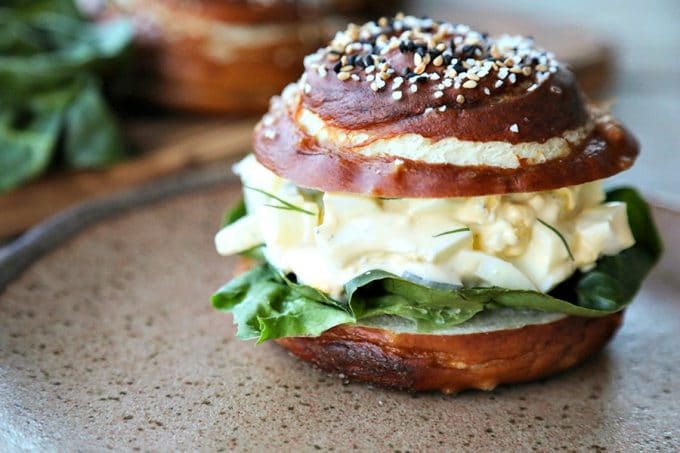 Use these to make Dill Pickle Egg Salad easily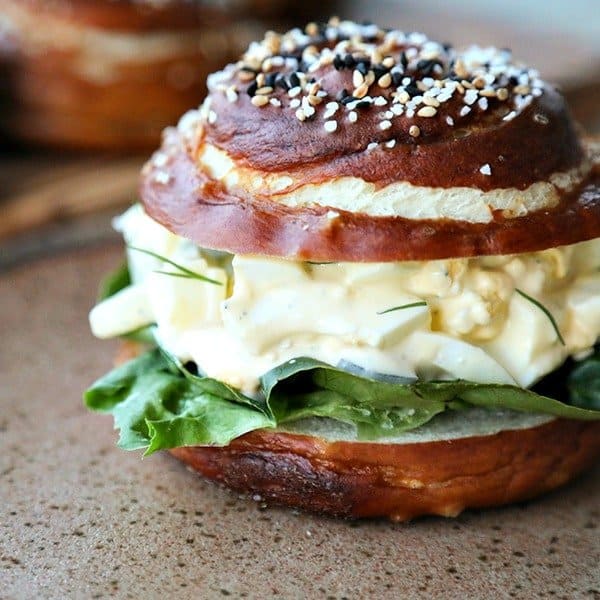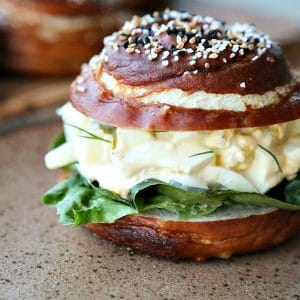 Ingredients
8

hard boiled eggs

for added flavour, peel freshly hard-boiled eggs and submerge in pickle brine for at least 8 hours but up to a week before using

1/2

cup

dill dip

or mayonnaise (see recipe notes)

1/3

cup

chopped dill pickles

about 3-4 pickle halves, quickly patted dry with a paper towel before being chopped

2

teaspoons

minced fresh dill weed

black pepper to taste
Instructions
Roughly chop the hard boiled eggs and add them to a mixing bowl. Use a fork or vigorously stir the eggs and dill dip together until evenly combined.
Add the chopped dill pickles, dill weed, and black pepper and stir until evenly combined. Serve on bread or lettuce leaves.

Nutrition
Calories:
201
kcal
Carbohydrates:
3
g
Protein:
13
g
Fat:
14
g
Saturated Fat:
4
g
Cholesterol:
377
mg
Sodium:
444
mg
Potassium:
144
mg
Sugar:
2
g
Vitamin A:
655
IU
Calcium:
98
mg
Iron:
1.3
mg
Nutritional information is an estimate and provided to you as a courtesy. You should calculate the nutritional information with the actual ingredients used in your recipe using your preferred nutrition calculator.