Check out all of our wonderful Sweet Potato Recipes here!
By now, it is known that I am a salad lover of epic proportions. Let me rephrase that for the sake of clarity; I love epically proportioned salads. I don't like wimpy little side salads, though. I want my salad to be interesting. I love to pile all sorts of delicious things on top of my greens. My current top of the heap -and I mean that literally since I top my salad with them in a heap- is Sweet Potato Croutons. These tiny, tasty nuggets of crunchy sweet potato are so easy to whip up that the only reason I ever run out of them is that I sometimes fail to plan appropriately just how many sweet potatoes I will consume between grocery store visits.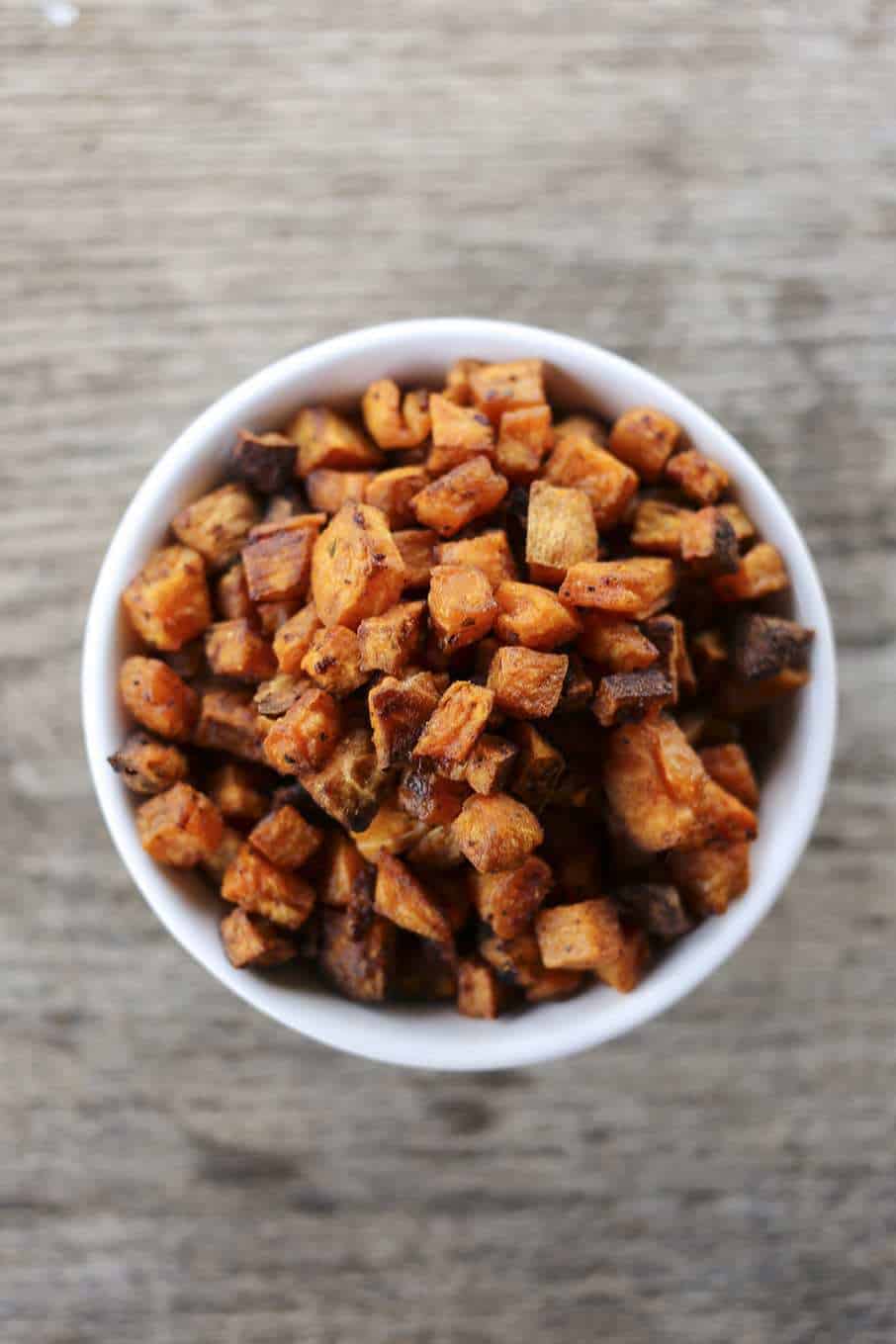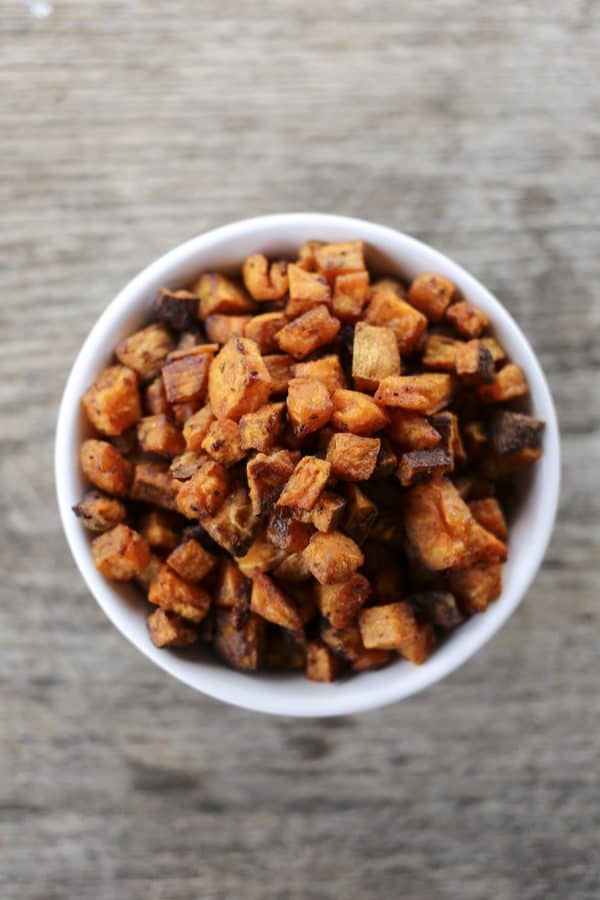 We don't stop at eating them on salads, though. Sweet Potato Croutons are one of those unicorn recipes that everyone (including the habitually vegetable-averse) in my family loves. Since two of my kids who wouldn't normally touch a vegetable unless under threat voluntarily consume vast quantities of Sweet Potato Croutons as a snack, I try to keep them available all of the time. Of course, Sweet Potato Croutons are completely irresistible when hot from the oven, but they stay eminently munchable within two hours of being pulled from the oven. All that said, they're still pretty darned tasty cold from the refrigerator for 24 hours. If you made too many to eat fresh, and you want to 'refresh' them, you can pop them on a cookie sheet and plunk them in a 400°F oven for 4 minutes, and they'll be as good as new.
Cook's Notes
It doesn't get much easier than this. If you cut the potatoes evenly, they'll roast and crisp evenly. The key to this is breaking down the sweet potato in the best way; peel, slice away a 1-centimeter (just under 1/2-inch) thick wafer of of the potato lengthwise. This will allow the potato to sit safely on the cutting board without rocking. Cut the potato into 1-centimeter thick 'cards'. Slice one 'card' at a time into 1-centimeter thick strips, then turn those strips 90 degrees and cut them into 1-centimeter thick cubes. Repeat with the remaining 'cards' of sweet potatoes. Now you have perfect 1-centimeter sweet potato cubes that will roast up to crispy Sweet Potato Crouton perfection!
Speaking of our sweet potatoes, you want to pick the big ones for this project. Don't use the delicate little sweeties here, save those for another meal.
You don't need a lot of oil for this job -just a tablespoon and a half per sweet potato- but you want to choose the right sort. I prefer to use an oil with a higher smoke point like canola or grapeseed oil. Pure olive oil (but not extra virgin olive oil) is another good choice. If you have a seriously giant sweet potato, you may need to increase the amount of oil to 2 tablespoons. Visually, every cube should be coated and shiny, but there should not be any pooled oil in the mixing bowl.
As far as seasoning goes, use whichever dry rub you like. I make mine most often with our Cranberry Dry Rub, but I've also made Sweet Potato Croutons with Za'atar, Cajun seasoning, and our Homemade Buttermilk Ranch Dressing Mix and loved all of them! The key is to toss enough of whatever seasoning you're using with the oiled up sweet potato cubes to coat them but not overwhelm them. As a good starting point, use 1 tablespoon per sweet potato with low salt blends or 1 teaspoon per sweet potato for high salt blends.
Do not crowd the sweet potato cubes on your baking sheet. To crisp the Sweet Potato Croutons, you need to allow air to circulate around all of the sides of the cubes that are not in direct contact with the pan. Don't bother trying to stir the croutons until they've crisped well on the underside and released themselves from the pan. Then you can shake them around and return to the oven until crunchy.
Now, let's talk time. There's a huge range in my recipe. I guess that makes this more of a guideline and less of a recipe. The point is that I like them super crunchy. Some people like them less crunchy. The lower end of the time frame yields less crunch while the greater time yields super crunch. I know it's a hardship, but start nibbling one cube at a time to check it every couple of minutes. It's tough work, but somebody's gotta do it.
Connect with Foodie with Family
facebook | pinterest | instagram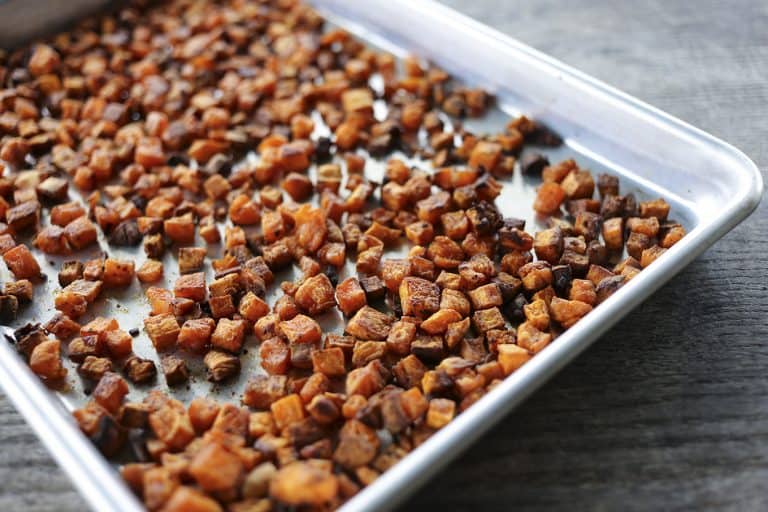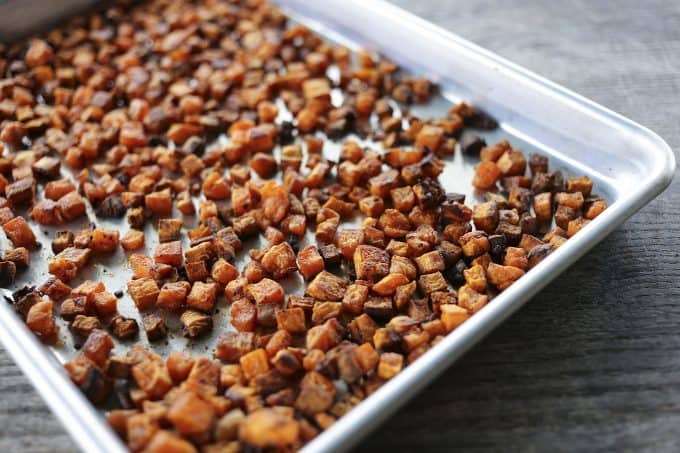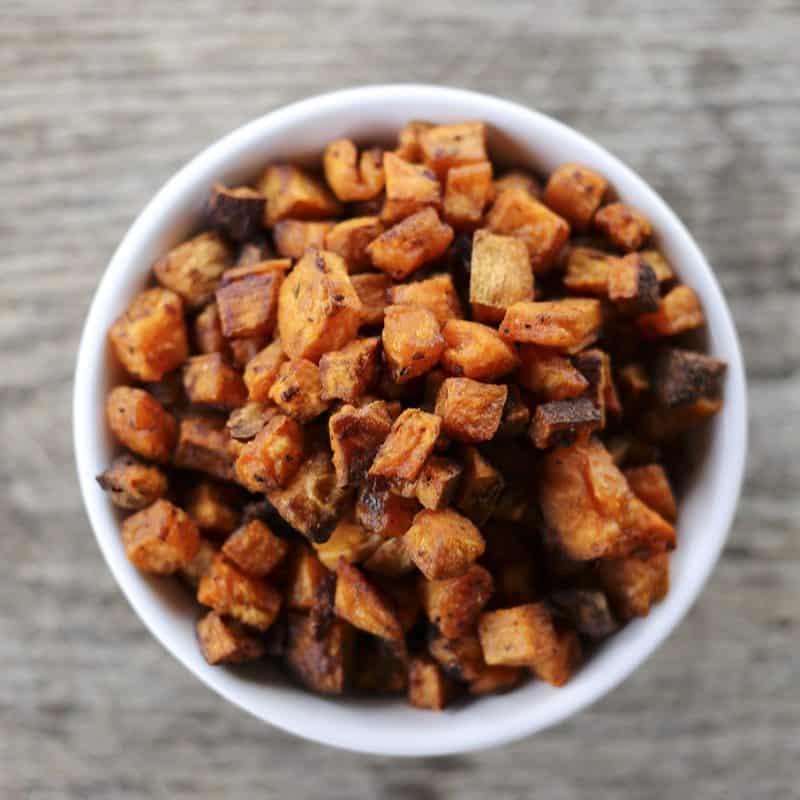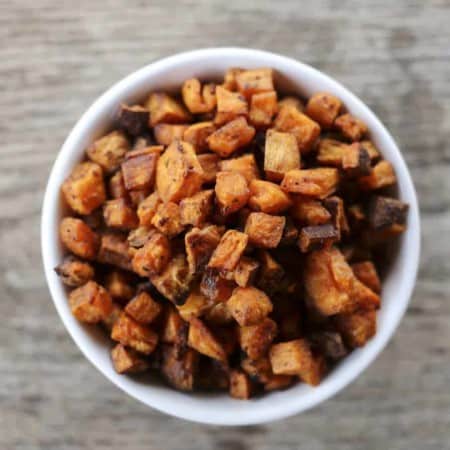 Crispy, crunchy, baked Sweet Potato Croutons are marvelous on salads and soups, of course, but they're equally snackable by themselves!
Ingredients
1

large sweet potato

slightly less than 1/2-inch, peeled and cut into 1 cm cubes *See Cook's Notes in post for instructions

1 1/2

tablespoons

neutral oil such as canola or grapeseed

1

tablespoon

Cranberry Dry or another dry rub

sprinkle of kosher salt
Instructions
Preheat oven to 425°F. In a mixing bowl, toss the sweet potato cubes with the oil until all surfaces of the cubes are shiny and coated. Sprinkle the dry rub over the potato cubes and toss to coat. Scatter the cubes over a rimmed sheet pan in a single layer, leaving plenty of room for air to circulate around the cubes. Bake for 25 to 40 minutes, stirring after the first 15 minutes to release the cubes from the pan and shift their position. After the first 25 minutes, remove, slightly cool, and eat one cube to test the crispness. If you like it where it is, take the croutons from the oven. If you'd like them a little crispier, return the pan to the oven and repeat the test every 5 minutes until desired crispness is achieved. Allow the Sweet Potato Croutons to cool completely to room temperature. Use cooled croutons immediately or store in an airtight container in the refrigerator.

To Re-Crisp the Sweet Potato Croutons:

Scatter the croutons over a rimmed sheet pan in a single layer. Place the pan in a preheated 400°F oven for 4 to 6 minutes, or until hot. Again, cool to room temperature before using or munching.
Nutritional information is an estimate and provided to you as a courtesy. You should calculate the nutritional information with the actual ingredients used in your recipe using your preferred nutrition calculator.

Save