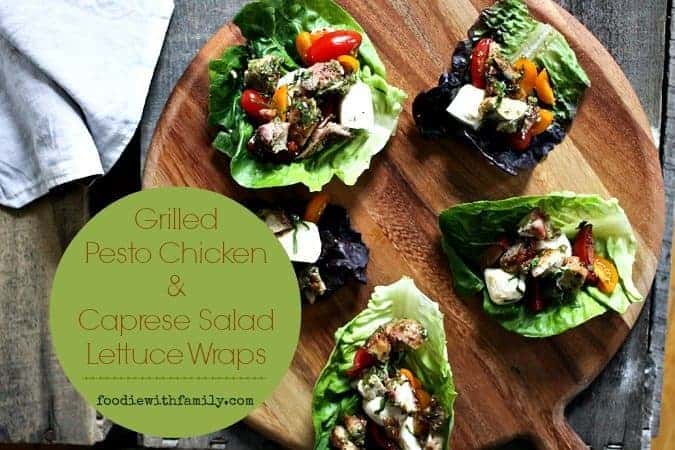 My darling, The Evil Genius, is on another health kick. When he goes on a health kick, I do my best to counterbalance the sweets and cookies and breads that I turn out of the kitchen with light meals heavy on the fresh vegetables. More fresh veggies and a greater variety are showing up in the stores this time of year so it's easy to seamlessly transition into eating that way.
Lettuce wraps are always an easy way to get a fast, fresh, flavourful meal. In today's version, we cube up simple, grilled chicken thighs and toss it with our favourite pesto, make a quick caprese salad of bite sized pieces of fresh mozzarella, cherry tomatoes, basil, salt and pepper, and pile the works on leaves of butter lettuce or leaf lettuce. It doesn't necessarily sound like it could amount to much with just a handful of ingredients, but I assure you, it eats like a feast!
It only takes a tiny amount of work to yield a tender grilled chicken tossed in fragrant pesto sauce served over a salad of creamy pieces of bite-sized mozzarella, burstingly fresh cherry tomatoes, and thinly sliced fresh basil all wrapped in lettuce leaves. Hand held food always wins around here! What's your favourite fast, fresh, healthy spring meal?

Cook's Notes
Use a variety of cherry tomatoes if they're available to you. It ups the eye-candy factor on the dish to have more than one colour of tomato on it. Our Wegman's has a three-in-one variety pack they sell that is perfect for the job.
If you can't find cherry tomatoes, you can substitute any fresh tomato that has been seeded and cut into bite sized pieces.
As for the pesto, use whichever one you like best. I like to use my Arugula and Walnut Pesto, but I'd happily use my Basil Pesto if I had that on hand, too! If you don't have homemade handy, you can certainly use store bought pesto.
Let's talk mozzie! Once again, homemade rocks! No desire to make your own cheese? No worries. Well stocked grocery stores with olive or Mediterranean bars usually have little tiny fresh mozzarella balls available. They're the perfect choice for this salad when halved. No itty bitty mozzarella balls to be found? Don't fret. You can get a larger amount of fresh mozzarella and cut it into bite sized pieces.
Once again, I'm calling for boneless, skinless chicken thighs here. Chicken thighs are FAR more forgiving in the cooking process. You won't go from underdone to dry and tough in mere moments. They stay juicier on the grill and just plain taste better. I've been told by a friend that she has a relative who steadfastly refuses to eat chicken thighs. Alright man, just for you, I'm saying you can sub in chicken breast if you insist, but it won't taste the same!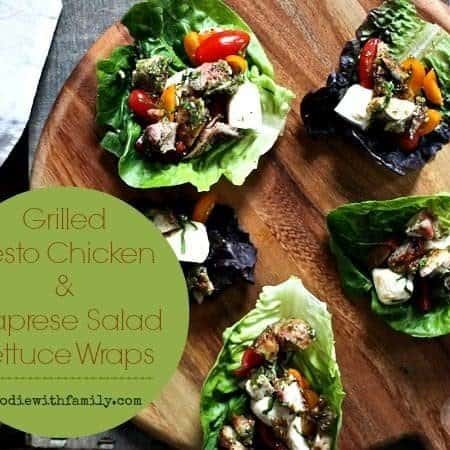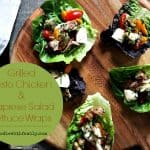 Print
Grilled Pesto Chicken Caprese Lettuce Wraps
Ingredients
6

boneless

skinless chicken thighs

salt and pepper

1/3

cup

pesto homemade or purchased

1

pint

mixed cherry tomatoes

4

basil leaves

thinly sliced

8

ounces

fresh mozzarella

cut into bite-sized pieces

whole butter

romaine, or leaf lettuce leaves
Optional for serving:
additional basil

thinly sliced
Instructions
Lay out the chicken thighs and sprinkle both sides generously with salt and pepper.

Heat grill to medium. When the grill is up to temperature, lay out the chicken thighs. Grill the thighs, turning a couple of times, for 10-12 minutes, or until the internal temperature of the thickest part reaches 165°F. Transfer the grilled thighs to a platter, tent lightly with foil, and let rest until cool enough to comfortably handle. When the chicken is cool enough to handle, cut it into 1/2-inch cubes. Add them to a bowl and toss with the pesto sauce to coat evenly.

Quarter the cherry tomatoes and add them to a bowl with the sliced basil, fresh mozzarella pieces, salt and pepper to taste. Toss them together and set aside.

Lay out the lettuce leaves on a platter. Scoop some of the tomato and cheese salad onto each leaf and top with the pesto chicken. Garnish with additional thinly sliced basil, if desired. Serve immediately.
Please don't forget to enter the giveaways I have running here!
1.) Gorgeous Nena & Co. hand-loomed camera strap with leather accents. Psst. Mother's Day! Just 3 days left to enter!