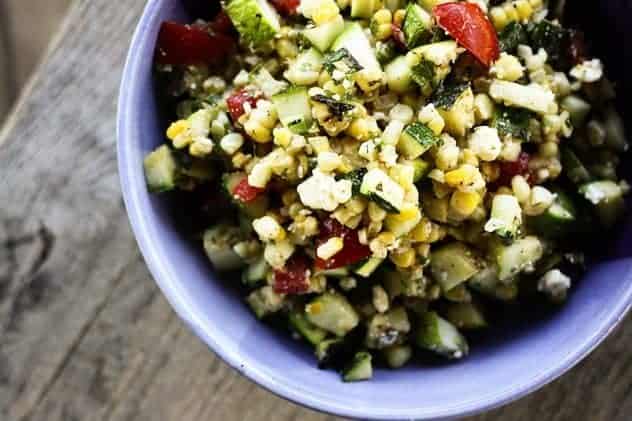 There are few things I like better on a hot day than a cold salad. If it happens to be one that I was able to whip up when the day was still cool or -better yet- the day before, I'm even happier. When that salad takes advantage of the best parts of summer produce I'm ecstatic.
I am grateful to have something to love about all four seasons. My affection for summer is entirely wrapped up in the fresh vegetables. Well, alright. It is kind of nice not to trip over snow boots in the mudroom for a couple of months. But the produce. Oh, the produce!
While the variety available to us in stores is nothing short of remarkable, there simply is nothing that compares to produce grown nearby and eaten in season. Everyone knows a frozen ear of sweet corn from a grocery store just can't hold a candle to an ear that was picked from the field earlier that day.
I used to be a corn boiler. Everyone I knew was a corn boiler. It was just how we did things. Then -nearly a decade ago- I picked up the Nero Wolfe detective books by Rex Stout. I identified with Nero's obsession with food and when -in one book- he  frantically pursues the perfect sweet corn while the police inspector wants him to pursue a killer. I totally got it. I mean really. If you gave me the options of tracking down the perfect sweet corn vs. a cold blooded killer? I'd go with the corn every day. I'm a scaredy cat.
At one point, though, Nero Wolfe said something that made me question my lifelong corn boiling habits:
"Boiled in water, sweet corn is.. edible, and nutritious. But roasted in an oven, at the hottest possible temperature for 40 minutes. Shucked at the table. Buttered. Salted. Nothing else! Ambrosia."
Well, shoot. Ambrosia? I had to give that a whirl. The first time I made Nero Wolfe's corn, I did indeed use my oven. And it was absolutely ambrosia, but the smell of burning husks in the house was less than wonderful and it was bloomin' hot out to be firing up the oven to the hottest possible temperature. I moved my endeavours outside to the grill, adjusted the heat (because hottest possible temperatures in grills and home ovens are vastly different), and in the process learned what the entire southwest has known for I-don't-know-how-long: fire roasted corn is incomparably delicious.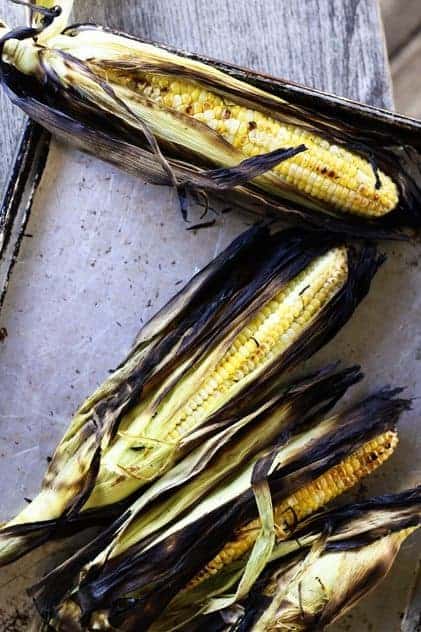 From that day on, there was simply no other way to cook corn (with one sad foray into cooler corn.)  I almost always deliberately cook more corn than we can possibly eat in one setting. Believe me, that takes work… we can eat a lot of corn.
One of our favourite ways to use the extra grilled corn (with its extra boost of concentrated corn flavour) is in a Grilled Summer Salad. We change the salad up, depending on what is most readily available from our garden or the local farmers' market, but the backbone of the salad is always grilled corn and zucchini. Everything else is negotiable.
Grilled zucchini is in the same category as grilled corn. It is just plain better. There's something about the time on that hot grill that turns a vegetable that has a reputation for insipidity into a flavour explosion. I prefer the texture of grilled zucchini, too. There's nothing complicated about it. Slice the zucchini into half-inch slabs, brush with olive oil and sprinkle with salt and pepper or Montreal Steak Seasoning (my preference) then pop on a hot grill. When they're marked by the grill, they're done enough. How simple is that?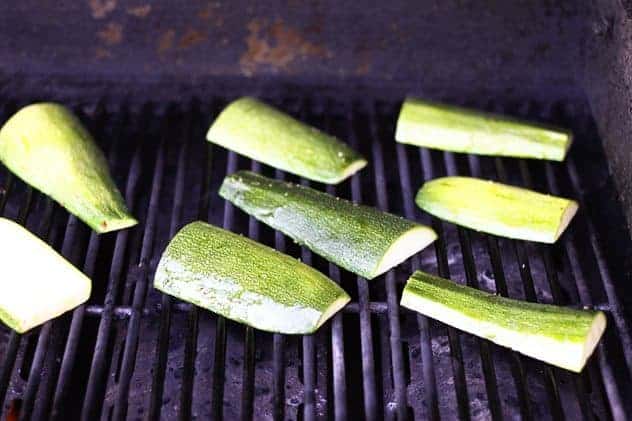 I usually fill out the salad with roasted red pepper, garden tomatoes, garlic, parsley and a little squeeze of lemon juice… not too much… just a bit. If I'm feeling particularly peckish, I'll crumble a little feta cheese in there. With the feta, it's a stand-alone vegetarian meal in a bowl, but it does do a marvelous job of accompanying grilled meats or fishes. I almost always make as large a batch of this as my refrigerator can accommodate. I have been known to walk past the refrigerator with a fork just to dip into a bowl of this. I suppose that's not a bad thing. I could be snacking on much, much worse things. (Ahem. Frito habit.)
Get out there and make this while the getting's still good. Fresh veggies won't be around that much longer!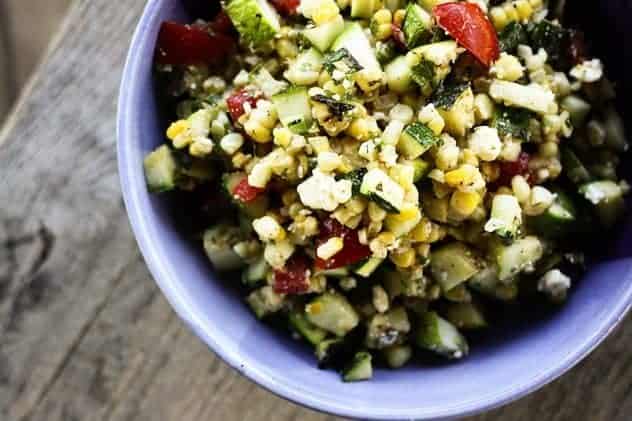 Summer vegetables take center stage in this seasonal salad that takes advantage of grilling sweet corn and zucchini to bring out the best of both. Serve this at your Labor Day festivities to guarantee praise! A light lemon dressing and a little feta cheese (optional) round out this refreshing and healthy-habit forming dish that can be a stand-alone vegetarian meal or accompany grilled meats of fishes with equal aplomb.
Ingredients
2

medium to large zucchinis

olive oil

Montreal Steak Seasoning or salt and pepper

2

large beefsteak type tomatoes

2

ears leftover grilled corn

cut from the cob.

1

clove

garlic

peeled and minced or pressed

1/2

cup

crumbled feta cheese

a fistful of fresh parsley

roughly chopped

1

tablespoon

lemon juice

salt and freshly ground pepper to taste
Instructions
Preheat a clean gas grill to HIGH (or build a hot bed of coals on a charcoal grill.)

Slice the zucchini into 1/2-inch thick slabs. Brush both sides of each slab with olive oil and sprinkle with Montreal Steak Seasoning or kosher salt and freshly ground black pepper. Place the zucchini directly on the grill. With the lid open on the grill, leave the zucchini slices in place until there are grill marks on the zucchini, carefully lifting the corner with tongs to check occasionally. This should not take more than 3 minutes. Flip the zucchini and cook until the other side has grill marks, about 2 minutes. Use tongs or a spatula to transfer the grilled zucchini to a rimmed pan.

Put the rimmed pan, uncovered, in the refrigerator until the zucchini is cool to the touch, about 30 minutes to an hour.

Dice the chilled, grilled zucchini and the tomatoes. Toss them together with the remaining ingredients in a large mixing bowl. Transfer to a container with an airtight lid and refrigerate for at least an hour before serving.
Nutritional information is an estimate and provided to you as a courtesy. You should calculate the nutritional information with the actual ingredients used in your recipe using your preferred nutrition calculator.