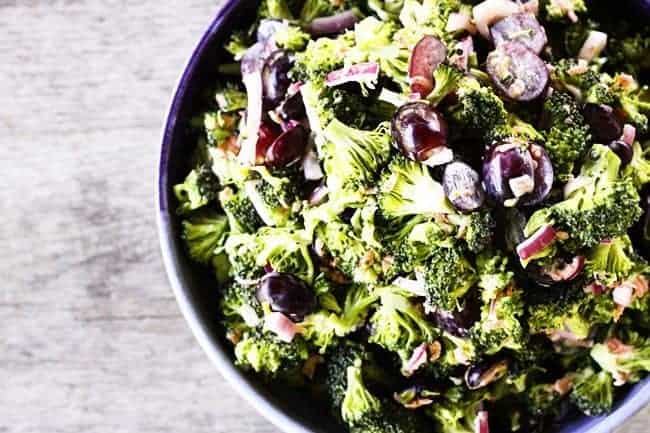 I'm a lucky woman. I'm married to the King of All Geeks, also known as The Evil Genius. He has an imagination that is only second to Harold and his Purple Crayon. He is never bored. He is fiercely loyal, can fix anything, and can build anything I ask him to build. He's an adventurous eater. He loves vegetables; his standing order with sandwiches, salads, and any side dishes is "run it through the garden!"
When he had his birthday last week, I knew a big romantic salad* was in order. I lightened up a marinated broccoli salad that I saw around the interwebs a couple of years ago for the occasion. The salad in question had bacon, cheese, in some cases almonds, and lots of mayonnaise. Don't get me wrong, I love bacon, cheese, almonds, and mayonnaise, but that was not what I was going for on this particular day. I wanted light, refreshing, flavourful, and bright. Bacon and cheese are a lot of things, but bright and refreshing are not amongst them.
*Name that movie!
How to tame raw onions:
Because red onions have a habit of repeating on you, I quickly pickled them by letting them rest in the rice vinegar while the rest of the ingredients were prepared. This took the edge off of the sulfurous onions and rendered them tangy and sweet. If you love raw onions but hate the after effects, this is a great way to tame them!
Yes, this recipe makes A LOT! It's true… but I'll tell you straight up that The Evil Genius and I ate an entire batch by ourselves with no help whatsoever from the honyaks in two days. That's right. We ate eight crowns of broccoli between the two of us in two days. Even if you're not as nutty nuts as we are for salads and vegetables, I urge you to make the full amount because this salad holds for an entire week in the refrigerator and just gets better as those days pass. In fact, if you can make it a day before you plan to eat it, you'll be rewarded with a salad that is mind-bendingly good.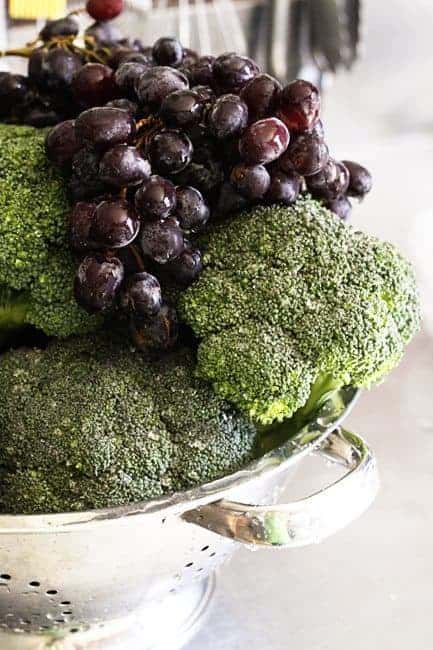 What alchemy turns bite-sized broccoli florets into something so irresistible? It's a combination of the mix-ins (sweet red or black grapes, thinly sliced red onions, and shredded carrots) and the tangy dressing (mild rice vinegar with just enough mayonnaise to make it lightly creamy, black pepper, just a touch of sugar, and salt. Easy peasy!) If you've never had broccoli and grape salad before you might think I'm bonkers right now, but I promise you, it's delicious! On a hot day, there really isn't anything more refreshing. I could make a meal out of a bowl of Marinated Broccoli Salad and a slice of hearty bread. If you're feeling like you need a little something more, this is the perfect accompaniment to grilled pork, chicken, fish or beef. It goes with everything I've tried it with thus far! Heck, I even topped a hot dog with it and was happy with the results.
Are you a vegetable maniac?
XO
Rebecca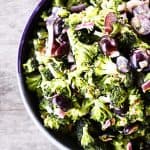 Print
Light Marinated Broccoli Salad | Make Ahead Mondays
Crunchy, refreshing, and simple, this Marinated Broccoli Salad has sweet grapes and carrots, quickly pickled red onions and a tangy dressing made of rice vinegar and mayonnaise. While it is great on its own as a light lunch it is also the perfect accompaniment to grilled pork chops, chicken, fish, or beef. This salad is great for up to a week in the refrigerator, if it isn't eaten first!
Ingredients
1

medium red onion

3/4

cup

rice vinegar

not seasoned

2

cups

red or black seedless grapes

8

crowns broccoli

2

small to medium sized carrots

3/4

to 1 cup mayonnaise

start with the smaller amount,

1

tablespoon

sugar

I use raw sugar

2

teaspoons

kosher salt

or more to taste, divided

black pepper to taste

I use a full teaspoon of freshly ground black pepper.
Instructions
Halve the red onion, peel it and cut from near the root end to the blossom end at 3/4-inch intervals leaving it intact at the root end. Turn the onion 90° and slice across the cuts so you have thin slices that are about 3/4-inch long. Add them to the bottom of a large mixing bowl, sprinkle with 1 teaspoon of the kosher salt and pour the rice vinegar over the onions. Stir well and let stand while you prepare the rest of the ingredients.

Begin by halving the grapes. If they are particularly large, you might want to quarter them. Once they are all halved or quartered, transfer them to the mixing bowl on top of the onions but do not stir yet.

Next, cut all the broccoli florets away from the stems. Reserve the stems for another use (*See Notes) and cut the florets down to bite sized. They should be roughly the same size as the pieces of grape. Scrape the broccoli into the bowl on top of the grapes, but again, do not stir yet.

Use a large hole side of a box grater (like one you would use to grate Cheddar) to grate the carrots. Add those to the bowl. Add the remaining ingredients and toss until everything is evenly combined and a thin dressing has formed from the rice vinegar and mayonnaise. If you want it creamier, add a little bit of mayonnaise at a time. Remember, though, that as the salad sits in the refrigerator, the vegetables and grapes will release some liquid and increase the amount of dressing in the container.

Transfer to a tightly lidded container and refrigerate for at least an hour before serving but preferably overnight. Toss before serving to re-distribute the dressing.

Leftovers stored in a tightly lidded container in the refrigerator will last for at least 7 days.
Notes
*If you do not have an immediate use for the broccoli stems, just cut them into pieces that are roughly 1-inch in size, put them in a resealable freezer bag and stash in the freezer for the next time you make cream of broccoli soup. I believe the best cream of broccoli soup has lots and lots of broccoli stems in it!