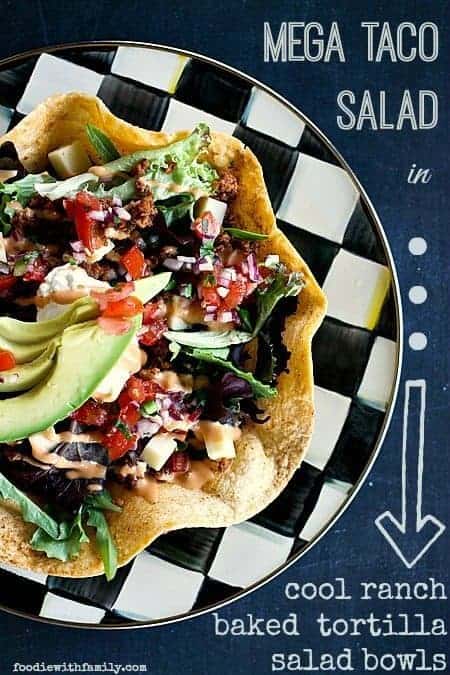 Yesterday, I posted a recipe for homemade Cool Ranch Baked Tortilla Salad Bowls. Today, I give you the ultimate Mega Taco Salad with which to fill it! Can I get a "Heck yes!" for taco salads? It's not a secret that I am a salad nut, but of all the salads everywhere in the entire world, the one against which I am the most powerless is always and forever taco salad. The more 'super loaded' the salad is with taco toppings, the happier this girl is. In fact, while tacos are one of my favourite meals of all time, forever and ever amen, my best-loved part of the meal is after I've had a couple of tacos and have a pile of good things on my plate. I augment that pile with lettuce, avocados, chorizo, cheese, dressing, sauce, sour cream, and pico de gallo. It's hard to explain just how happy that part of the meal makes me.
In my ultimate taco salad, the lettuce plays second fiddle to the, well, everything else. The kind of lettuce really doesn't matter. In a Mega Taco Salad, lettuce is a spacer for all the taco goodies. Iceberg? Sure thing. Spring greens? Use 'em if you've got 'em! Romaine? You betcha! Leaf? Butter? Frizzy, funky, heirloom lettuce? Use it if it dings your chimes and you like it in salads.
The sheet number of toppings in these put them squarely in the "Dinner Salad" category and there is nothing missing from the good old, loaded taco. We are talking lettuce, cheese, chorizo, pico de gallo, sour cream, barbecue ranch dressing, avocado, and an optional dash or two of hot sauce. Taco Salads are just plain fun, aren't they?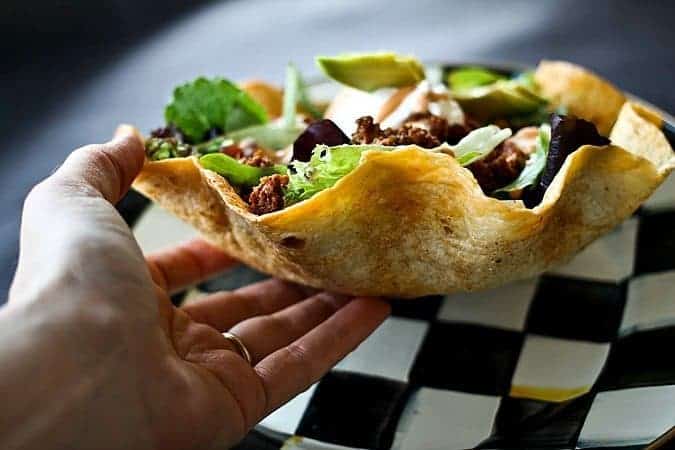 Of course, it doesn't hurt the fun factor at all that they're served in giant Cool Ranch tortilla chip bowls. It also doesn't hurt that these salads come together relatively quickly. Assemble a few ingredients and your dinner is just a few minutes away. Have someone who objects to considering salad dinner? Give them a double portion of chorizo and cheese in their edible salad bowl. That should win them over. If not, at least they'll be chewing and therefore unable to complain TOO loudly.
Cook's Notes:
Like I mentioned, the type of salad greens you use is completely negotiable. I would happily eat this on spring greens (as pictured), iceberg, romaine, leaf, butter, or just about any other kind of lettuce I could find. The lettuce is a vehicle.
Also negotiable is your choice of avocado delivery method. While I prefer pure and perfect slices of avocados on my Mega Taco Salad, my kids prefer a generous dollop of guacamole. Either is delicious!
I have recipes here on Foodie with Family for many of the components of the Mega Taco Salad. In most cases, you can substitute a purchased version of the ingredient, but the homemade ones make a superb salad that comes with a side dish of bragging rights!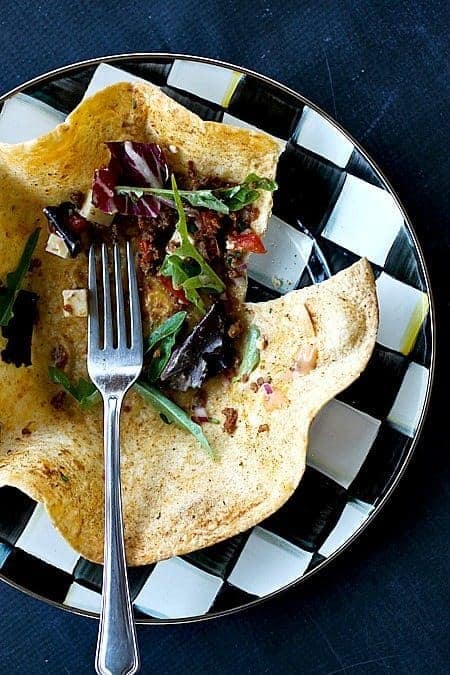 Here's a list of recipes here on Foodie with Family for the some of the components of this salad.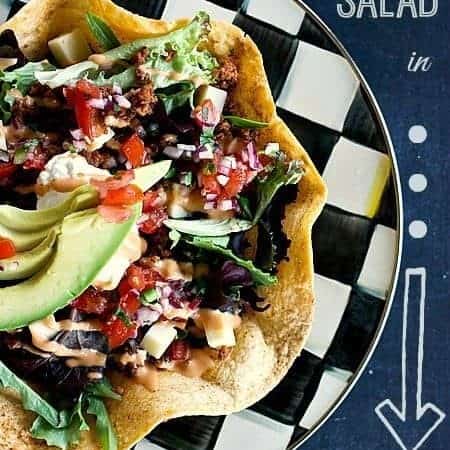 Mega Taco Salad in Cool Ranch Baked Tortilla Salad Bowls
Rate Recipe
This Mega Taco Salad is a seriously satisfying dinner salad that has all the goodies of a fully loaded taco: chorizo, pico de gallo, cheese cubes, barbecue ranch dressing, sour cream, avocado slices or guacamole, and a dash or two of hot sauce all served in an edible Cool Ranch Baked Tortilla Salad Bowl.
Ingredients
For 4 Dinner Sized Mega Taco Salads:
4

Cool Ranch Baked Tortilla Salad Bowls

12-16

cups

salad greens

2

cups

Pico de Gallo

2

cups

browned

fully cooked Mexican Style Chorizo, warm but not hot

2

cups

1/4-inch sized cubes Cheddar

Pepper Jack, or Monterey Jack cheese.

1/4

cup

Ranch dressing

1/4

cup

barbecue sauce This one or This one

sour cream

1

ripe avocado

halved, pitted, and sliced thinly ~OR~ 2 cups Ultimate Guacamole

Optional: Hot sauce to taste
Instructions
Once you've assembled the ingredients, this Mega Taco Salad couldn't be easier! Simply stir together the Ranch dressing and barbecue sauce in a bowl or liquid measuring cup and set aside.

Divide the salad greens evenly between the Cool Ranch Baked Tortilla Salad Bowls. Scatter over the top of each salad: 1/2 cup of the Pico de Gallo, 1/2 cup of the chorizo, 1/2 cup of cheese cubes, 1 tablespoon of the barbecue ranch dressing, a dollop of sour cream, 1/4 of the avocado (or 1/2 cup of the guacamole), and a dash or two of hot sauce, if desired.

Serve immediately.
Nutritional information is an estimate and provided to you as a courtesy. You should calculate the nutritional information with the actual ingredients used in your recipe using your preferred nutrition calculator.
I'm pleased as punch to be a finalist in the running for TheKitchn's The Homies awards. If you have a minute, would you consider voting for me? I'd be so grateful!