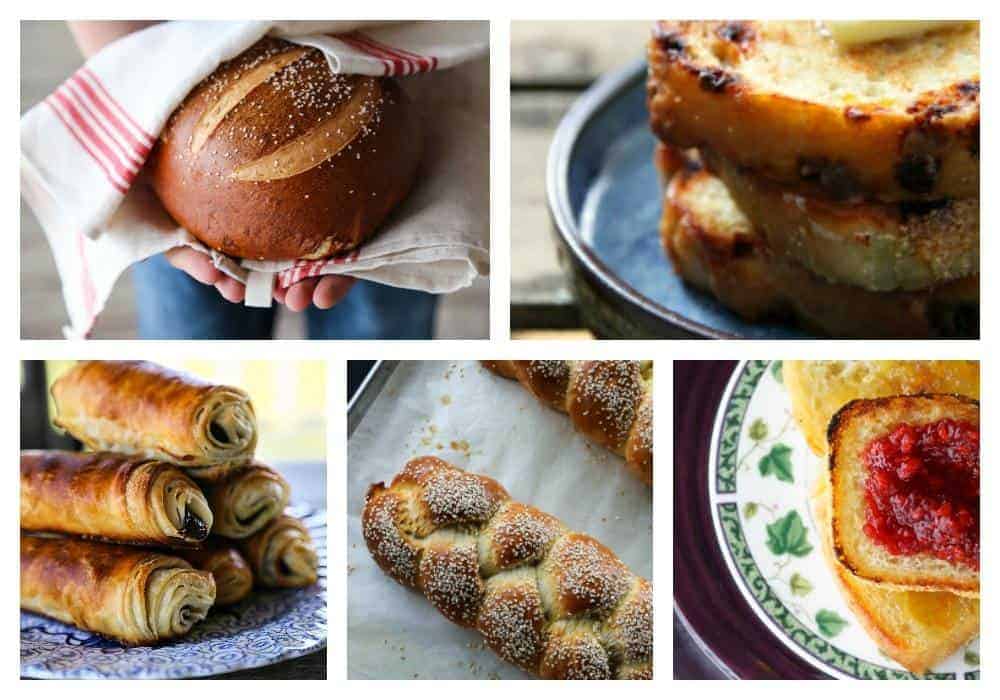 FOODIE WITH FAMILY'S DEFINITIVE GUIDE TO BREAD RECIPES
I have been baking bread my entire life. Homemade bread recipes are like money in the bank. And just like there's a song for every occasion, there's a bread for every moment in life, too. Some breads are every day breads -nourishing, simple, hearty- like this One Hour Sandwich Bread or still simple but more flashy looking Sesame Semolina Bread. Other breads are for special occasions -baked to commemorate something momentous- like these show-stopping, designed to impress Roasted Garlic Rustic Sourdough Boule or Pesto Pinwheel Rolls.
Too many home bakers steer clear of making bread because they assume it's time consuming and requires special skill. But while tasty homemade bread might taste like magic, I promise there's nothing mysterious about it.
To get started, here's a handy Guide to Bread Baking to guide you on your flour-dusted journey.
HOW TO MAKE YEAST BREAD
Yeast breads are leavened by the use of live, active yeast cultures that release gases into your dough making it rise. Think crusty baguettes, soft white dinner rolls and hearty whole wheat breads. While some take a little time to allow for rising and kneading but the results are worth it. 
Choosing Your Yeast: 
Visit any well-stocked grocery store and you're likely to find a shelf full of different types of baking yeast.
Active Dry Yeast is a standard for bakers.  It's easy to find, effective and if you have it on hand, you're ready to bake almost any kind of yeast bread from Homemade Naan  to Pain au Chocolat. to Find it  in shelf-stable packages or jars down the baking aisle.
Instant Active Dry Yeast,

also called

SAF Instant

or

Bread Machine Yeast is a quick acting yeast that rises dough in less time than regular Active Dry.  In a hurry? Try in these Rapid Yeast Bread Recipes like One Hour Sandwich Bread, Asiago Herb and Garlic Bread, or One Hour Swedish Limpa Bread. 
Cake Yeast

, also called fresh yeast, works just like active dry yeast but isn't shelf-stable. Find it sold by the cake in the refrigerated section in specialty grocery stores.
Storing Yeast:
Unopened packages or jars of active dry yeast and SAF yeast can be stored on your pantry shelf or kitchen cabinet. Once opened, seal remaining yeast in an airtight container and store in a cool, dry place.
Cake yeast should always be stored in the refrigerator in an airtight container.
Do I Have to Proof My Yeast? 
Neither active dry yeast or instant yeast need to be dissolved in warm water before adding it to a recipe. The one exception? Old yeast or yeast that's been stored improperly in an unsealed container for a long period of time.
If you're working with yeast past the expiration date you may want to proof your yeast first to make sure it's still active. If your yeast is dead, your bread won't rise. And wouldn't that be sad?
Double check by dissolving 2 ¼ teaspoons (or one packet) in ¼ cup of lukewarm water. If it bubbles or foams after a few minutes, you're good to go. Add the yeast and water mixture to your recipe when the yeast is called for and proceed with the recipe as directed. Just be sure to reduce the total amount of liquid in the recipe by 1/4 cup to account for the extra water. 
HOW TO MAKE SOURDOUGH BREAD
Sourdough Bread impresses with its mildly sour flavour and tempting aroma.  Sourdough gets its signature sour taste thanks to the naturally occurring yeast and bacteria found in flour and activated with water and time. The resulting goop-like substance is Sourdough Starter. It's your key to every sourdough recipe from Roasted Garlic Rustic Sourdough Boule to The Best Sourdough Soft Pretzels.
The process of making your own sourdough starter may seem like something out of a mad scientist's laboratory but the process requires patience more than special skill.   After mixing together flour and water, you let it sit at room temperature (or slightly warmer depending on your climate) for several days, "feeding" the starter with additional flour occasionally until it begins to bubble.
Once your starter is bubbling with activity, you're ready to roll. Use as much starter as your recipe calls for then store the rest in a sealed container in the refrigerator, following your starter recipe directions for feeding the starter as needed
Do I Have to Knead My Bread Dough?
Kneading your bread dough is an important step for creating elastic, springy dough you want for most kinds of yeast breads. Kneading activates the strands of gluten that gives your yeast bread its shape and texture. '
Along with kneading bread dough by hand, you can knead your dough in a stand mixer fitted with a dough hook according to the manufacturer's directions, or even a large food processor.
No-Knead Bread Recipes let you skip the kneading step altogether. Some no-knead bread recipes call for extra rising time to activate the gluten while others like No-Knead Cottage Cheese Dill Bread  and No-Knead Cinnamon Roll Bread are as easy as mixing the dough together, letting it rise and popping it in the oven.
HOW TO MAKE QUICK BREADS
Quick Breads call on leavening agents like baking powder and eggs instead of yeast. Quick bread recipes don't call for any rising time or kneading, making them easy to whip up at a moment's notice.
They may range from the completely savoury, like Bacon Cheddar Bubble Bread, to the slightly sweet Golden Whole Wheat Zucchini Bread to "basically dessert" territory of Double Chocolate Banana Nut Bread. 
Like a trusty friend, quick bread is there for you in your time of need. And who wouldn't love receiving one of these gorgeous loaves for  or  Christmas present or hostess gift?
Making quick bread often requires no more than mixing ingredients in a bowl, pouring it into a loaf pan, then relaxing while the scent of delicious bread fills your home and your kids run into the kitchen desperate to get their hands on a slice fresh from the oven.
WHAT FLOUR IS BEST FOR BREAD?
Different kinds of bread call for different kinds of flour.
When it comes to perfecting the texture and taste of your bread, the most important element of each kind of flour is its protein content. The protein level in your flour determines the quality and quantity of gluten proteins in your bread. 
Higher protein flours include Whole Wheat Flour and Bread Flour. Using these flours in your bread baking leads to a chewier and crustier loaf.
Whole wheat flour retains more of the nutrients from the original grain in its milling process. It has a light brown color and often a nuttier flavor than its more processed counterparts.
All-Purpose Flour, sometimes called White Flour, is processed to a more fine, white texture. As its name implies, it's a workhorse flour that lends itself equally well to yeast breads and quick breads.
Bread Flour contains more gluten-forming proteins than all-purpose. This higher protein content yields lofty loaves that hold their structure well. In a pinch, you can substitute bread flour for all-purpose flour in many yeast bread and quick bread recipes (and visa-versa) with minimal effect on the outcome of your bread.
Pastry flour contains far less protein than either bread flour or all-purpose flour. It may work in some quick bread recipes but is more likely to result in a bread that's crumbly rather than fluffy and chewy. 
As a rule of thumb, always use the variety of flour called for in the recipe you are following for best results.
How To Measure Flour
A common mistake home bakers make is measuring flour incorrectly. Too much flour results in a dry, dense loaf while adding too little yields bread that spreads instead of rise.
Weighing your flour is the best way to ensure an accurate measurement each time. No scale? In a pinch, use a spoon to fill a measuring cup loosely with flour (not packed), then level off the top with the flat side of a butter knife. It takes just a few more seconds than the scooping your measuring cup directly into the flour sack and makes a world of difference in producing consistently delicious bread.
For even more detailed  instructions on measuring, see this handy video guide from King Arthur Flour .
Now, let's get baking! Not sure where to start? I've got you covered.
From Homemade Yeast Bread Recipes including No-Knead Bread Recipes and Rapid Yeast Bread Recipes, Homemade Quick Bread Recipes, Sweet Bread Recipes, Savoury Bread Recipes, to Rolls and Pretzels Recipes, whichever bread you're looking for, there's a good chance I have it here for you.
And people! I love to bake! If you have questions about any of these recipes, please leave a comment on the recipe itself or email me. You can find my email address in my biography in the "ABOUT" section. Do you have a family favourite bread recipe to share or a recipe you're trying to figure out? Let me know!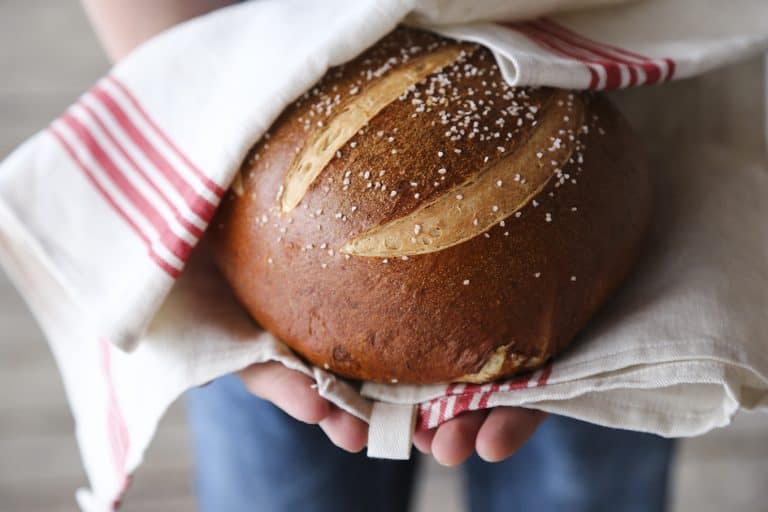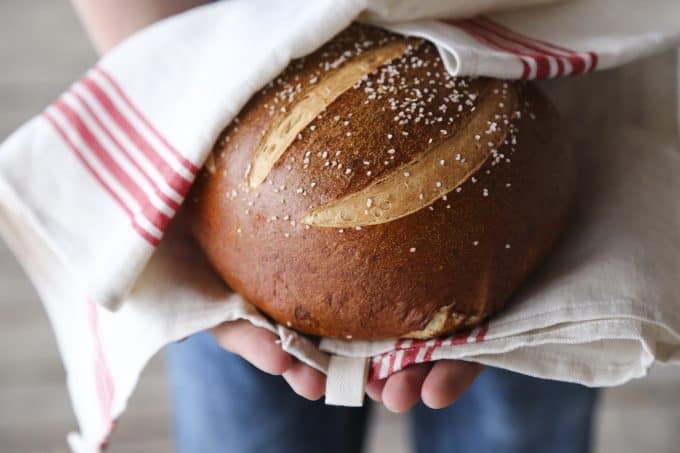 Homemade Yeast Bread Recipes
No Knead Cinnamon English Muffin Bread
Onion Dill Sour Cream Bread Bowls
Giant Garlic Butter Soft Pretzel Rods
Roasted Garlic Rustic Sourdough Boule
No-Knead Cottage Cheese Dill Bread
No-Knead Rosemary Crescent Rolls
Individual Garlic Bread Braids
Ham and Cheddar Stuffed Pretzels
Garlic Butter Soft Pretzel Bites
Pretzel Wrapped Smoked Sausages
Garlic Butter Crusty Bubble Bread
Pumpkin Whole Wheat Cinnamon Rolls with Cream Cheese Icing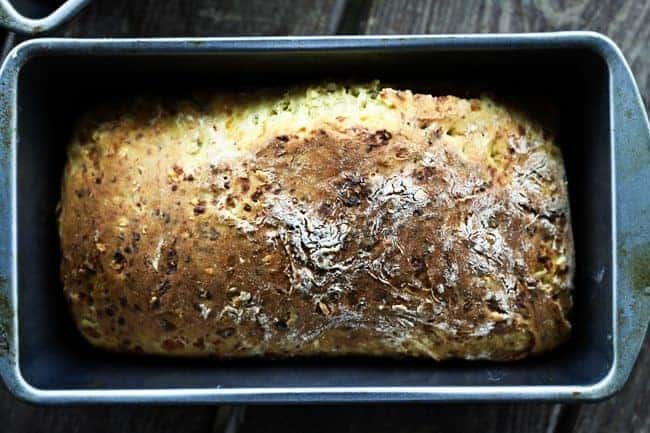 Homemade No-Knead Bread Recipes
No-Knead Rosemary Crescent Rolls
No Knead Cinnamon English Muffin Bread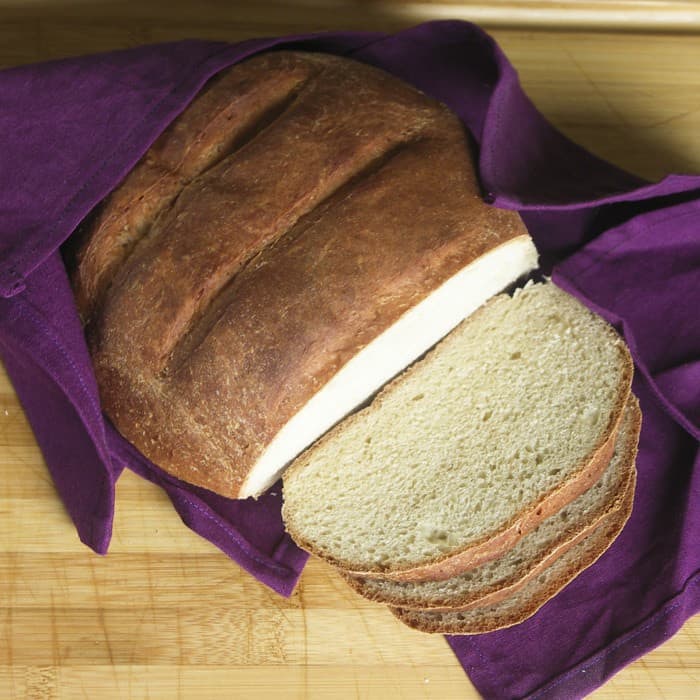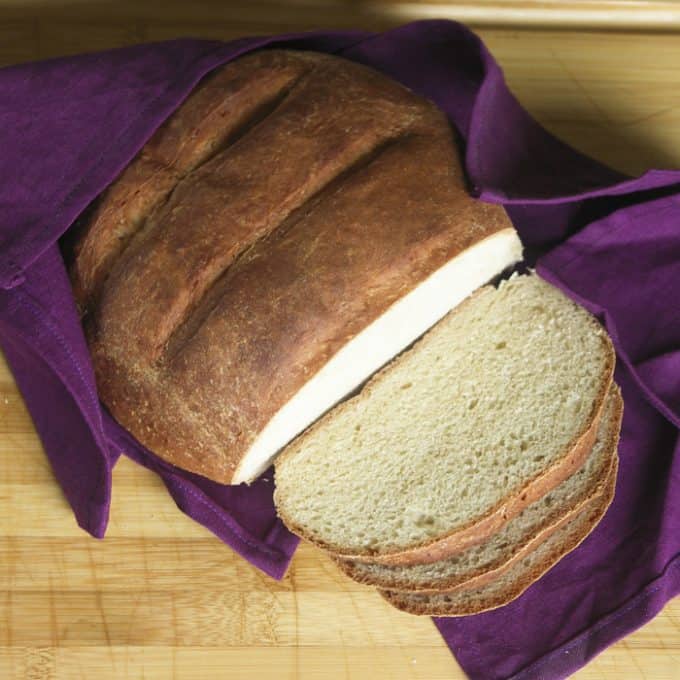 Homemade Rapid Yeast Bread Recipes {bread recipes that take about 1 hour from start to finish}
Homemade Quick Bread Recipes
Perfect, Flaky, Layered Buttermilk Biscuits
Double Chocolate Zucchini Bread
Earl Grey Raisin Scones with Sticky Lemon Glaze
Freeze and Bake Cheddar Scallion Scones
Grandma's Buttermilk Cornbread
Dijon Cheddar Scallion Puffs {Gougeres}
Mini Cheddar Scallion Monkey Breads
No-Knead Rosemary Crescent Rolls
Golden Whole Wheat Zucchini Bread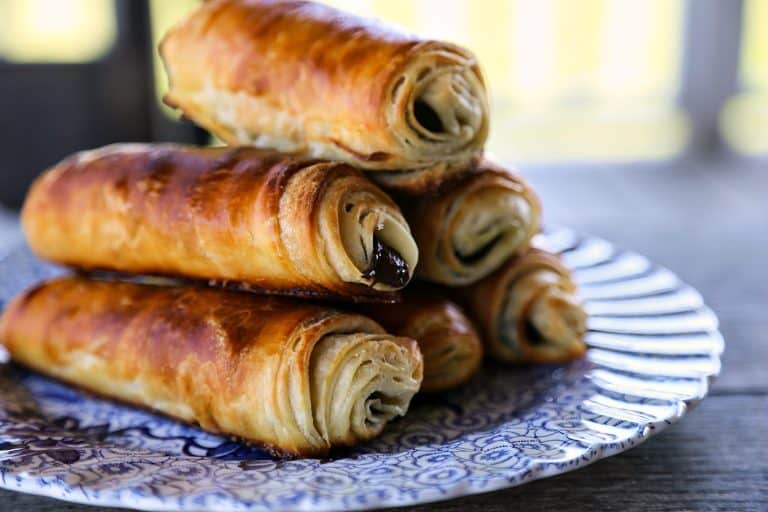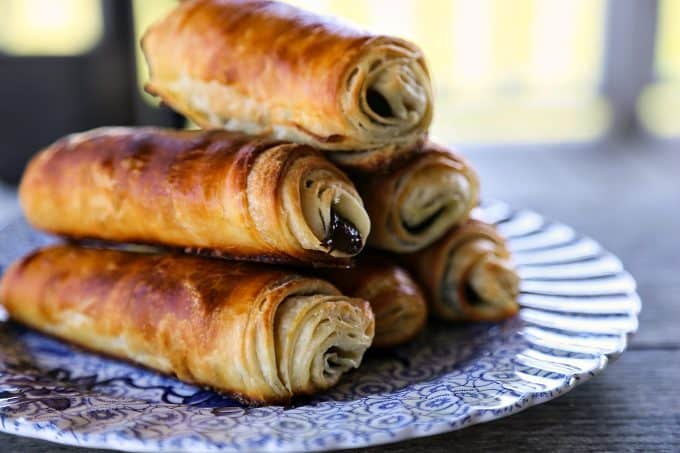 Homemade Sweet Bread Recipes
Pain au Chocolat {Chocolate Croissants}
No Knead Cinnamon English Muffin Bread
Double Chocolate Zucchini Bread
Earl Grey Raisin Scones with Sticky Lemon Glaze
Pumpkin Whole Wheat Cinnamon Rolls with Cream Cheese Icing
Golden Whole Wheat Zucchini Bread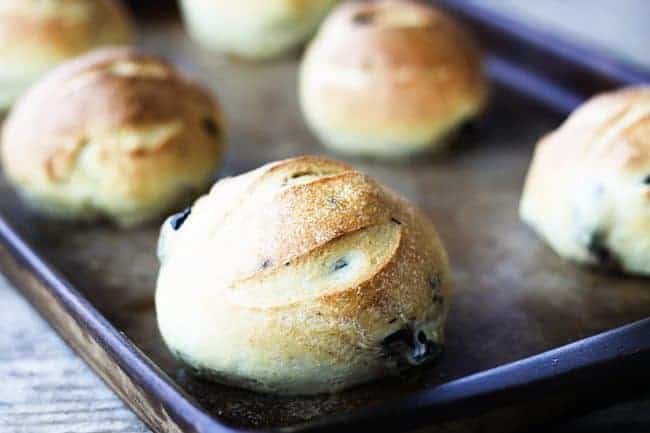 Homemade Savoury Bread Recipes
Onion Dill Sour Cream Bread Bowls
Giant Garlic Butter Soft Pretzel Rods
Roasted Garlic Rustic Sourdough Boule
No-Knead Cottage Cheese Dill Bread
Freeze and Bake Cheddar Scallion Scones
Dijon Cheddar Scallion Puffs {Gougeres}
Mini Cheddar Scallion Monkey Breads
Ham and Cheese Twisted Sandwiches
Individual Garlic Bread Braids
Ham and Cheddar Stuffed Pretzels
Pretzel Wrapped Smoked Sausages
Garlic Butter Crusty Bubble Bread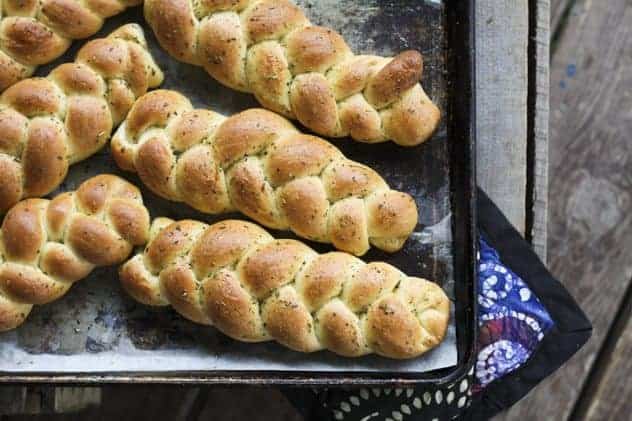 Rolls and Pretzels Recipes
No-Knead Rosemary Crescent Rolls
Individual Garlic Bread Braids
Mini Cheddar Scallion Monkey Breads
Ham and Cheddar Stuffed Pretzels
Giant Garlic Butter Soft Pretzel Rods
Perfect, Flaky, Layered Buttermilk Biscuits


Save
Save
Save
Save
Save
Save
Save
Save
Save
Save
Save
Save