Visit our Bread Recipes page for more fantastic homemade breads!
I have an enduring love affair with bread. It's not just the pure pleasure of pulling off a steaming heel of bread, slathering cold sweet cream butter over the top, sinking your teeth into the crumb and shattering the crust; although those are reasons enough to be devoted. Making bread; the process of measuring, mixing, kneading, waiting, shaping, waiting again and finally baking is -on its worst days- meditative and -on its best days- cathartic. But more wonderful than all of that put together is the delicious and painful anticipation while the bread bakes; the nutty, grainy, toasty smell of dough transforming itself into brown bread, and the impossible wait while the bread cools. I can never wait long enough.
I know very well that you should let the bread cool completely before cutting into it. I get around this problem by tearing into the hot bread with my bare hands. Throwing the bread from hand to hand until it's cool enough rest in the palm  is a skill I've developed out of necessity and a skill I've taught my family. Once the piece of bread reaches that temperature it is not long for this world. A fresh loaf of bread is shown no mercy in this home. And that is as it should be.
Bubble bread is the hard drug of the bread world; one experience with it is enough to hook you for life. There are variations enough on the theme to feed everyone's addiction; chocolate, caramel, cinnamon, cheese, onion, dill, and on and on and on. But this particular take on bubble bread -Garlic Butter Crusty Bubble Bread- is our family's favorite. Rolled in, topped with and baked in garlic butter and olive oil, and aromatic with Italian herbs this bread develops a crackly crisp deep brown crust all around and keeps an incomparably tender interior. Served as is, hot from the oven, it is a savoury and rich snack. Showered with grated Romano or Parmesano cheese and surrounding a warm bowl of marinara sauce it is second to none in party food or appetizers.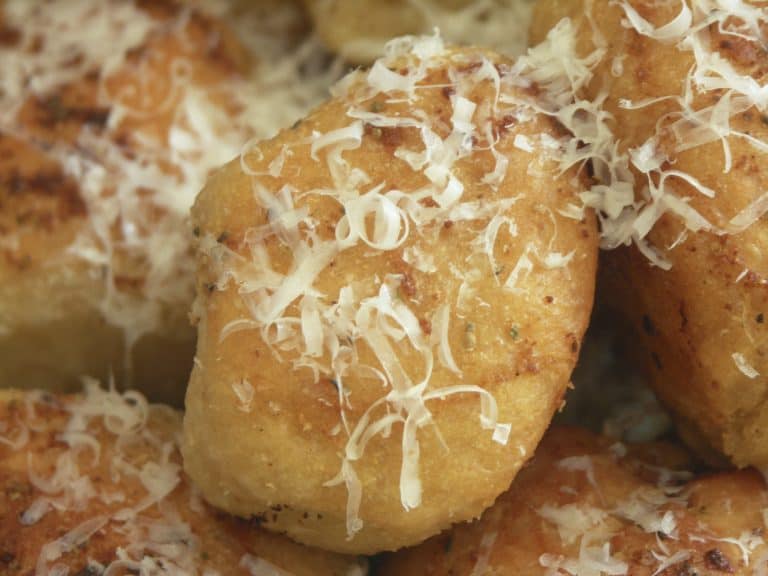 There's more to this bread than just a pretty package and head-swimmingly delicious taste. It takes advantage of the versatile Master Bread dough from the original 'Artisan Bread in Five Minutes a Day' by Jeff Hertzberg and Zoë François. In other words, the dough is ready and waiting in the fridge for a Garlic Butter Crusty Bubble Bread craving attack. And believe me. Once you've had it, those attacks will be frequent.
I have a confession to make. This bread is not low-fat or diet friendly. But sometimes, just sometimes, you have to feed the love handles and muffin tops to feed the soul. I, for one, am okay with that.
For a photo-free, printer-friendly version of this recipe, click here!
Garlic Butter Crusty Bubble Bread
Ingredients:
About half a batch of Master Bread Dough (recipe listed below)
1/4 lb (1 stick) unsalted butter
1 teaspoon minced fresh garlic
3/4 teaspoon dried Italian seasoning
1/2 teaspoon granulated dried garlic
1/2 teaspoon Kosher salt, plus an additional 1/2 teaspoon for sprinkling
1/4 teaspoon freshly ground black pepper
optional for serving, grated hard Italian cheese (Romano, Asiago, Parmesano, etc…) and a bowl of warm marinara sauce.
As with many good foods, this recipe starts with a stick of butter. Oh butter, I love you. Why do you treat me so badly?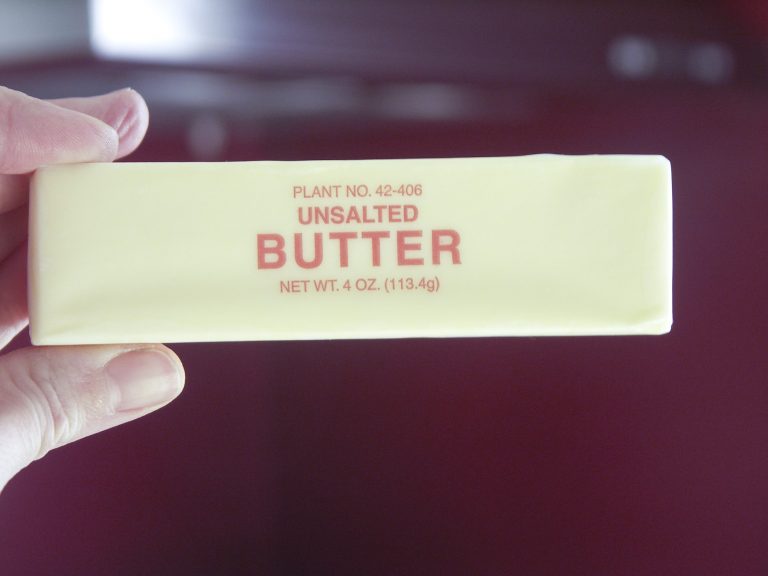 Unwrap butter and place in a microwave safe bowl. Heat in the microwave until the butter is fully melted. There are days I'm tempted to stop at this step and just rub the melted butter into my skin. But that might encourage cannibalism.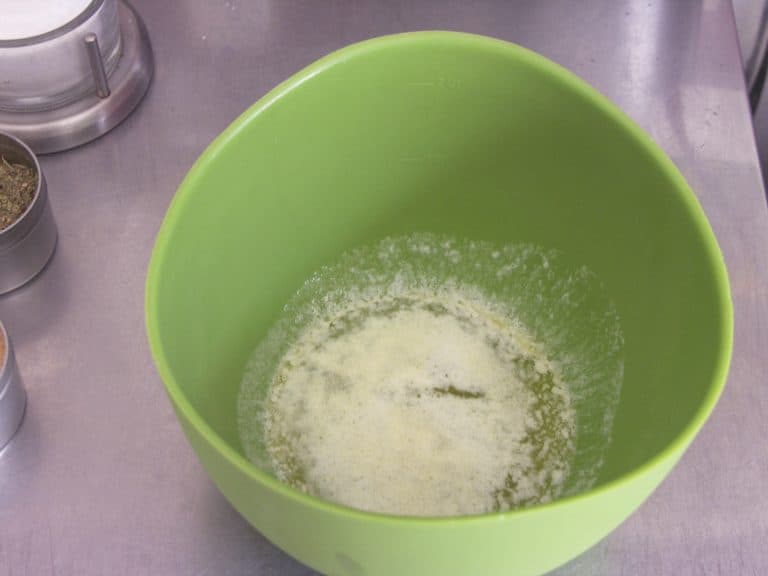 Stir garlic, Italian seasoning, granulated garlic, the 1/2 teaspoon of Kosher salt and freshly ground pepper into the melted butter. Set next to you on the countertop and turn your attention to the dough.
Dust the refrigerated dough in the bucket with a generous amount of flour.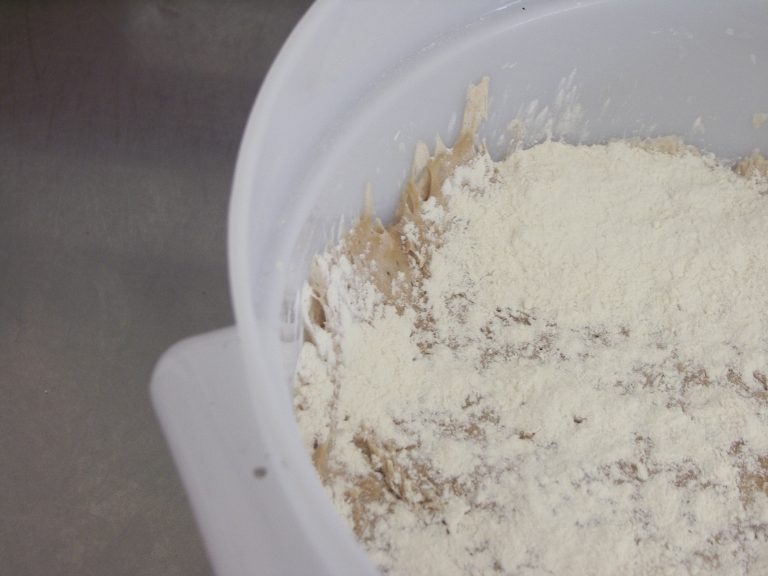 Pull dough up from the center and use a sharp knife to cut off a portion that is between the sizes of a golf ball and plum. Please excuse my floury hands, folks, there's just no way to get around it here…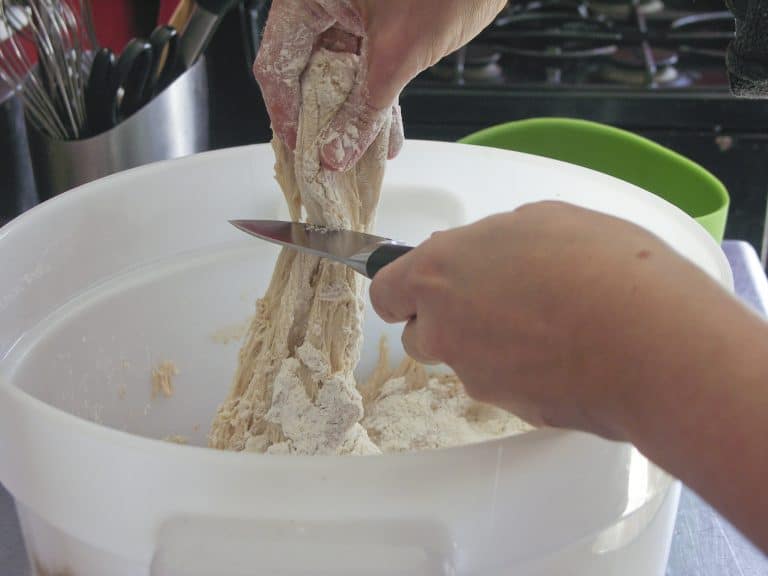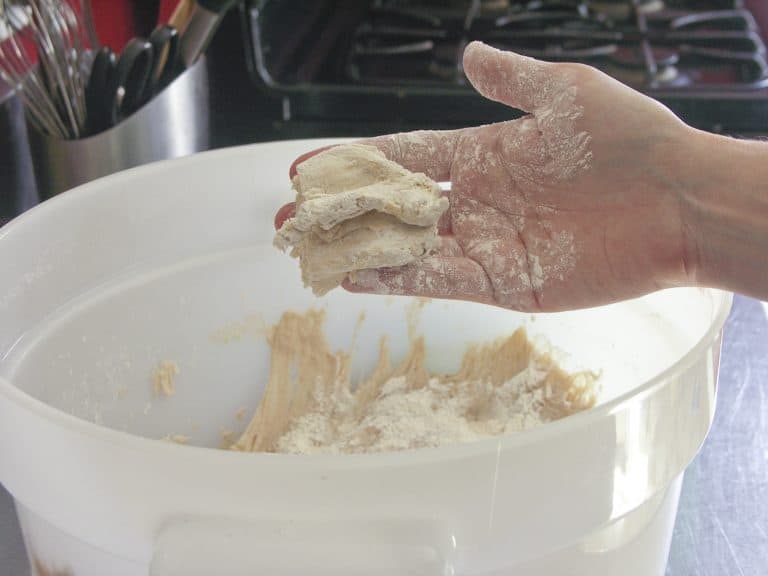 Pull the sides down and under while rotating the dough to form a smooth ball.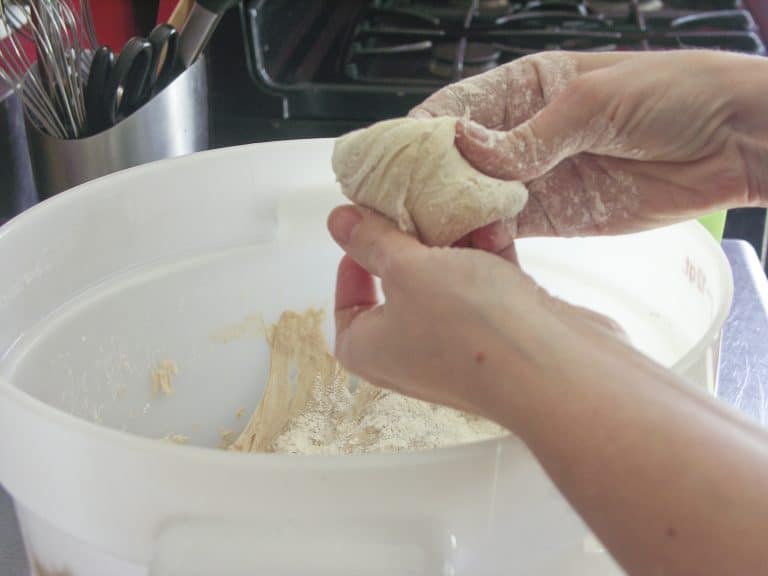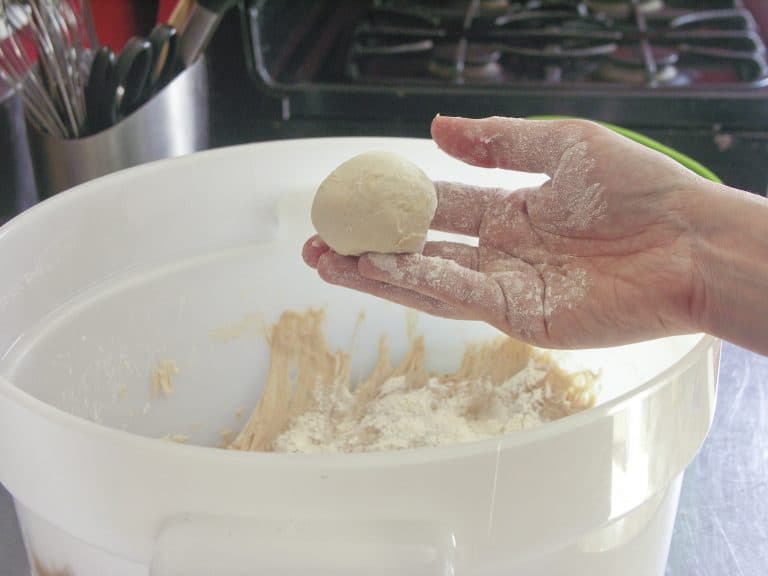 On a clean counter, place the dough ball, seam side down, and gently cup the dough with your hand.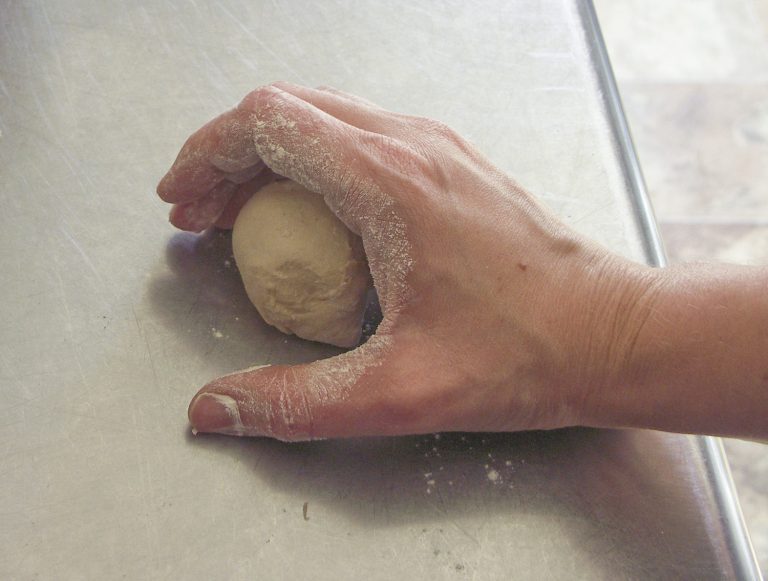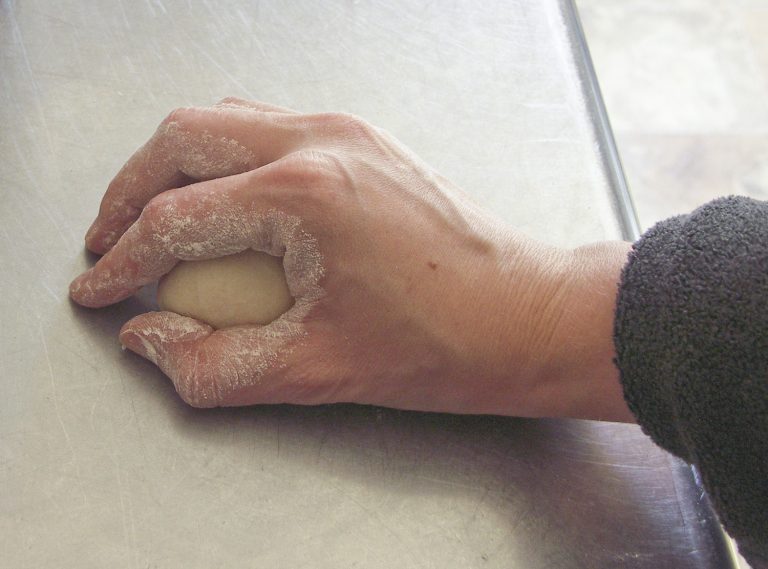 Rotate it in one direction on the counter while providing gentle and steady downward pressure. This will smooth the surface of the dough ball and make it tight.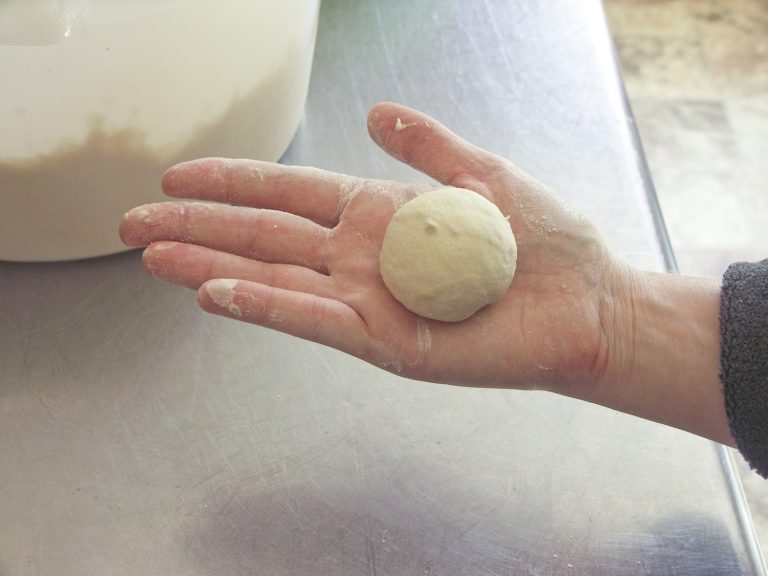 Carefully deposit the dough ball into the butter mixture and turn to coat completely.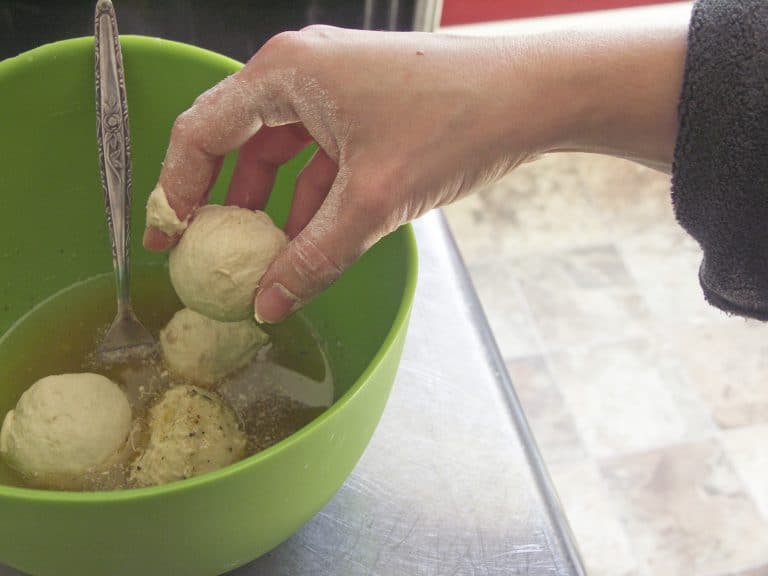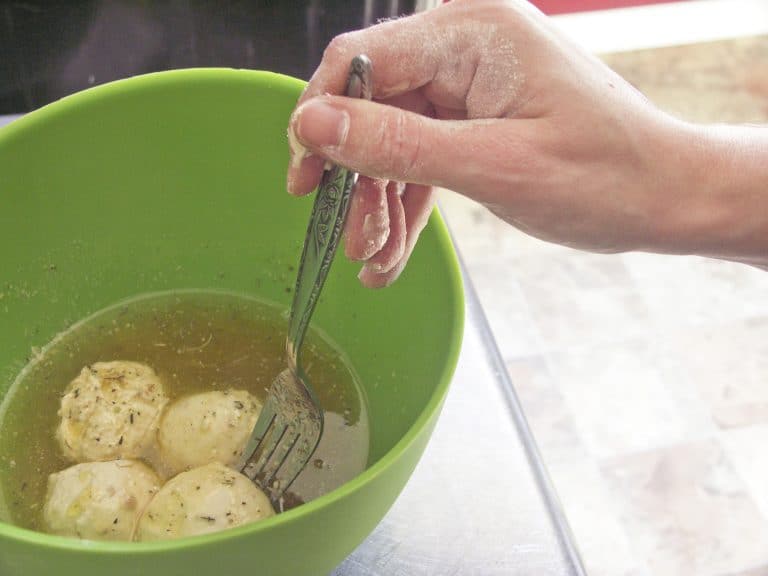 Use a fork to transfer the dough to a 9″ x 13″ pan. My pan, she has been well used and she works hard. She has permanent stains. Please don't hold that against me.
Repeat until you have at least four rows of three dough balls. If you want very crusty bubbles of bread, stop here. If you prefer crusty tops with softer sides, cut off and roll six more dough balls and place them in the open spaces between rows. For this batch, I opted for crusty tops and soft sides. I'm unpredictable like the wind.
Do not crowd the dough to the point where you have to squeeze or mash them to the side to fit more into the pan. Drizzle any garlic butter mixture that remains in the bowl over the top of the dough. Sprinkle with remaining 1/2 teaspoon of Kosher salt.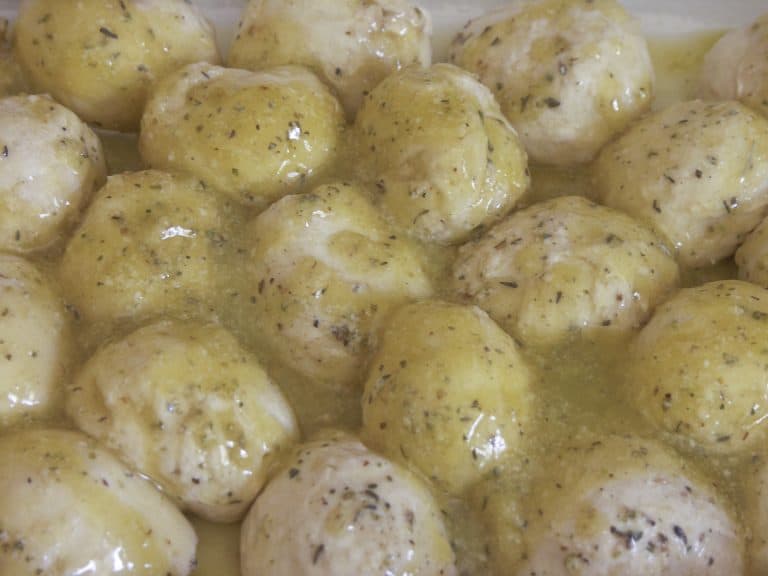 Allow the dough to rest while preheating the oven to 450°F (230°C or 8 Gas Mark). When oven is hot, place pan on a rimmed cookie sheet on the center rack and bake for 25 minutes, or until the top of the bread is deep brown. The cookie sheet is there to catch any butter that tries to escape. There will still be quite a bit of bubbling butter around the edges of the bread. This is a good thing.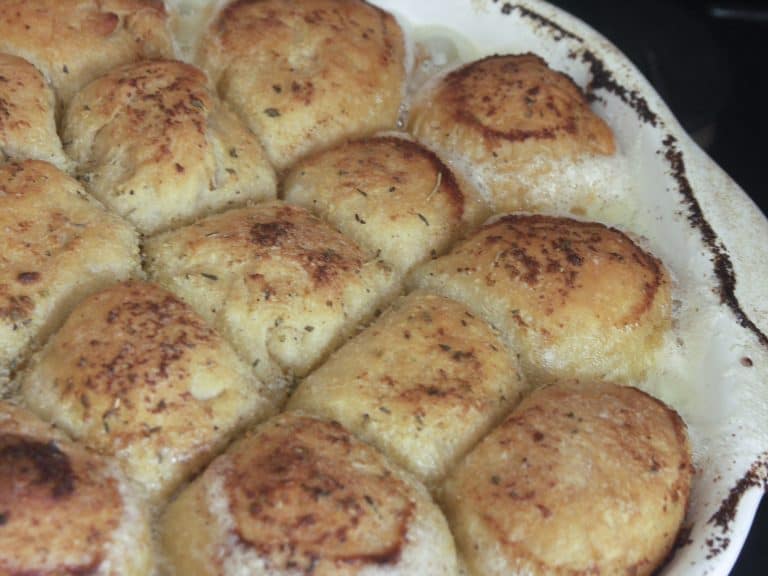 Allow the pan to stand on the stovetop until the remaining butter is absorbed. Trust me. Much like the Borgs, it will be assimilated.
Serve warm, as is.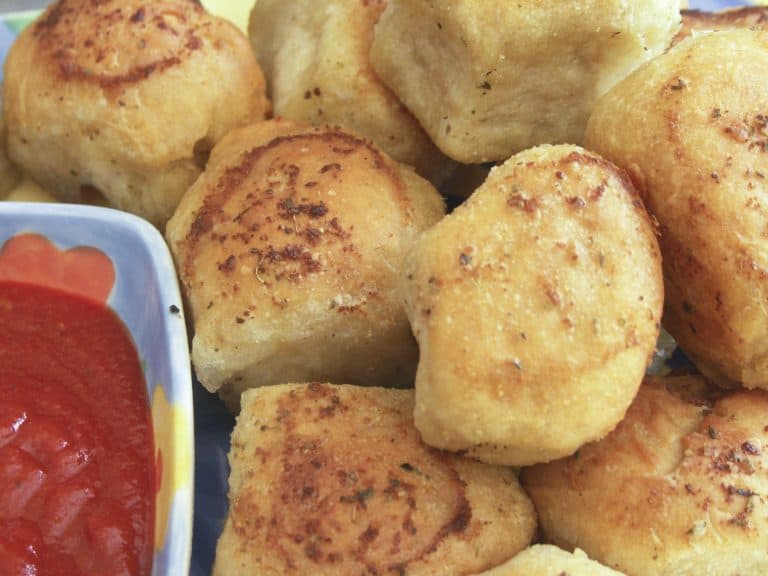 Or top with a generous amount of freshly grated hard Italian cheese and a bowl of warm marinara sauce for dipping.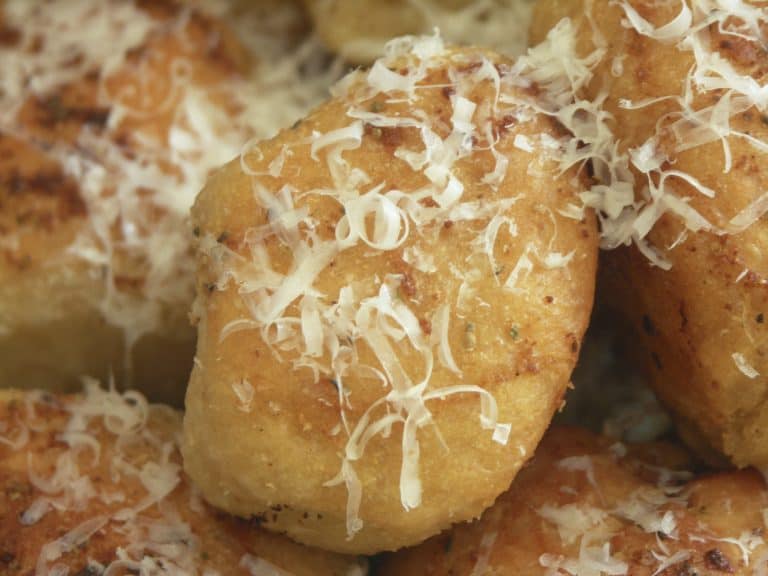 Update: This post has been updated to reflect the removal of the 4 Tablespoons of extra virgin olive oil from the recipe. While it was delicious with the oil, there was enough variance in people's ovens that some ovens scorched the bread or overcrisped the bottoms of the rolls with the additional fat. The removal of the fat ensures a more even result. Either way, it's good eats, folks!
Master Bread Dough Recipe
From the book 'Artisan Bread in Five Minutes a Day'. Zoë François graciously allowed me to share this recipe.
Ingredients:
6 cups lukewarm water
3 Tablespoons instant yeast
3 Tablespoons kosher salt
13 cups all-purpose flour
Mix water, yeast and salt together in the bowl of a large stand mixer or in a 10 quart food-safe container. Add flour and stir until the mixture is uniform. You don't have to knead, but you want everything uniformly moist, without dry patches. The dough will be wet and will conform to the shape of its container.
Cover with a lid that fits well, but is not airtight and allow to rise at room temperature for about 2 hours or until the dough collapses back in on itself. You can now refrigerate the dough for up to two weeks, using the dough whenever you need it or you may use it immediately.
Save