Visit our Bread Recipes page for more wonderful homemade bread recipes!
Recently, I've become afraid to leave my car unattended.
My peaceful small town existence has been rocked by multiple breaking-and-entering events in my car. It seems like every time I walk into the post office, church or the little grocery store, I come out, find my doors ajar and discover a multitude of femur-sized zucchinis scattered all over my seats.
Some culprits drop them and run while others leave notes like, "Help! I can't deal with these anymore! I know you don't waste any produce."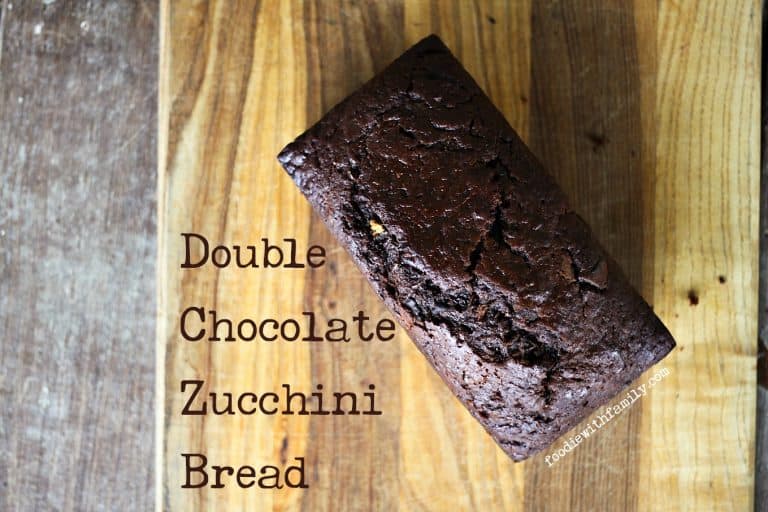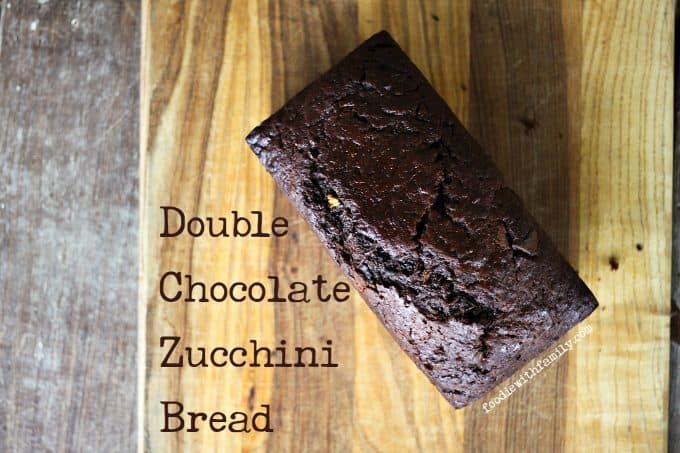 My Amish friends even get in on the zucchini vandalism by leaving them on top of my car as a joke or stashed on the back bumper of other Amish folks' buggies. It's nothing to watch half a dozen zucchinis the size of Mr. T's arm roll out of the back of a buggy as it slogs up a steep hill. We're all on high alert.
It's like the zucchini apocalypse, people.
My friends are right, though, I'm loath to waste produce, so I tuck zucchini into everything like cheerleaders use glitter. My kids cautiously fork through their meals looking for evidence of zucchini. They're not going to trust me pretty soon.
In the meantime, nobody suspects my double chocolate chunk bread of duplicity, but it is so chock-full of zucchini that my three youngest would die a thousand deaths if they knew how much they'd consumed by way of thick slabs of the deep chocolate cake-like goodie.
These can be baked as muffins, too, making them even more devious. Who would imagine the luscious, moist cupcakes are brimming with vegetables?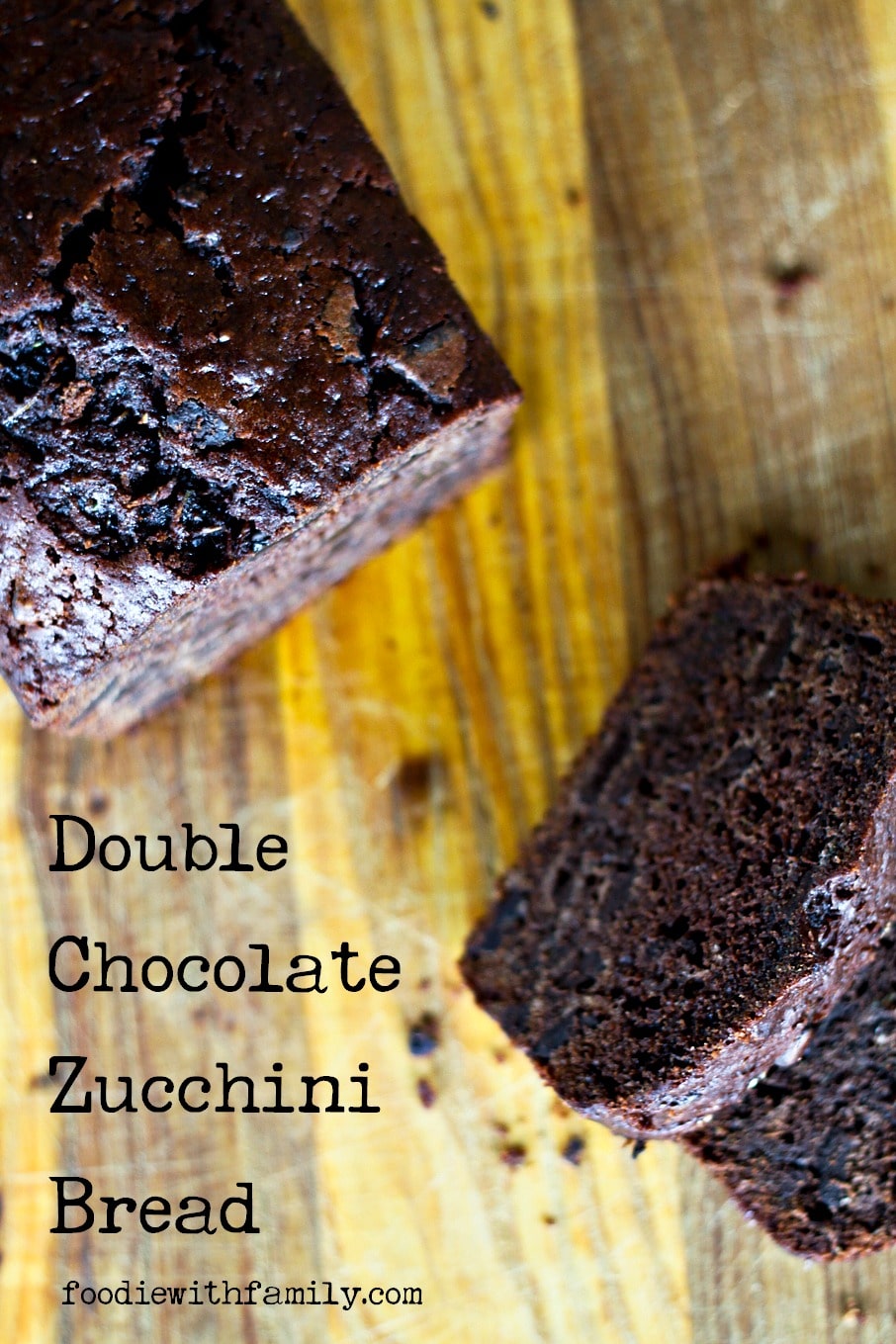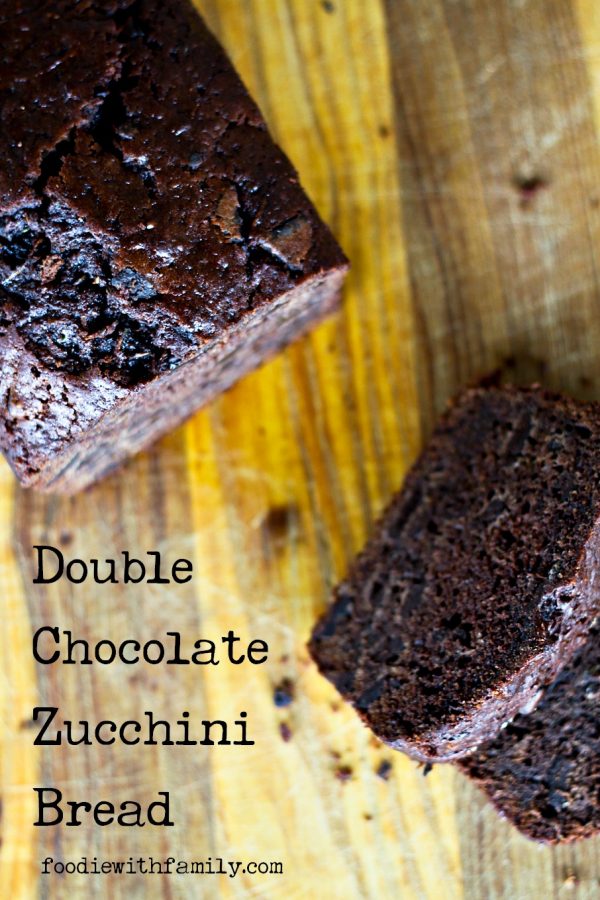 Cook's Notes
As with most quick breads, the key to a good texture in the finished product is to avoid overworking the batter. Translation: just mix it 'til all the dry pockets are gone. It doesn't have to be (nor should it be) super smooth.
If you can't find chocolate chunks, you can always substitute semi-sweet or milk chocolate chips in an equal amount.
This is a GREAT recipe for using up those monstrous huge zucchini that are around at this time of year. Don't 'spend' your tender little zucchini on this!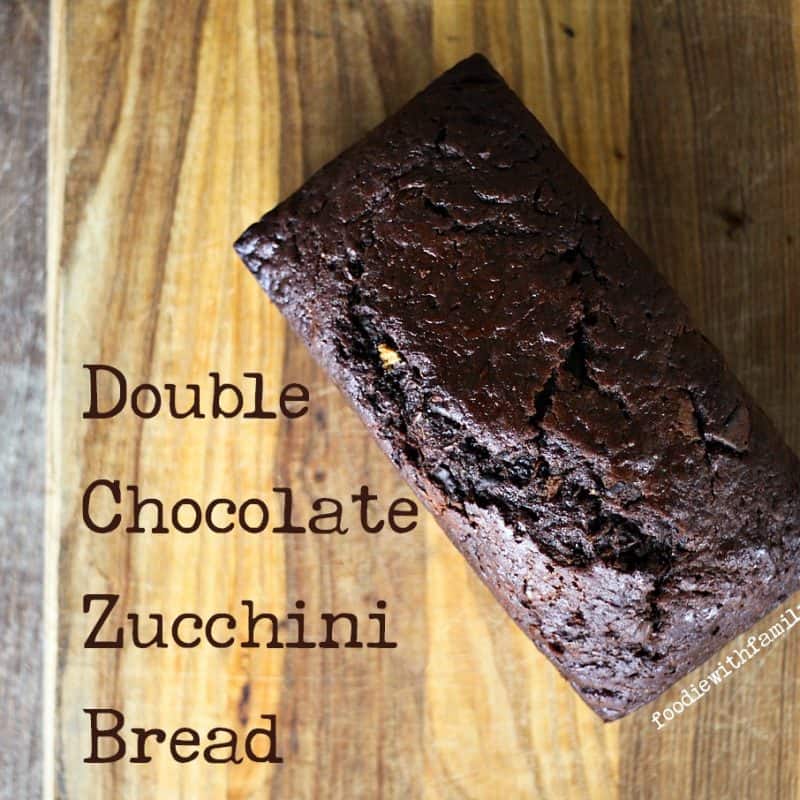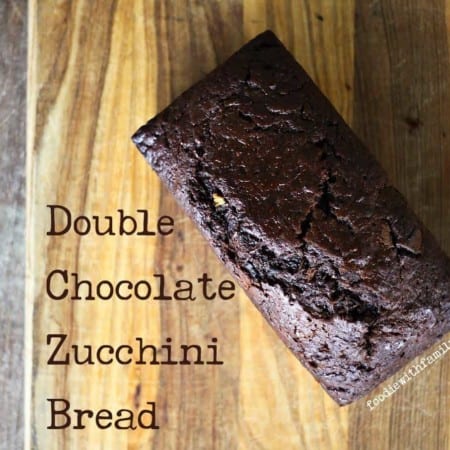 Ingredients
2

large eggs

1/3

cup

honey

1/2

cup

melted coconut oil

1/2

cup

brown sugar

1

teaspoon

real vanilla extract

1

teaspoon

salt

1/2

teaspoon

baking soda

1/2

teaspoon

baking powder

1/3

cup

Dutch-process cocoa powder

1

cup

all-purpose flour

2/3

cup

white whole wheat flour

2

cups

shredded

unpeeled zucchini, gently pressed

1 1/4

cups

chocolate chunks
Instructions
Preheat the oven to 350°. Grease a standard loaf pan or the wells of a standard sized 12-muffin pan.

Whisk together the eggs, honey, oil, vanilla extract and sugar until smooth in a large mixing bowl. Add all of the remaining ingredients (except the zucchini and chocolate chunks) and stir until no dry pockets remain. Stir in the zucchini and chocolate chunks until evenly combined.

Scrape the batter into the prepared loaf pan or divide between the 12 muffin cups. If baking the loaf, bake for 65-75 minutes or until the loaf tests clean with the exception of a little melted chocolate on the tester. If baking muffins, begin checking them at 18 minutes and bake until they test done (minus a little melted chocolate smeared on the tester.)

Whether cooking the loaf or the muffins, cool in the pan for 10 minutes before gently turning out onto a cooling rack. Cool completely before slicing. The muffins can be eaten warm. Leftovers should be tightly wrapped and stored at room temperature.
Nutritional information is an estimate and provided to you as a courtesy. You should calculate the nutritional information with the actual ingredients used in your recipe using your preferred nutrition calculator.
Note: This piece was originally published in the column I wrote for The Traverse City Record-Eagle on September 12, 2013. Because the bread is so good, I'm reprinting it here!
Save