Visit our Bread Recipes page for more wonderful homemade bread recipes!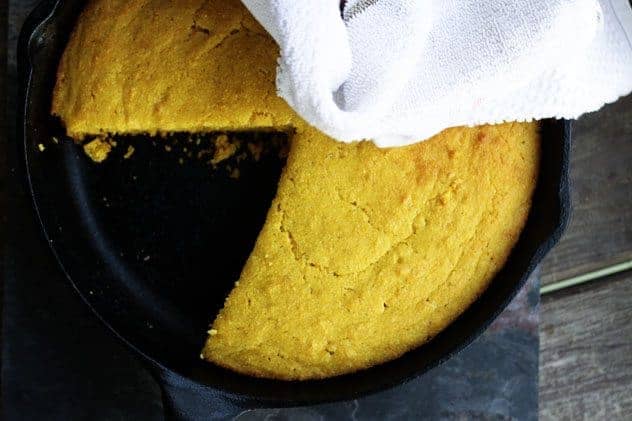 A couple nights ago I had a sudden and overwhelming desire to stuff my face full of my Grandma's cornbread. It's hard to explain if you didn't grow up on cornbread, but the drive to consume it can be a powerful force. So powerful, in fact, that I actually made two pans full at ten thirty at night just so I could eat a huge wedge warm from the oven and have an untouched pan to take to a friend's house the next day.
The smell of toasty corn bread baking up in a coal-black cast-iron pan is pretty close to one of the best things on earth. I have a Pavlovian response to the aroma of cornbread. By that, I don't mean I bark and run around in circles, but I may have been caught panting and drooling and maybe even wagging my tail a time or two.
I'll get it out of the way right now and say that cornbread is not sweet. That's cake. Corn cake, if you want, but it's cake. And I'm not saying that's nasty, I'm just saying it's not cornbread.
The cornbread I'm sharing with you today is the be all and end all of cornbreads to me. It is most definitely not sweet.
My Arkansan grandma made this cornbread for me probably less often than I have in my memory, but often enough for it to define Grandma's cooking in my mind. I know it was always at our Thanksgiving table, often in the stuffing, but just as often in a bread basket in gloriously big yellow squares. I remember getting a wedge from the cast-iron pan right after it was pulled from the stove; a sinfully large pat of cold butter melting and sliding right off of the top of the steaming bread.
When I was first married, I quizzed Grandma on why this was her favourite cornbread recipe of all. She grew up on a very plain cornbread; one that was almost pure cornmeal and water and a smidge of egg. No leavening, no nothing. It was a corn-lover's dream, but very crumbly. She told me, "That bread crumbled if you looked at it." As an adult, she got all that great corn-y flavour of the cornbread she knew and loved in a package that held together when she discovered the Buttermilk Cornbread recipe that she wrote out by hand for me.
I still have that recipe card, laminated and caked with flour over the years, written in Grandma's own hand. Although I have it memorized, I still look at the card every time I prepare it. It's like a sweet hug from Grandma.
Now, if you want to get really stratospherically happy, there really isn't anything better than a pan full of Grandma's Buttermilk Cornbread with a potful of bubbling hot beans. Oh mercy. Seriously. Just typing that sentence made me start drooling like a baby. That's a complete meal in and of itself, but you can up the vegetable content by adding a BIG GREEN SALAD alongside it if you want.
The cornbread is equally at home accompanying chili or soup. More than once, I've used the cornbread batter to coat corndogs or top a casserole dish or chili for tamale pie. Most often, though, it's a cast-iron skillet, a stick of cold butter, a fistful of napkins and me flying solo. Butter dripping down the sides of a steaming hot wedge of golden, fragrant cornbread and my fingers digging in to pull off piece after piece. Grandma said I could.
Thank you, Grandma!
Buttermilk Cornbread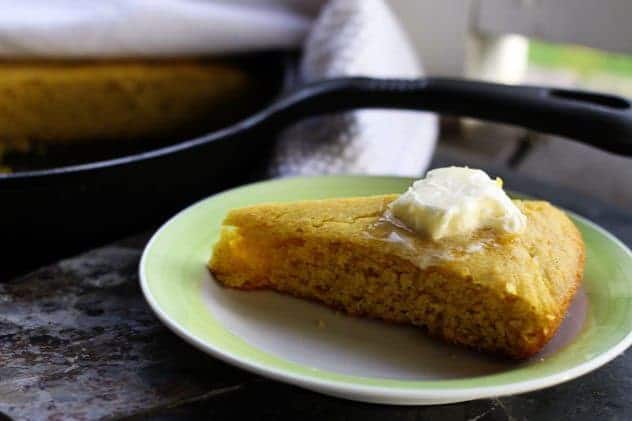 As long as I live, there will not be anything that tempts me as powerfully as a hot-from-the-oven wedge of golden cornbread freshly taken from the cast-iron pan with a pat of cold butter melting and sliding right off of it.
Ingredients
1/2

cup

flour

1 1/2

cups

yellow cornmeal

not self-rising

3/4

teaspoon

baking soda

2

teaspoons

baking powder

1 1/2

tablespoons

sugar

1

teaspoon

salt

2

eggs

beaten

3

tablespoons

melted butter

1 1/4

cups

buttermilk

bacon grease or butter for the pan
Instructions
Preheat oven to 425°F. Place an 8-inch or 10-inch cast iron skillet, preferably, or an 8-inch by 8-inch square cake pan, or 8-inch round cake pan in the oven to heat along with it.

In a large mixing bowl, whisk together all of the dry ingredients. In a separate bowl, whisk together the wet ingredients. Pour the wet ingredients into the dry ingredients and use a whisk to gently combine them, ensuring there are no dry pockets of cornmeal.

Generously grease the hot pan with butter or bacon grease. Pour the cornbread batter into the greased pan and bake for about 30 minutes, or until a skewer or toothpick inserted in the center comes out clean.

Serve warm for best flavour. Leftovers can be stored -wrapped in a towel or plastic wrap- at room temperature for up to 48 hours, but will taste best if reheated slightly before serving. If your cornbread gets a little old and stale, crumble it and use for the best

Cornbread stuffing

that you will ever eat in your lifetime. Guaranteed.
Nutrition
Calories:
161
kcal
Carbohydrates:
22
g
Protein:
4
g
Fat:
7
g
Saturated Fat:
3
g
Cholesterol:
40
mg
Sodium:
334
mg
Potassium:
181
mg
Fiber:
2
g
Sugar:
3
g
Vitamin A:
197
IU
Calcium:
64
mg
Iron:
1
mg
Nutritional information is an estimate and provided to you as a courtesy. You should calculate the nutritional information with the actual ingredients used in your recipe using your preferred nutrition calculator.
Save