Visit our Bread Recipes page for more wonderful homemade bread recipes and check out all our other wonderful Sweet Potato Recipes, too!
My family most often gathered around my Grandma and Grandpa's table for Thanksgiving. Grandma's table was never fancy looking and never had a swank tablescape. To the best of my recollection, I don't even think any of the dishes matched. We all dressed comfortably and most definitely casually. Here's the thing, though.
NO ONE who sat there and ate her food cared one little bit because everyone who walked through those doors could smell the feast that awaited them and felt the love that had invited them to dine together on Grandma's finest fare. It was a case of love goggles at the table, folks. Everything took on a magical glow. Now just imagine you're sitting at that stretched-to-capacity-table with all the leaves in place. What do you go for first after Grandpa says grace? Do you grab for the platter of turkey? The mashed potatoes and gravy boat? The cranberry sauce?
I can tell you without fear of exaggeration that every single Thanksgiving of my life, I reached first for the rolls. Carbs and I go way back. Grandma's rolls were the stuff of legend. She served two kinds every year: Honey Potato Wheat Rolls and Buttery Crescent Rolls. Her rolls were known far and wide for their stellar buttery softness. Grandma always kept a few aside in a little bread basket on top of the refrigerator for me not because this picky kid deserved it, but because she loved me and she had to be a little moved by my unwavering enthusiasm for her breadstuffs.
I think the bread was the only item at the table that got a fancier serving vessel. It was always in a cotton towel lined bread basket or bread bowl, and where it was you would find me.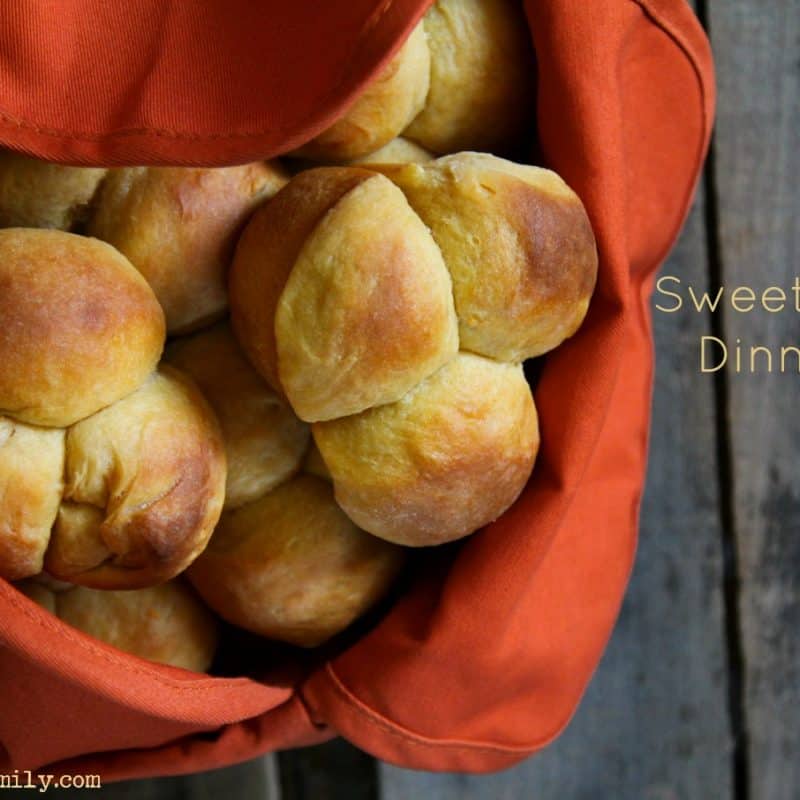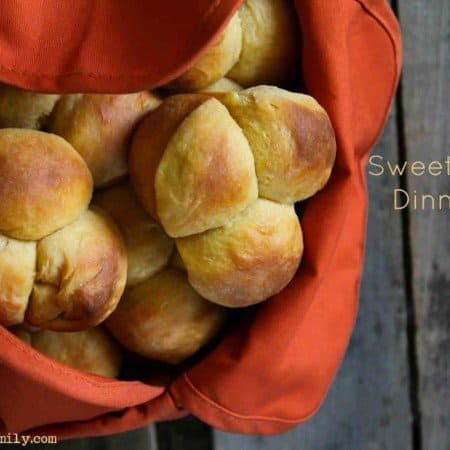 Ingredients
2 1/4

teaspoons

yeast. Active Dry Yeast or Instant are both acceptable

or one packet

1 1/2

cups

warm water

for best flavour, use the water in which you cooked potatoes

2/3

cup

maple syrup

preferably dark

1

cup

lukewarm mashed sweet potatoes

2/3

cup

butter

softened to room temperature

2

eggs

1 1/2

teaspoons

salt

2

cups

white whole wheat flour

5

to 5 1/2 cups all purpose flour
Instructions
To Make the Dough:
In a large mixing bowl, the bowl of a stand mixer, add the water and maple syrup, stir gently and sprinkle the yeast over the top. Let stand for 2 minutes. Add everything but the flours and stir well (using a sturdy spoon or dough hook) to combine. Add the white whole wheat flour and 2 cups of the all purpose flour and stir well until even. Add the remaining flour and stir it in. If you have a stand mixer, use the dough hook to knead it. Otherwise, turn onto a generously floured surface and knead until smooth and elastic, about five minutes. Transfer the dough into a large clean mixing bowl or dough bucket, cover tightly with plastic wrap and refrigerate for at least 8 hours but no longer than 5 days.
To Shape the Rolls:
Grease or butter two 9"x13" rectangular or four 8" round baking pans or 3 standard sized muffin pans and set them aside.

Turn the dough onto a floured surface and punch it down. Divide in half, then portion each half into 20 equal sized pieces. Roll each piece into a ball.

If making standard dinner rolls, place the dough balls into the prepared pans (5 rows of 4 in each rectangular pan or 10 rolls in each round pan.) If making cloverleaf rolls, divide each ball into 3 pieces, roll them into tight balls, toss with melted butter, and put 3 balls in each prepared muffin tin. Either way, cover with a clean towel and let rise in a warm, draft-free place until puffy in appearance and nearly doubled in size, about 2 hours.
To Bake the Rolls:
Preheat oven to 375°F.

Bake the rolls for 20 to 30 minutes or until golden brown. If desired, brush the finished rolls with melted butter.
Nutritional information is an estimate and provided to you as a courtesy. You should calculate the nutritional information with the actual ingredients used in your recipe using your preferred nutrition calculator.
This post was originally published November 14th, 2014.
Save