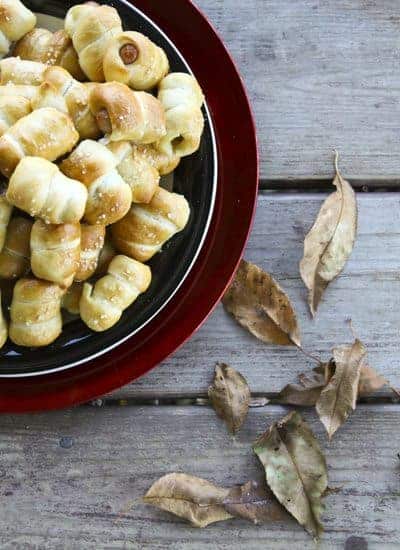 Tighten up those apron strings and join in because this recipe is a must have for football or hockey viewing. Maybe you should make it just because you can. I've been known to do that…
A sausage in the hand is worth two on the fork. Or so I've heard it said.
That everyone loves finger food is one of the immutable laws of the universe.* Portable and filling, hand-held foods are a real kid,  husband and crowd pleaser.
*The law -as written by me- states that any food that may be transferred from plate to mouth by way of hand or stick is exponentially more appealing and tasty than one which requires utensils or cutlery. I have yet to meet anyone who contests the law.

Soft pretzels and cocktail sized smoked sausages are in the upper echelon of snackery.* Soft pretzels at their best are a chewy, salty, satisfying contribution from the bread world. Cocktail sized smoked sausages offer a low-effort delectable umami punch in a cute little package.
*Their superiority is also an immutable law. I offer proof. What disappears first on a party buffet? If they are present, the answer is unquestionably soft pretzels and cocktail sausages. On another note, is snackery a proper word? If not, I claim this newly coined word in the name of Foodie With Family. I have a flag and everything.

These morsels? These are the cream of the crop. Pretzel Wrapped Smoked Sausages (with or without the divine Cranberry Mustard) combine the best of everything from the grab-and-go food world into two savory, chewy, dunkable, adorable-to-behold bites. And oh, what bites they are! This is far and away the most requested birthday, special occasion, just-because-I'm-craving-it recipe in my arsenal.
A word of caution… Make the whole batch. Don't be tempted to halve or quarter this because you will eat more than you thought you would and so will anyone standing around you. That tray of pretzel sausages above was cleaned in 5 minutes flat. I don't think you'll have to worry about leftovers. But, leftovers -if, by some miracle, you have them- freeze beautifully when wrapped in foil and a resealable bag.
Don't think for a moment, though, that in the presence of such glorious snack food that this Cranberry Mustard is a throw-away recipe. You have never had a mustard quite like this one before. Ruby-hued, tart, thick, and sweet with that mustard pop, it compliments everything from smoked sausages to venison to roast turkey. More unique than its lovely color is the fact that, unlike most homemade mustards that have to age for weeks, this one is ready to eat straight from the pan. May I make a suggestion that will have you naming your next-born children after me? Have Cranberry Mustard at your next Thanksgiving table. I have six words to say  that will convince you: Leftover turkey sandwiches with Cranberry Mustard. I believe that says it all, no?
For a printer-friendly, photo-free version of these recipes, click here!
Sausage Pretzel Dogs
Yield: About 76 pieces.
Ingredients for the pretzel dough (Ingredients and bread machine method from the Bread Lover's Bread Machine Cookbook):
4 cups (1 pound and 1 ounce by weight) bread flour (High-gluten flour)
1 tablespoon malt powder or sugar
1 cup milk
1/2 cup water
1 1/4 teaspoons Kosher salt
2 1/4 teaspoons instant yeast
Ingredients for the pretzel bath:
2 quarts water
2 tablespoons baking soda
Additional Ingredients:
2 (14 ounce) packages cocktail-sized smoked sausages
1 egg white whisked together with 1 tablespoon of cool water until frothy
coarse salt
Optional:
melted butter for brushing the finished pretzels
To prepare pretzel dough with a bread machine:
Add all pretzel dough ingredients into the pan of the bread machine according to manufacturer's instructions.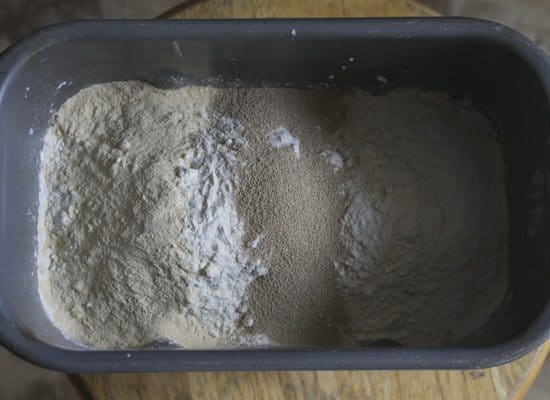 Program the bread machine for the dough cycle and press 'start'. Allow the machine to complete the cycle.
This is how the dough looks when it is completed. If you are using one of the alternate dough preparations listed below, your dough should still be smooth and elastic like this.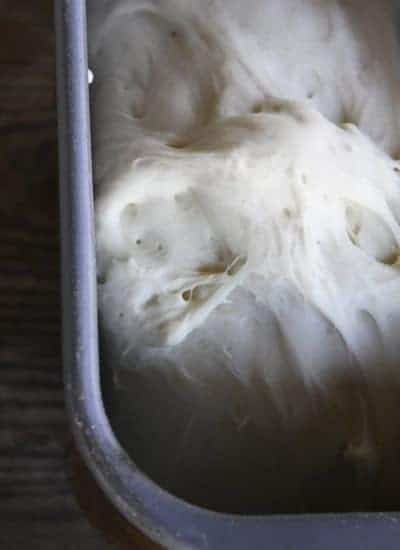 To prepare pretzel dough with a stand-mixer:
Fit your stand mixer with a dough hook. Add all of the pretzel dough ingredients to the work bowl. Turn the stand mixer on using the lowest setting. Keep the mixer on 'low' for 6 minutes. After 6 minutes, remove the dough hook from the bowl. Cover with a damp tea towel. Allow the dough to rise in a warm, draft-free place until puffy and doubled in bulk; about 35 minutes.
To prepare pretzel dough by hand:
Add dry pretzel dough ingredients to a large mixing bowl and mix lightly with a whisk. Add the milk and water to the bowl and stir well with a sturdy spoon until a shaggy dough forms. Turn out onto a lightly floured counter top and knead until a smooth and elastic dough forms. Place in a clean bowl covered with a damp tea towel. Allow the dough to rise in a warm, draft-free place until puffy and doubled in bulk; about 35 minutes.
To assemble the pretzel wrapped sausages:
Empty the sausages into a bowl for easiest access. Line 3 half-sheet pans with parchment paper. Spray the parchment paper lightly with non-stick cooking spray. Set aside.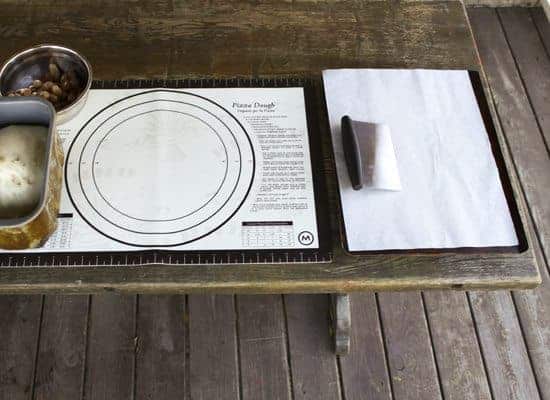 Turn the risen dough out onto a clean counter top. (Do not flour the counter top!)  Use a bench knife or spatula to pinch or cut off a piece of dough about the size of a ping pong ball. Cover the bulk of the dough with a clean towel to keep it from drying.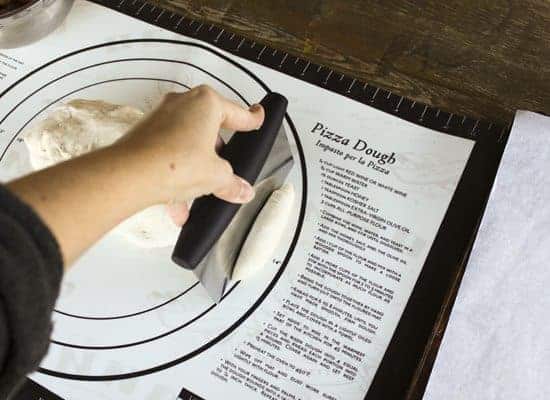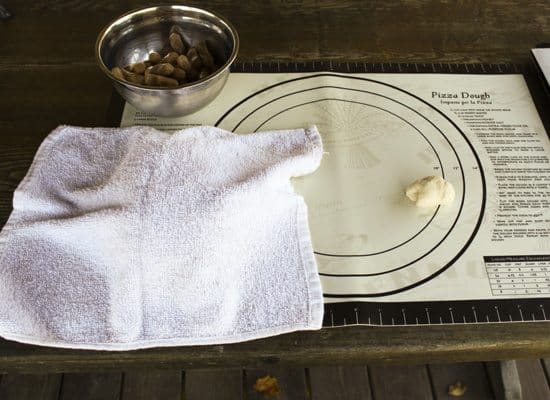 Squash the piece of dough flat. Using the pads of your fingers and the palms of your hands, roll the piece of dough back and forth, gently moving hands away from each other. If you call on your play-dough snake making experience to get the right feel for the movement you're on the right track.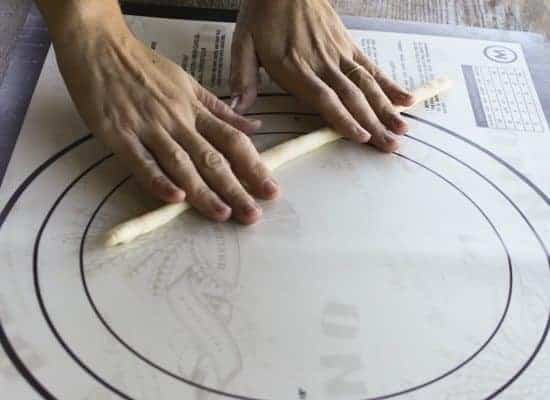 Continue rolling the dough until it forms a long cord with a diameter of about 1/4-1/2 of an inch. Hold the end of the dough cord to the end of the cocktail sausage with one hand. Use the other hand to coil the pretzel dough around the sausage down to the other end.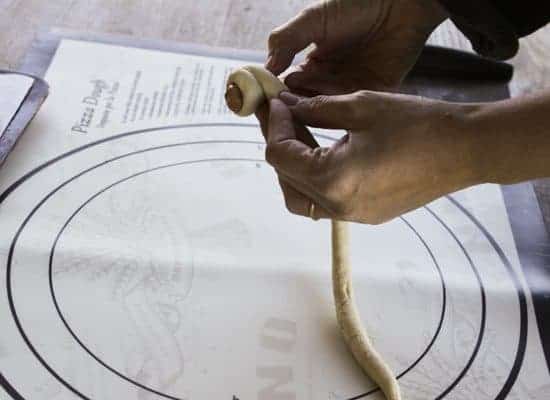 Use a bench knife or spatula to cut the excess dough cord.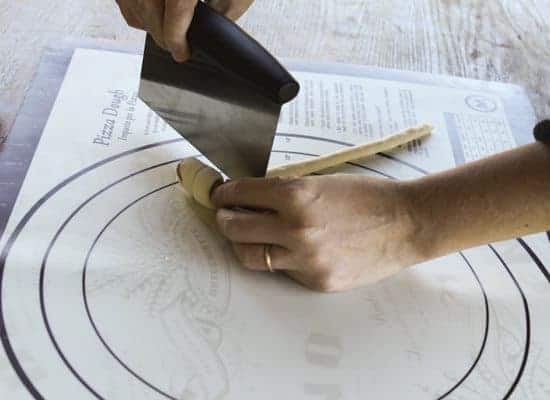 Wind the last bit of dough cord tightly at the end and pinch the loose ends  into the dough coil. Don't worry about perfection. You're working with sausages and pretzel dough. Whether it ends up a perfect finished coil or not it will still taste like a dream!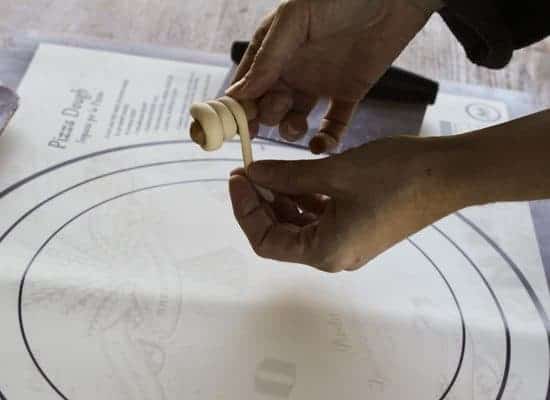 Place, pinched sides down, on the prepared parchment lined pans. Let rise, uncovered, for 30 minutes.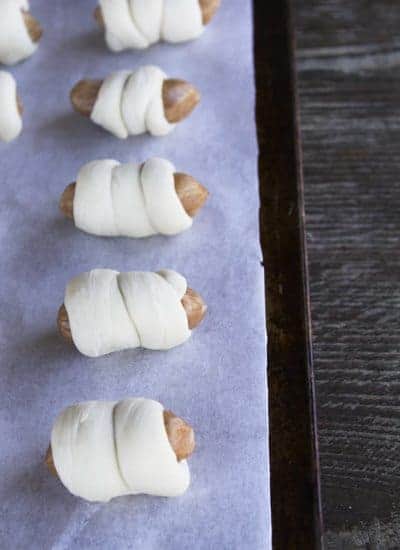 To boil and bake the pretzel wrapped sausages:
While the pretzel dough is rising, preheat oven to 400°F and bring 2 quarts of water to a boil in a large pot. Add the baking soda to the boiling water. Carefully lower up to 8 pretzel dough wrapped sausages into the boiling water with your hands. Take care not to drop them from on high as that will cause the boiling water to splash. Allow them to simmer for about 45 seconds. The pretzel dough will become puffy and some ends may come untucked. As soon as you reach this stage…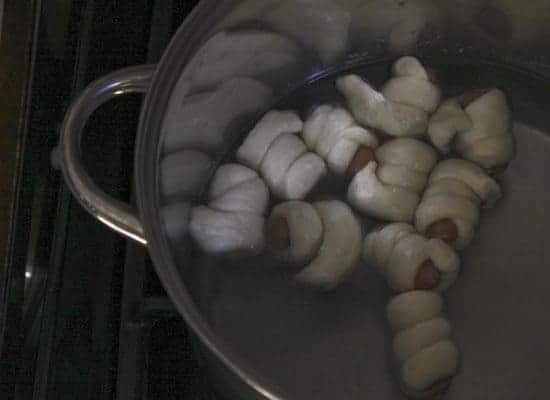 …Use a slotted spoon to lift each piece from the water, drain and return to the pans. Brush each piece with the frothy egg wash.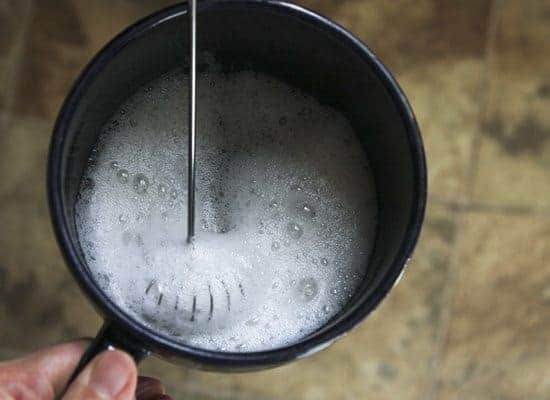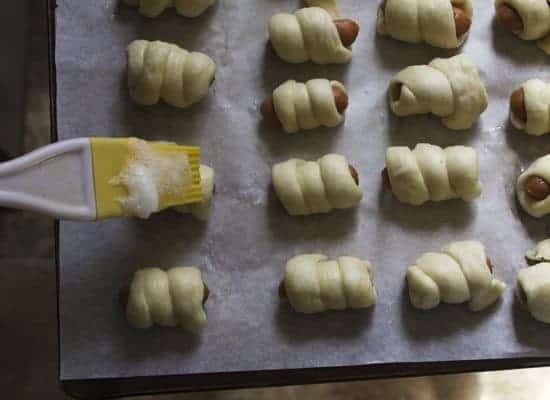 Remember that the sausage is already salty, so use a light hand in sprinkling the coarse salt.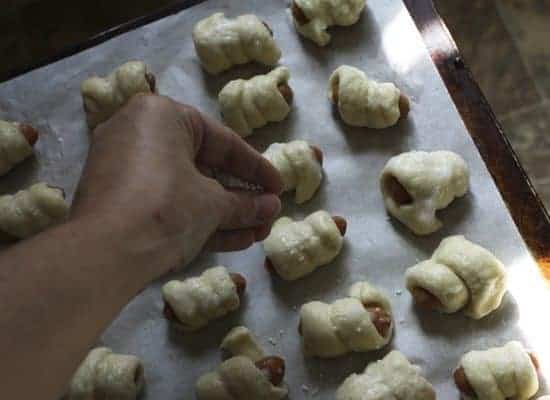 Bake the trays for 16 minutes each, or until the pretzels are a glossy golden brown. Remove from the oven. If desired, brush the finished pretzels with melted butter and cool for 5 minutes before transferring the pretzel sausages to a serving platter.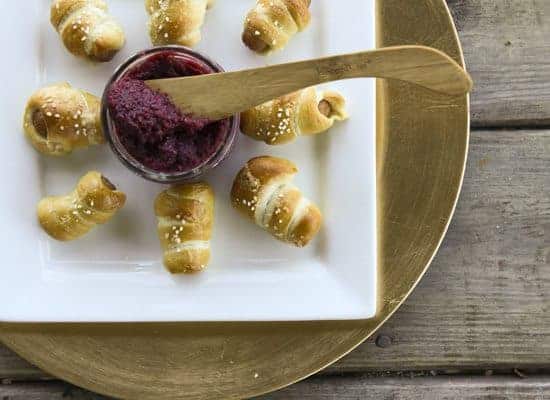 Cranberry Mustard
Adapted gently from The Ball Complete Book of Home Preserving
Yield: A little over 8 ounces.
Ingredients:
1/2 cup red wine vinegar
1/3 cup yellow mustard seeds
1 1/3 cups fresh or frozen cranberries
1 1/2 teaspoons Worcestershire sauce
1/2 cup water
1/3 cup sugar
2 tablespoons plus 1 teaspoon dry mustard powder
2 generous pinches ground allspice
Bring red wine vinegar to a boil in a stainless steel pan. Remove from heat, add yellow mustard seeds, swirl the pan and cover tightly. Let the pan sit at room temperature for about an hour or until the seeds have absorbed almost all of the red wine vinegar. Scrape the soaked seeds into a blender or food processor fitted with a stainless steel blade.
Process until most of the seeds have been crushed. Do not process until completely smooth as you still want a grainy texture with some whole seeds. Add the cranberries, Worcestershire sauce and water and process until the cranberries are finely chopped. Here is where you start getting an idea of just how gorgeous this mustard will be.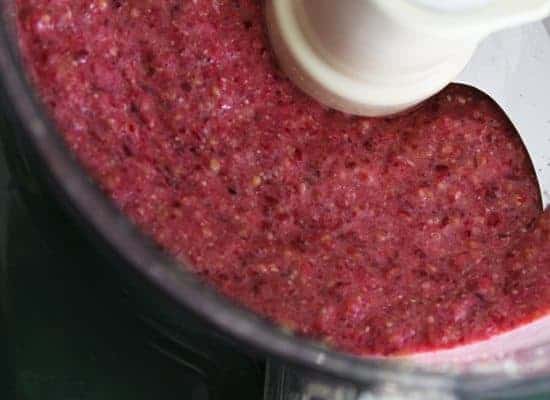 Use a silicone or rubber spatula to scrape the cranberry/mustard seed mixture back into the stainless steel pan. Bring to a boil over medium heat, stirring constantly. Boil gently for 5 minutes.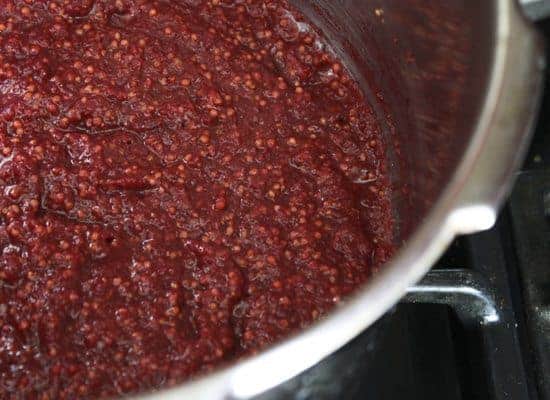 Whisk in the sugar, mustard powder and allspice until completely incorporated. Simmer until reduced by third, about 5-10 minutes. Transfer into a clean jar with a tight fitting lid.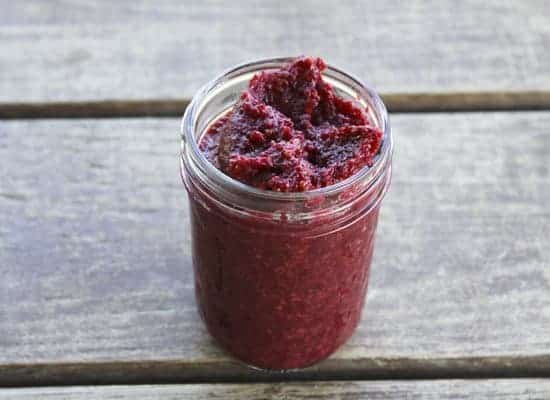 The mustard is ready to use immediately, but can be stored in the refrigerator for up to a month. This is the only mustard I've ever found myself sneaking by the spoonful straight from the jar. Yes, it is that good.
This is my fourth entry in Project Food Blog over at Foodbuzz.com. Did you like this recipe and the post? I'd appreciate your vote of support! Voting is now open. To show your support for Foodie With Family, you can click here or on the orange "Vote for Me" tab in the Official Project Food Blog Contestant widget in the upper right sidebar. Thank you from the bottom of my heart for getting me this far and for your continued support!