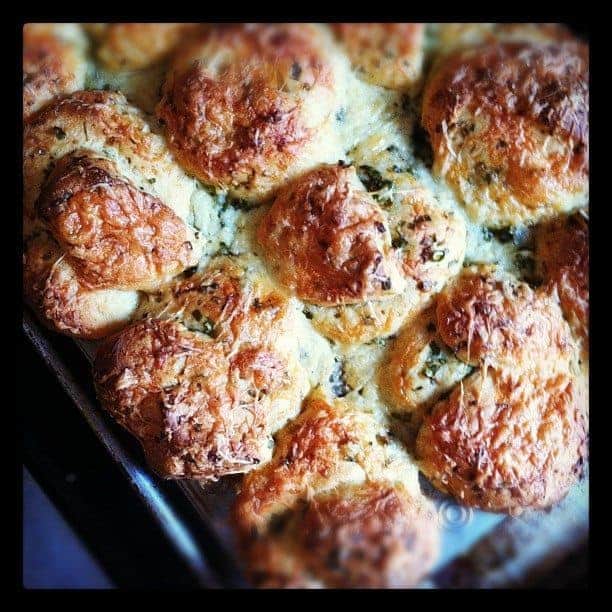 There's very little cheese in this recipe. That is, there's not so much cheese compared to the sum total amount of cheese in, say, Wisconsin or Vermont. There's really not a whole lot compared to what you would find in my favourite cheese factory and shoppe. But otherwise?
There is a ton of cheese in and on these mini monkey breads.
As in a lot.
Very much.
A whole cheesy bunch.
Mmm. Cheese.
What we have here is little pieces of cheese bread dough tossed with minced scallions (Because onions and Cheddar cheese? They're like *this*!) and olive oil, plopped into muffin tins and capped with a serious amount of cheese. How much? Well, about this much…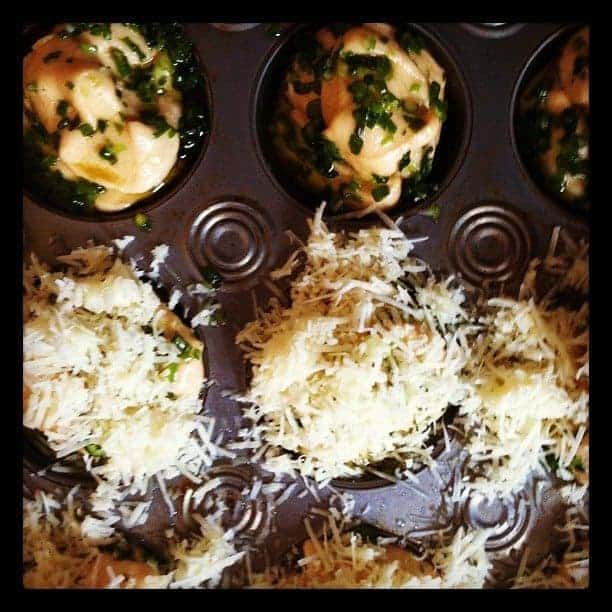 In case you're mentally tabulating, that's roughly a quarter cup of shredded cheese on top of each of these little golden brown beauties. (That doesn't count how much went into the dough. Hubba hubba.)
In short, this bread is a cheese lover's dream. Served by itself as a hearty snack or alongside a piping hot bowl of whatever soup flicks your Bic, this is, simply put, the stuff.
Now I'm going to tell you to grate your own cheese for this. I try not to be super bossy about this kind of thing, but I'm going to put on my mom voice right now. Whether you do it, your food processor does it for you or you bribe some burly bicep-ed man in the house with promises of cheesy kisses, I don't care… Just don't use the stuff in the bag (not that I'm opposed to that sometimes) because it usually is treated with stuff to make the shreds stay separate for long periods of time on the store shelves. There's something about the way cheese you've shredded yourself melts that just plain makes this taste better.
I have another piece of unsolicited advice for you. Use the extra sharpest Cheddar you can find for this bread. You want the tang and punch and wow and "I AM CHEESE" presence that only extra sharp Cheddar can deliver. Your extra-Cheddar perseverance will be rewarded. Unless, of course you really don't like extra sharp, in which case you should substitute away!
I want you to know that I accidentally fell face first into this plate after I took these pictures.
It's okay, though. I only ate the ones I licked.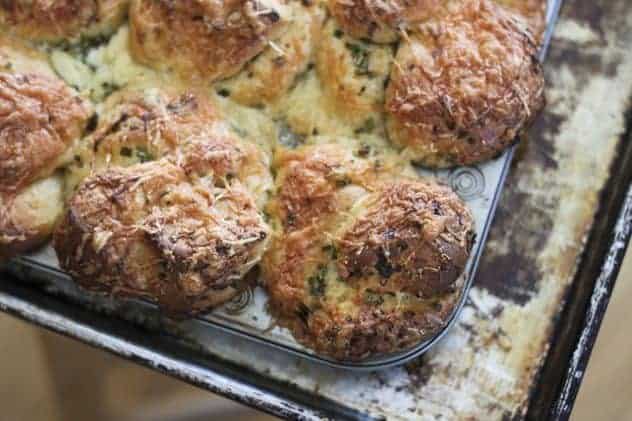 Bite sized morsels of cheese-laced bread dough tossed with minced scallions (Because onions and Cheddar cheese? They're like this!) and olive oil, arranged in muffin tins and capped with a serious amount of cheese then baked to crisp topped, deep golden brown perfection. The dough for this is the Cheese Bread recipe from the King Arthur Flour Baker's Companion.
Ingredients
For the dough:
1/4

cup

water

1

cup

whole milk

1 1/4

teaspoons

salt

1

tablespoon

sugar

3 1/2

cups

bread flour

can substitute all-purpose flour if necessary

2 1/4

teaspoons

instant yeast

1

cup

finely grated extra sharp Cheddar cheese

1/2

cup

finely grated Parmesan cheese

2

tablespoons

softened butter

2

teaspoons

tomato paste
For the Scallion Oil:
8

scallions

trimmed and minced

5

tablespoons

olive oil

1/2

clove

garlic

peeled and minced
To Top the Rolls:
2

cups

finely shredded extra sharp Cheddar cheese

1/2

cup

finely shredded Parmesan cheese
Instructions
Mix together all of the dough ingredients by hand, stand mixer or bread machine until a smooth, elastic dough forms. Let rise, covered, until doubled in bulk, about 1 hour.

Stir together all of the ingredients for the scallion oil in a small mixing bowl. Spray a 12-cup muffin tin with non-stick cooking spray. Toss together the cheese topping mixture. Set these all aside.

Turn the risen dough out onto a clean counter and divide into 36 equal-ish sized pieces. Roll each piece in the scallion oil, pushing scallion bits into the dough. Put 3 pieces in each of the 12 muffin cups. Let rise for 30 minutes in a warm, draft-free place.

Preheat oven to 375°F. As the oven preheats, evenly divide the cheesy topping mixture over each of the risen monkey breads. Bake for 22-30 minutes, or until the bread is set and the cheese is golden brown and crusty on top of each monkey bread.

Let the bread cool for 5 minutes in the pan and then turn out onto a cooling rack. Serve warm or room temperature.
Nutritional information is an estimate and provided to you as a courtesy. You should calculate the nutritional information with the actual ingredients used in your recipe using your preferred nutrition calculator.