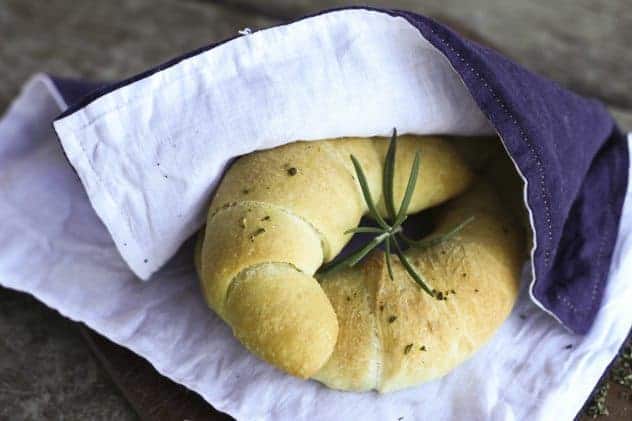 Each Thanksgiving that I have spent as an adult, whether we were eating at home or taking to the road to visit relatives, I have made two kinds of rolls; Honey Potato Wheat Rolls and Crescent Rolls. The truth is, though, that I have eaten one or both of these every single Thanksgiving of my life. I grew up on them. Both of these roll recipes are handwritten by my grandmother on index cards with her notes and advice. I can almost feel a hug from Grandma when I hold the recipe cards in my hand. I can see her wink at me while turning away from everyone and giving a secretive jerk of her thumb over her shoulder toward the extra basket of rolls she stashed on top of the refrigerator for me. Well, I assumed they were from me. My Grandma wasn't much given to secretive hand gestures.
I tell you this so you can understand how important those rolls are to me and how big a departure it was for me to even consider another roll. Don't get me wrong, a gal can never have too many roll recipes*. But the mere thought of introducing a roll recipe that wasn't my Grandma's so close to Thanksgiving about gave me the vapours**.
*As evidenced by my over-the-jean roll against which I continually do Pilates battle.
**Not that my Grandma minds. She's all about innovation at 85. I'm the one with the change issues.
All this to say that it would clearly take something pretty special to motivate me to play with a new roll recipe more than a week into November. And to try one that even superficially resembled my Grandma's crescent rolls? GASP. I'm telling you, if I was in therapy, they'd tell me I was making progress. I'd hate to let them down, but I would have to be honest and say it's because Zoë François of Artisan Bread in Five Minutes a Day exercised some sort of voodoo mind control with her Rosemary Crescent Roll recipe. It was inevitable that I was going to make these. I am a sucker for all things rosemary. I said to myself, "I'm just going to try making these. It doesn't mean I'll make them for Thanksgiving."
I decided to do a little experimentation and try ABin5's Olive Oil Dough vs. my own No-Knead Semolina Dough recipe. I went all scientific for the job, too. I weighed dough. I rolled, prepared and baked it identically. I served it to an audience (Hi, Austins!) willing to observe my "this one in the right hand, this one in the left hand and never the twain shall meet" rule. They gamely ate two crescent rolls each (one of each variety) and pronounced them both really, really, really good. When I asked which they liked better, they pretty much agreed that they liked them both equally. The ABin5 one was narrowly pegged as the one they'd rather eat as a sandwich roll (because I made mine large) and my No-Knead Semolina Dough was narrowly preferred as the one to eat solo.
I turned to my husband as the tie-breaking vote. He ate one roll from each batch. He chewed thoughtfully. He contemplated. And then he said, "They're both awesome. "
So it looked like it was going to boil down to whichever dough I had on hand the next time I  made the rolls, because there was obviously going to be a next time. The question was when. Then he said it.
"I think we should have these at Thanksgiving." I looked at him like he had five heads. "B-b-but Grandma's rolls!" I stammered.
"I just really like these. Both versions. If I had to choose, I'd go with these." (And here he gestured with the hand holding the ones made from my semolina dough.)
Then I thought about how the crisp-crusted, soft-crumbed, rosemary enhanced rolls would taste sopping up gravy. I thought of slicing open a twisty, tender, herb studded crescent roll and stuffing in pieces of leftover roasted turkey and maybe, just maybe sneaking some cranberry sauce in to boot. I considered my late night Thanksgiving tradition of standing at the refrigerator door long after the kids are in bed and dunking a roll in the leftover gravy and I had a realization.
This year, there would be three kinds of rolls at our table.
Progress, she marches onward in the form of rosemary and bread. That kind of change I can live with.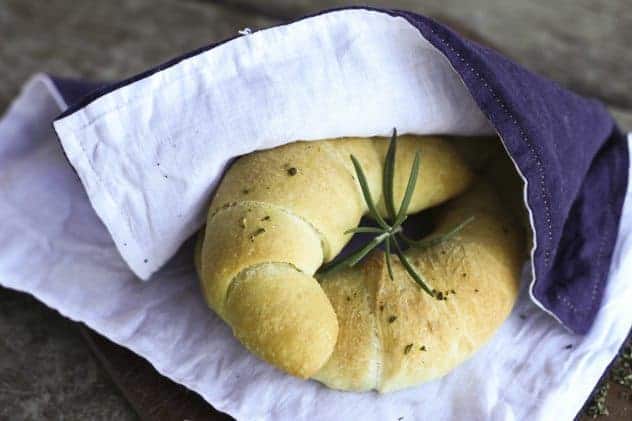 These crisp-crusted, soft-crumbed, rosemary studded rolls are perfect for sopping up gravy, leftover turkey sandwiches with cranberry sauce,and late night dunking into the gravy boat in front of the refrigerator door. Bonus: They're created with dough you can make up to 10 days in advance of baking! Ever so gently adapted from and with thanks to Zoë François
Ingredients
1

pound

No-Knead Semolina Dough or olive oil dough from Artisan Bread in Five Minutes a Day.**

2

tablespoons

finely chopped fresh rosemary

3

tablespoons

extra virgin olive oil

coarse salt for sprinkling
Instructions
Line a half-sheet pan (or two smaller baking sheets) with parchment and set aside.

Moderately flour a clean work surface and your ball of dough.

Roll the dough into a circle that is about 1/4-inch thick. Brush the circle generously with olive oil, sprinkle evenly with the chopped rosemary and sea salt.

Cut the circle into 8 equal wedges. Take one wedge into your hands and gently stretch the pointed end of it while holding onto the wide end to make the piece longer.

Lay the piece back on the work surface and pull the wide end to stretch it gently. Begin rolling the wide end tightly, jelly-roll style, toward the pointed end. When you get close to the pointed end, give it another gentle stretch and wrap it tightly around the center.

Lay each roll on the prepared pans, with the point side down to keep the dough rolled. Be sure to leave ample room between the rolls for expansion. If desired, curl the ends of the rolls gently toward the center to enhance the shape of the finished rolls. Let rise, uncovered, in a warm, draft-free place for up to an hour, or until puffy.

Preheat oven to 475°F.

Brush the rolls one more time, generously, with olive oil then bake, rotating midway through the cooking time, for about 20 minutes, or until beautiful golden brown.
Nutritional information is an estimate and provided to you as a courtesy. You should calculate the nutritional information with the actual ingredients used in your recipe using your preferred nutrition calculator.
Do you have recipes that you break out every year or do you do something different every Thanksgiving? I must know!