Visit our Bread Recipes page for more wonderful homemade bread recipes!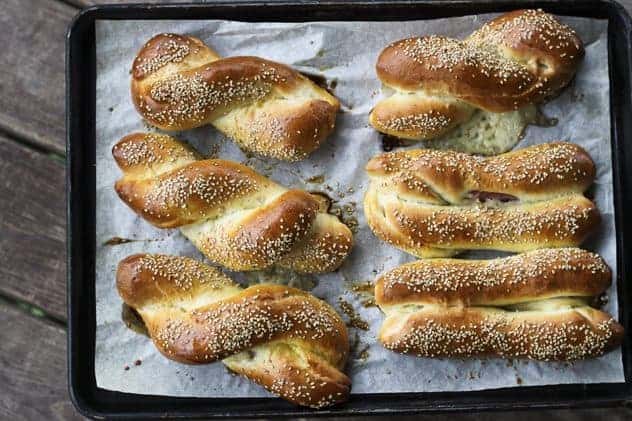 Hey. My oven's fixed.
Can you tell?
Is it obvious?
And I want to talk about the way it got fixed, because I have a little serious bragging to do. But first, let's all of us hearken back to last Friday. It was a lovely day. We all got out of bed on the right side. The boys, of their own volition, had declared the day to be computer and computer game free. It was nice-ish fall weather.
I was cooking down apples and canning applesauce like nobody's business.
We had friends over to visit; one mama and her four little ones. Good folks. Great friends. The kids were all playing outside in a light mist, running laps, yelling, trying to catch swirling leaves and growing increasingly hungry. We had plans, folks. We were building up to a pizza and movie evening where the kids would collapse on the couches with hot slices of gooey homemade pizza in hand while watching something very Wallace and Gromit-y.
The kids kept coming into the kitchen asking when pizza would be ready. I told all four hundred thousand of them (because I'm fairly certain that's how many times I was asked and children don't ask more than once, right?) that I was waiting for the pizza dough to rise and I also wanted to finish the mega batch of applesauce I was processing.
The applesauce was finished and the dough was perfect, so I turned around and hit preheat on the oven and bumped the temperature up to 475°F then walked away to assemble other ingredients. The gathering together of other ingredients took about half an hour because there were eleventy thousand interruptions. (But not by children, because children don't interrupt, right?) When I got back into the kitchen I noticed that the oven temperature display still read '100°F' and cold dread crept into my happy little heart because I knew exactly what that meant.
That meant I had blown through yet another baking ignitor  (See this post for more information) and I was about to disappoint a grand total of four hundred thousand children (because that's about how many more had come into the kitchen to ask when the pizza would be ready.) I called the Evil Genius down from his lair (upstairs office) to give the oven the once over, confirm my diagnosis, and say a few well-chosen words over the oven all of which he did obligingly before retreating from the ravening hordes of 1.8 million starving children.
I went into damage control mode, rolled out the pizza dough, pan-fried an infinite amount of dough rounds, threw indecent amounts of cheese into the sauce and heated that up for ultra-cheesy dunking sauce, and served bread wedges with sauce to the all of the children of the world who had somehow managed to fit themselves into my den. Crisis was kind of averted. But if you're expecting pizza and you're given bread wedges (even if they are fried) and cheesy dunking sauce (even if it does have my weight in cheese) are you a happy camper? Yeah. No. They weren't either.
When our long-suffering friends headed for home, and after I dropped my clearly under-nourished eldest son off at a birthday party where he fervently hoped there would be food, I went home to order (yet another) replacement bake ignitor. That's where the second blow came. The price on these little fast-burning-out beasties had doubled since the last time we had replaced one. Let's just say they wanted to charge more than a puppy at an animal rescue for the part. Not that I need another puppy…
I did a little more researching on the part and found a forum where some wonderfulblessedfabuloussweetkindadorablelovely person wrote that most horizontal bake ignitors (which was what I needed) were interchangeable provided you had someone handy who knew how to splice wires. My husband's middle name is SpliceWires. With that piece of information on hand, I found a part for under twenty dollars (after springing for expedited shipping) that would do the job. I ordered. It arrived Tuesday morning. I dropped the package in my working-from-home-husband's lap and begged him to use his lunch break to fix it. He -again- obliged. Having married a brilliant man makes me feel brilliant by proxy. I patted him on the back. Then I patted myself on the back. And then I made these.
What are these you ask?
Ham and Swiss Twisted Sandwiches, I say.
These were a favourite of ours for picnic lunches toward the end of farmers' market season around here. They're gorgeous brown, sesame-dusted-for-crunch, soft bread encased salty ham and nutty Swiss cheese sandwiches. You can make these a month in advance, wrap in foil, freeze and reheat for a fast hot meal. Or do like we did- wrap in foil or parchment, refrigerate and pack in a picnic lunch with a bottle of honey or horseradish mustard, a crunchy apple and a thermos of hot cider. Can you even imagine something more perfect than that lunch on a blanket in crisp air under technicolor trees?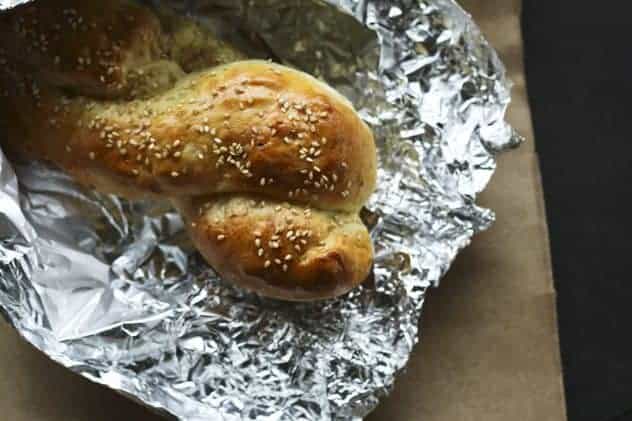 The answer is no and not forty-two, in case you were wondering.
So, unless your baking ignitor is kaput and you're waiting for your cheapola replacement to come, you really ought to bake yourself a tray of these before the snow brings down the rest of those perfect and vibrant leaves and get yourself out on a picnic blanket STAT.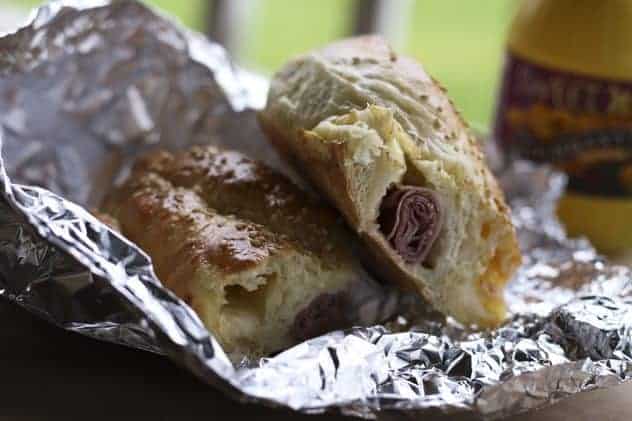 P.S. The reason two of the sandwiches were glaringly not-twisty is because two of the children eating them are of the No-Swiss-cheese variety. There's no fun in force-feeding disliked cheese on a picnic, so I left them un-twisted so we'd know at a glance which sandwich went to whom!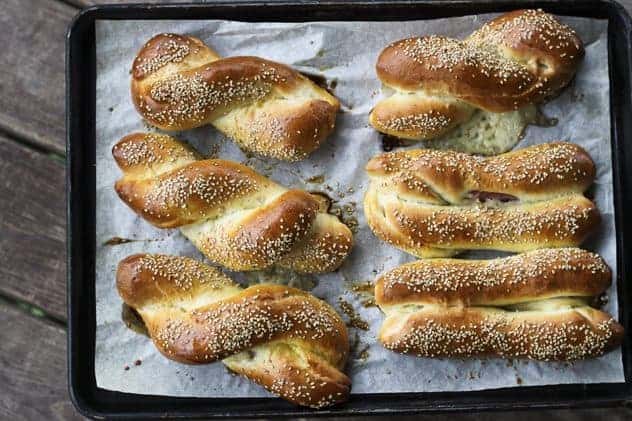 Make lunch exciting with these golden-brown sandwich twists stuffed with salty deli ham and nutty Swiss cheese. Pack in a lunch or picnic box along with a squeeze bottle of your favourite mustard, an apple and a thermos of hot cider for a delicious, filling and far-from-ordinary meal.
Ingredients
For the dough:
2

pounds

of soft

white bread dough ( This link is to is my preferred dough for these sandwiches: https://www.foodiewithfamily.com/braided-semolina-bread/ ~or~ you can use thawed, previously frozen homemade or purchased dough.)
For the Filling:
24

very thin slices deli ham

I like Virginia-style baked or honey-baked

12

slices

deli Swiss cheese

For the Topping:

1

egg

beaten with a fork

3

tablespoons

sesame seeds
Instructions
Divide the dough into 6 equal pieces. Cover 5 pieces with a tea towel.

Divide the 6th piece of dough into two equal pieces and flatten the two pieces into 6 to 8 inch long rectangles.

Tear or cut two slices of Swiss cheese into strips. Arrange half of the cheese strips down the long edge of one rectangle and repeat with the remaining cheese and other rectangle.

Stack 2 pieces of ham and roll up into a tight tube, lay that on top of the cheese on on rectangle then repeat with 2 more pieces of ham and the other rectangle.

Wrap the dough around the ham and cheese, taking care to pinch the ends and seams tightly to seal.

Squeeze the ends of the two tubes together and then twist them around each other, pinching the opposite ends together when you reach them.

Transfer to a parchment lined baking sheet.

Repeat with remaining pieces of dough.

Let the sandwich twists rise in a warm, draft-free place covered gently with a tea towel, until puffy, about 30 minutes.

Preheat oven to 400°F.

Carefully remove the tea towel from the twists, brush them with the beaten egg and sprinkle about 2 teaspoons of sesame seeds each one.

Bake for 18-24 minutes, or until a beautiful brown. Remove from the oven and let cool on the tray for 10 minutes.

Eat while warm or transfer to a wire rack to finish cooling before wrapping in foil or parchment and refrigerating or freezing.
To Reheat from Refrigerated:
Place foil or parchment wrapped sandwich twist in a preheated 350°F oven for 15-20 minutes, or until heated through.
To Reheat from Frozen:
Place foil or parchment wrapped sandwich twist in a preheated 350°F oven for 30-40 minutes, or until heated through.
Nutritional information is an estimate and provided to you as a courtesy. You should calculate the nutritional information with the actual ingredients used in your recipe using your preferred nutrition calculator.
Save