Visit our Bread Recipes page for more wonderful homemade bread recipes!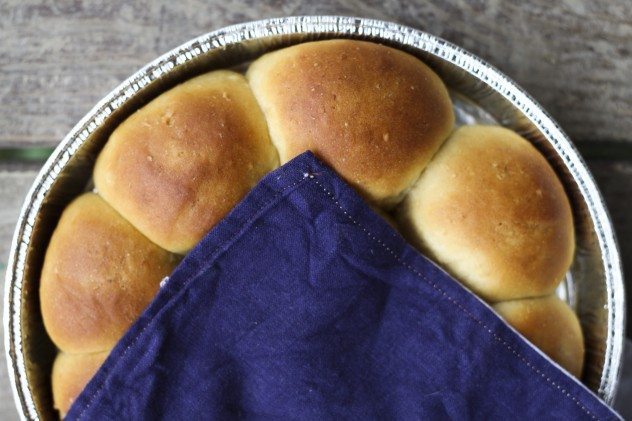 Every year right around this time I get sappy. I spend November first through January tenth in a heightened state of emotional lather.
We have all five boys' birthdays interspersed among Halloween, Thanksgiving, Christmas, and New Year's Eve. The ever-racing nature of time is really driven home by singing Happy Birthday twenty five times in six weeks (I figure an average of five rounds of Happy Birthday per child) and throwing in Christmas carols to boot.
What this boils down to is that I am the Queen of the Holidays. I'm not suggesting that I'm about to whisk the immaculate turkey-shaped-folded-cloth-napkin-white-light crown from Martha Stewart's coifed and calm head. Not even close. We are talking about Queen Thanksgiving and Christmas Spirit, folks.
We make handprint turkeys and construction paper cornucopias and real live turkey feather (dead turkey, rather. I've never plucked a feather from a live one.) headdresses to honour the native people who helped the settlers. We have a very Omnimedia-unapproved Christmas tree.
Each year it is filled with odds and ends like homemade ornaments, bamboo umbrellas from our beloved and now defunct Chinese restaurant, and an ornament from my piano teacher when I was a kid. But there's more.
There are pieces of iridescent ribbon the children loved that they cut from a gift several years ago, rocks (Yes, rocks. My children love them.), twigs –because as one child said, "A tree can never have too many!", and more often than not, a few lovingly arranged paper towels.
I didn't ask on that one. What I do know is that the child who does that has a look of rapture on his face when he does. That's enough for me.
I burst into song with no provocation. I dance around the kitchen waving wooden spoons while my eyeballs glitter and my smile gleams (if a tea-soaked smile can do such a thing) at those who enter my lair.
I brandish homemade cookies and cakes and bread and candies and dried fruit under the noses of anyone who says, "I'm hungry!" because the baking and the cooking reaches near manic levels.
Oh, the baking and the cooking.
What makes you feel the holiday spirit more than a scent of cookies or a rising loaf of bread wafting from the stove? I can't think of a thing. I would add to the list, however, licking your fingers to remove the chocolate after breaking a freshly set batch of English toffee, a tall glass of cold eggnog, a steam-capped stockpot of simmering soup, and a pan of hot, soft rolls fresh from the oven, dotted with butter.
Topping the list of things that equal Thanksgiving to me are rolls: specifically, my grandmother's rolls. You may remember me having an attack of guilt when I made another kind of roll last week.
They were the chief joy of the Thanksgivings of my youth and remain one of the biggest to this day. Her rolls are, in a word, perfect.
My copy of her recipe, on an index card written in her hand, is one of my prize possessions. The soft, golden brown potato rolls with a touch of nutty whole wheat and a subtle hint of honey reliably disappear faster than the other fixings at the feast.
But there's another wonderful reason to count on these rolls. You can make the dough, form the rolls, put them in pans, wrap them tightly and freeze them days in advance. To bake, thaw on the counter for about two hours, then let rise for another hour and a half. Bake and tada! Fresh rolls with all the hard work done well ahead of time.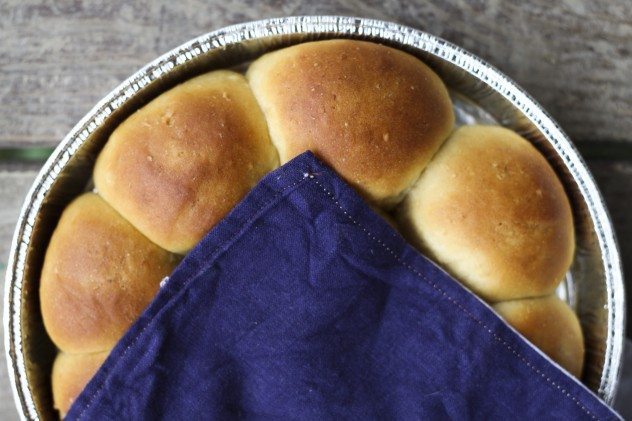 Soft, golden brown potato rolls with a touch of nutty whole wheat and a subtle hint of honey reliably disappear faster than the other fixings at the feast, but don't save them for Thanksgiving alone. If you're looking for the perfect accompaniment to a bowl of creamy soup, look no farther.
Ingredients
2¼

teaspoons

Active Dry Yeast or Instant, or one packet

1½

cups

warm water

for best flavour, use the water in which you cooked potatoes

2/3

cup

honey

1

cup

mashed potatoes

lukewarm

2/3

cup

butter

softened to room temperature

2

eggs

1½

teaspoons

salt

2

cups

whole wheat flour

5 to 5½

cups

all purpose flour
Instructions
To Make the Dough:
In a large mixing bowl, the bowl of a stand mixer, add the water and honey, stir gently and sprinkle the yeast over the top. Let stand for 2 minutes. Add everything but the flours and stir well (using a sturdy spoon or dough hook) to combine. Add the whole wheat flour and 2 cups of the all purpose flour and stir well until even. Add the remaining flour and stir it in. If you have a stand mixer, use the dough hook to knead it. Otherwise, turn onto a generously floured surface and knead until smooth and elastic, about five minutes. Transfer the dough into a large clean mixing bowl or dough bucket, cover tightly with plastic wrap and refrigerate for at least 8 hours but no longer than 5 days.
To Shape the Rolls:
Grease or butter two 9"x13" rectangular or four 8" round baking pans and set them aside.

Turn the dough onto a floured surface and punch it down. Divide in half, then portion each half into 20 equal sized pieces. Roll each piece into a ball.

Place the dough balls into the prepared pans (5 rows of 4 in each rectangular pan or 10 rolls in each round pan.) Cover with a clean towel and let rise in a warm, draft-free place until puffy in appearance and nearly doubled in size, about 2 hours.
To Bake the Rolls:
Preheat oven to 375°F.

Bake the rolls for 20 to 30 minutes or until golden brown. If desired, brush the finished rolls with melted butter.
Nutrition
Serving:
1
roll
Calories:
73
kcal
Carbohydrates:
10
g
Protein:
1
g
Fat:
3
g
Saturated Fat:
2
g
Cholesterol:
16
mg
Sodium:
119
mg
Potassium:
45
mg
Sugar:
4
g
Vitamin A:
105
IU
Vitamin C:
1.2
mg
Calcium:
5
mg
Iron:
0.3
mg
Nutritional information is an estimate and provided to you as a courtesy. You should calculate the nutritional information with the actual ingredients used in your recipe using your preferred nutrition calculator.
Save