Visit our Bread Recipes page for more fantastic homemade breads!
I make no secret of the fact that I'm a fan of the book 'Artisan Bread in Five Minutes a Day'. Using their Master Recipe, I have experimented and made some of our new family favorites; Bread! Fully Loaded and English Muffins, among others. I'm the first to admit that I tend to get stuck in ruts. In fact, I'm fond of my ruts. They're like old friends. Sometimes I have to drag myself up out of my well-worn and well-loved habits to try a little something new. As I reached for my flour bucket last week I recognized the glassy looks in the kids' eyes and decided to go a different bread direction. Instead of the usual focaccia or boule I thought I'd try out a little brioche from the aforementioned 'Artisan Bread in 5' on the boys. With only five minutes or so investment of time I wasn't going to be out much effort if the boys didn't like it. I needn't have worried. They loved the brioche. And since I had just made a small loaf I had 3-ish pounds of dough left.
Closely following the directions for the dough in the book is a recipe for beignets. And if there's anything I love more than a rut it's deep fried anything. Call it kismet, call it coincidence, call it fate, but I had just made French fries the night before and had that pan full of oil sitting in the fridge just waiting for another frying project. Out came the pan and the dough and twenty minutes later my boys were descending on that plate of beignets like I hadn't fed them in a week. In reality they hadn't eaten in an hour or so, but you wouldn't have known it to look at them.
These beignets throw together quickly since the dough is done ahead of time. The majority of the time commitment here involves resting the dough to take the chill off. That makes this the perfect Valentine's Day breakfast since while the dough rests you can spend more time smooching your sweetheart. Plus, you'll get major points for what basically boils down to making donuts for breakfast!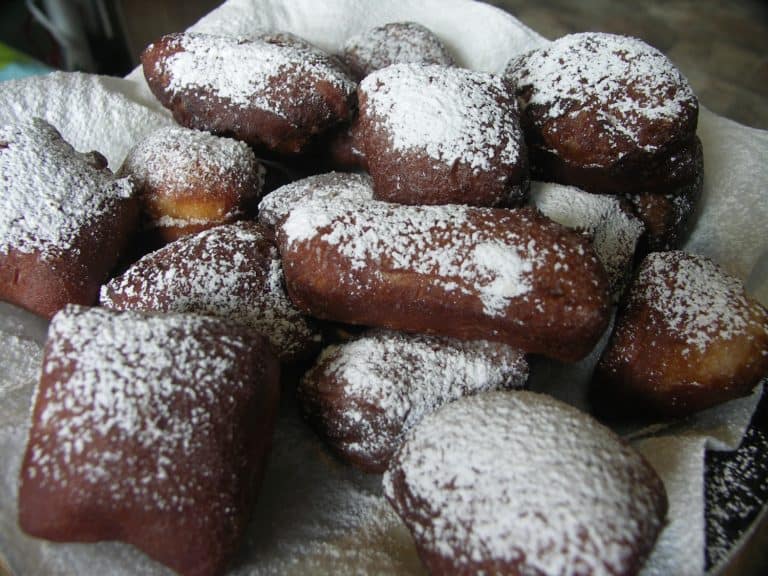 Brioche Dough Recipe
Ingredients:
1 1/2 cups lukewarm water

1 1/2 Tablespoons granulated yeast

1 1/2 teaspoons kosher salt

8 eggs, lightly beaten

1/2 cup honey

1 1/2 cups (3 sticks) unsalted butter, melted

7 1/2 cups all-purpose flour
Mix the yeast, salt, eggs, honey and melted butter with the water in a 5-quart bowl, or a lidded (not airtight! Really, see this post! My ears were ringing for days) food container.
Mix in the flour without kneading, using a spoon, a 14 cup capacity food processor fitted witht he dough attachment, or a heavy-duty stand mixer with the dough hook. The dough will be loose but will firm up when chilled; don't try to work with it before chilling.
Cover (not airtight, oh for the love of all that's holy NOT airtight!) and allow to rest at room temperature until dough rises and collapses or flattens on top, approximately 2 hours. Refrigerate and chill for at least 2 hours prior to using.
Now that your dough is done, let's get some frying on!
20 Minute Beignets
From Artisan Bread in Five Minutes a Day
Ingredients:
1 pound of refrigerated pre-mixed Brioche dough

Vegetable oil for deep frying

powdered sugar for dusting finished beignets.
Dust the surface of refrigerated dough with all-purpose flour and cut off a 1-lb piece. Dust the piece with more flour and quickly shape it into a ball by stretching the surface of the dough around to the bottom on all four sides, rotating the ball a quarter-turn as you go.
Roll the dough into a 1/2″ thick rectangle on a lightly floured surface. Cut the dough into 2″ squares (ish). Allow to rest for 15 minutes.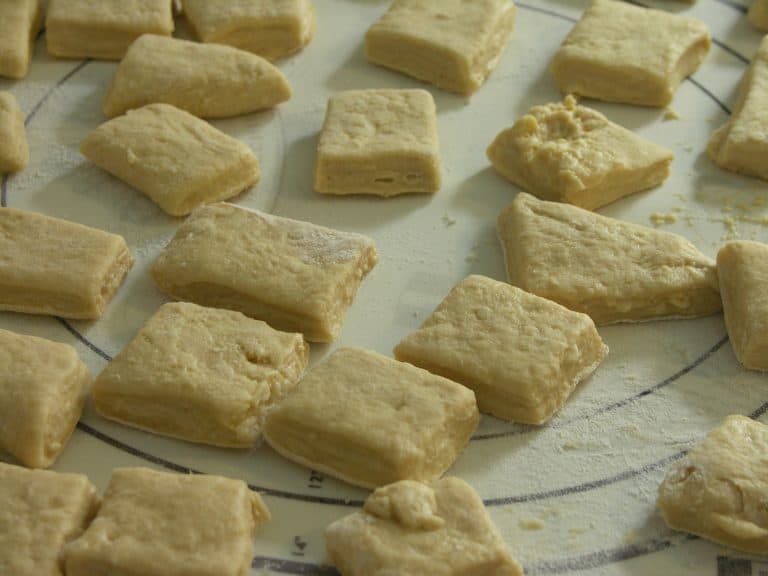 Meanwhile, fill a saucepan or deep fryer with at least 3″ of oil. Bring the oil to 360F-370F. Carefully drop the rested dough in the hot oil 2 to 3 at a time to avoid overcrowding. After 2 minutes, flip gently with a slotted spoon and fry for another minute or until golden brown on both sides.
Use the slotted spoon to remove the beignets from the oil and place them on paper towels to drain. Dust generously with powdered sugar and eat while still very warm. You could do worse than serving this with coffee or tea. Oh yes.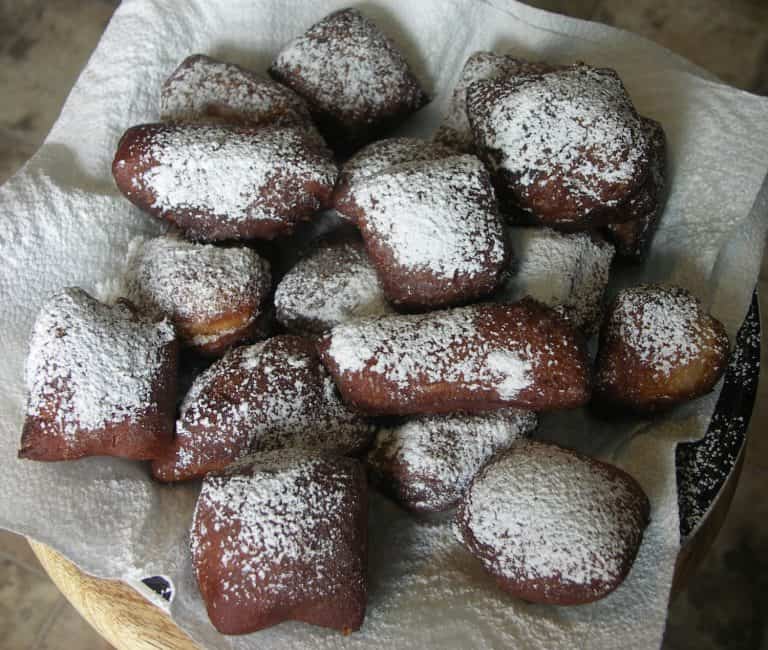 Don't forget to come back tomorrow. I promised it would be worth it, and I mean it. Here's a preview…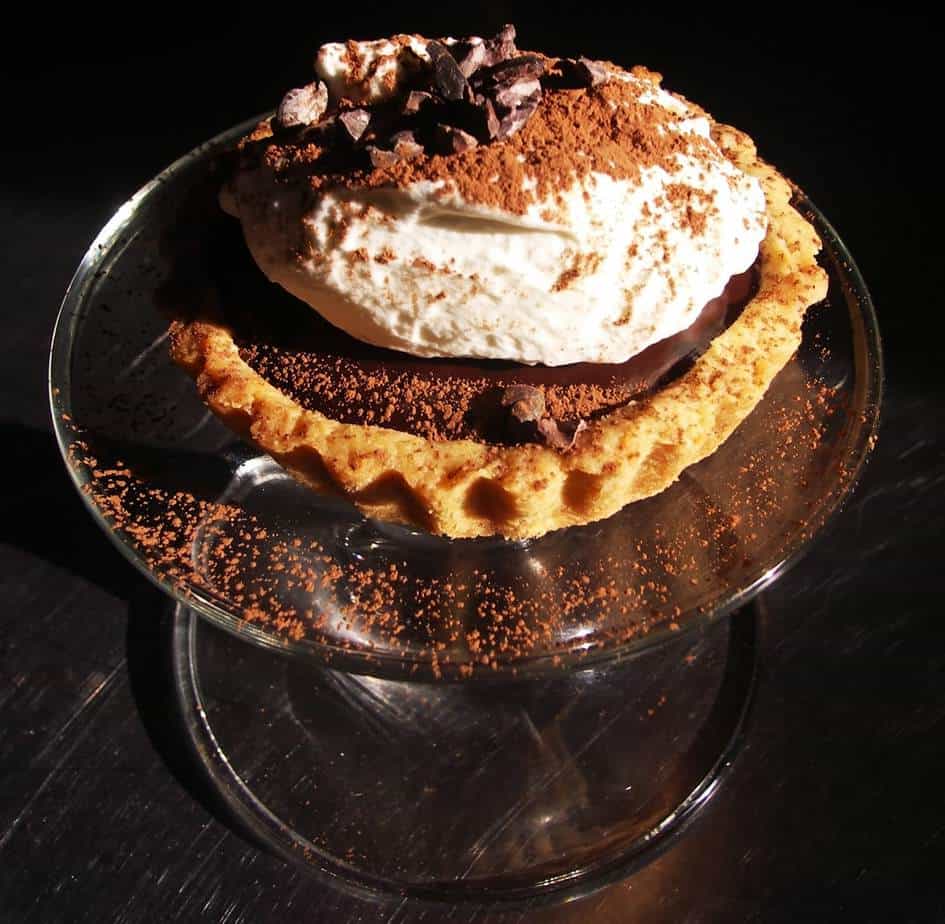 Save