Do you love these perfect soft pretzel rolls? Check out our other magnificent Bread Recipes! And if you want something delicious to serve on these rolls, look no further than How to Smoke a Turkey for the best turkey sandwich material!

Hi. My  name is Rebecca and I'm a soft pretzel junkie. I have eleven soft pretzel recipes here on Foodie with Family and I make no apologies for bringing you another one. Why? Because these are beautiful, they're delicious, they're pretty darned easy, and they're the most perfect soft pretzel rolls ever to come out of my kitchen.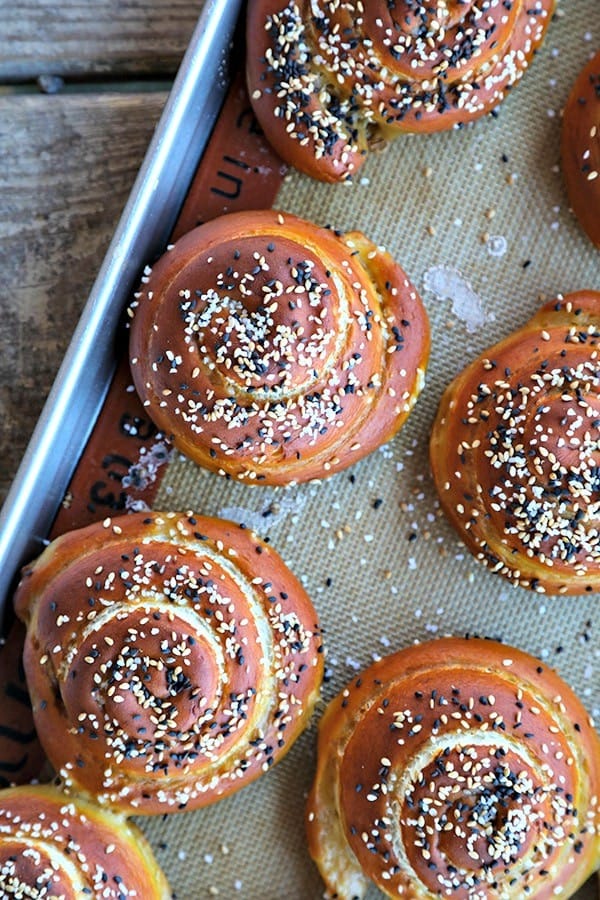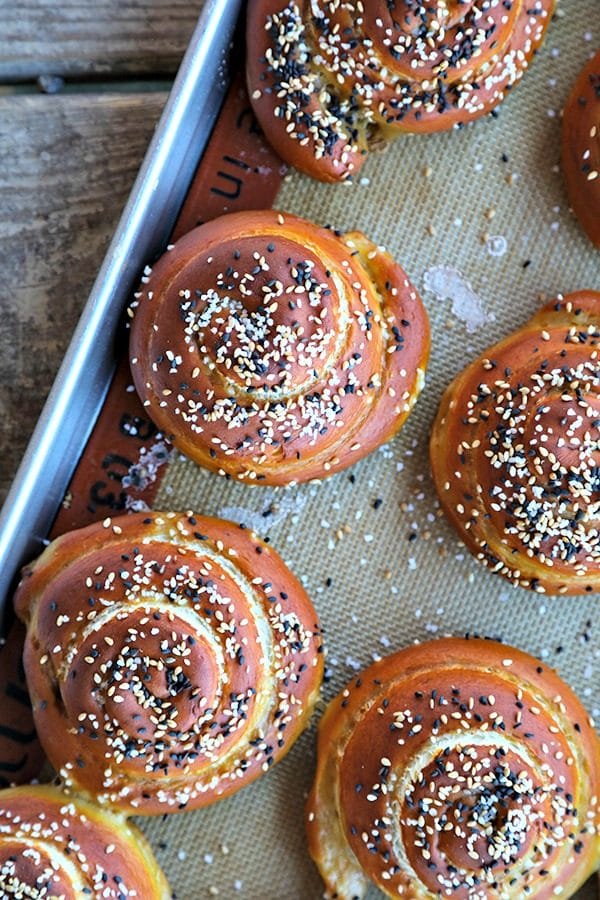 What makes these soft pretzel rolls so wonderful? Allow me to geek out and break it down a bit.
These soft pretzel rolls make the best soft pretzel sandwich rolls because they're made with a method that ensures the perfect bread-to-filling ratio. You roll the dough into long snakes, then simply coil them. This makes every roll the perfect height. I'll revisit this in a moment.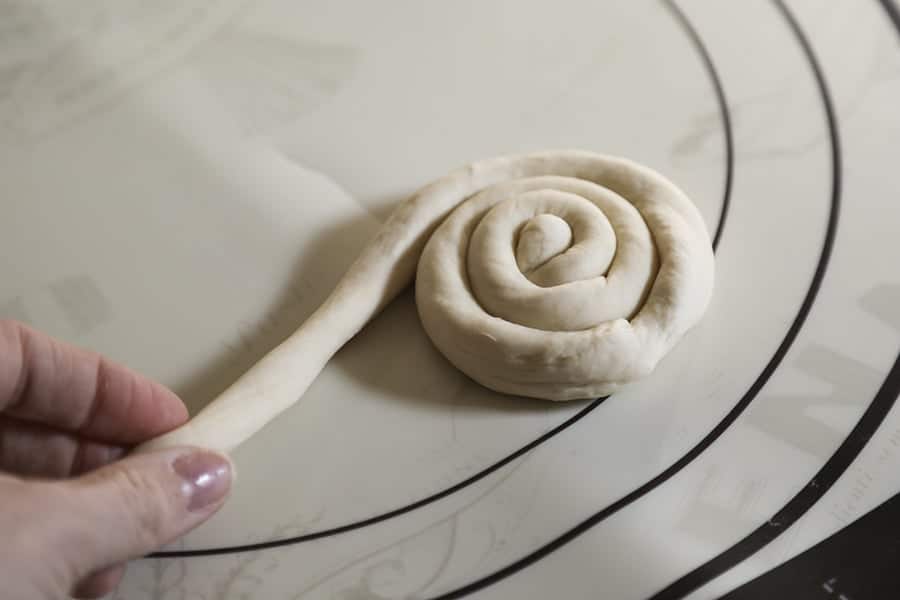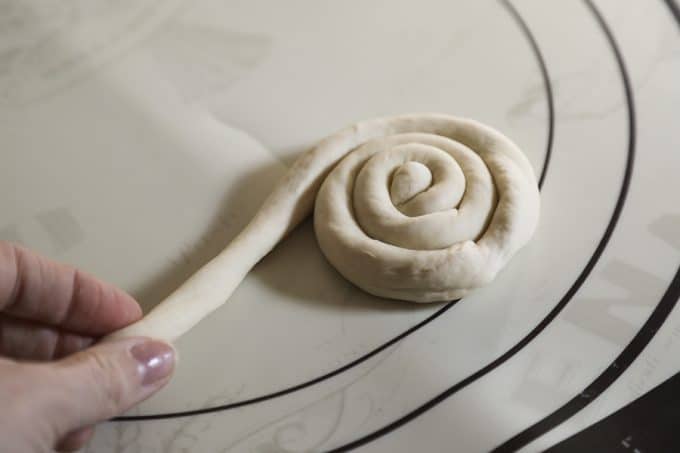 The shape of these soft pretzel rolls also makes them easier to boil than standard pretzels. They're just plain easier to turn in the simmering water because they're not awkwardly knotted.
The coil shape of our soft pretzel rolls also makes scoring the dough with a knife unnecessary. Unlike the standard roll shape, these won't split while baking.
These soft pretzel rolls have a topping of sesame seeds plus salt. I first had sesame seeds on my soft pretzels at the excellent Elm Street Bakery in East Aurora, NY, and they arguably know their bread better than almost anyone else. They inspired me to start dusting my soft pretzels with the same mixture and I won't be turning back any time soon. There's something about the nutty little pop of sesame seeds that works beautifully with soft pretzel rolls.
They're pretty. I know. Pretty doesn't always mean something is the best, but when you couple the tender but chewy perfection with being easy on the eyes, the package is irresistible.
A sad sandwich is easy to recognize a mile off, but there are a few touches that make a difference between a good and a great sandwich.
What makes a great sandwich?
Great bread is necessary for a great sandwich. The bread should be sturdy enough to hold up to generous fillings and sauces, if that's your thing. It should also be tender enough to bite into easily.
I touched on the whole bread-to-filling ratio thing above, but it bears going over in greater detail. This is a Goldilocks and the Three Bears moment. Too much filling can be fun for instagram, but it just isn't that great to eat in real life. Those extreme sandwiches are the Papa Bear. Sandwiches with too little filling might be nice if you're into martyring yourself, but not so much if you want a good meal. Dieting doesn't mean you have to have a spartan sandwich, it just means you have to rethink what you pile inside your bread. But we're looking for the Baby Bear of sandwich filling ratios here; we want it to be just right. I'm talking about that perfect bread filled with just enough toppings to make an exciting meal.
In my admittedly opinionated mind, the perfect bread-to-filling ratio is 1:3. In other words, your bread should make up no more than 1/3 of your sandwich height. If you want to get crazy, a more indulgent bread-to-filling ratio would be 1:4. I can't see a sandwich being anything but a novelty if you stray further from that ratio. Why? Too much filling means you can't reasonably expect to eat a sandwich with your hands and that, my friends, ain't a sandwich, then. It's a fork-and-knife meal disguised between two slices of bread.
Cook's Notes
If you're in a massive hurry or you're terrified of yeast, you can substitute commercial frozen bread dough by thawing according to package instructions, then dividing, rising, boiling, and baking according to the instructions given below.
I've touched on this before, but "boiling" pretzels is a bit of a misleading term, even though it is what it's called. You're not boiling the pretzels hard, but rather simmering them gently. Nobody calls it "a pretzel simmer", though. Whaddyagonnado?
Speaking of the pretzel "boil", I find that a wide, semi-deep pan like this everyday pan is the best one for the job. A high sided frying pan or skillet will do the job quite well. A deep one -such as a stock pot- can make it hard to manoeuvre with whatever you're using to flip the rolls. P.S. Don't do this in cast-iron. The high ph of the baking soda bath will ruin your finish. You've been warned! Likewise, don't use any other reactive pans. Stainless steel or enameled cookware is definitely what you want here!
Because boiled pretzel dough has a distressing tendency to stick to things like concrete, you definitely want to line your pans with silpats to prevent many frustrating moments. If you don't have silpats, you can grease the heck out of your pans, but I find the finished rolls to be significantly better when baked on the silicone mats. While normally I'd say parchment is a fine substitute for silpats, I found parchment to adhere to my pretzels to the point where I needed to cut the bottoms off of my pretzels to release them from it.
And speaking of flipping the rolls, I find a fish spatula to be the best tool for the job for both flipping and extrication. It allows water to run away from the rolls when you lift them from the water, and has a wide enough surface area to lift the whole roll without it flopping over the edges.
To store your baked pretzel rolls, avoid airtight containers or plastic bags. They will cause the salt to melt and mar the beautiful finish of your rolls. Instead, store in a bowl covered with a clean tea towel or in a paper bag that is clipped, taped, or cinched shut.
These soft pretzel rolls are best eaten the day they're made, but are still admirably tasty on days two and three if stored properly and gently reheated prior to serving.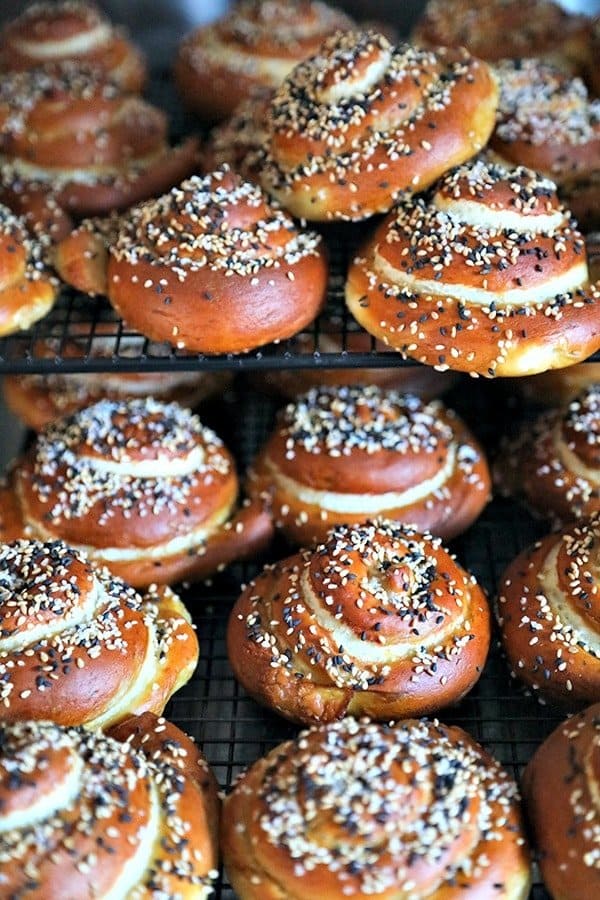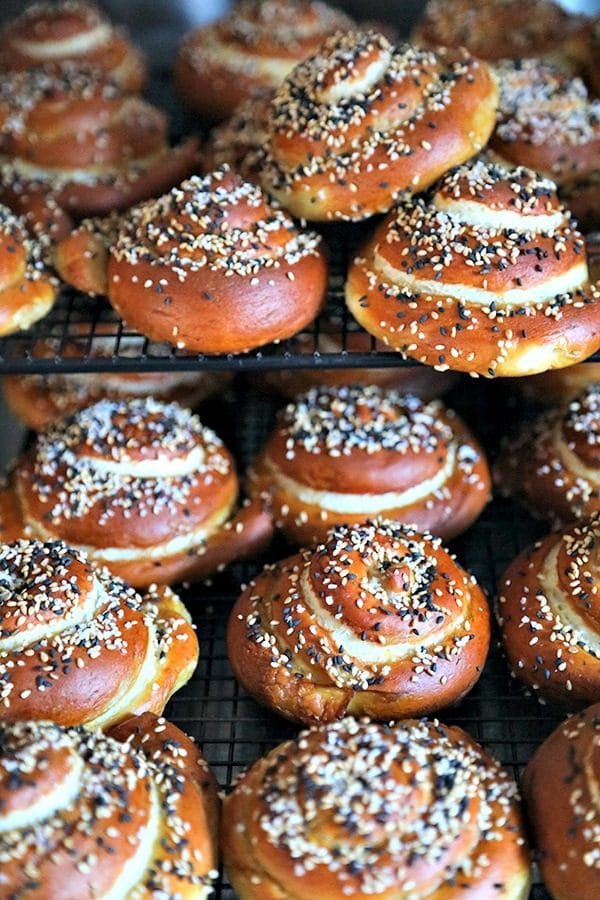 Use these to make soft pretzel rolls easily!
If you're a fan of soft pretzel rolls, try them on these burgers or sandwiches!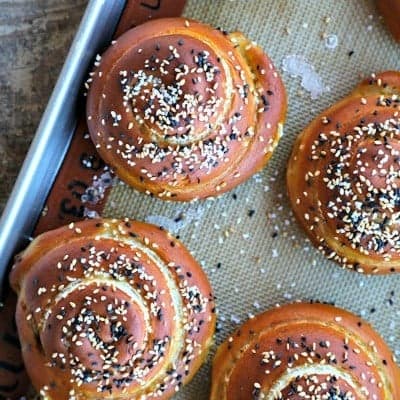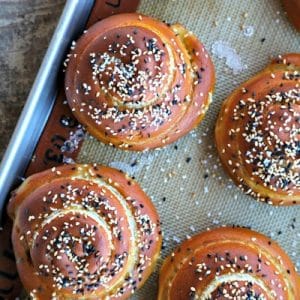 The most perfect soft pretzel rolls for sandwiches. Tender yet chewy, and substantial enough to hold up to any fillings. Topped with a delightful combination of sesame seeds and pretzel salt.
Ingredients
4

cups

bread flour 1 pound 1 ounce by weight

1

tablespoon

granulated sugar

2

teaspoons

SAF or instant yeast

1 1/4

teaspoons

kosher salt

1

cup

whole milk

1/2

cup

unfed sourdough starter or lukewarm water
Ingredients for pretzel boil:
2

quarts

water

2

tablespoons

baking soda
Ingredients for toppings:
3

tablespoons

sesame seeds

pretzel salt
Instructions
To Make the Dough by Hand:
In a large mixing bowl, whisk together the flour, salt, sugar and yeast. Set the whisk aside and switch to a sturdy wooden spoon. Stir in the milk and sourdough starter until a soft dough forms. Turn onto a generously floured surface and knead, for 15 minutes adding small amounts of flour as needed to keep the dough from adhering to the counter. You do not want a firm dough… it should be fairly slack, a little tacky and soft, yet smooth. Place dough in a clean bowl, cover with a damp tea towel and set aside to rise in a warm, draft-free place until nearly doubled in bulk and puffy, about an hour or so.
To Make the Dough by Stand Mixer:
In the work-bowl of a stand mixer fitted with a dough hook, combine the flour, salt, sugar and yeast. Mix on low about 30 seconds, or just to combine dry ingredients. With mixer still on low, carefully pour in the milk and sourdough starter. Continue mixing on low until you have a smooth, soft, slightly tacky dough. Remove bowl from the mixer, cover with a damp tea towel and set aside to rise in a warm, draft-free place until nearly doubled in bulk and puffy, about an hour or so.
To Make the Dough by Bread Machine:
Add the milk, sourdough starter, flour, sugar, and yeast to the pan of your bread machine in the order recommended by the manufacturer. Select the "Dough" or "Dough Only" cycle and hit start. Allow the cycle to complete.
To Form the Soft Pretzel Rolls:
Line one half sheet pan with a silpat. Set next to your work area.

Turn the dough out onto a clean surface. Divide into three equal sized pieces, then divide those in half, and in half again, yielding 12 approximately equal sized pieces of dough.

Roll each piece of dough into a long rope, between 22 and 24 inches long. Coil the rope from the center out.

Pinch the end to the coil to adhere it.


Transfer to your prepared sheet arranging them in four rows of three, leaving space between the rolls to allow for expansion.

Cover the rolls with a clean tea towel and put in a warm, draft-free place to rise for 20 minutes, or until puffy.
To Cook the Soft Pretzel Rolls:
Preheat oven to 400°F.

Bring 2 quarts of water to a boil in a stainless steel or other non-reactive pan (enameled cast-iron, tempered glass, etc…) When water simmers, add the baking soda.


Gently lift the rolls one at a time, and ease -top side down first- into the simmering water. (You can boil more than one at a time, but be sure not to crowd the the pan as they will expand as they boil. Let simmer for about 45 seconds, flip the pieces and simmer for another 45 seconds-1 minute. Use a slotted spatula or spoon to drain and return each piece to its place on the pan. Continue until all pieces have been boiled and returned to the pan.

Sprinkle each pretzel with about a teaspoon of sesame seeds and pretzel salt to taste. Place pans in oven and bake the pretzels at least until golden brown (at least 18 minutes), but you can bake until they are deep brown which is my preference (closer to 22-24 minutes in my oven.)

Let stand for at least 5 minutes before eating. If you want to slice these for sandwiches, bring to room temperature before cutting open.

These are best enjoyed warm, but can be stored in non-airtight container such as a bowl covered with a clean tea towel or a paper bag that is cinched or clipped shut at room temperature for a couple of days. They can be quickly reheated prior to serving.
Nutrition
Calories:
194
kcal
Carbohydrates:
35
g
Protein:
7
g
Fat:
2
g
Cholesterol:
2
mg
Sodium:
808
mg
Potassium:
96
mg
Fiber:
1
g
Sugar:
2
g
Vitamin A:
35
IU
Calcium:
53
mg
Iron:
0.7
mg
Nutritional information is an estimate and provided to you as a courtesy. You should calculate the nutritional information with the actual ingredients used in your recipe using your preferred nutrition calculator.