Visit our Bread Recipes page for more wonderful homemade bread recipes!
It's been years and years that I've been making English Muffin Bread for my boys. It's so ridiculously easy to make I can  make it -and have practically made it- in my sleep. The boys never grow tired of the craggy, full-of-melted-butter-receptacles, perfect-for-toasting bread that requires neither kneading nor major bread making mojo. It's the easiest bread ever. It was with some trepidation that I decided to mess with what was already a wonderful thing by adding a hint of sweet cinnamon goodness to it. I held my breath for just a moment, but the result was so outstanding that my husband's eyes rolled back into his head when he tried a bite of the toast made from No-Knead Cinnamon English Muffin Bread.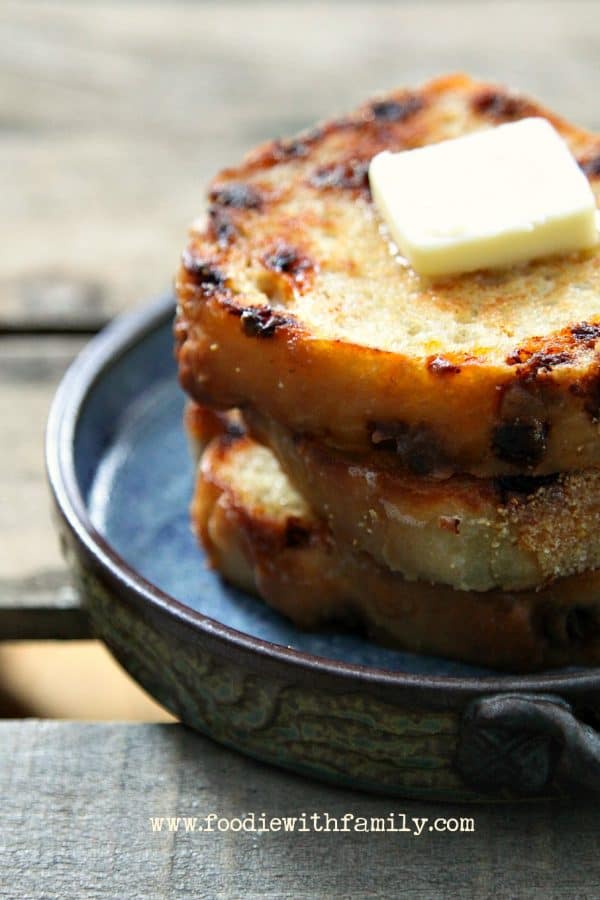 Whoa.
Slightly sweet, full of melting cinnamon baking chips, and still absolutely riddled with the wonderful 'nooks and crannies' that we all love in English muffins. Now, I'm NOT going to stop making our regular English Muffin Bread, because nothing beats that for carrying a fried egg or making English Muffin Bread Pizzas, but this No-Knead Cinnamon English Muffin bread is DREAMY.
I can't even describe to you the heady scent that results from toasting a thick slice or two of No-Knead Cinnamon English Muffin Bread in a frying pan with a generous pat of butter. I saved a lot of work by making a no-knead bread, I can spend a little extra time toasting it. It's totally worth it.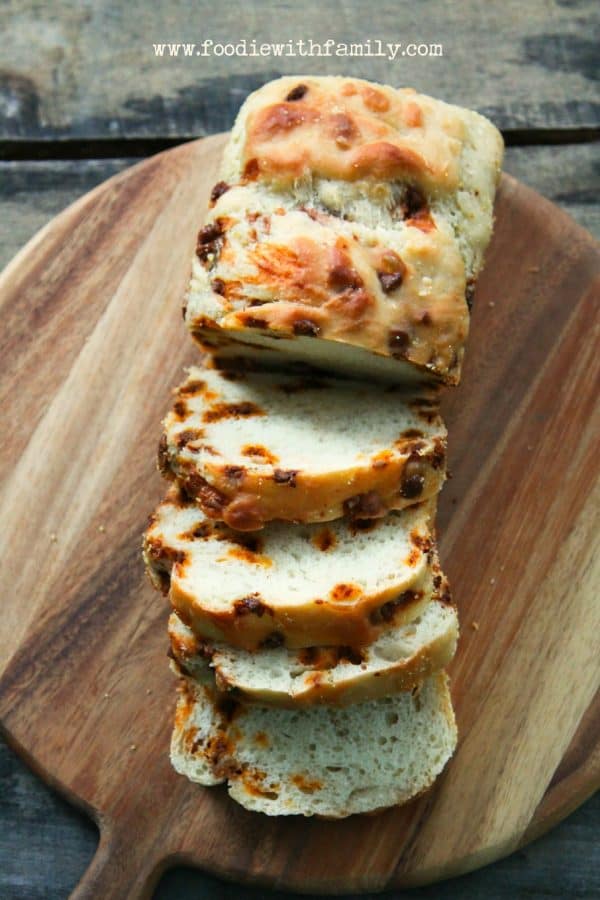 Truth: my original recipe makes 3 to 4 loaves of bread. I recognize that this is a vast quantity of bread for people who aren't feeding a regiment like I am, so I've offered a half-sized ingredient list in the printable as well. I WILL, however, add that you're probably going to regret not having made a full recipe once you've tasted it, because the bread freezes like a dream. I had to specifically set out to test that theory because the bread never lives long enough chez us to make it to the freezer.
Cook's Notes
I know it's weird to say 1 to 2 loaves (half recipe) or 3 to 4 loaves (standard recipe) but the truth is that bread pans come in a couple of sizes that are considered standard and there really CAN be that much variation depending on which pans you use. I think it's better to prep the higher number of pans as described in the recipe and then have to wash one up that you didn't use rather than be sitting there with hands covered in dough scrambling for just. one. more. pan.
The hardest part of this recipe is the pan preparation and that's not hard at all. Simply put, you have to grease the pans and then dust them with cornmeal. This keeps the ultra-moist bread from adhering to the pan as it bakes, helps it slide out as easily as can be when it's baked, and gives that characteristic cornmeal crunch to the bread that classic English Muffins have. I don't advise leaving out this step. If you're short of cornmeal, you can substitute semolina in its place!
I said it with emphasis in the English Muffin Bread post and I'll say it again here on the No-Knead Cinnamon English Muffin Bread post: DO NOT CUT THIS BREAD UNTIL IT HAS COMPLETELY COOLED. There are so many breads in the world from which you can rip a hunk to enjoy while it's still warm from the oven: this is NOT one of them. Because the dough is so wet and slack, it absolutely needs the carry-over cooking that happens when you remove it from the oven and let it slowly cool down to room temperature to finish setting up the structure. If you get impatient and slice or tear into the still-hot No-Knead Cinnamon English Muffin Bread, your impatience will be met with a gummy, sad, gooey mess of bread and then you may be tempted to complain to me that my recipe stinks. If you wait, your patience will be rewarded with a perfectly English Muffin-y texture. And you can warm it back up when once it has cooled, just toast it as described above.
One more word on the toasting: it'll be okay if you toast it in the toaster, but it'll be sublime if you toast it in a skillet with a pat of butter. It's kind of magic, friends.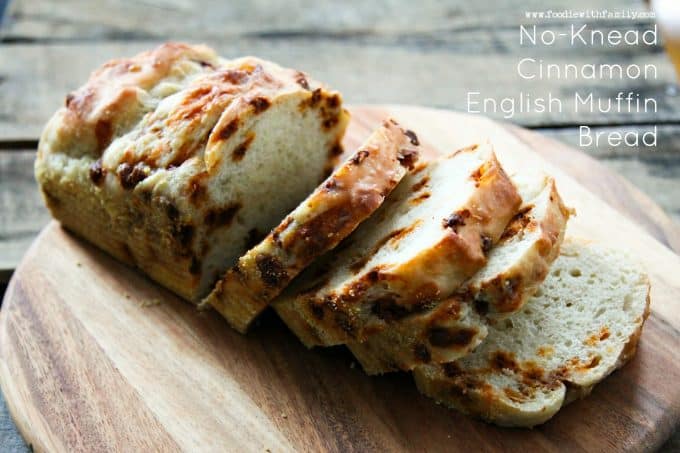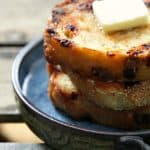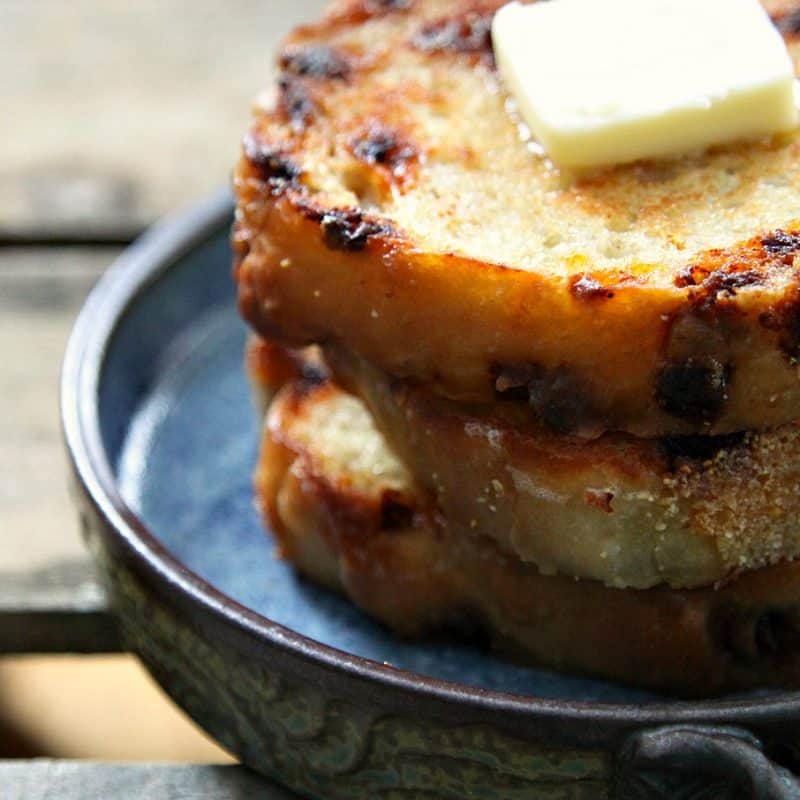 No-Knead Cinnamon English Muffin Bread
Ingredients
For a Standard Recipe (3-4 loaves):
5 1/2

cups

warm-to-the-touch water

not hot

2

tablespoons

kosher salt

3

tablespoons

sugar

2

tablespoons

plus 3/4 teaspoons instant yeast

or 3 packages

1

bag of Cinnamon Baking Morsels or Bits

12 ounce

11 1/2

cups

all purpose or bread flour

3 pounds 1 1/2 ounces by weight, I often do a half and half combination of the two.
For a Half-Size Recipe (1-2 loaves):
2 3/4

cups

warm water

not hot

1

tablespoon

kosher salt

1

tablespoon

plus 1 1/2 teaspoons sugar

1

tablespoon

plus 1 1/4 teaspoons instant yeast

or about 1 1/2 packages

1/2

of a 12 ounce bag of Cinnamon Baking Morsels or Bits

5 3/4

cups

all-purpose or bread flour

1 pound 9 ounces, by weight
Also Needed:
Non-stick cooking spray

cornmeal

plastic wrap

melted butter for brushing the bread mid-way through and after baking
Instructions
To Prepare the Dough:
Stir all of the ingredients together by hand in a large mixing bowl (or in the bowl of a stand mixer fitted with a paddle) just until combined. The dough will be shaggy and very sticky.

Spray a piece of plastic wrap with non-stick cooking spray and lay it loosely over the mixing bowl. Let the dough rise in a warm, draft-free place for about an hour or until it looks bubbly and puffy.

Spray 3 or 4 standard loaf pans (8.5" or 9.5" x 4") with non-stick cooking spray and sprinkle in a fistful of cornmeal. Tilt the pans, tapping gently, until the interiors are coated with a thin layer of cornmeal. Tap out any excess cornmeal.

Spray your hands with non-stick cooking spray and use them to divide the dough evenly between the pans. The pans should be no more than halfway full. If you need to, spray and cornmeal an additional loaf pan for any excess.

Spray more pieces of plastic wrap with non-stick cooking spray and lay them loosely over each loaf pan. Let rise in a warm, draft-free place until the dough looks bubbly and puffy again, and has risen with the top of the dough dome just peeking above the edge of the pan.

While the dough is rising, preheat the oven to 350°F.
It is possible to let this dough rise too long, so be sure the oven is waiting for you rather than you waiting for the oven.
Evenly space the loaf pans in the oven and set the timer for 30 minutes. After 30 minutes, take out one bread pan at a time and brush the tops of the loaves with melted butter. When you place the bread pans back in the oven, rotate their positions from front to back. Bake for an additional 10 minutes or until they are just lightly golden brown.

Immediately turn the loaves out onto a cooling rack and brush again with melted butter. Cool completely before slicing.

The bread can be stored, tightly wrapped, at room temperature for up to a week. If you do not think you can eat it in that time, wrap the cooled, unsliced loaves with two layers of plastic wrap and cover that with one layer of foil before storing in the freezer for up to 3 months. They can be thawed or simply sliced from their frozen state before toasting.
Save