Visit our Bread Recipes page for more fantastic homemade breads like our Jalapeno Cheddar Bread!
Jalapeno Cheddar Bread is a soft, tender-but-sturdy-enough-for-sandwiches bread with a cap of melted, crisped Cheddar cheese. Under that beautiful, golden brown top is bread that was braided with thin slices of fresh jalapeno and more Cheddar cheese that melts into the loaf as it bakes. It's hard to find a better bread to serve with soups, salads, and chilis, but it makes magnificent toast for fried eggs or sandwiches, too.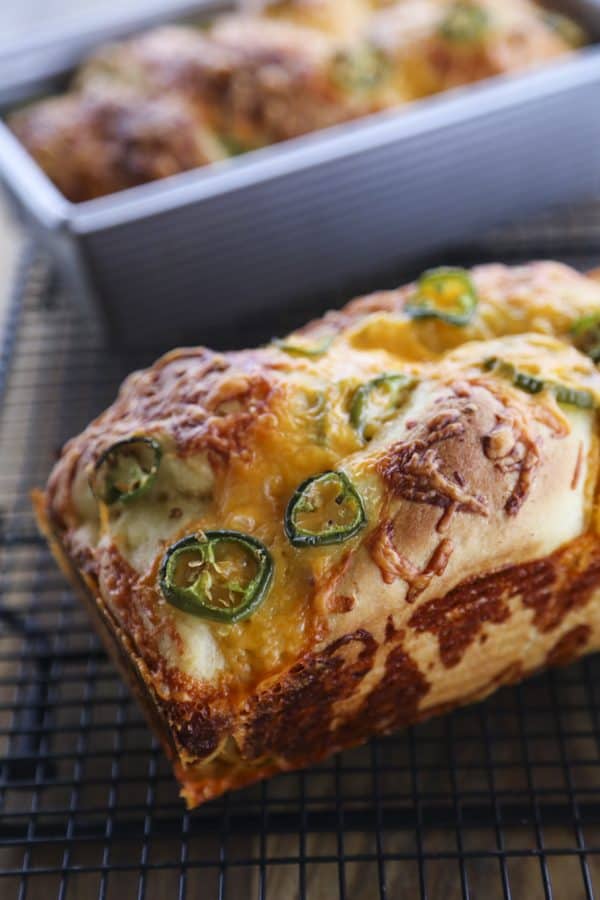 Before I talk about today's recipe for Jalapeno Cheddar Bread, I just have to say THANK YOU ALL! For what? For hanging out with me for NINE YEARS of blogging. 9 years! Today marks nine whole years since I posted my first recipe here on Foodie with Family. If you want a laugh, go back into the archives and check out my "photography style" and, um, interesting formatting choices from back in the day. Thank you for reading Foodie with Family, thank you for cooking alongside me virtually, thank you for your feedback and questions, and most of all thank you for just being there! I'm so grateful for each and every one of you.
Those who live within easy reach of a Wegmans are usually pretty familiar with the plentiful and excellent baked goods that their bakeries produce. We have an unofficial family policy of trying every single new bread we find at our favourite Wegmans. One of the latest ones to capture our affection is Jalapeno Cheddar Bread.
I do love bread. I do, I do, I do. But while I love most bread madly, there are some loaves that excite me more than others. I don't know how anyone could walk by Jalapeno Cheddar Bread without at least pausing to admire it; irregularly shaped,  studded with jalapeno rounds peeking out from under a generous cover of melted and crisped Cheddar cheese, Jalapeno Cheddar Bread is a thing of beauty.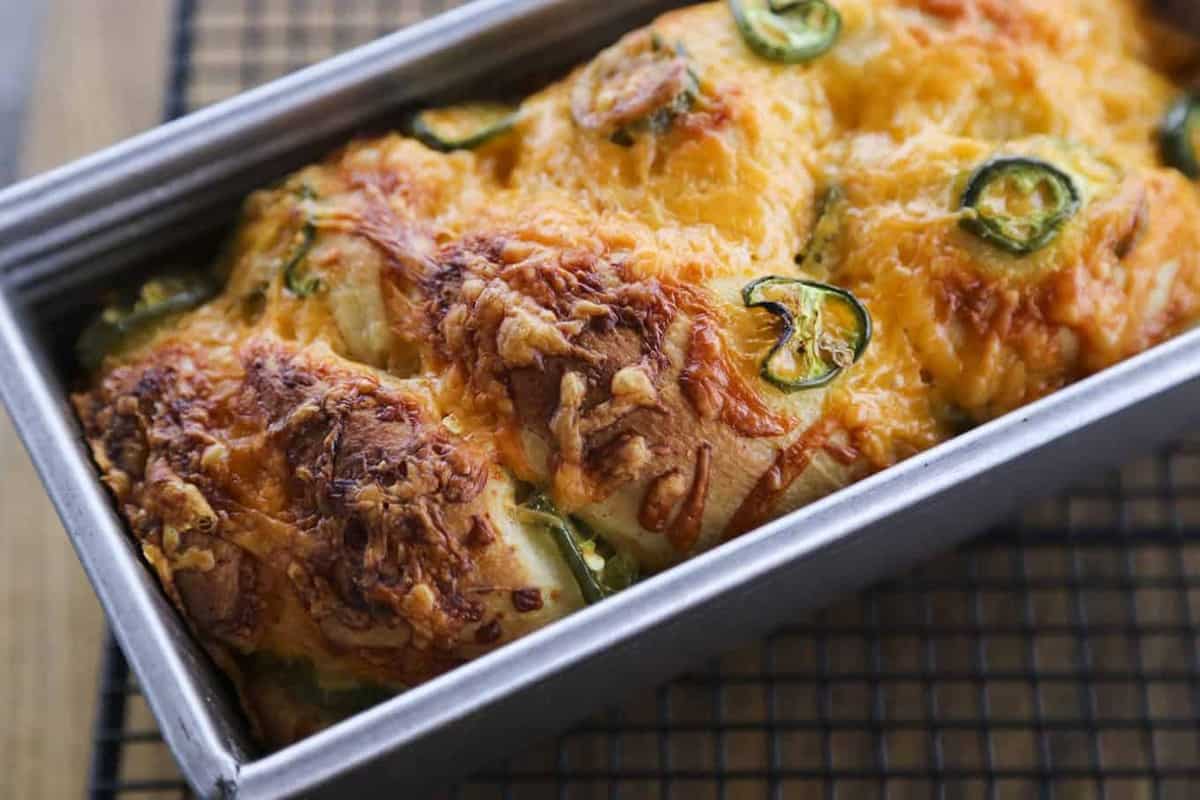 Cook's Notes
This recipe yields two generous loaves of bread.
I like my jalapenos sliced into 1/8-inch rounds, but they can be sliced as thinly as paper or as thick as 1/4-inch and still work well in this recipe.
I find the best way to get the cheese to "stick" to the dough is to braid a little, tuck in the pieces of cheese that fall away, braid a little more, tuck in the cheese, and so on. The same applies to the jalapeno slices.
Once the dough is braided, tuck the ends under and deposit the loaf into a standard loaf pan lightly greased or sprayed with non-stick cooking spray. Cover with a clean tea-towel and let it rise in a warm, draft-free place. In other words, don't pop it under a ceiling fan or in a refrigerator to rise.
Bake until the cheese is golden brown on top and the loaf reaches between 190°F and 200°F.
I know it's hard, but unless you intend to devour the entire loaf in 10 minutes or less, please let it cool completely before cutting into it. The time it takes for bread to do this is actually the last part of the cooking process. While it comes to room temperature, the crumb set up which means you'll be able to slice it or tear it without it being completely compacted and destroyed. If you cut it too soon, the steam will escape leaving a dry, oddly textured bread. Again, not too big a worry if you're just going to slather it with butter and eat it hot, but if you want any leftovers and you want neat slices, patience is what you need.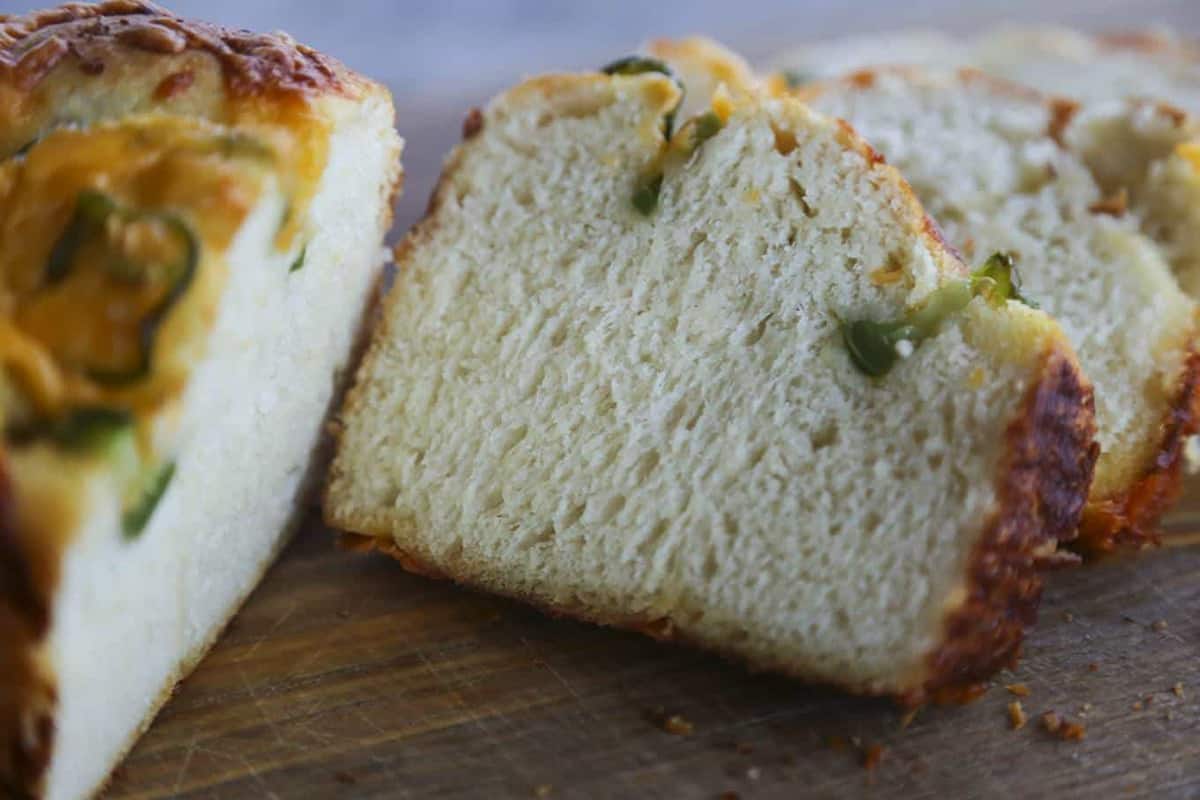 Use this to make Jalapeno Cheddar Bread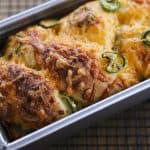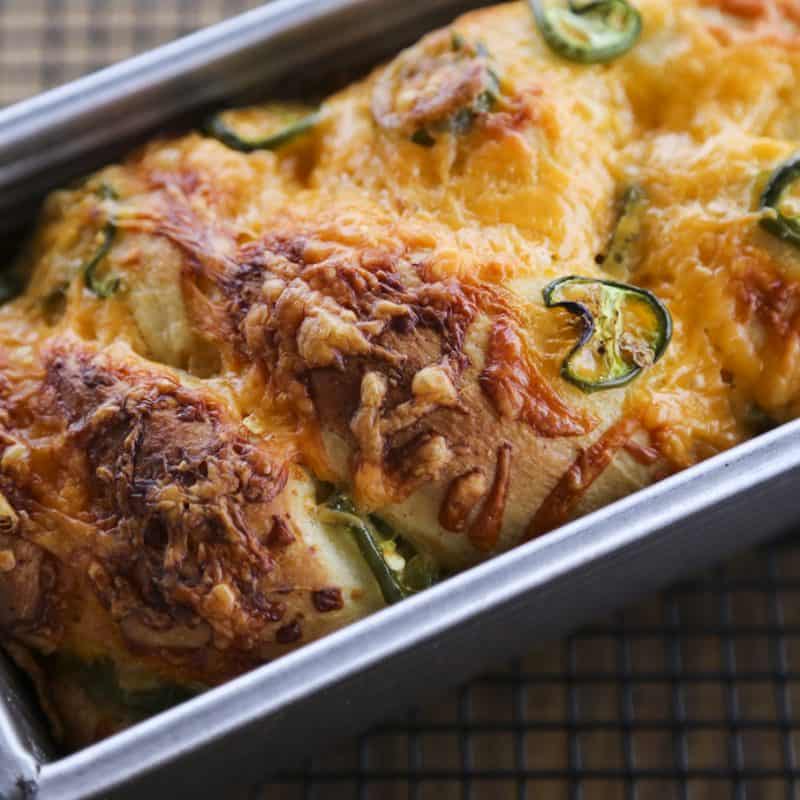 Jalapeno Cheddar Bread
Ingredients
4

cups

all-purpose flour

1 pound, 1 ounce, by weight

2

cups

semolina flour

11 1/2 ounces, by weight

3

teaspoons

SAF or instant yeast

3

teaspoons

kosher salt

4

tablespoons

sugar

4

tablespoons

extra virgin olive oil

2

cups

lukewarm water

16 ounces, by weight or volume

nonstick cooking spray

8

ounces

extra sharp Cheddar

3

small to medium sized fresh jalapeno peppers

sliced into 1/8-inch thick rounds
Instructions
To Mix Dough By Hand:
Add all ingredients except the toppings to a large mixing bowl and stir together with a sturdy wooden spoon until you form a shaggy but cohesive dough. Let the dough rest for 30 minutes, covered with a clean towel. Turn out onto a lightly floured counter top and knead until smooth and elastic, about 10 minutes. Transfer dough to a clean bowl, cover with a damp towel and let rise in a warm, draft-free place until doubled in size, about 2 hours.
To Mix Dough By Stand Mixer:
Add all ingredients except the toppings to the work bowl of your stand mixer fitted with the dough hook. Turn mixer onto the lowest setting and mix until a shiny, elastic dough forms. Remove the bowl from the mixer, cover the bowl with a damp towel and let rise in a warm, draft-free place until doubled in size, about 2 hours.
To Mix Dough By Bread Machine:
Add all ingredients except the toppings to the pan of your bread machine that has been fitted with the dough paddle(s). Set the bread machine on the dough setting and press start. When the cycle is completed, proceed with shaping...
To Shape and Bake the Dough:
Spray two standard loaf pans lightly with non-stick cooking spray. Set aside.

Turn the dough out onto a clean surface and form into a neat mass. Divide the dough in half, then divide each half into 3 pieces. Cover three of the pieces with a towel while working with the other three.

Pat one piece into a rough oval. Use the side of your hand to press an indentation along the length of the dough piece. Fold the dough together along the length of the indentation and roll lightly with the hands to form a thick rope between 12 and 14 inches long. Repeat with the other two pieces so that you have 3 ropes of roughly equal length. Line them up in parallel with the ends facing you. Sprinkle generously with about 1/3 of the grated cheddar and half of the jalapeno slices.

Gently grasp the end of the rope on the far left. Lift it to about the center, leaving the far end on the counter, cross it over the rope nearest to it and lay it down. Now grasp the end of the piece on the far right and lift it to about the center, leaving its far end on the counter, cross it over the (now) center rope (which is the first one you moved) and lay it down, tucking in jalapeno slices and grated cheese between the ropes as you braid them. This is the manoeuver you will repeat - far left over center, far right over center, and so on- until you have ends too short to continue.

At that point, pinch the ends together and tuck under the braid. Now go back to the center of the loaf and finish braiding the loaf toward the top. When you reach the ends, pinch together and tuck under. Transfer the braided loaf to a prepared loaf pan. Repeat with the remaining bread dough. Divide the remaining 1/3 of the cheese and top the braided loaves with it.

Cover the loaves lightly and let rise in a warm place until puffy in appearance and about doubled in size.

Preheat oven to 400°F.

Bake for 25-30 minutes or until your preferred shade of golden to deep brown and firm on top. Remove the pans from the oven. Let the bread rest in the pan for 3 minutes, then carefully turn out onto a wire rack to cool completely before slicing.

Save
Save
Save