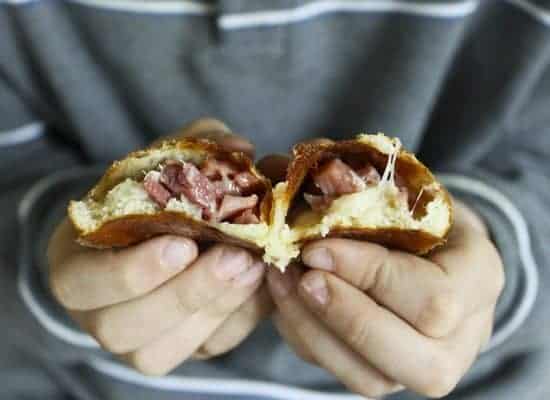 This recipe ran as part of my column in today's Traverse City Record-Eagle.
Yes I am obsessed with soft pretzels. And with shoving ham and cheese into things. Why do you ask? Is it because of this? Or this? Maybe this, this, this, this or this? Okay, that last one is bacon, but really? It could've been ham just as easily. Ham and bacon? They're like *this*.
Ham, cheese, pretzels and me? We're also like *this*. How it look so ever loving long for that beautiful food in the picture above to happen is beyond me. I live for stuffing things into soft pretzels and I live for stuffing ham and cheese into things. It was inevitable and the inevitable was oh-so-good.
We're talking about a snack crossed with a meal. I've heard it both ways. It's hearty enough to serve with a big salad* and some beans and be called dinner. It's small enough that you could eat it alone (dunked in mustard, of course) for a serious snack. I chose to eat enough of them for snack that dinner was no longer an option.
*Big salads make all meals healthy and legitimate, no?
There are a few important things to remember when making these:
Use a great, dry-ish ham. Country ham is the best. Your second best option is a Virginia baked type ham or ham steak. Don't use watery, pressed, nasty, rectangular ham. Have you ever seen a rectangular pig? No. Therefore, no ham should be a perfect rectangle.
Ham is salty. Cheese is salty. Go light on the salt on top of these pretzels. A soft pretzel needs at least a wee bit of salt on top in my book, but it's easy to go overboard and cross into salt-lick territory. Better to leave it off if you're watching the sodium intake or sensitive to salt.
The sharper your Cheddar, the better the final product. The cheese had to stand up against the assertive flavour of ham and a sharper Cheddar is better equipped.
This is one time I'm going to insist you cook your pretzel to a dark colour. Most often I offer a choice on baking lighter or darker, but this pretzel begs to be a deep brown. It needs the dark toffee coloured crisp exterior to balance the hearty fillings. Go for broke!
As with most soft-pretzels, these freeze and reheat beyootifully. Have you ever gotten so hungry you felt almost panicky or sick? Picture a serious hunger attack and knowing that you have a bag full of these bad boys in the freezer. Hunger be gone! We vanquish you with Ham and Cheddar Stuffed Pretzels. Victory is ours!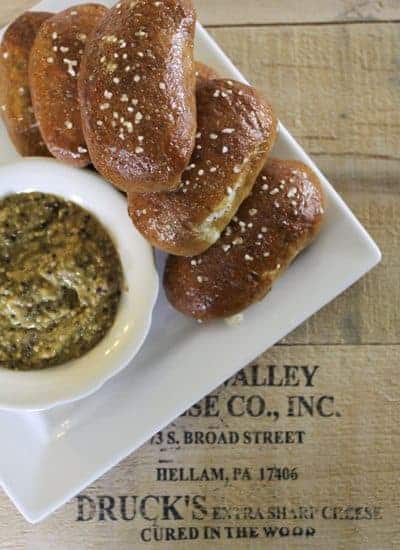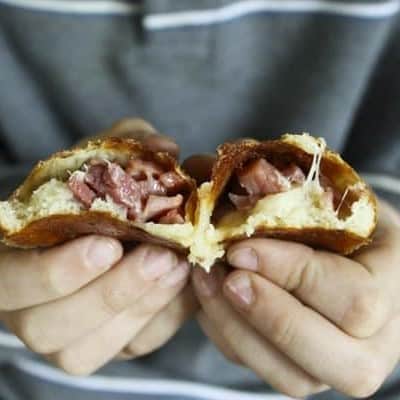 Soft pretzels, ham and cheese -individually- make me happy, but together, they make me swoon. Deep brown soft pretzels stuffed with salty ham and melted, gooey sharp Cheddar cheese make the ultimate snack or light meal.
Ingredients
Ingredients for the pretzel dough:
1

cup

lukewarm milk

1/2

cup

hot water

not boiling, just hot

4

cups

high-gluten flour

1 pound 1 ounce, by weight, or bread flour

1

tablespoon

malt powder

or granulated sugar

1 1/4

teaspoons

kosher salt

2 1/4

teaspoons

instant yeast
Ingredients for pretzel boil:
2

quarts

water

1/4

cup

baking soda
Ingredients for fillings:
1 1/2

cups

diced ham

I like to use country ham or a Virginia style baked ham for this.

1 1/2

cups

diced Cheddar cheese

We prefer extra sharp, but use your favorite.
Ingredients for toppings:
1

egg

beaten

Coarse sea salt

kosher salt or pretzel salt
Instructions
To Make the Dough by Hand:
In a large mixing bowl, whisk together the flour, salt, malt powder or sugar and yeast.

Set the whisk aside and switch to a sturdy wooden spoon.

Stir in the milk and hot water until a soft dough forms.

Turn onto a generously floured surface and knead, adding small amounts of flour as needed to keep the dough from adhering to the counter. You do not want a firm dough… it should be fairly slack, a little tacky and soft, yet smooth.

Place dough in a clean bowl, cover with a damp tea towel and set aside to rise in a warm, draft-free place until nearly doubled in bulk and puffy, about an hour or so.
To Make the Dough by Stand Mixer:
In the work-bowl of a stand mixer fitted with a dough hook, combine the flour, salt, malt powder or sugar and yeast.

Mix on low just to combine dry ingredients. With mixer still on low, carefully pour in the milk and water.

Continue mixing on low until you have a smooth, soft, slightly tacky dough.

Remove bowl from the mixer, cover with a damp tea towel and set aside to rise in a warm, draft-free place until nearly doubled in bulk and puffy, about an hour or so.
To Make the Dough by Bread Machine:
Add the milk, water, flour, malt powder or sugar, and yeast to the pan of your bread machine in the order recommended by the manufacturer.

Select the "Dough" or "Dough Only" cycle and hit start. Allow the cycle to complete.
To Form Pretzel Bites:
Line two 11×13-inch baking sheets with silicon or teflon pan liners. (You can use parchment, but you will need to grease it generously to prevent it from sticking.) Set next to your work area.

Turn the dough out onto a very lightly floured surface.

Use a bench knife to cut the dough into four pieces.

Keep three pieces of dough covered with a tea towel while working with the first. Roll the piece like play-dough until you have a snake of dough about the circumference of two thumbs squashed together.

Use your bench knife to cut the dough snake into 6 equally-sized pieces.

Press each piece into an oval that is about 3-4 inches across.

Put 1 1/2 teaspoons each of the minced Cheddar and ham into the center. Bring the dough up together from the sides toward the center and pinch together firmly to seal the dough. Pinch the ends so that the cheese and ham are sealed into the dough.

Transfer the sealed, stuffed dough, seam-side down, onto the lined baking sheets, being sure to leave generous amounts of room between pieces and rows. They will expand both as they rise and again as they boil and bake.
To Cook the Pretzels:
Preheat oven to 400°F.

Bring 2 quarts of water to a boil in a stainless steel or other non-reactive pan (enameled cast-iron, tempered glass, etc…) When water boils, add the baking soda.

Gently lift the pretzel dough pieces one at a time into the boiling water. (You can boil more than one at a time, but be sure not to crowd the the pan as they will expand as they boil. Let simmer for about 45 seconds, flip the pieces and simmer for another 45 seconds-1 minute.

Use a slotted spoon to drain and return each piece to its place on the pan. Continue until all pieces have been boiled and returned to the pan.

Brush all pieces of dough with the beaten egg and sprinkle with coarse salt.

Place pans in oven and bake at least until golden brown (at least 15 minutes), but you can bake until they are deep brown. It's up to you!

Remove the pans from the oven and let the pretzels rest on the pan for 5 minutes before transferring to a serving plate.

Leftovers, if you have them, should be stored in a tightly covered container in the refrigerator.

Serve warm or room temperature. I like mine with classic yellow mustard, but they're also good with grainy beer mustards.
Notes
I recommend going light on the salt on top of the pretzels, especially if you use a good country ham. Ham and cheese are salty on their own, so the pretzel only needs the lightest sprinkle of coarse salt on top.
Nutritional information is an estimate and provided to you as a courtesy. You should calculate the nutritional information with the actual ingredients used in your recipe using your preferred nutrition calculator.