Visit our Bread Recipes page for more wonderful homemade bread recipes!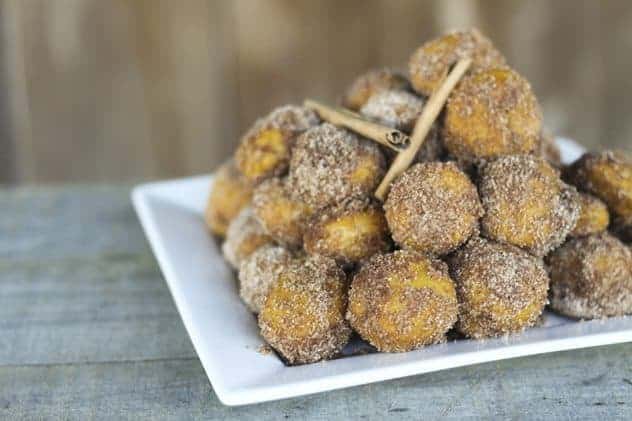 When I promise an all desserts week I mean it. Here's installment #2!
There are foods that I will beat down the door and jump over an old lady to get. Doughnuts are not usually one of them. I don't really have much of a sweet tooth (contrary to what you might think considering the number of dessert recipes I've posted) and so I spend my "sweet capital" very carefully. Doughnuts, in general, are  too sweet, too gloppy, too much of everything. Just too too.
Every fall, though, I like to try an apple cider doughnut. The name is irresistible isn't it? You say cider, I drool. And they're usually okay. Often times they're baked rather than fried and instead of a gloppy glaze, they have gone for a roll in a bowl of cinnamon sugar. I can manage one or two doughnut holes of the aforementioned variety before I have to back off. For me and doughnuts that equals indulgence.
My kids and husband, however, have never met a doughnut they didn't inhale. My husband, in fact, calls them DARNITS. As in, "DARNIT! I ate another one!" And so, when I saw this the other day, I decided to try my hand at doughnut/darnit making. Using Food + Words' recipe as a leaping off point, I leapt.
Being in possession of a great deal of apple molasses is a nice thing. It's especially helpful when you decide you're going to morph a pumpkin/beer doughnut recipe into a cider/pumpkin one. I wanted a hint of cider in the doughnuts but not enough to overpower the pumpkin. Can you think of two flavours that scream fall more than cider and pumpkin? I can't.
I made dough. I rolled it. I cut it. I put it on pans. And then men (both of the little and mature variety) started trickling into the kitchen. "What are you OOOOOH! Mom's making DOUGHNUTS!" "You're making what? Oh. OH! When will they be done?" "Wow. Did we really clean that well?" (No. You didn't. But you all are cute. Consider yourselves lucky.)
I baked. I dunked. I rolled in sugar. The doughnuts that is. I didn't personally roll in the sugar although after doing a double batch of doughnuts I suppose it's six of one/half dozen of another. Doughnut humour. Somebody stop me.
I snapped a couple pictures with a child or two hanging off of one leg, another one on my back and my husband and two eldest sons dancing from foot to foot in the background saying, "Is she done yet guys? How many pictures do you have to take?" I took three pictures then stepped away.
Locusts.
That's what they brought to mind with the speed with which they descended on those doughnuts.
When they sat down for a breather, I hazarded a bite of a doughnut hole. They were good. No. They were great. They were light and just sweet enough. The pretty autumnal orange colour of the crumb delivered on pumpkin flavour with just a hint of apple cider. The nutty brown butter that held the crunchy cinnamon sugar to the outside was the perfect finishing touch. In short? It was a doughnut of which I could eat more than two. Darnit.
Some Important Cooking Notes:
This doughnut dough is very slack, very soft and very sticky. When first mixed up, it almost resembles a batter more than a dough. Be patient, allow the flour to hydrate as the dough rises. It should be workable after that first rise.
You will want to flour everything you work with very generously -counters, rolling pins, hands- don't worry. Keep adding flour as you work with it.
You absolutely need parchment or a silpat on your baking sheet. There's no getting around it! If you don't use one or the other you'll have a nasty clean up job ahead of you.
Use unsalted butter to make the browned butter. If you use salted butter, you'll concentrate the salt in it and the doughnuts will definitely take on super salty as a finishing flavour.
These are best when served fresh and warm, but there's not a thing wrong with storing them in an airtight container for about three days. And if they make it that long you know you're not in my house.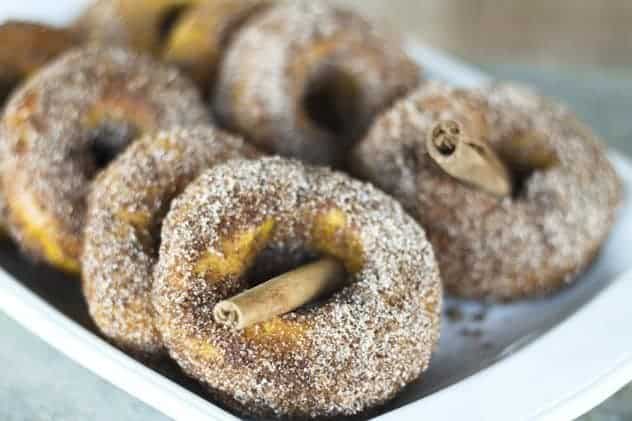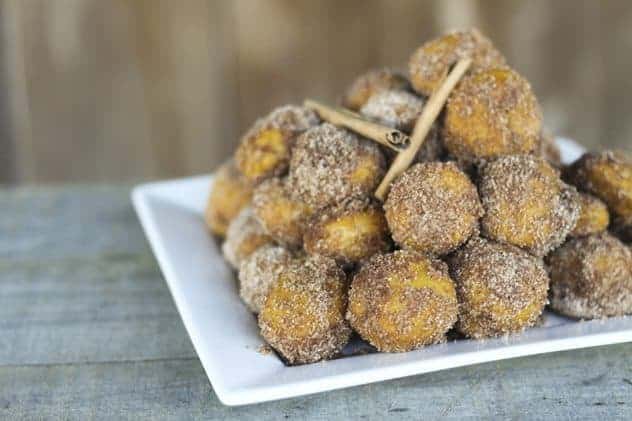 These doughnuts embody fall flavours with their beautiful spiced pumpkin orange crumb, hint of cider flavour and cinnamon sugar coating. Serve hot with cider or coffee for a seasonal treat. Adapted from
Food + Words
Ingredients
For the Brown Butter:
1/2

cup

1 stick/ 4 ounces by weight unsalted butter
For the Doughnuts:
1/4

cup

whole milk

1/4

cup

plus 1 tablespoon boiled cider

1

envelope

2 1/4 teaspoons instant dry yeast

1/4

cup

granulated sugar

1/2

cup

light brown sugar

packed

1 1/2

teaspoons

kosher salt

1

teaspoon

pure vanilla extract

1/2

teaspoon

ground cinnamon

1/8

teaspoon

ground nutmeg

1

large egg

2

large egg yolks

1

cup

pumpkin puree

2 1/4

cups

all-purpose flour

1

cup

bread flour
For the Cinnamon Sugar:
1/2

cup

granulated sugar

1

tablespoon

ground cinnamon
Instructions
Begin by preparing the dough:

Warm milk to just above room temperature using the microwave or a saucepan. Pour into the work bowl of a stand mixer, gently stir in the boiled cider and the yeast. Let stand for 5 minutes.

After 5 minutes, use the batter attachment on your stand mixer to blend in the sugar, brown sugar, salt, vanilla extract, cinnamon, nutmeg, egg, egg yolks, and pumpkin puree. Mix on medium for at least 1 minute to be certain everything is evenly combined and smooth.

Turn off the mixer, switch to the dough hook, and add all of the flour at once. Start on low (to avoid the dreaded flour POOF) and gradually move up to medium high where it should stay for 4-6 minutes, or until you have a soft, sticky batter-like dough.

Butter a large mixing bowl or pan generously and scrape the dough into it. Cover with plastic wrap and let rise at room temperature until doubled in size (about 1 hour at average room temperature.)

After an hour, line 2-3 baking sheets with parchment or silpats and set them aside.

Generously flour your work surface and your rolling pin. Turn the dough out onto the counter and dust the top with flour. Knead for no more than 1 minute to deflate the dough.

Roll it out to about 1/2-an-inch thickness and use a 3-inch diameter round cutter to cut large doughnuts and a 1/2-1-inch thickness round cutter to cut the hole from the center. (Or use the small cutter to do a gigantic batch of doughnut holes!) Carefully transfer the cut doughnuts to the lined sheets with about 2-inches of space between each doughnut (or 1 inch between doughnut holes.)

Re-roll the scraps and cut more doughnuts. Repeat until you've used all the dough.

Cover the baking sheets with plastic wrap and let rise for about an hour. Take care not to let them rise too long or the yeast will exhaust its activity before it gets to the oven and you'll lose the light texture you're trying to get.

Preheat the oven to 400°F.

To Make the Brown Butter

While the oven preheats, melt the butter in a heavy-bottomed saucepan over high heat, swirling it to keep it from scorching. The butter will bubble and pop. As soon as the butter smells nutty and you can see lightly browned milk solids in the pan, remove the pan from a burner and set in a place to cool just slightly.

To Bake Doughnuts:

Bake the doughnuts in the preheated oven for about 20 minutes or until golden brown.

Bake the doughnut holes in the preheated oven for about 10 minutes, or until just golden.

To Assemble the Doughnuts:

Toss the granulated sugar and ground cinnamon together in a bowl. Set the cinnamon sugar next to the brown butter. Working with one doughnut at a time, dunk into the brown butter and flip to coat. Lift with a fork to allow the excess butter to drain away then drop into the cinnamon sugar. Toss to cover all surfaces with the cinnamon sugar, transfer to a plate, and repeat with the remaining doughnuts and doughnut holes.

Eat.

Darnit.
Nutritional information is an estimate and provided to you as a courtesy. You should calculate the nutritional information with the actual ingredients used in your recipe using your preferred nutrition calculator.
Save