You haven't had an indulgent breakfast until you've had Maple Bacon Biscuit Bake. Tender biscuits baked in a sticky maple and bacon caramel coating with toasted pecans are just about as good as it gets.
Visit our Bread Recipes page for more wonderful homemade bread recipes!
There are some foods that you have to promise yourself you won't make often because they are so good, so rich, so indulgent, and so tantalizing that you would be in major trouble if you ate them with any frequency. Maple Bacon Biscuit Bake is one of those recipes.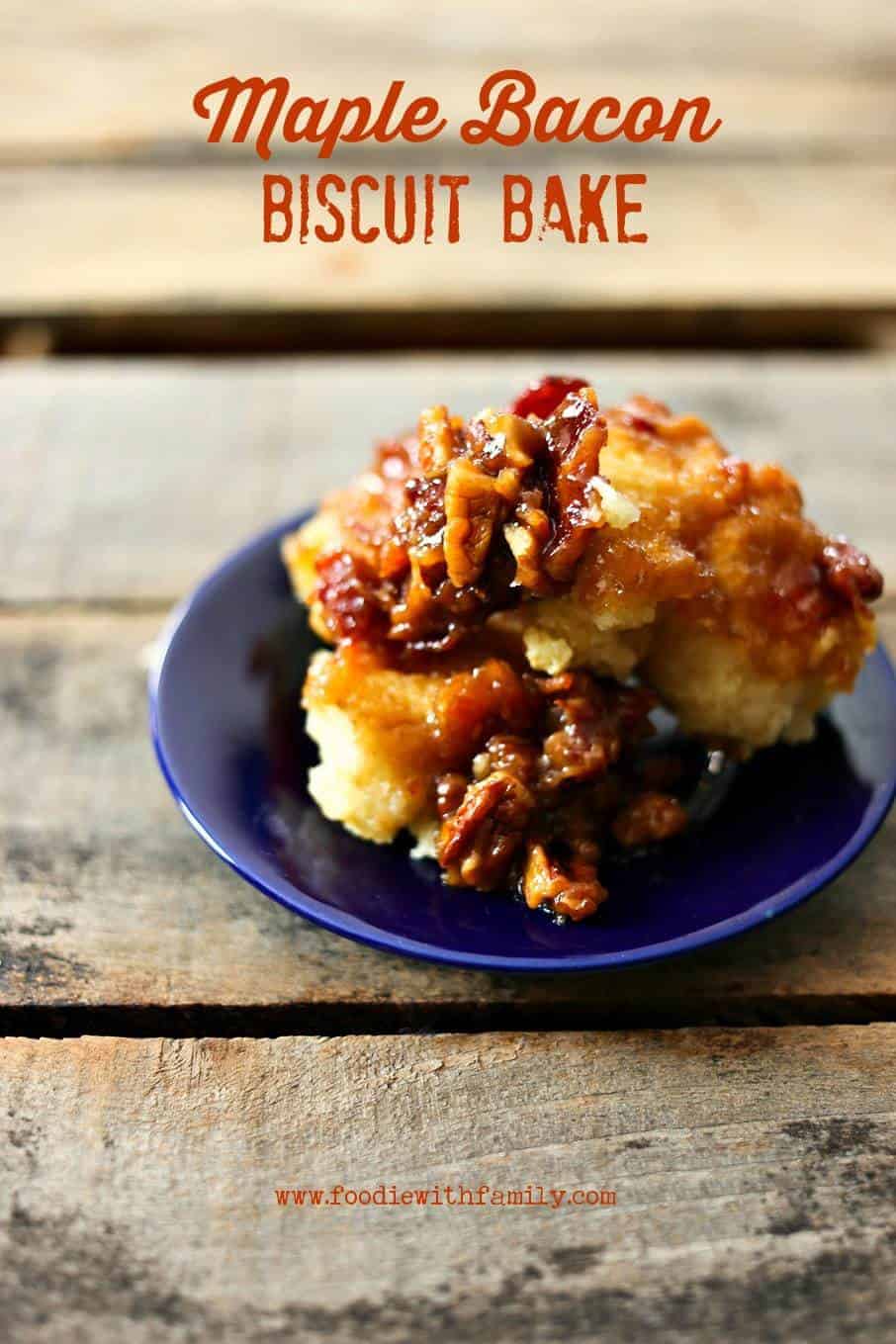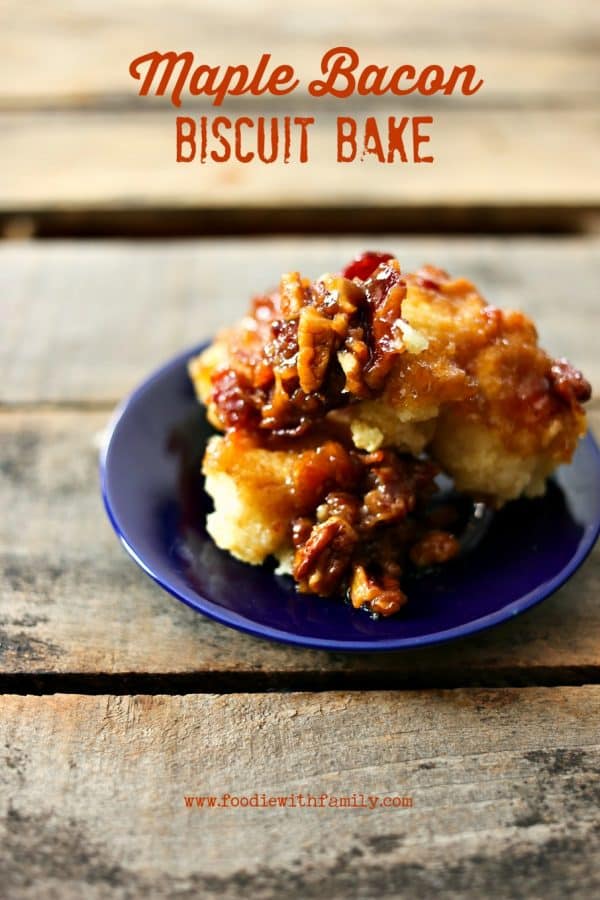 Because it is high maple sugaring season in this part of the country, I spent a while perusing the King Arthur Flour website for recipes using maple syrup. I stumbled upon their Maple Bacon Biscuit Bake and gasped.
What I was seeing was tender buttermilk biscuits baked over a sticky, rich maple syrup, bacon, and pecan topping. When baked through, the plate was inverted and the gooey syrup ran over and around all of the beautiful biscuits. As if by divine sign, five minutes later, I saw that my friend Carrie had made a version of that same dish and included pecans. That it was being made in my kitchen that day was a foregone conclusion.
I tinkered with the recipe just a bit, replacing some of the butter with a little dose of the glorious bacon fat from cooking the bacon strips that were cut up for the topping. Have bacon fat, will use it, after all…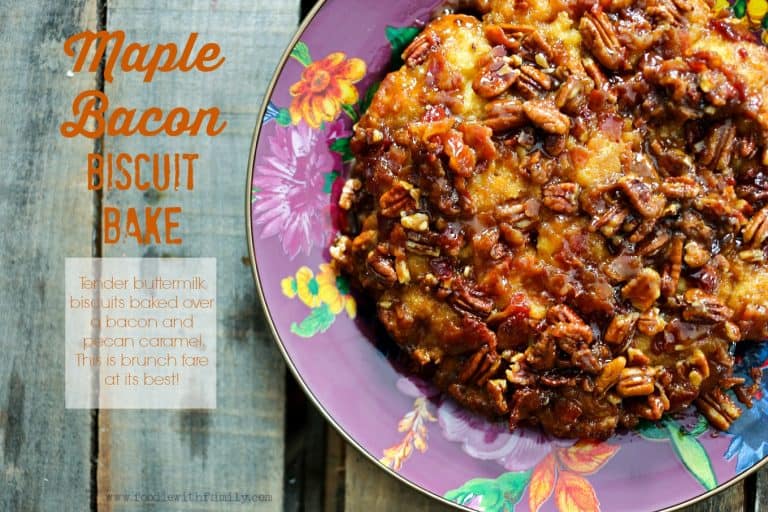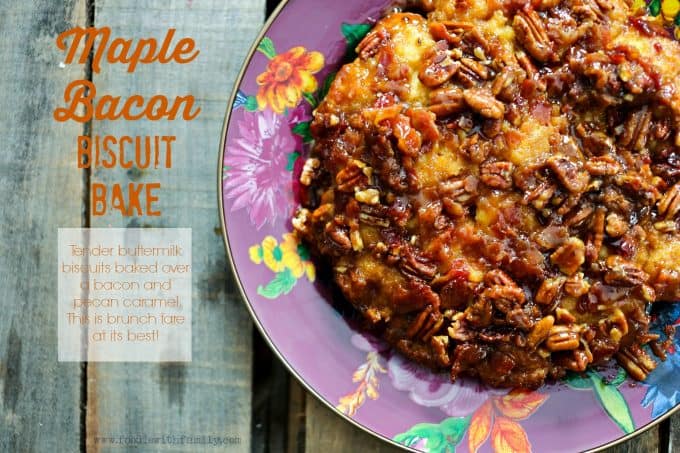 I also added just a hint of cinnamon and nutmeg because I love how they play with maple syrup. The result was a maple, bacon caramel sticky bun dish that had every member of the family in bliss.
As he swept his finger through the caramel that remained on the plate after all other bits and pieces had been devoured, my husband whispered, "We really should make a pact that we'll only make Maple Bacon Biscuit Bake once or twice a year. This is dangerous stuff."
He's right, folks, but Easter is coming, and a brunch must be had, and I'm pretty certain Maple Bacon Biscuit Bake is going to be absolutely amazing next to a baked ham.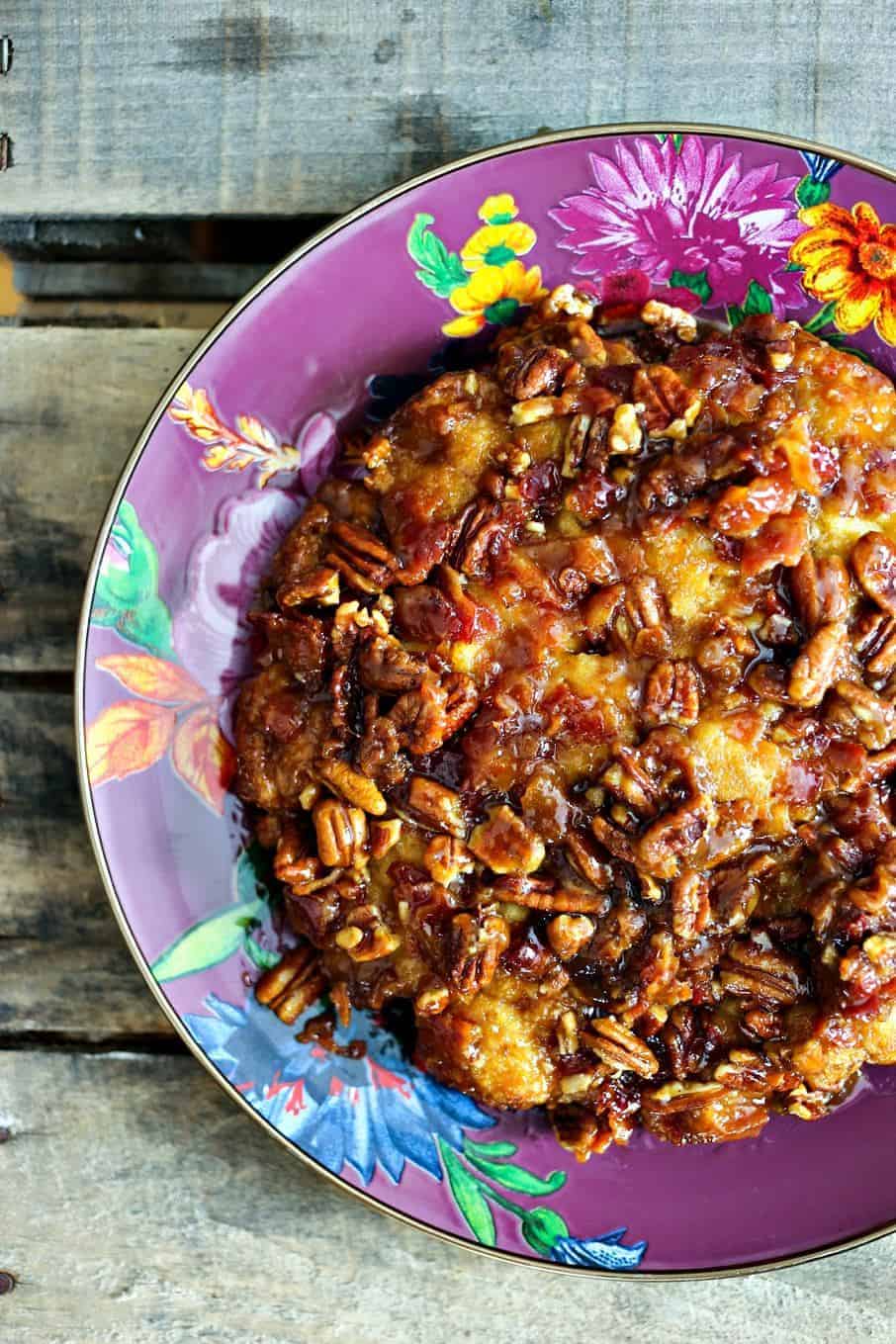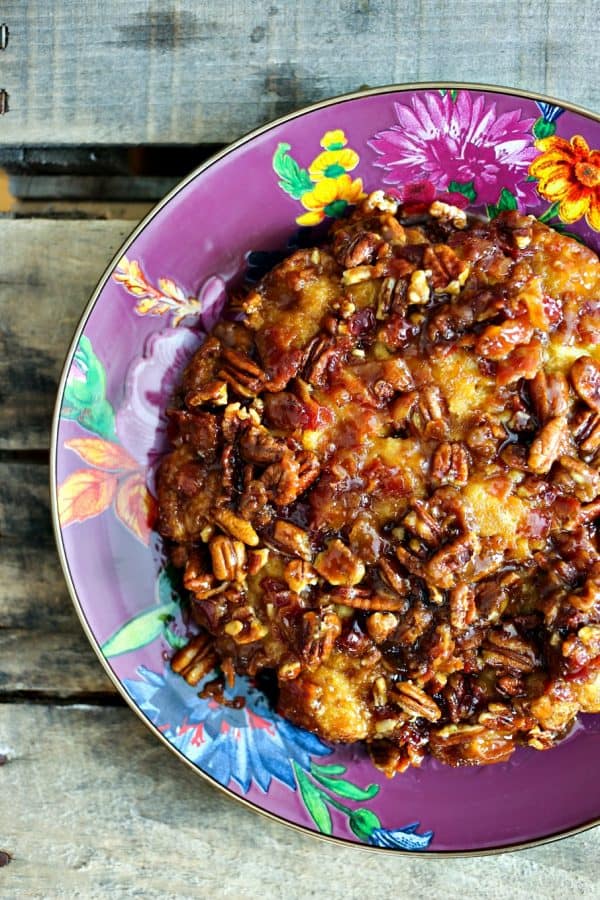 Cook's Notes
I chose to use round cake pans because -as lame as this reason is- I really wanted to turn the Maple Bacon Biscuit Bake out onto a round plate for visual reasons. If you don't have round cake pans that are at least 8-inches in diameter and at least 2-inches deep (to prevent caramel bubbling over the edge and smoking in your oven), you can definitely bake it in an 8-inch by 8-inch square pan, again making sure it is at least 2-inches deep.
If you'd like to ensure that your goodies come out of your pan clean, line the bottom of the greased pan with a piece of parchment cut to fit the pan. This is note strictly necessary, but the sticky stuff does have a tendency to, er, stick, and parchment helps mitigate that.
Please do not cook your bacon to crisp for the Maple Bacon Biscuit Bake. Remember that it will continue cooking in a very high temperature oven and that could carbonize your lovely, crunchy meat candy which would be very sad indeed. Take the bacon to the chewy stage, but not beyond. I say this as a card-carrying member of the "I Prefer Bacon Crispy Club".
To minimize hands-on time, you can cook the bacon ahead of time and reserve the amount of bacon fat needed for the caramel up to two days ahead of time. If you do opt to do this, please melt the bacon fat along with the butter before stirring into the maple syrup sugar mixture.
If you can lay your hands on it, DO use Grade B DARK maple syrup for the Maple Bacon Biscuit Bake. It's the Cadillac of the maple syrup world, even though it seems counterintuitive, because who doesn't love Grade A, right?
Grade A is lighter in colour and packs less maple punch. I prefer Grade B in every single application I can conceive of to use maple syrup, and I can think of plenty of uses.
Related: Don't use store bought pancake syrup here. You can, however, use our brown sugar homemade pancake syrup.
I used cultured buttermilk for this recipe. If you don't have it on hand, you can add a teaspoon of cider or white vinegar to a measuring cup and fill to the 1 cup mark with milk. Stir well and let sit at room temperature for 10 minutes before using. While this is NOT the same thing, and cultured buttermilk improves the texture of the final product (in my opinion), this acidified milk will lend the same tang to the final product.
If, perchance, you're not a fan of pecans, omit them. Personally, I think the added buttery crunch of the pecans pairs perfectly with the maple bacon caramel, but the Maple Bacon Biscuit Bake won't suffer structurally if you leave them out.
I know it sounds crazy to cook it for just 10 minutes, then leave the oven door shut for another 10 minutes before taking it out and turning it onto a plate, but DO IT. Do not let your impatience get the best of you here. You will be tempted because it will smell so good you'll want to gnaw your own leg off below the ankle, but stand strong. Heh. Sorry. I mean, stay strong and resist. You will be happy you did. That last 10 minutes with the oven door shut finishes baking your biscuits and making your maple bacon syrup sticky and luscious.
Connect with Foodie with Family
facebook | pinterest | instagram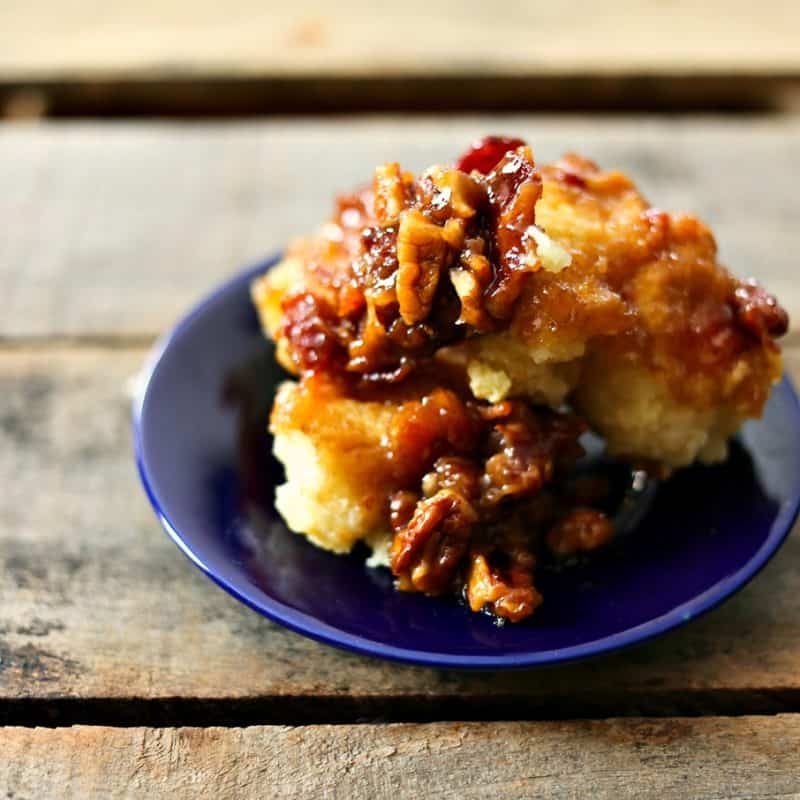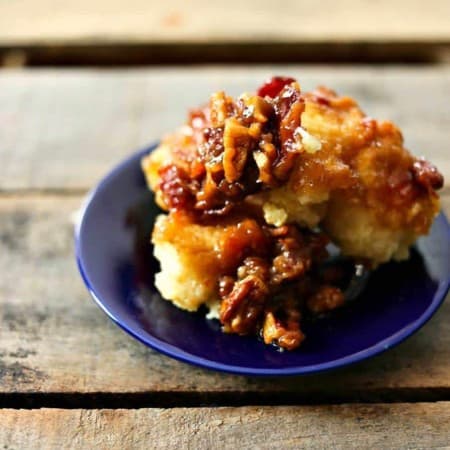 Ingredients
For the Maple Pecan Bacon Syrup:
1/2

pound

bacon

cooked until chewy, chopped into 1/2-inch pieces

1/3

cup

brown sugar

1/4

cup

all-purpose flour

1/4

cup

maple syrup

1/4

cup

pecan pieces

1

tablespoon

melted butter

1

tablespoon

of reserved bacon fat

melted

1/4

teaspoon

ground cinnamon

1

pinch freshly grated or ground nutmeg
For the Buttermilk Drop Biscuits:
2

cups

all-purpose flour

2

teaspoons

baking powder

1/2

teaspoon

salt

1/4

cup

cold butter

4 tablespoons

1

cup

cold buttermilk or acidified milk

See Cook's Notes
Instructions
Preheat oven to 475°F.

Lightly grease an 8 or 9 inch round cake pan or 8×8-inch square baking dish. If desired, line the bottom of the pan with a piece of parchment cut to fit. Set aside.

Stir together the baco pieces, brown sugar, all-purpose flour, maple syrup, pecan pieces, melted butter and bacon fat, cinnamon, and nutmeg in a mixing bowl until even. Scrape into the prepared baking dish or cake pan and spread evenly over the bottom of the pan.

In a separate mixing bowl, use a fork or whisk to combine the flour, baking powder, and salt until even. Cut the butter into small pieces and work in with two knives, a pastry blender, or your hands until the butter is in pea sized pieces and completely dispersed through the flour. Pour in the buttermilk or acidified milk all at once and stir with a sturdy mixing spoon just until moistened through and no dry pockets remain.

Use a small cookie scoop to drop the biscuit dough over the surface of the bacon mixture. If you don't have a scoop, drop heaping tablespoons of the dough over the bacon mixture. Bake for 10 minutes, shut the heat off, and leave the oven door shut for an additional 10 minutes. Remove the pan from the oven, run a flexible heat-proof spatula or knife around the edge of the pan. Lay a plate or serving platter over the pan and carefully invert. Lift the pan up from the serving dish and the bacon caramel should run over the biscuits. Serve while still warm.
Nutritional information is an estimate and provided to you as a courtesy. You should calculate the nutritional information with the actual ingredients used in your recipe using your preferred nutrition calculator.
Save