If you love our Bacon Cheddar Scallion Scones, visit our Bread Recipes page for more wonderful homemade bread recipes!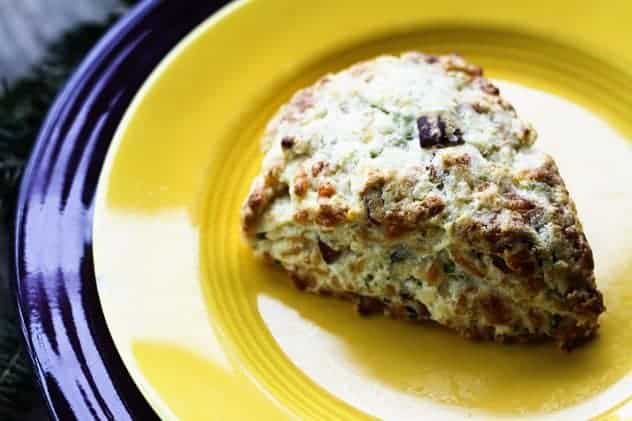 A couple months ago, I hauled out of bed on a Saturday morning, pulled back my hair and put on my face, put some clothes on that I hoped were cute (who can tell anymore? I'm so out of touch!) and hopped in the car for an hour and a half drive. It was snowing, it was cold, it was a good day to stay home. So why did I go anywhere?
Because in a warm building at the Genesee Country Village and Museum an hour and a half away, there was a King Arthur Flour baking demonstration that was open to the community. I was going to this on a dreary day because I am utterly and completely devoted to King Arthur Flour.
I buy it by the fifty pound bag from my Amish friends. As in, multiple fifty pound bags: one of all-purpose, one of high-gluten, and one of white wheat. Yes. I use that much flour. I'm King Arthur Flour's biggest fan in a non-creepy, not-Kathy-Bates-in-Misery kind of way.
I'd never been to one of their demonstrations, not for lack of desire, but because I lived too far from their baking center. When I learned that there was a local-ish one I could attend, I hopped on it! I really didn't know what to expect other than the topic was going to be pie crusts, scones and biscuits.
**insert drooling and panting here**
I can't help myself when it comes to pie crusts, scones and biscuits. They are the holy trinity of me losing what's left of my pea-sized mind while inhaling food in a frenzy of crumbs, eye-rolling and happy noises. It's not pretty to watch. Pies, scones and biscuits. I am powerless over you.
Pie crusts, scones and biscuits have more commonality than the equally abysmal self control I exhibit around all three; they're pretty much made the same way. I hate to admit that with all my baking experience, I had never really thought of that.
God bless Irene -King Arthur Flour Baking Expert Extraordinaire!- who made the connection crystal clear. To super simplify the whole process, it is essentially dry things whisked together, cold fat cut into it, and wet stuff tossed in until it is clumpy. Irene shared a tip with me that I'd never heard before and it totally re-invigorated my pie crust/scone/biscuit making.
She said to work the fat into the dry ingredients in two separate additions. *FACEPALM* Seriously. Why? Because this ensures both that you have fat worked through which gives it tenderness and larger bits of butter/shortening/lard that gives you flakiness. If you work it in all at once, you won't be able to achieve that highly sought after flaky/tender combo. I love Irene.*
*Besides, any woman who can stand in front of a room filled with two hundred strangers and ask in response to an audience question -with a straight face and angelic tone of voice- whether someone's pie bird 'pukes up pie filling' when it bakes has my loyalty forever.
She turned out the most gorgiferous apple pie and then moved onto scones where she casually said something that pretty much rocked my universe, even more than the 'these three things are pretty much the same' revelation. She suggested making and forming scone dough ahead of time and flash freezing them (laying the scones on a parchment lined pan to freeze solid before wrapping and transferring them to a freezer bag) and baking them off on Christmas morning.
Good golly. I'd done this for years with biscuits, why oh WHY had I not translated this to scones?
I had visions of popping frozen scones on a pan and into a pre-heated oven*, sitting in my easy chair in my flannel jammies on Christmas morning while the kids opened presents, and standing up only when I hear the timer just in time to pull a tray of steaming hot, tender, bacon and scallion flecked scones from the oven. The fantasy goes on to being able to start our Christmas feast in a spotlessly clean kitchen later in the day because all I had to do was crumble the parchment and rinse the pan on which the scones baked.
*Yes, even in my fantasies, I pre-heat my oven.
Irene, we will be singing your praises with mouths full of tender flaky scones Christmas morning. Thank you!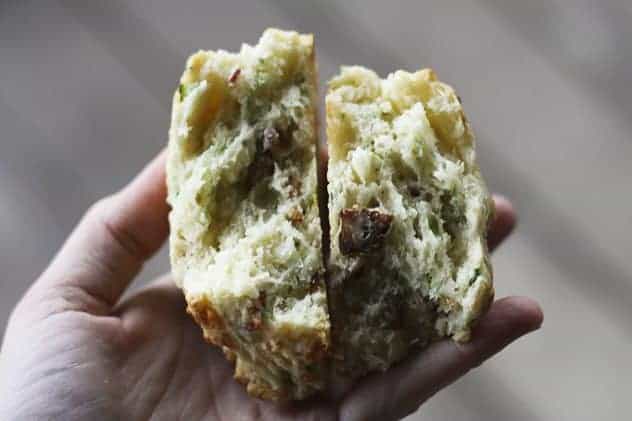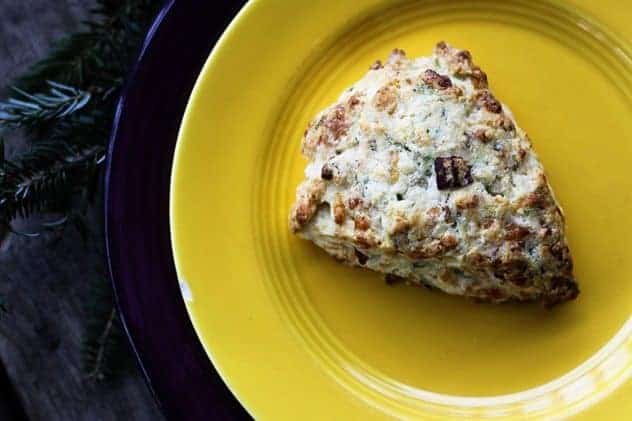 Freeze and Bake Bacon Cheddar Scallion Scones
Rate Recipe
Having a bag of these frozen pre-formed scones in the oven is your secret holiday breakfast or brunch weapon. Simply remove desired number of scones from the freezer, place on a parchment lined pan and bake. Forty five minutes later you have piping hot, tender, flaky scones studded with crispy bacon, minced scallion and tiny pockets of melted Cheddar cheese. Very gently adapted from and with thanks to
King Arthur Flour
Ingredients
4

cups

all-purpose flour

1 pound 1 ounce, by weight, preferably King Arthur all-purpose or Galahad flour.

2

teaspoons

salt

2

tablespoons

baking powder

4

teaspoons

sugar

8

tablespoons

cold butter

cut into small cubes

1 1/2

cups

finely diced Cheddar cheese

1/2

cup

finely minced scallion tops

green onions

1

pound

of bacon

cooked 'til crispy, then cooled and crumbled or chopped

1 1/2

cups

heavy cream or half and half plus 1/4 cup

plus more, if needed, to make a cohesive dough.
For Baking:
Additional cream for brushing prior to baking
Instructions
Whisk together the flour, salt, baking powder and sugar in a large mixing bowl. Add about 1/2 of the cubed butter and work in with a fork, two knives, a pastry cutter or your fingers until the mixture resembles lentils. Add the remaining butter and work in, leaving some slightly larger pea sized -or even larger- flakes of butter.

Add the cheese, bacon and scallion tops and toss through gently until evenly distributed, taking care not to mash it in. Add 1 1/2 cups of the cream, sprinkling it over the top, then tossing to combine. Pick up a small amount of the mixture and try squeezing it gently together. If it crumbles, or if there are dry crumbs in the bottom of the bowl, add more cream -1 tablespoon at a time- until you have a mixture that holds together as a shaggy dough when squeezed gently. Use a bench scraper or spatula to gently fold the dough in on itself until it forms a shaggy mass you can turn out onto a very lightly floured surface.

Divide the dough in half and gently pat out the dough into two 7-8 inch discs that are about 3/4 of an inch thick. Carefully transfer the discs to a parchment lined baking sheet. Use a bench knife or Chef's knife to cut each disc into 8 wedges, cutting straight down and not sawing back and forth to help it rise higher in the oven. Gently separate the wedges so there is a little space between them.

%https://www.foodiewithfamily.com/wp-content/uploads/2012/12/Bacon-Cheddar-Scallion-Scones-ready-for-the-freezer.jpg

Place the pan directly into the freezer. When the scones are frozen solid, individually wrap each of them tightly with plastic wrap then add to a resealable freezer bag. Keep frozen for up to three months.
Ready to Bake?
Preheat the oven to 425°F. Remove desired number of scones from the freezer, unwrap and arrange with some space between them on a parchment lined baking sheet. Brush lightly with heavy cream and bake for 45 minutes or until browned and puffy.
Notes
Don't be afraid to add more heavy cream (or LESS for that matter) than specified in the recipe. Irene from King Arthur Flour suggests that you should use visual cues to determine how much or little to add. Start at the lower end of the recommended amount and watch how the dough behaves. If there are large amounts clumping together and little pockets of dry-ish crumbly bits, move the large clumps to the side and sprinkle just a little cream over the crumbly bits until they behave like the clumps. It takes patience, but the end result is so worth it!
Nutrition
Calories:
360
kcal
Carbohydrates:
27
g
Protein:
10
g
Fat:
23
g
Saturated Fat:
11
g
Cholesterol:
53
mg
Sodium:
605
mg
Potassium:
289
mg
Sugar:
1
g
Vitamin A:
405
IU
Vitamin C:
0.8
mg
Calcium:
175
mg
Iron:
1.8
mg
Nutritional information is an estimate and provided to you as a courtesy. You should calculate the nutritional information with the actual ingredients used in your recipe using your preferred nutrition calculator.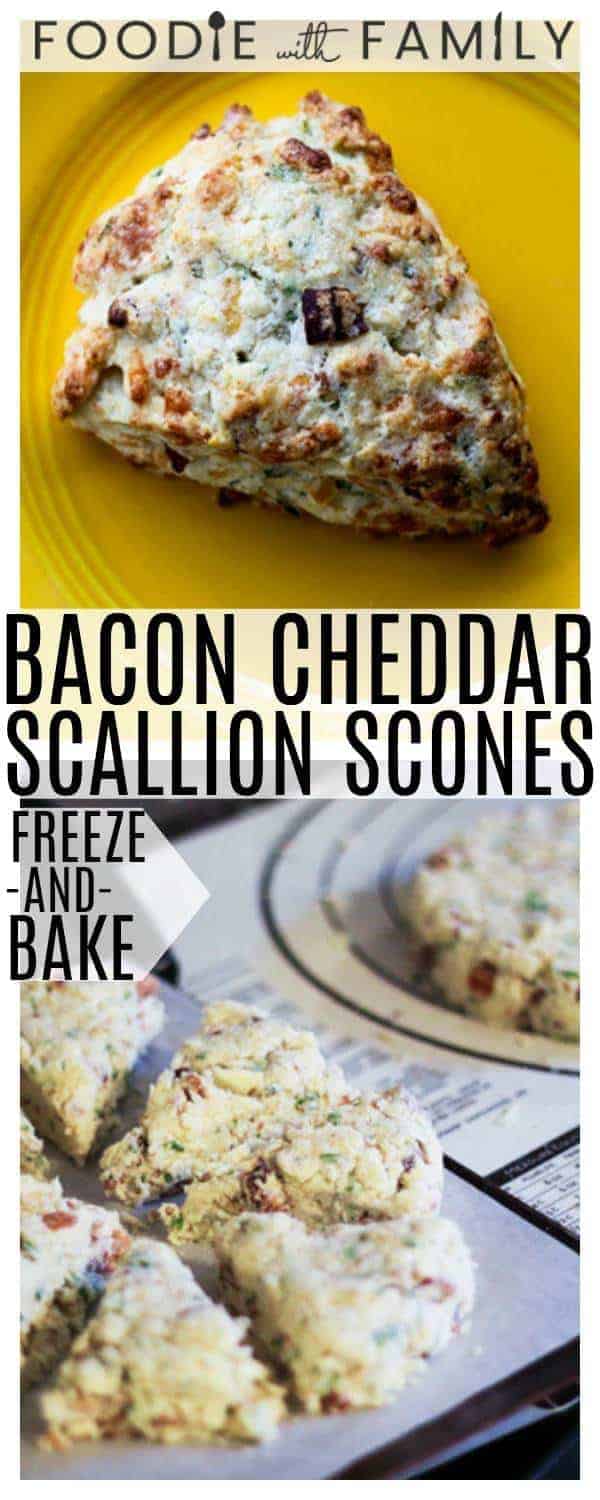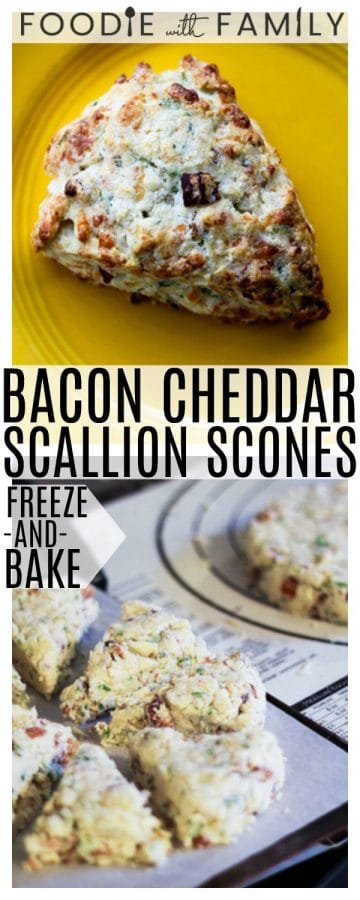 Save