Visit our Bread Recipes page for more fantastic homemade breads!
Golden Whole Wheat Zucchini Bread with a natural companion; butter!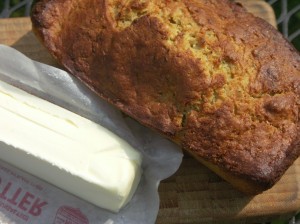 I have previously mentioned my bias against toaster ovens. This week my baking ignitor in my oven went right during the most gorgeous stretch of fall-like summer weather. My husband, the Evil Genius, inexplicably has a love of toaster ovens and has been trying to bring me over to the dark side for years and thinks I'm being close minded in my anti-toaster oven tendencies. For my part, I suspect that he wants me to admit I like it so that I'll switch over and do all my baking in it and the propane bills will drop precipitously.
Whatever. Today I had to do something with the zucchini that were threatening to take over our home, porch and every available square inch of lawn. My kitchen was piled high with dog-sized zucchini (hound dog, not chihuahua.)  I was racking my brain trying to figure out what I could make. I could make Zucchinissoise. That would use up one of the gargantuan squash leaving me with… let's see… roughly 75 other squash. Most of them were huge which makes them good for grinding down for bread and butter relish, but that still left me with a major stack-o-zucchini. Since the oven was broken, stuffed zukes were out of the question. I really wanted zucchini bread; not-too-sweet, little flecks of green, crusty heels… You know the stuff.
A quiet, annoying voice at the back of my mind started saying, "Just try the toaster oven. What's it going to hurt? Are you afraid you actually will like it?" I wheeled around, told my husband to stop whispering behind my head, and slogged down to the basement to grab the offending article.
An hour later I was prepared to eat a little crow. **I heard four and twenty are good when baked into a pie. Not much crow, but a little. The toaster oven did a bang up job on the zucchini bread. It helped that I had little silicone mini-loaf pans at my disposal. Three of the pans fit just perfectly into the oven. I think those contributed to the overall success. I could actually visualize myself using the toaster oven for quick breads on a regular basis.
Yikes! Fun house mirror effect.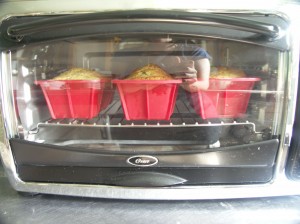 And because I am trying to mature into a reasonable human being, I admitted as much to the Evil Genius. To his credit he did not gloat. …But I am pretty sure that while he was walking away I heard him say under his breath, "Excellent! It's all going according to plan."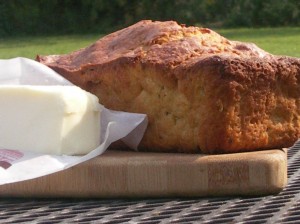 Whole Wheat Zucchini Bread
This is not your usual zucchini bread recipe. It's only slightly sweet and not heavy, using significantly less sugar and oil than the average zucchini bread recipe. It's fantastic when topped with cream cheese or whipped butter. Mmmmm… And you can feel good about eating a lot of it since it's actually *gasp* great for you! This is inspired by a King Arthur Flour recipe, but we're not real lovers of nuts-and-raisins in our quick breads. I know some of you are 'tsk'ing me and wagging fingers at me, but there you have it, I've been picky like that since I was a kid.
Ingredients:
2 cups white whole wheat flour
1 cup unbleached bread flour
3/4 cup sugar
1 Tablespoon baking powder
1 teaspoon salt
1/2 teaspoon grated nutmeg
2 large eggs
3/4 cup milk
1/4 cup vegetable oil
1 1/2 cups shredded zucchini with the liquid
Preheat oven (or toaster oven!) to 350°F. Grease and flour three mini loaf pans or one 9″x5″ loaf pan. Set aside.
In a large mixing bowl, whisk together flours, sugar, baking powder, salt and nutmeg. In a large measuring cup, whisk together eggs, milk, and vegetable oil. Pour the liquids into the dry ingredients and stir until most of the flour is incorporated. Stir in the zucchini and liquid until the batter is evenly moist.
Divide the batter evenly between the three mini loaf pans (or add in its entirety to the 9″x5″ loaf pan.)
Bake mini loaf pans approximately 45 minutes, but start checking at 30 minutes. If using a 9″x5″ pan, begin checking at 45 minutes and expect that it'll take between 1 hour and 1 hour + 15 minutes to be done. Whichever pans you use, the loaves will be done when the surface looks dry and a cake tester inserted in the center of the loaf comes out clean.
Remove from oven and allow to cool for 15 minutes in the pan on a rack and then removed from the pan on a rack until totally cool.
If the vultures  children and husband do not descend on it and devour it, you can wrap it tightly and store in the fridge for up to a week or in the freezer for up to a month.
How did we like the recipe?
This got 12 thumbs up out of 14. The one who maintains a nearly clinical fear of all things green in food initially refused to try it. He did eat a piece about the size of a dime and proclaimed it, "not horrible", but I'm not sure that in fairness I can describe that as two thumbs up for him. So we'll leave it at 12 out of 14. I'm not sure HOW he saw the green in it since I nearly obliterated it in my food processor. I couldn't actually make out any zucchini and I put it in there. Kids.
As I started saying up above, this is not your standard zucchini bread. It's healthy, low in oil and low in sugar. It's not coat-your-tongue sweet. But it's wonderful. It has a golden crumb and a nice crust. I encourage you to try this as a change from the every-day. I'm willing to bet some of you will switch your allegiance to this one…
Save