Visit our Bread Recipes page for more fantastic homemade breads!
Bread has taken a hit in public opinion over the last couple of decades between the Atkins and Paleo diets and the rise of gluten-free adherents. But bread and I go way back, and I'm not leaving it anytime soon. Bread and I will be together forever. Especially the bread I'm sharing with you today; Buffalo Garlic Knots. I'm sure you've had a garlic knot or two in your time; tender three-bite knots of bread brushed with garlic oil or garlic butter. Buffalo Garlic Knots, however, are garlic knots on steroids. Simply put, we are talking about some of the best bread -chewy on the outside and tender on the inside- brushed before and during baking with homemade spicy Garlic Buffalo sauce recipe. The result is irresistible bread imbued with just enough spice on the outside to make you crave more.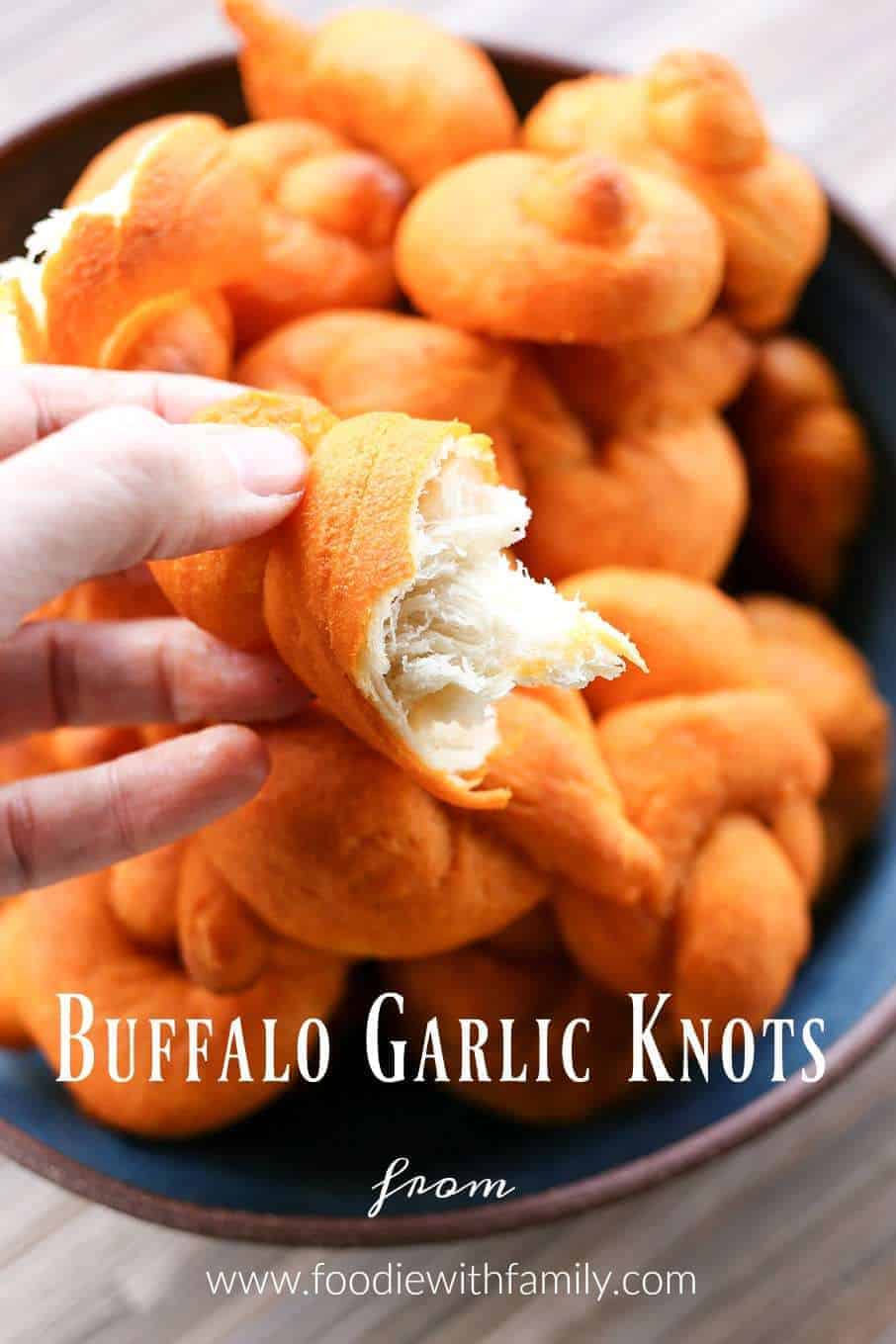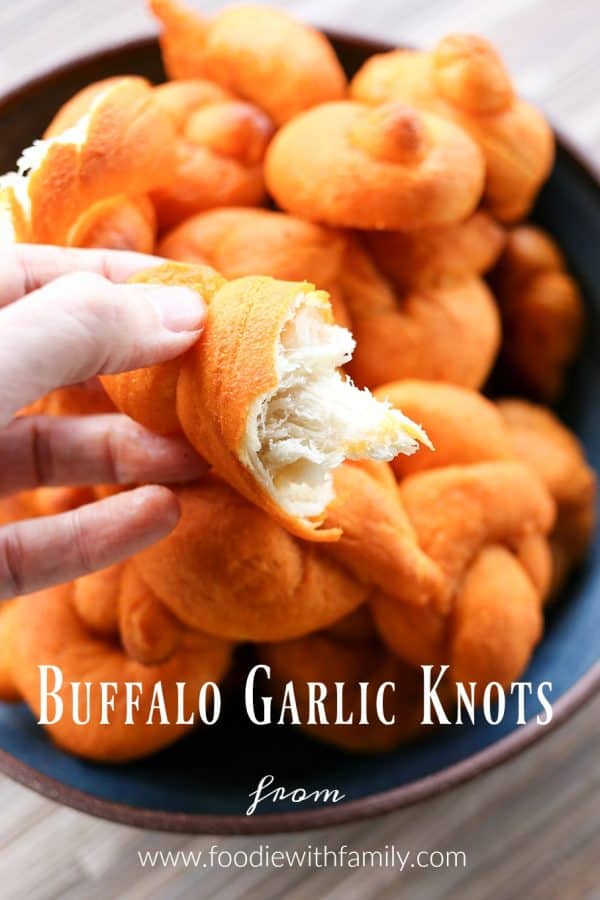 They are pumped up with so much flavour that you'll definitely want to have these on hand to kick up your Thanksgiving leftovers. I'm already thrilled by the idea of splitting them down the center and making leftover turkey sliders on my Buffalo Garlic Knots. I suspect I'll never do Thanksgiving turkey leftovers the same again!
Cook's Notes
Can you use purchased Buffalo sauce? Sure. The truth is, though, that the homemade Garlic Buffalo Sauce Recipe is just plain better here.
Can you use pre-made dough? You betcha. Of course, any time  you sub in dough (like pizza dough, frozen bread dough, etc…), you may have to tinker with the baking times. Just keep an eye on your dough as it bakes.
When it comes to size, you have some options. I prefer my Buffalo Garlic Knots to be three-bite sized and the recipe reflects that. In that case, you'll be breaking down your bread dough into about 32 pieces to make knots. You can go one-bite sized by dividing your dough into 48 pieces, or larger, small sandwich sized rolls by dividing into 24 pieces. Of course, each of these adjustments in size means a corresponding adjustment in cooking times. The one bite rolls take about 12 minutes, the recipe reflects cooking times for three-bite rolls, the larger rolls take about 20 minutes or so. The real key is to keep in mind that you want them to feel dry to the touch which indicates that the Buffalo sauce has fully baked into the rolls.
You will brush the rolls VERY generously before they go into the oven, and again at about 5 to 7 minutes into baking. The benchmark to watch for here is that you want the rolls to have baked long enough to puff up and for the outside to set up a little so it won't collapse when you gently brush it generously with more Buffalo sauce. At this point, back into the oven it goes to finish.
Connect with Foodie with Family
facebook | pinterest | instagram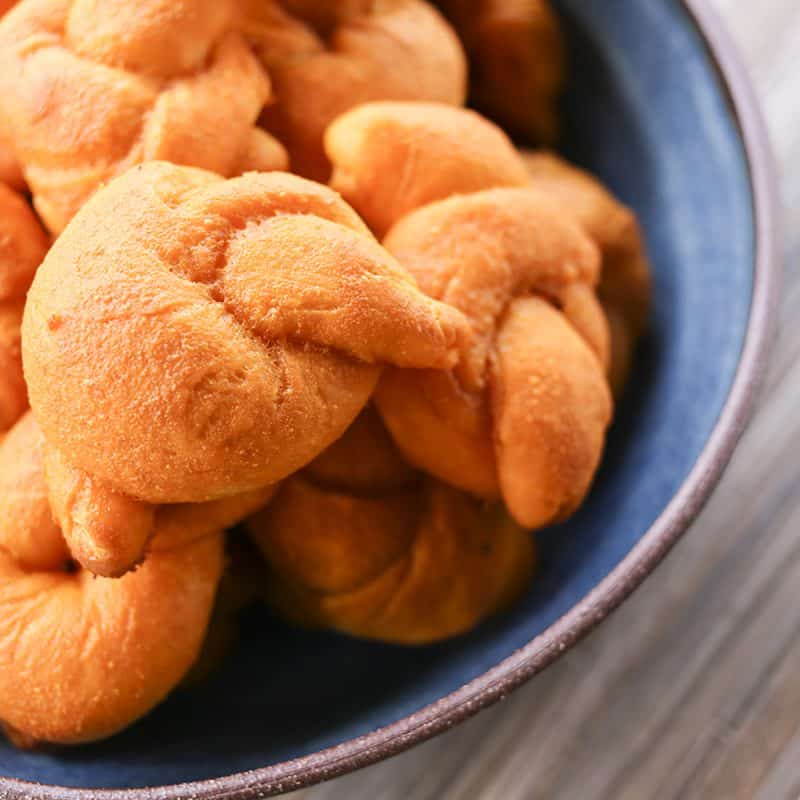 Ingredients
4

cups

all purpose flour

1 pound, 1 ounce by weight

2

tablespoons

potato flour

or 1/4 cup dried instant potato flakes

1/4

cup

nonfat dry milk

2

teaspoons

salt

2

teaspoons

sugar

2

teaspoons

instant yeast

1 1/3

cups

lukewarm water

3

tablespoons

olive oil
To brush the knots:
1 1/2

cups

Homemade Garlic Buffalo Sauce or purchased Buffalo Sauce
Instructions
Line two half-sheet pans with parchment paper. Set aside.

Combine all of the ingredients for the dough in the bowl of a stand mixer fitted with a dough hook or in a large mixing bowl. Mix until a shaggy dough forms and pulls away from the sides of the bowl. If using a stand mixer, continue mixing until the dough is smooth and elastic. If mixing by hand, turn out onto the counter and knead until dough is smooth and elastic. Place the dough in the bowl and cover with a clean tea towel. Let the dough rise in a warm, draft-free place until it is puffy and has doubled in bulk, about an hour and a half.

Turn the dough out onto a clean surface and divide into two pieces, divide those two pieces in half again. Continue halving these pieces until you have 32 equally sized pieces. Working with one piece at a time, roll the dough into a snake about the thickness of your pinky finger and at least 6 inches long. Tie in a simple knot and place on a prepared sheet pan. Repeat the procedure. You should be able to fit 16 knots on each half sheet pan, leaving plenty of room for rising and baking around each knot. Cover with a clean tea towel and allow to rise until puffy looking. While it rises, preheat the oven to 400°F.

Whisk the Garlic Buffalo Sauce and brush very generously over the knots. Sauce should completely cover the knot and drip down the sides a bit. Place the sheet pan in the oven. Bake for 7 minutes, or until the rolls are puffy and somewhat set. Remove the pan from the oven, whisk the Buffalo sauce, and brush generously again. Return the pan to the oven and continue to bake for another 10 to 13 minutes, for a total of 17 to 20 minutes or until the rolls are set completely and the exterior is dry to the touch and deep orange. Remove the pan from the oven and let the Buffalo Garlic Knots rest for at least 3 minutes before serving or transferring to a serving dish.
Nutritional information is an estimate and provided to you as a courtesy. You should calculate the nutritional information with the actual ingredients used in your recipe using your preferred nutrition calculator.


Save