Visit our Bread Recipes page for more wonderful homemade bread recipes!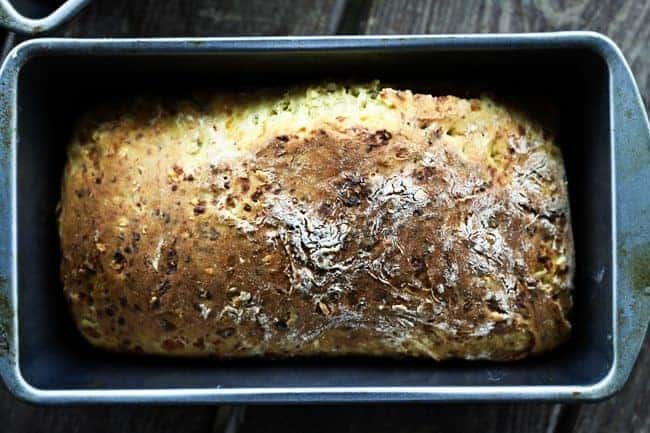 I have spent my entire life thinking my dad is pretty much the bees-knees and since he just keeps improving with age like a fine wine (or a stinky cheese, as he would say), I'll just keep carrying on that way. My dad has always been that perfect blend of serious, goofy, cautious and devil-may-care. For example, he'd make sure you put your seatbelt on before driving on roads that were closed due to weather conditions just because he could.
Dad is one of those renaissance men. He's equally at home screaming at a hockey match, speaking in churches, ploughing snow, operating his ham radios, working on his local volunteer ambulance squad, fishing, reading books, crafting groan-inducing puns, felling trees on a dime, listening to beautiful music, dandling grandkids on his knees, pulling campers on water skis around a lake in a speed boat, putting nervous parents at ease on airplanes, and hiking the vast wilderness trails near where he lives.
With a list of attributes like that, is it any wonder I'm an unapologetic daddy's girl?
But that's not all. My dad can bake. He has a specialty bread -one that most everyone who spends a decent amount of time with him gets a chance to taste at some point or another.
Dilly Bread. Many years ago, dad took the recipe from the "Deaf Smith Country Cookbook" and made it his own. Translation: he made it better.
To begin with, this recipe is a no-knead recipe. No knead to tinker with that. Ahem.
You just mix the lot up in a big bowl with a sturdy spoon and let it rise in a warm corner. As for the changes, the original recipe called for honey as the sweetener.
Dad has mainly used sugar over the years, mainly because -as he says- that's what he had handy. I stick with the sugar vs. honey, both because it's easier to measure and it's a less expensive ingredient.
Dad also played with the type and proportion of onion in the recipe. He suggests using minced dehydrated onions because "it's easier to add more onion to the dough."
I stick with the minced dehydrated onions not only for that reason, but also because this is a very slack, moist dough and the dehydrated onions soak up a bit of that moisture, making it easier to work with. When I asked Dad what kind of flour he prefers (because the book didn't specify) he said, "Whatever I have on hand, but I did try making it with all whole wheat once and it didn't rise enough for my liking."
I personally like to toss a little whole wheat in there, so I go for about a 2:1 ratio of all-purpose flour to white whole wheat. Then you get that wonderful toasting quality of whole wheat along with the more impressive rising ability of all purpose.
Now, once your dough is rising, you need to turn your attention to what you'll use to bake it. I had a double batch of this rising on the counter the other day when I realized that my oven had (once again!) broken.
The potential two-fold horror of wasting A.) a batch of perfectly good bread dough for my favourite bread that has B.) four full cups of cottage cheese ($$$$$) in it made me get really creative really quickly. I determined that my little old toaster oven could fit two standard loaf pans in it side-by-side, but that wouldn't account for the other two loaves worth of dough.
I brought out and greased a fistful of ramekins in a fit of desperation and found that it made BEAUTIFUL little individual loaves when baked.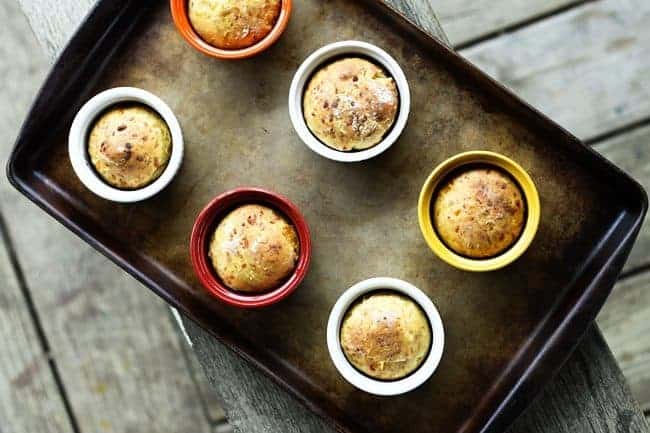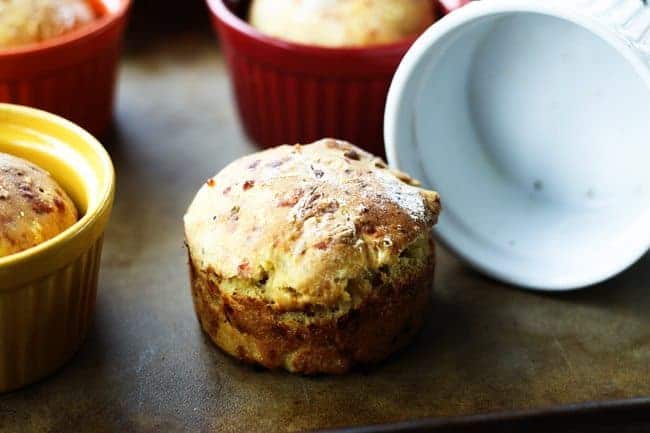 The little loaves somehow skirt the "don't cut when hot" rule. Why is this? Well, mainly because a tiny, hot loaf of bread just hollers, "Top me with a cold pat of butter and watch it melt!"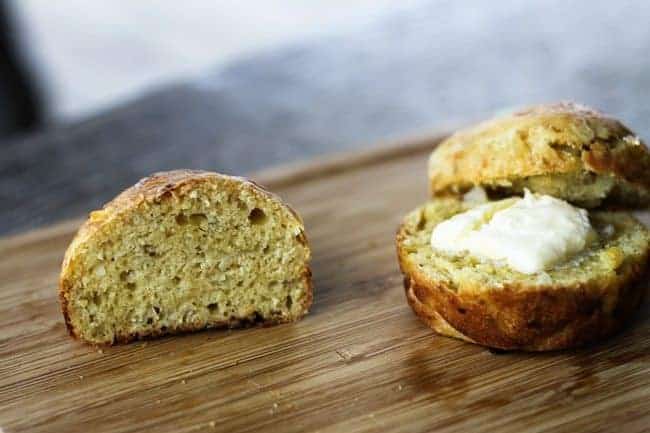 And if you do that, you have to do this…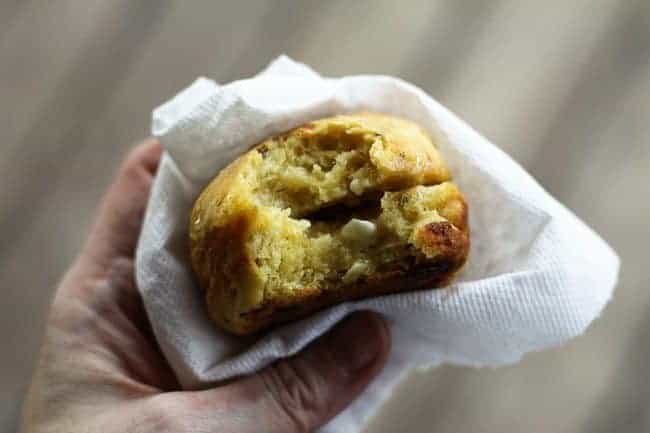 Right?
So- you're left with choices… standard loaf pans, ramekins, or…by extrapolation… pretty oven-safe bowls. The nice thing about using ramekins for dough was that I had leftover dough that wouldn't fit anywhere I could bake it before over-rising.
How is this a nice thing now when it's usually to be avoided?
It's time I introduce you to yet another one of my dad's finer ideas… The Baker's Tax. This is the reason you want to be at my dad's house when he's baking.
He deliberately ACCIDENTALLY puts a little too much of everything into his mixing bowl so he has too much dough to fit in available pans. He then rolls little bits of the dough out as thin as he can without ripping it, melts an indecent quantity of butter in a cast-iron skillet…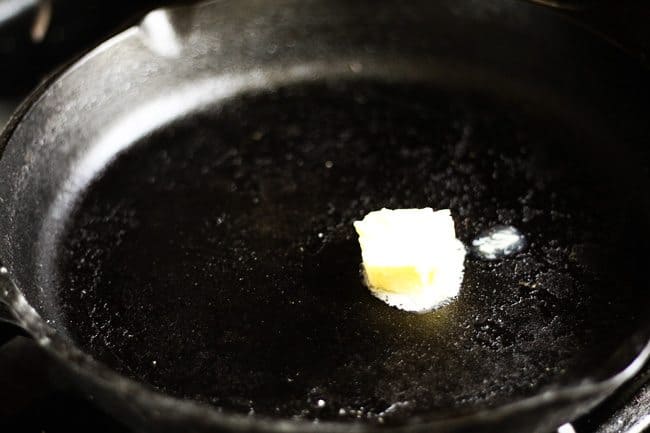 …And fries those rounds of dilly, oniony, cheese-studded dough.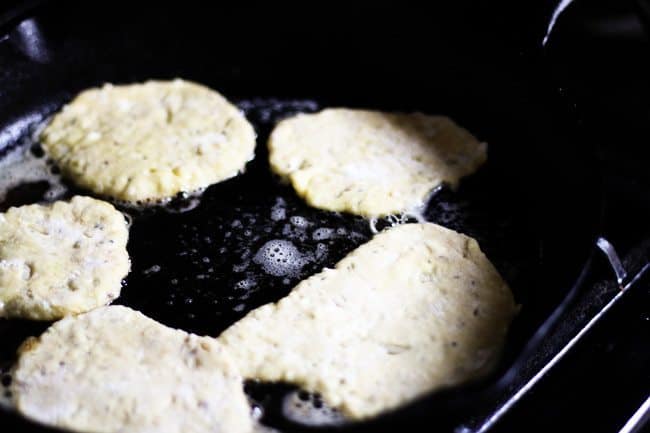 Behold the brilliance of The Baker's Tax.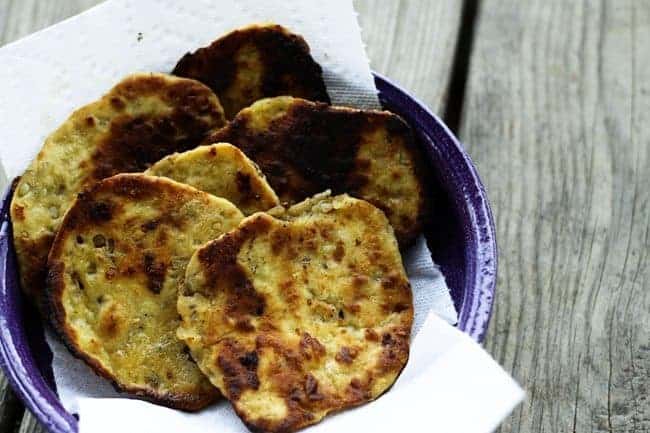 If you are nearby when these are fresh from the oven and you have a single lick of sense, you will beat a hot path for the kitchen and be not proud about eating as many of these little rounds of glory as you possibly can.
If you should somehow make an entire batch of dough into these, I will tell you that you probably couldn't find a better possible flat bread to wrap around smoked turkey breast, lettuce and onion with a smear of spicy mustard. But that scenario would presuppose you hadn't already eaten them all, so we'll just leave that one alone.
In the meantime, while you're waiting for your standard loaves of the stuff to bake, contemplate how you want to serve the finished product. Sliced thin, this is just about the best deli-meat sandwich vehicle you'll ever eat. Toasted on one side in a pan with butter, you can't imagine a better accompaniment to a fried egg, mug full of soup, or bowl full of stew.
But if you were to slice a couple of hearty pieces of bread, butter them both and stack them around some nice melty cheese, then slowly fry it in a pan until it was deep golden brown and the cheese was gooey, you might just yawp from the pure joy of the thing.
Six out six sturgeon faces agree: any way you slice it, Papa's Dilly Bread makes people happy.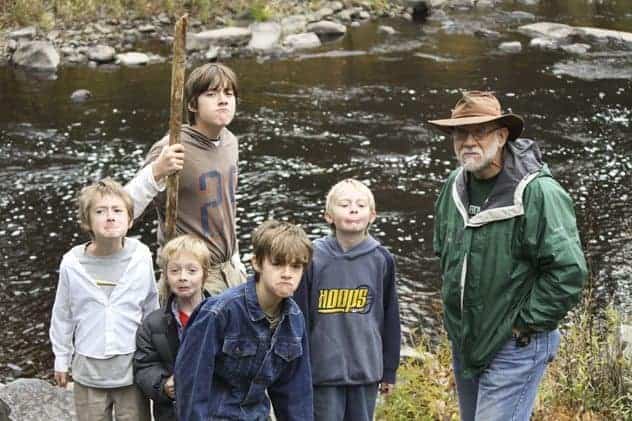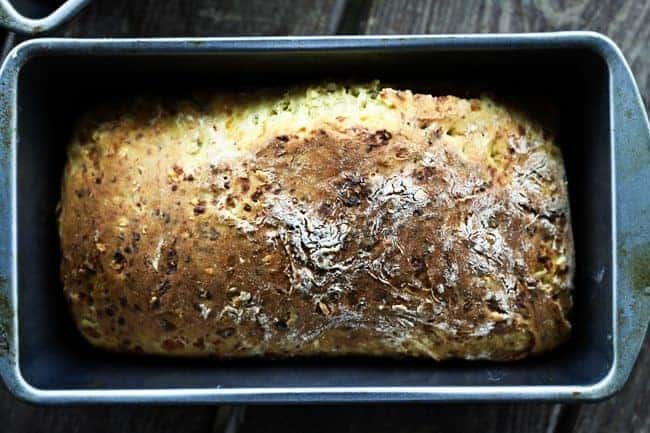 No-Knead Cottage Cheese Dill Bread | Papa's Dilly Bread
Rate Recipe
This no-knead sandwich bread is flecked with aromatic and flavourful dill and onion and enriched and kept moist by the addition of cottage cheese. The little melted pockets of cheese make this bread one of the ultimate choices for toast. When baked in ramekins, the dough makes beautiful little individual loaves ideal for accompanying meals.
Ingredients
2

tablespoons

yeast

1/2

cup

warm water plus a pinch of sugar

2

cups

small curd cottage cheese

1/4

cup

milk

2

tablespoons

neutral oil

like canola, vegetable, or corn

2

tablespoons

raw or granulated sugar

6

tablespoons

dried minced onion

1

tablespoon

dried dill SEED

1

teaspoon

dried dill WEED

2

teaspoons

kosher salt

2

eggs

beaten

3 1/2

cups

all-purpose flour

1 1/2

cups

white whole wheat flour

*See Notes
Instructions
Gently stir the yeast into the warm water with the pinch of sugar in the bottom of a large mixing bowl. Let stand for 5 minutes, or until the yeast is frothy. While that rests, whisk together the cottage cheese, milk, oil, sugar, minced onion, dill seed and weed, salt and eggs in a saucepan over low heat just until lukewarm.

Add that to the yeast mixture and stir. Add the flour all at once and use a sturdy spoon to mix until there are no dry pockets of flour and everything is evenly moist. The dough will be shaggy, but that is as it should be. Don't get zealous and try to over work it.

Cover with a damp tea-towel and let rise in a warm place for about an hour and a half, or until almost doubled in bulk.

Grease the pans you want to use to cook them (it will yield 2 standard loaf pans but can also be divided among ramekins or baked in oven-proof bowls.) Divide the dough to fill the greased pans by about 1/3. Reserve any leftover dough for The Baker's Tax (See Notes).

Cover the loaf pans with a damp tea towel and let rise in a warm, draft-free place for about 30 minutes while you preheat the oven to 350°F. Bake the risen dough for 30-40 minutes for full-sized loaves or 25-30 minutes for ramekin sized individual loaves.

Remove from the oven and let the loaves rest in the pans for 5 minutes before turning onto a wire rack to finish cooling. Store loaves wrapped in a clean towel at room temperature for up to three days, or wrap cooled loaves in a double layer of plastic wrap and freeze for up to three months.
Notes
*If you don't have white whole wheat flour, you can simply substitute an equal amount of all-purpose flour. It will still be delicious. The Baker's Tax is simply walnut sized pieces of leftover dough rolled out about 1/4-inch thin and fried in melted butter in a cast-iron skillet until deep golden brown and cooked through. It's a reward for baking that you might just like so much you plan ahead to have leftover dough the next time!
Nutrition
Calories:
117
kcal
Carbohydrates:
19
g
Protein:
4
g
Fat:
2
g
Cholesterol:
14
mg
Sodium:
231
mg
Potassium:
70
mg
Fiber:
1
g
Sugar:
1
g
Vitamin A:
45
IU
Vitamin C:
0.8
mg
Calcium:
31
mg
Iron:
1
mg
Nutritional information is an estimate and provided to you as a courtesy. You should calculate the nutritional information with the actual ingredients used in your recipe using your preferred nutrition calculator.
Save