Visit our Bread Recipes page for more wonderful homemade bread recipes!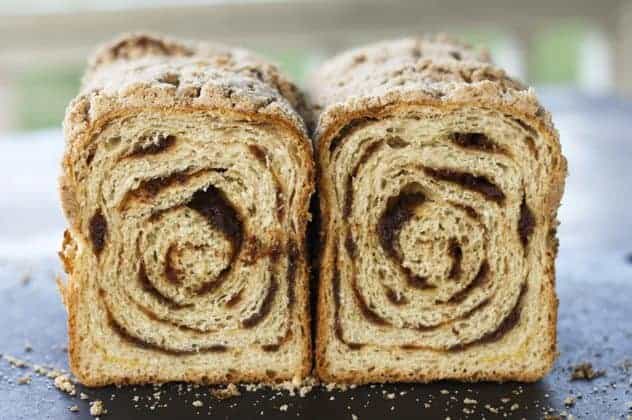 AH- HAHAHAHAHAHAAH!
Bwahaha-HA!
Ha-ha-ha-ha-ha. HA-ha!
Evil laughs are so hard to put into words, but I really have to give it a shot here.
I have three reasons to guffaw as though I'm the baddie who conquered MetroCity.
I've discovered (or rather I discovered that King Arthur Flour discovered) the secret to a super moist cinnamon swirl and it doesn't require buying a special cinnamon spread in teeny-tiny jars.
I fed raisins to two unsuspecting children who swear they hate them and they loved them.
The first two reasons are related.
Please allow me, in the grand tradition of super villains, to fill in the back story a little bit.
First, a friend asked me whether I had a recipe for cinnamon schmear (what many commercial bakeries use to fill their cinnamon rolls and bread) a while back. She had a hankering for bakery-type cinnamon rolls with the distinctive, moist filling that they turn out. I did a little research but all of the recipes seemed to be missing something crucial. I wrote off the search for a while.
Second, I have two kids who just plain don't like raisins. I can't blame them, really, I'm not certain those little shriveled grapes are my favourite things in the world, but unlike them, I'll eat 'em. And when you stuff them in an oatmeal cookie, I'll eat them quite happily. Those two, however, are the anti-raisin police. If raisins are suspected to be in the vicinity, these normally sanguine children clamp down, dig their feet in and steadfastly refuse to even try the item in question. What's the big deal? Well, the fact that these same two children pretty much despise all fruit, for one. And raisin cinnamon bread, for another. The rest of the crew can't get enough raisin cinnamon bread. Ever.
That puts me in a bind.
If I sally forth making raisin cinnamon bread, I have two little faces with big saucer eyes that stare at me sadly as if to accuse me of deliberately making something that looks delicious "except for those shrunken bits there." I can almost hear them thinking, "Why don't you just make a plain old cinnamon swirl bread, Mama?"
"Because of the moisture the raisins bring to the bread!" I cry back at them in my brain*.
*Aren't you glad you're not in my brain?
This internal debate intensified when one of the feed-me-no-raisins twosome specially requested cinnamon swirl bread.
And along rides valiant King Arthur to the rescue on his cookbook steed…
I thumbed through the index and saw a recipe for 'Cinnamon Swirl Bread'. There was no mention of raisins anywhere so I figured it was a good bet. When I opened the page, I scanned the ingredient list and saw (you know what's coming) raisins. Oh geez. For some reason, I decided to read the blurb about the recipe anyway and boy am I ever glad I did.
This was the bit that got me:
"First, for a deep-dark, moist cinnamon swirl inside the bread, whirl sugar, cinnamon and raisins or currants together in a blender or food processor until smooth. The fruit adds moistness as well as subtle flavor to the filling."
Well, hello. This seemed like it would solve all sorts of problems. With the raisins obliterated in the food processor, I would get the moisture I desired from them without setting off the no-raisin-radar. Smooth, moist, deep-dark cinnamon swirl? That sounded remarkably like the cinnamon schmear my friend was seeking.
I gave it a whirl and wow. (Cue evil laugh again.)
They didn't just like it, they loved it. Luh-uh-uh-huhved it. I made a double batch and it was gone after breakfast. The raising hating duo couldn't get enough of the bread. I pleased them all! I texted my friend and told her I'd found her holy grail of cinnamon swirliness. I was on a roll.
It's not just cinnamon swirl bread. It's a soft, white bread with a hint of cinnamon kneaded into the dough that is rolled around the most deep, dark, moist cinnamon filling ever. It holds together beautifully when sliced thanks (again) to the King Arthur Flour Bakers Team's genius idea to use an egg wash instead of brushing the dough with butter. If you are the sort who is inclined to dismantled your bread along swirl lines while eating it -as I am- you'll find that the bread de-swirls beautifully with just a little encouragement from your fingers and teeth. There's more though. Those clever Arthurians topped the bread with a streusel topping. Is that gilding the lily? Perhaps, but it's really tasty gilding.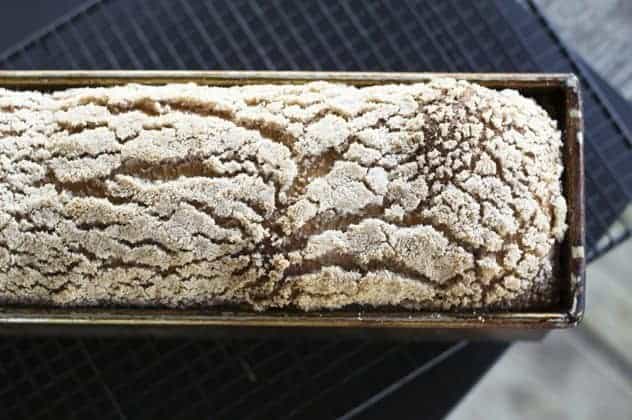 Cinnamon Swirl Bread. It's what's for breakfast.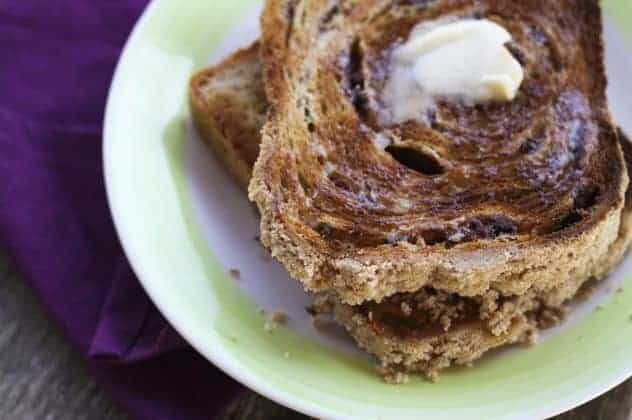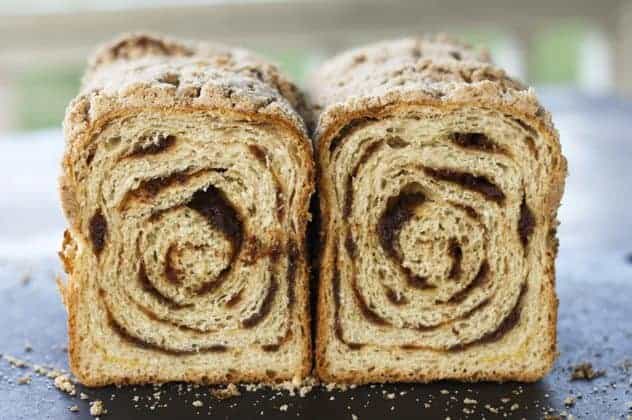 Cinnamon Swirl Bread taken to another level: tender white bread topped with a cinnamon streusel crown and filled with the most deep, dark, moist cinnamon swirl imaginable. This makes the ultimate cinnamon toast. Adapted gently from King Arthur Flour
Ingredients
For the dough:

3

cups

12 3/4 ounces all-purpose flour

1/3

cup

3/4 ounce instant potato flakes or 1/4 cup (1 1/2 ounces) potato flour

1/4

cup

1 1/4 ounces nonfat dry milk

1 1/4

teaspoons

salt

1/2

teaspoon

cinnamon

3

tablespoons

1 1/4 ounces granulated sugar

2 1/2

teaspoons

instant yeast

4

tablespoons

1/2 stick or 2 ounces butter, softened to room temperature

1

cup

8 ounces water

For the Filling:

1/4

cup

2 ounces raw sugar

2 1/2

teaspoons

cinnamon

divided

1/4

cup

1 1/2 ounces raisins or currants

2

teaspoons

all-purpose flour

2

tablespoons

granulated sugar

1

large egg

beaten with 1 tablespoon of water until smooth

For Topping:

2

tablespoons

1 ounce cold butter

2

tablespoons

7/8 ounce granulated sugar

1/4

teaspoon

cinnamon

1/4

cup

all-purpose flour
Instructions
For the Dough:
Combine all of the dough ingredients in a large mixing bowl (or the work bowl of a stand mixer), mixing until the dough comes away from the sides of the bowl.

Knead until the dough is smooth and satiny. By hand, this will take about 10 minutes. By mixer, it will take between 5 and 7 minutes.

Oil a large mixing bowl or proofing bucket and transfer the dough to it, covering lightly with plastic wrap.

Set aside in a warm, draft-free place to rise until puffy and nearly doubled in bulk.
For the Filling:
Pulse together the raisins, raw sugar, 1 1/2 teaspoons of the cinnamon, and all-purpose flour until the raisins have been obliterated and the sugar forms clumps. It will resemble this:

Stir together the remaining cinnamon and granulated sugar in a small bowl and set aside.
To Assemble:
Lightly oil your work surface and transfer the dough to it.

Gently roll the dough into a rectangle that is approximately 16" x 8".

Brush the dough with about 1/2 of the egg wash, scatter the raisin/cinnamon mixture evenly over the top, then sprinkle the cinnamon sugar evenly over everything else.

On the short end of the rectangle, begin rolling the dough up log-roll style. Keep it tight but don't be so heavy handed that you stretch the dough. Making a tight roll eliminates air pockets in the swirl.

Pinch the seams and ends closed.

Tuck the ends under and move the log into a greased 8 1/2" x 4 1/2" standard loaf pan.

Cover with lightly greased plastic wrap or parchment and let rise at room temperature for about an hour, or until the dough has risen just above the edge of the bread pan.
To Top and Bake:.
Preheat oven to 350°F.

Combine the butter, sugar, cinnamon and flour with a pastry blender (or in a food processor) until crumbly.

Brush the top of the risen loaf with the remaining egg wash and sprinkle all the topping over the egg wash. very gently press the topping into an even coating.

Bake the bread for about 45 minutes. If it begins browning too quickly you can tent it with foil in the last 15 minutes of baking.

Place bread pan on a cooling rack for five minutes, then run a butterknife around the edges of the loaf to loosen it.

Place the pan on its side and slide the loaf out (this should minimize the amount of streusel topping that falls off.) Turn the loaf upright and cool completely before slicing.
Nutritional information is an estimate and provided to you as a courtesy. You should calculate the nutritional information with the actual ingredients used in your recipe using your preferred nutrition calculator.
Save