Visit our Bread Recipes page for more fantastic homemade breads!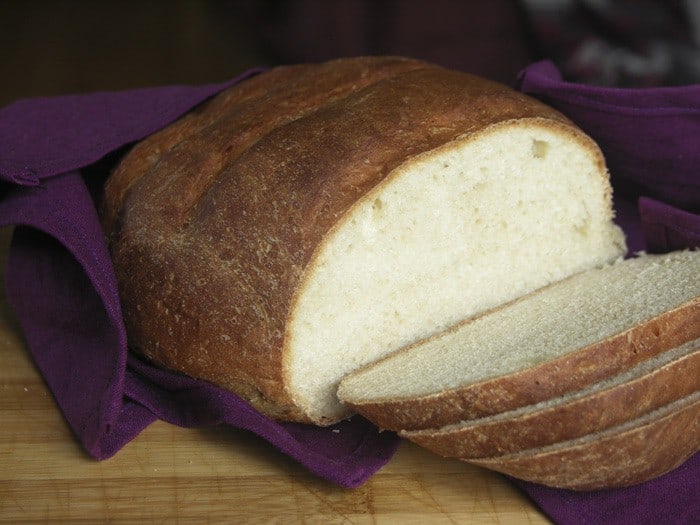 Can you think of any scent more bewitching than that of fresh bread baking in the oven? It is nearly impossible to concentrate when I smell it. While the bread bakes my brain rummages through its box of all my favorite ways to eat a loaf hot from the oven; Should it be blueberry jam? Cold butter? Ginger marmalade? Or maybe a fried egg? A paper thin slice of salty ham? What sweet agony narrowing down those options. And what a marvelous way to pass part of a Saturday morning; luxuriating in the brown yeasty aroma of dough transforming into the staff of life and contemplating that new loaf's upcoming rapid demise.
If talk of bread fires up your salivary glands the way it does mine, you are in luck today, my friends. I have a recipe for an astonishingly flavorful yeast bread that is ready to be loaded up with whatever makes your fancy take flight in one hour flat.
From start to finish, from its Alpha to its Omega, from the time you dip that first scoop of flour to the time it is removed from the oven you will have spent sixty minutes; and most of that will have been baking time. There's no crazy trick to it, it's simply simple.
And this is a sandwich bread that is the stuff on which dreams are built; mouthwatering flavor, magnificently chewy crust, fine crumb interior, able to be sliced Texas toast thick or whisper thin and capable of holding anything you want to pile or slather on it. Just take a look at it.
Want to look closer?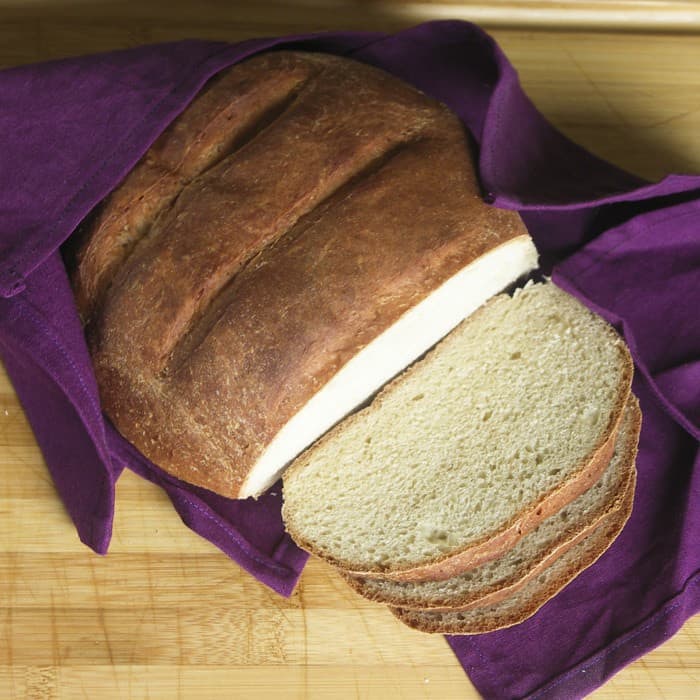 Well, sure! zoom on in…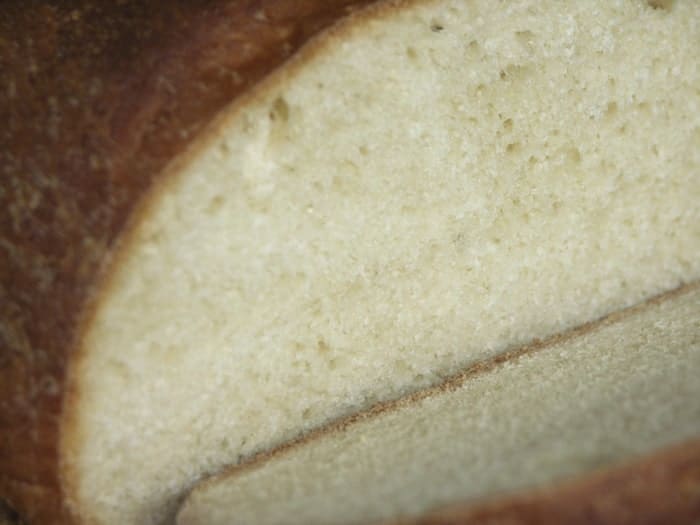 If you have any fears about making yeast breads abandon them long enough to give this a try. Kiss those yeast-bread bogey monsters goodbye, because this is the bread that will change your life. You don't need special equipment, or mad bread skills, or anything other than a big bowl and a spoon and a little counter space and the counter space is negotiable. I'll give instructions for preparing this with a stand mixer, food processor and by hand. And please note that it is just as easy as can be in all three methods. I do believe it's time to revamp that old cliché, "It's as easy as pie." From now on I'm going to say, "It's as easy as One Hour Sandwich Bread!"
Remember, too, that a last minute loaf of bread can make the meal. It can be the difference between a lonely bowl of soup and a feast. And more than that, this bread turns humble pantry staples into a reason to look forward to dinner. And while the taste and ease are enough, there is also the low price tag to recommend it. A few cups of flour, salt, sugar, yeast, water and it's bread! And let me tell you something else, a loaf of this wrapped in a new tea towel makes a fantastic hostess gift. Who doesn't like a loaf of warm bread?

For a printer-friendly version of this recipe minus the photos and rhapsodic waxing about bread, click here!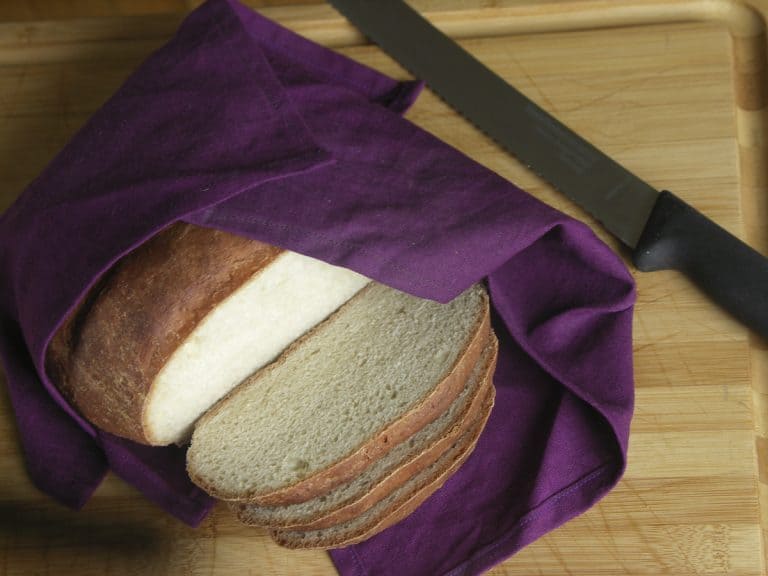 One Hour Sandwich Bread
Adapted from 'The Tightwad Gazette'.
Ingredients:
6 cups all-purpose flour (1 pound, 9.5 ounces by weight)
2 Tablespoons instant yeast (also known as Bread Machine Yeast)
2 Tablespoons sugar
1 Tablespoon Kosher salt (if using table salt, reduce to 1 ½ teaspoons)
2 cups very warm water (about 120°F)
2 Tablespoons extra virgin olive oil
Mixing the dough by Stand Mixer (my preferred method):
Combine flour, instant yeast, sugar, and salt in the bowl of the stand mixer that has been fitted with a dough hook. Mix on low speed for 30 seconds.
With mixer running, slowly pour in the water and olive oil at the same time. Continue mixing on low until the dough comes together and becomes smooth, about 4 minutes. Remove bowl from the stand mixer, scraping any dough that remains on the dough hook into the bowl. Pull dough from bowl with your hands and form a smooth dough ball. Replace in bowl, cover with a clean tea towel and let rise in a warm place for 15 minutes.
Mixing the dough by Food Processor:
Combine flour, instant yeast, sugar and salt in the bowl of a food processor that has been fitted with a blade or dough blade. Pulse 10 times. With the food processer running, pour the water and olive oil into the feed chute. Continue processing until the dough forms a cohesive ball. Spin the dough ball 20 times and shut off the food processor. Remove the dough, form a smooth dough ball and place in a lightly oiled mixing bowl. Cover with a clean tea towel and let rise in a warm place for 15 minutes.
Mixing the dough by Hand:
Combine flour, instant yeast, sugar and salt with a whisk or fork in a large mixing bowl. Pour the warm water and olive oil into the flour mixture and use a sturdy spoon to combine into a shaggy dough. Use your hands to knead for 8 minutes*. After kneading for 8 minutes, cover the bowl with a clean tea towel and let rise in a warm place for 15 minutes.
*If you find it difficult to knead in the bowl, you can turn the dough out onto a clean surface to knead it. After kneading, just return the dough to the bowl and allow it to rise as instructed above.
Turn dough out onto a clean surface and divide in half. Form each half into a ball and place 5-6 inches apart on a baking sheet that has been lined with parchment paper or a silpat, or has been lightly greased. Use a sharp knife to slash the top of the loaf about ¼ of an inch deep. This allows the steam to escape the baking loaf.
To bake the loaves:
Arrange the racks in your cold oven so that one rack is on the very bottom and one is positioned in the center of the oven. Place the baking sheet with the loaves on the center rack and a bread or cake pan that is full of very hot tap water on the bottom rack. Close the oven and turn your oven on to 400°F. It is imperative that you start this in a cold oven! Set your timer for 40 minutes. That 40 minutes is all that stands between you and fresh bread.
The crust should be a deep brown and quite firm when you remove the loaves from the oven. Transfer the loaves to a rack to cool completely if you wish to slice them, or you can do like I normally do and cool one loaf while tearing the second one into pieces and slathering with cold sweet cream butter.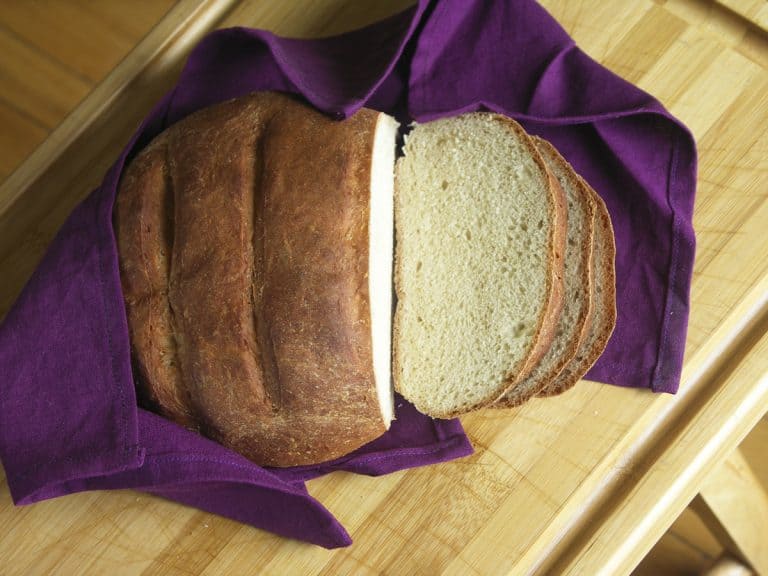 Save
Save