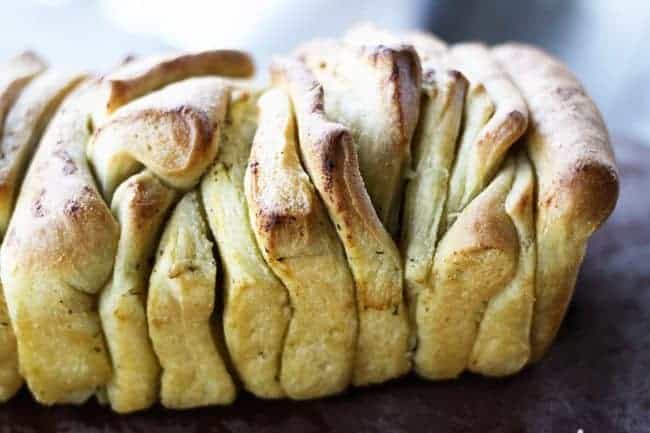 Visit our Bread Recipes page for more wonderful homemade bread recipes!
This is going to be a little crazy all over the place, so please bear with me, but I have a lot of ground to cover.
First -and most importantly- my entire family thanks you for all the condolences and expressions of support you've shared with us after the loss of Val. It means more to me personally than I can possibly say to know that you all are thinking of and praying for us. As weird as it feels to get back to doing normal, every day things, it really does have to happen, so here I am!
Next, I hope you've noticed the pretty new dress Foodie with Family is wearing. It was a while in the making, but I love the new look. There are a couple of little upgrades and tweaks I wanted to point out to you that will -hopefully- make hanging out here and menu planning a little easier and more pleasant.
If you hover your cursor over the "Recipes" tab directly below the header, you will see three options. Clicking on Recipes will -as always- take you to my recipe archive page where every single recipe (hopefully!) that has ever been on Foodie with Family can be found in one handy-dandy page. Clicking on Shopping List will allow you to put ingredients from our recipes onto a -what else- shopping list! courtesy of Ziplist. (Those are the same nice folks who created the plug-in that I use to provide printable recipes here.) Directly below that is the Grocery Deals option. This nifty function -again, courtesy of Ziplist- allows you to specify which grocery chains are near you and see what the advertised sales are in your area. I encourage you to to play around a little bit with those options. Hooray for streamlining the menu planning process!

We have pretty new (and much, much more user friendly) options for subscribing to Foodie with Family via RSS or reader, send me an email or follow me on Twitter, and Facebook. Please join me in any or all of those. I do so love your company.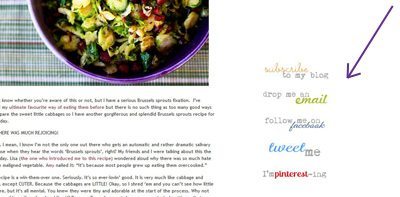 In the sidebar, there is a more fwf section featuring some older posts that you just might find a.) interesting, b.) hilarious (it's a process, right? Tell me I've grown.) and c.) delicious.
Now, I know there are bound to be hiccups here and there as there always are with changes, so I hope you all will let me know if you find a broken link or wonky image anywhere. I do love my new look, though. What do you all think?
Finally, there's this bread. Oh, this Ranch Bake-In-Slices Bread is the bees-knees. It's bread that's baked in such a way that no slicing is necessary afterward. Why bother? Well… Lemme tell you. Most folks know you're not supposed to slice hot bread because it ruins the texture of the rest of the loaf, right? This loaf is superior BECAUSE YOU CAN EAT HOT SLICES OF BREAD WITHOUT WAITING FOR IT TO COOL. That's where you hear angels singing, right? Of course, there's more. There's the fact that it's brushed lavishly with butter and sprinkled with Ranch dressing mix before being stacked deck-of-cards-like into the also lavishly buttered bread pan. And there's also the fact that you can make this with homemade or purchased bread dough… There's the perfection of a sunny-side up egg on top of a slice. Or the fact that grilled cheese sandwiches made on slices of this bread are pretty much the best tasting things ever, if a little funny looking. I've sopped soup, sauce and egg yolks with slices of this. Take your pick. Any one of those is reason enough for me.
My favourite, though, is simply turning the freshly baked loaf of pre-sliced bread out onto a cooling rack and peeling back then inhaling the heel pieces. Yes. That is comfort food writ large, folks. Happy sigh.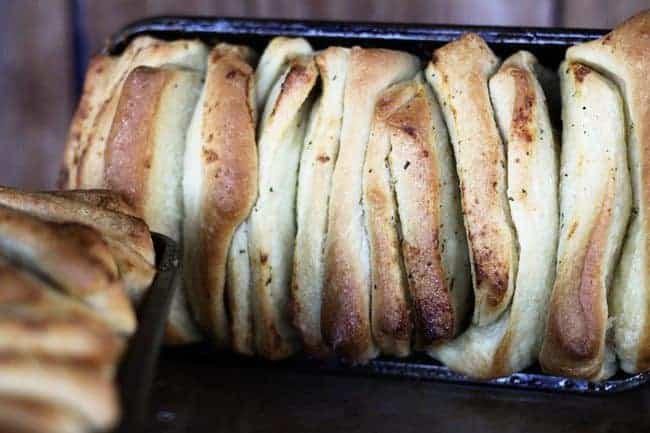 Ranch Bake-In-Slices Bread is a wonderfully versatile snacking bread that bakes itself into slices. Eat hot straight from the oven, sop up soup, stew or sauce, or use to make the most spectacular grilled cheese sandwich this side of heaven.
Ingredients
1

pound

sandwich bread dough

homemade like this or purchased

1

stick of unsalted butter

4 ounces by weight, 8 tablespoons, melted, plus extra for buttering the loaf pan.

1

tablespoon

plus 2 teaspoon of dry Ranch salad dressing mix

1

teaspoon

dried dill weed
Instructions
On a clean, lightly floured surface, roll the bread dough out into a rectangle that is about 1/4 of an inch thick. Pour the melted butter over the rectangle and use a pastry brush to more or less evenly distribute it. Sprinkle the dry Ranch dressing mix and dried dill weed over the dough. Cut the dough into pieces that are roughly the size of a playing card.

Butter a standard loaf pan and prop one end up on a box of toothpicks or something similar so that the pan tilts up at on end. Stack five pieces of the dough at a time and place in the pan, starting at the lower end so gravity holds it in place. Repeat until you've added all of the dough to the pan. Cover lightly with plastic wrap and let rise for 30 minutes at room temperature.

While the dough rises, preheat the oven to 350°F. Uncover the dough and bake for 30-40 minutes, or until the top of the bread is deep golden brown. Let the bread rest in the pan for 5 minutes before turning out onto a plate or cooling rack. Eat immediately or store wrapped with a clean towel at room temperature.
Nutritional information is an estimate and provided to you as a courtesy. You should calculate the nutritional information with the actual ingredients used in your recipe using your preferred nutrition calculator.
Save