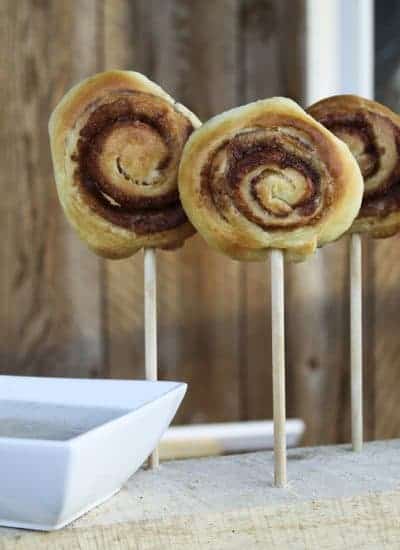 Why is it that when you put food on a stick it tastes better? This isn't just a Minnesota/Midwest thing. This is worldwide. Every country on earth has a favorite food-on-a-stick.
Is it that we all secretly want to be Paul Bunyan, able to uproot pine trees and use them as toothpicks? Do we all have a lumberjack-giant-in-a-flannel-shirt complex? Maybe we all want to be Harry Potter, wand at the ready to make delectable treats magically appear. Accio Corndog! Engorgio Hot-Chocolate-on-a-Stick! Yes, please. And now.
Whatever the reason, even if it's a simple an explanation as the desire to hold food in one hand and a cold drink in the other with no interruption, the universal appeal  is undeniable. The next time you hit a county fair or -God love you- a state fair, have a look at the faces of everyone flitting around the corndog, candy apple and pickle-on-a-stick vendors. I guarantee smiles.
And while we're on the subject of food that makes everyone happy, let's talk about cinnamon rolls for a moment. It was an awfully brilliant thing to do, that first ever cinnamon roll. Surely they've achieved sainthood for that alone. These days there are more versions of cinnamon rolls out there than you can possibly count but they are all essentially bread, butter, sugar, and cinnamon packaged up nicely for your eating pleasure.
Anyone who has spent a little time slogging around food blogs has probably heard of Pioneer Woman's cinnamon rolls. They're everywhere. Everyone is making them. Everyone including my little sister, Christina, (an accomplished chef) who called me and said, "Have you MADE these yet? The dough is a dream. Grandma and Grandpa said they'll buy ingredients if Aunt Gerri promises to keep them in cinnamon rolls. You have to make them." This was followed by a call from my stepmom who said, "They really are good. And I did a bunch of different versions with them. You need to try them." Okay. I can take a hint. Subtle as they were, I was picking up on the fact that they really liked the rolls. I whipped up a batch of the dough and parked it in the refrigerator for a couple days (PW handily pointed out that it would sit comfortably in the chill chest until you were ready to make zee rolls.)
For no good reason at all, I waited until the last possible moment to make the rolls. Inspiration had left the building with Elvis. I was feeling very not-cinnamon-roll-makery. However, I hate to waste food, so I dragged myself to the kitchen in a "get it over with" frame of mind. While getting out my rolling pin, I knocked down a package of caramel apple sticks and Elvis reentered the house arm-in-arm with inspiration. I was going to put my cinnamon rolls on a stick, dangit.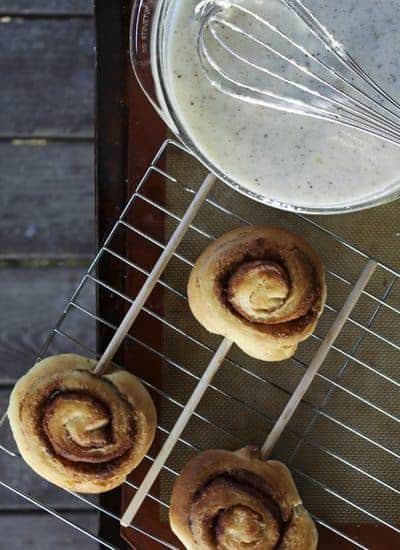 Christina and Val were right. The dough rolled out like a dream, I poured on melted butter, shook on raw sugar and loads of Korintje Cinnamon
, then rolled, sliced, and skewered like a mad woman*.
*If you're familiar with her recipe, you know that it makes approximately 4,000 cinnamon rolls per batch. I put half of the batch on sticks and stuck the other half into greased pans, as specified. If you want to skewer the whole batch, you'll need more candied apple sticks than I had or a good source of popsicle sticks. Because I love you, I've halved her recipe for this situation so that you don't have cinnamon rolls on a stick coming out of your ears.Yes. Me. I halved a recipe. This is a banner day.

In lieu of glazing all of the cinnamon rolls I opted to up the ante and make it that much more fun. I made a creamy, warm vanilla bean dippable glaze. I misjudged the quantity needed and ended up with roughly a gallon of the stuff. My kids were happily dunking their mitts into the container long after the cinnamon rolls were gone. There were glazed handprints on doors, windows, dressers, mirrors and the back of my shirt. I promise you the glaze recipe has been appropriately sized since then.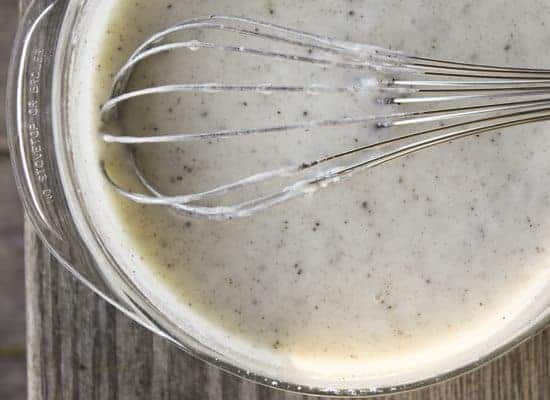 Can you imagine the joy of cinnamon rolls on sticks? My kids went bonkers for them. They lounged around, feet up, munching happily through the entire batch. And there were smiles. Oh. The smiles were abundant.
P.S. Picture these, wrapped up with cellophane and ribbons at a bake sale. I bet they would sell so quickly they would practically vaporize.
P.P.S. On a completely unrelated note, I get a fit of the giggles every time I write a recipe up that includes the instructions "Cool to lukewarm." I have a little brother named Luke. You see the issue? I visualize everyone testing their lukewarm mixture against my brother. He's a cuddly guy. He might not mind.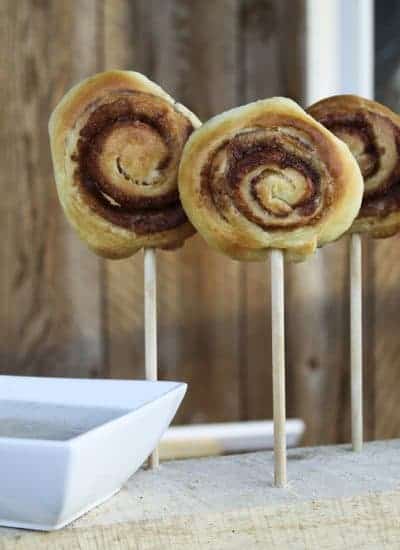 Melt-in-your-mouth, buttery, tender Cinnamon Rolls on a Stick served with warm, creamy Vanilla Bean Glaze as dip. Breakfast just got seriously fun.
Ingredients
Ingredients for cinnamon roll dough:
2

cups

whole milk

1/2

cup

canola or vegetable oil

1/2

cup

sugar

2 1/4

teaspoons

instant yeast

or 1 packet active dry yeast

4

cups

+1/2 cup

separated, all-purpose flour

3/4

teaspoon

baking powder

1/2

teaspoon

baking soda

1 1/2

teaspoons

kosher salt
Ingredients for filling:
1

stick melted butter

8 tablespoons

1

cup

raw sugar

1/4

cup

ground cinnamon
Ingredients for Vanilla Bean Glaze Dip:
4

cups

powdered sugar

1/2

cup

warm whole milk or half and half

2

tablespoons

melted butter

1

tablespoon

pure vanilla extract

preferably with flecks of real vanilla bean

Optional: 1 teaspoon ground vanilla

see below recipe for source
Instructions
Stir together milk, oil, and sugar in a large, heavy saucepan over medium high heat.

Stir frequently until it is quite hot and bubbles form around the edge of the pan.

Remove the pan from the heat and cool to lukewarm.

When the milk mixture is lukewarm, sprinkle the yeast over it and let it sit, undisturbed, for 1 minute.

Mix 4 cups of all-purpose flour into the milk and yeast mixture until there are no dry pockets of flour.

Let rise for an hour in a warm, draft-free place.

After an hour, stir in the baking soda, baking powder, and remaining cup of flour until you have a cohesive dough.

Place pan in the refrigerator, lightly covered with plastic wrap, for up to 2 days.
To prepare the rolls:
Line 4 cookie sheets (or half sheet pans) with parchment paper, silpats or teflon baking liners (or grease generously.)

Sprinkle a clean counter generously with flour.

Turn the dough onto the counter and pat into a rectangle.

Roll out into a long rectangle that is about 1/4-inch thick.

Pour the melted butter evenly over the dough.

Scatter the raw sugar evenly over the butter.

Sprinkle the ground cinnamon evenly over the sugar.

Starting at the edge closest to you, roll the dough tightly into a tube then pinch the seams to seal.

Use a bench knife or other knife to cut the dough into 1-inch thick rounds.

Transfer each round to the prepared pans, being sure to leave 3-4 inches between each roll.

Carefully insert a popsicle stick or caramel apple stick into the side of each roll of dough. Gently turn the stick a little from side to side while pushing further into the roll. The stick should go almost all the way through stopping just short of exiting the other side.

Let rise for 30-40 minutes, or until puffy.

Bake for 18-20 minutes, or until the rolls are deep golden brown.

Cool on pans for 15 minutes before transferring to racks to cool completely. (See notes.)

When rolls are completely cool, whisk together the powdered sugar, warm milk, melted butter, and vanilla(s) until smooth. Serve the warm glaze with the cooled cinnamon rolls.
Notes
If you try to eat these off of the stick while still warm, they have a tendency to disintegrate. It's best to serve them completely cooled with warm glaze for dip.
Nutritional information is an estimate and provided to you as a courtesy. You should calculate the nutritional information with the actual ingredients used in your recipe using your preferred nutrition calculator.
Foodie With Family Pantry Builder
Ground Vanilla Beans