Bourbon Apple Cider is the beverage you need to live your best life this fall. It's as easy as an evening adult beverage can get and it is divine to sip, too.
We've had an especially beautiful autumn in New York this year with plenty of cool, crisp days and lots of gorgeous colors on the trees. If you know me at all, you know I love everything about fall.
From the crunchy leaves to the cute boots, I'm all about the season. I especially love the excuse to bake and cook with some of my favorite ingredients.
(Hello, Pumpkin Cinnamon Swirl Bread and Maple Chai Apple Pie. I missed you. Welcome back.)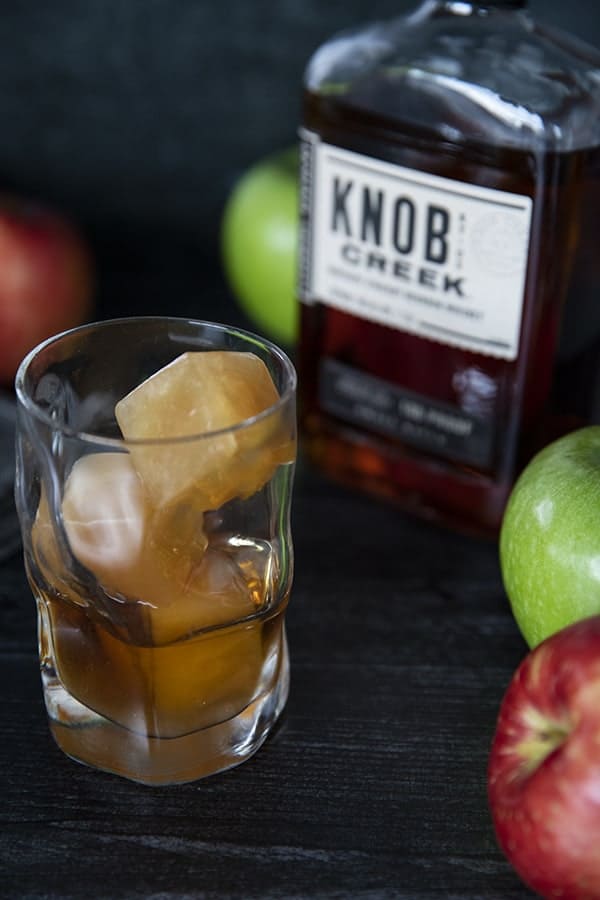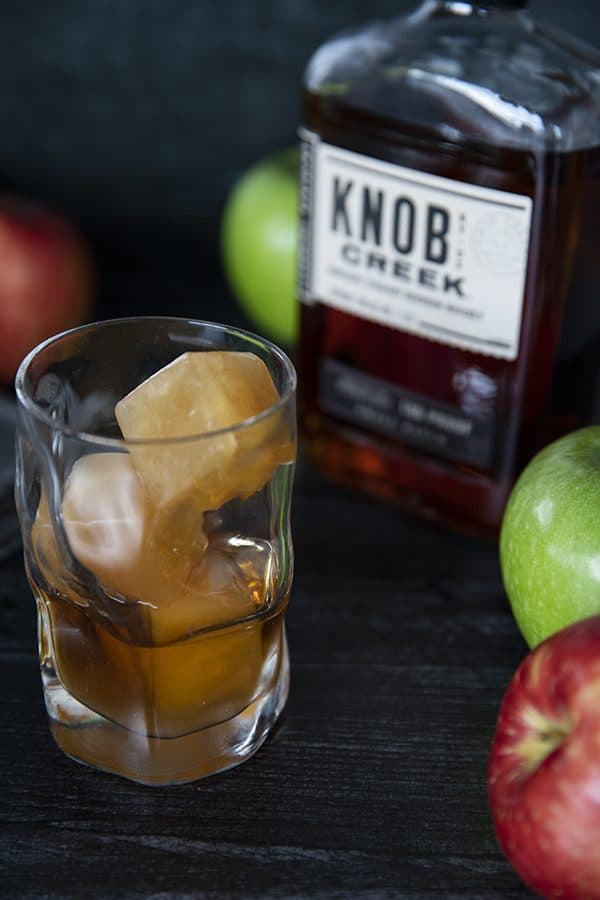 Of all the fall beverage ingredients I like to play with this time of year, apple cider just might be at the top of the list.
I like it in drinks like Hard Cider Sangria and Hot Caramel Apple Cider of course, but it also shows up in some of our most loved dinner recipes like Apple Cider Pulled Pork and Apple Cider and Beer Braised Pot Roast.
Lucky for me, there's no shortage of freshly pressed cider in my neck of the woods this time of year. With all the way I use cider in my recipes from September to January, I might be single handedly responsible for keeping the local cider mills in business.
There's nothing like cozying up with a blanket and a mug of Hot Mulled Cider on a chilly October evening. Except maybe cozying up with a blanket, a book and a mug of Hot Maple Bourbon Cider on a chilly fall evening.
Hand me a mug of steaming hot cider and I'm a happy girl. Add a splash of bourbon to that cider and I'm ready to float away to autumnal paradise.
Bourbon Apple Cider
I grabbed a bottle of bourbon the other day planning to make a mug of hot bourbon and cider on Saturday night. Of course, come Saturday afternoon it was starting to feel just a little too warm for my taste.
It's not hard for the weather to be too warm for me. With my love of all things fall, comes my extreme distaste for the heat, especially in October when all I want is to hang by my wood stove wrapped in a quilt.
Suddenly the idea of a steaming mug of apple cider with bourbon didn't seem so appealing, but I refused to admit defeat. At this point in the week there was no way I was going to let Mother Nature deprive me of a Saturday night indulgence.
So, I got problem solving. I live for figuring it all out.

First, I thought of shaking the cider and bourbon with ice for a chilled cocktail. But I was really in the mood for something a bit stronger.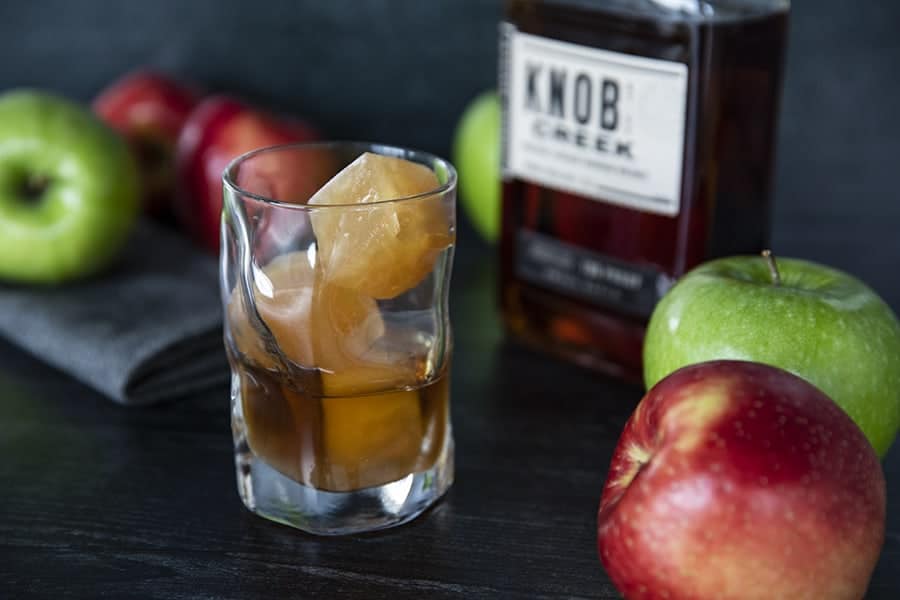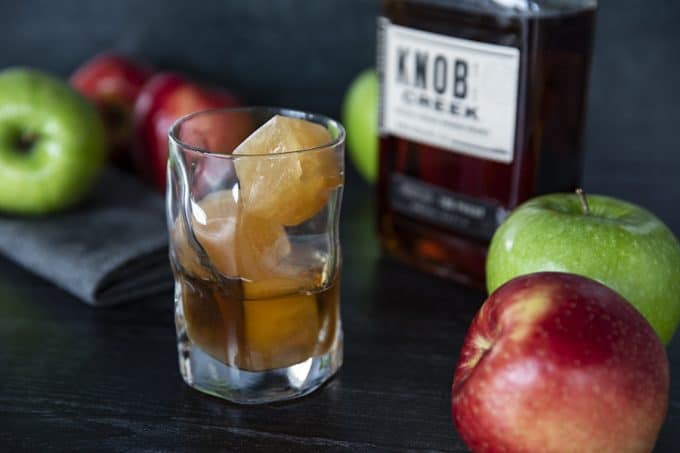 Then it came to me. Apple cider ice cubes.
Once I thought of it, pouring my cider into my ice cube trays seemed so obvious. In fact, I almost didn't post this recipe because I was sure everyone else must have been drinking bourbon this way for years.
Based on the replies I received when I shared this fall drink on Instagram, sipping bourbon over frozen apple cider is not a common practice. Or at least, not common practice with my Instagram followers!
After you try this method of drinking your bourbon on the rocks (erm. . .on the apples?), you might never go back to plain old ice in your highball glass again. …and while I won't argue that you need a great glass to make a great cocktail, a gorgeous, comfortable-to-the-hand glass certainly doesn't hurt the experience.
These are my all-time favourite cocktail glasses and the set I have has served me well for almost 10 years. In my book, that makes them a great, low-cost investment.
Apple Cider and Bourbon

I have used Knob Creek and Maker's Mark in this recipe but any bourbon whiskey you like to drink will taste good. You'll want a decent quality bourbon whiskey in this recipe since it's the primary ingredient. Make sure it's something you'd be fine drinking straight up.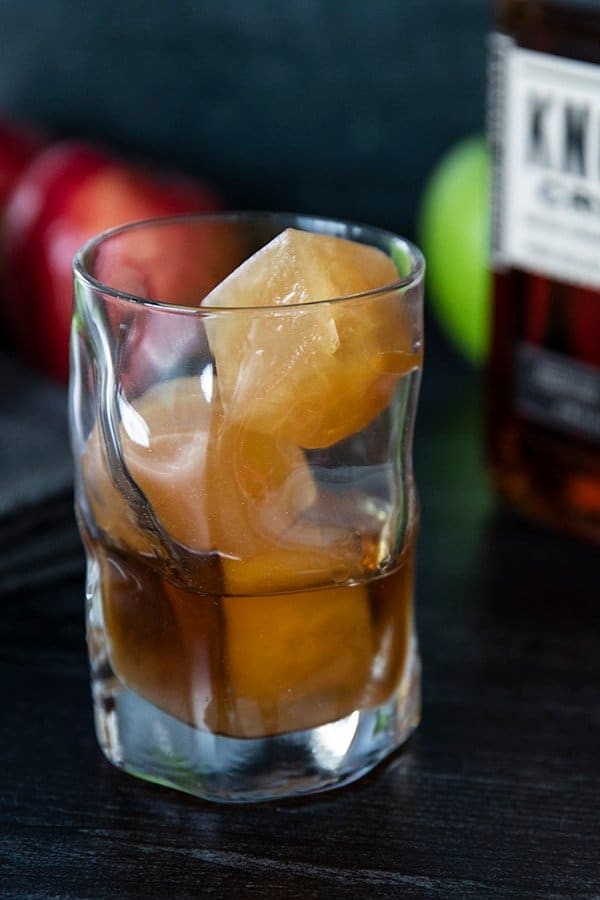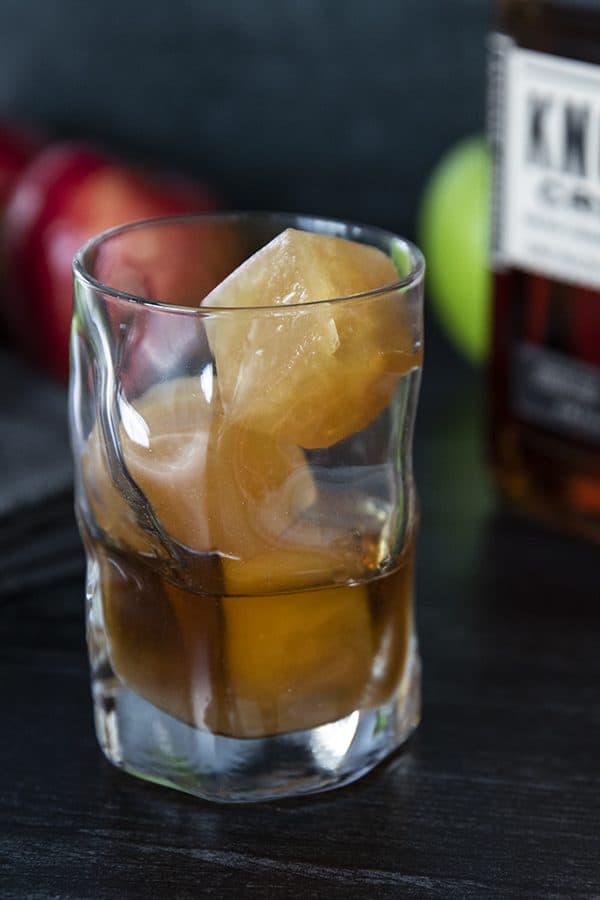 Personally I like bourbons with rich mapley notes to pair with my apple cider. It's like all of the best of New York State in one happy highball glass.

A friend of mine also tried this bourbon drink Cinnamon Fireball Whiskey and enjoyed that spicier spin on the recipe as well. (I know there are hardcore whiskey enthusiasts out there shaking their heads right now but don't knock it til you try it!)
I'm lucky enough to live in a place with an abundance of delicious local apple cider. The tart sweet cider tastes so much like biting into a crisp freshly picked apple and I couldn't believe how well it paired with the bourbon.
While I haven't tasted this drink with a spiced cider yet, I can imagine that it would be delicious, too. For now, though, I'm awfully happy with my "plain" cider.

Apple Cider Ice Cubes
There's no wrong way to freeze your apple cider for this recipe. Use whatever ice trays you have on hand.
A lot of my bourbon drinking friends recommend freezing ice into balls using silicon spheres like these. The spherical shape keeps the ice frozen longer so your drink doesn't get watered down.
In this case, I don't mind the apple cider melting into the bourbon one bit so I use silicone trays to make standard square cubes. But if you like a strong bourbon flavor, feel free to give balled ice a try!
Looking for more drink recipes to keep you cozy all season long? Try a Pumpkin Spice Chai Latte Recipe made with real pumpkin for a morning treat or midday pick-me-up.
This Blender Made Spiced Hot Chocolate is one I could drink by the jar full and also makes a fantastic holiday beverage.
Love bourbon? This Bourbon Salted Caramel Sauce is bound to be your new favorite ice cream topping. I also love it in Salted Caramel Bourbon Rice Crispy Treats for a grown-up twist on the classic childhood treat.
If you're looking for a good fall mocktail, try Ginger Switchel! If warm cider is your thing, try our Best Slow-Cooker Mulled Cider.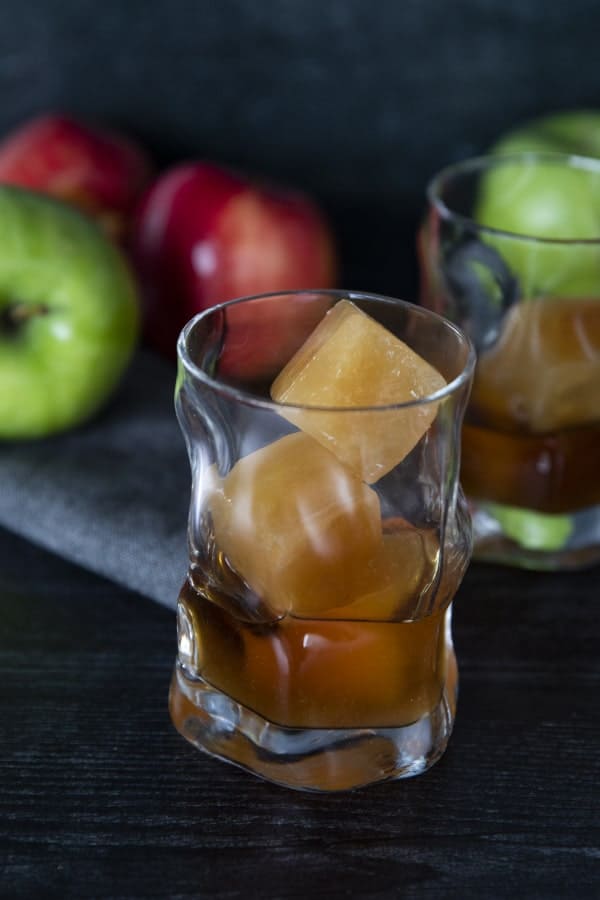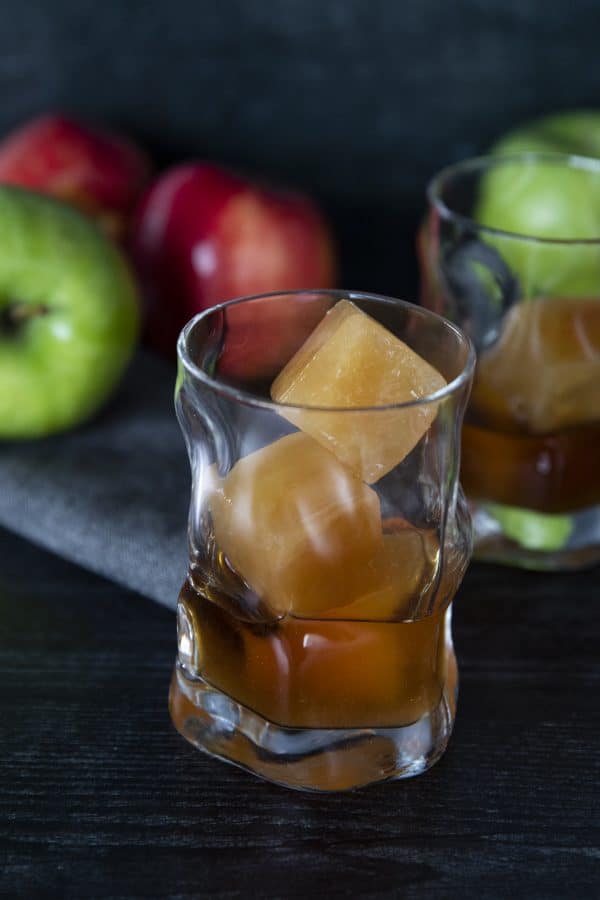 Clearly I'm a fan of cocktails. If you are, too, you should check out our Pimm's Cup Boozy Popsicles, Boozy Strawberry Basil Lemonade made with Strawberry Basil infused Vodka, Lady Greyhound Cocktails made with Lady Grey infused vodka, Berry Kombucha Margaritas, Watermelon Margaritas, Skinny White Russian a.k.a Anna Kournikova, and Mixed Berry Sangria-by-the-glass!
Apple Cider Bourbon Cocktail
Can you call a drink a cocktail if it's just two ingredients–one of which is glorified ice? I don't know what the rules are but I'm going to call it a cocktail just the same.
Making this autumn cocktail couldn't be any easier.
Pour apple cider into your ice cube trays. Let freeze.
Drop cider cubes in a glass and top with bourbon.
Bing. Bang. Done.
Then you're ready to kick back in an arm chair by the fireplace with a cozy mystery and your fluffiest slippers.
Sip.
Sigh.
Welcome to your best life.
This drink starts out strong, so the faint of heart (and light of tolerance) should take note. That said, it's ideal for sipping slowly as you work your way through that mystery novel.
One of the best things about drinking bourbon over apple cider ice cubes is that you get two drinks in one:
The first few sips will taste like smooth bourbon with a hint of apple flavor. As the ice melts, the apple flavor gets stronger.
If you're a slow drinker like me, then by the end you'll have several mouthfuls of ice cold slushy cider flavored with bourbon. This was perfect way to enjoy a slightly-too-warm fall night after a busy week.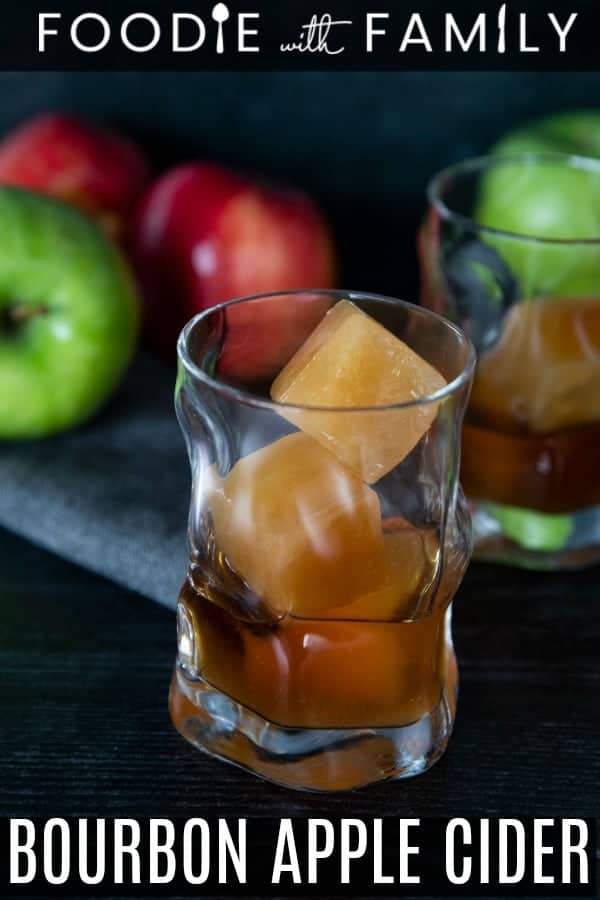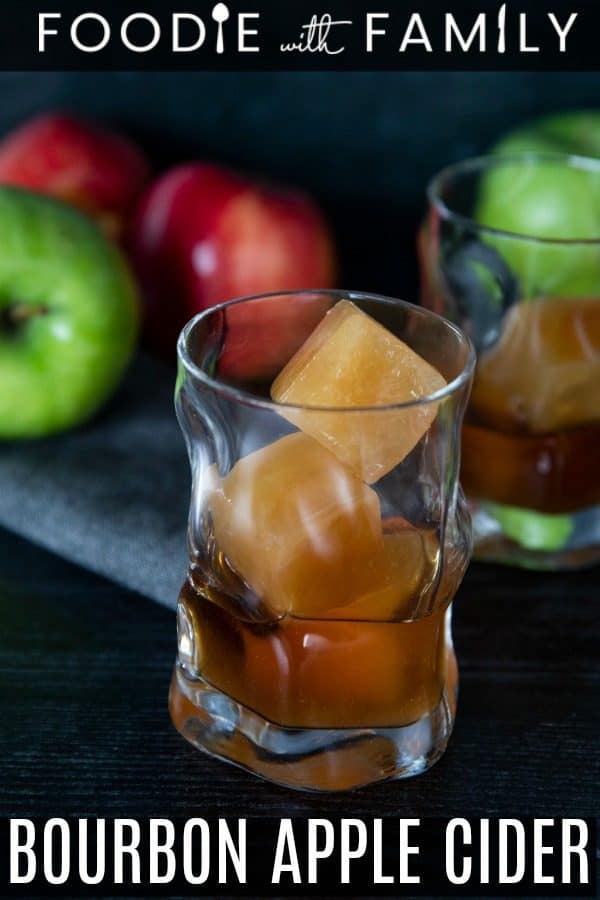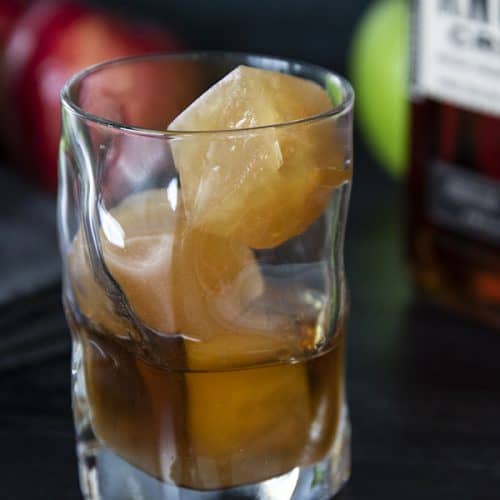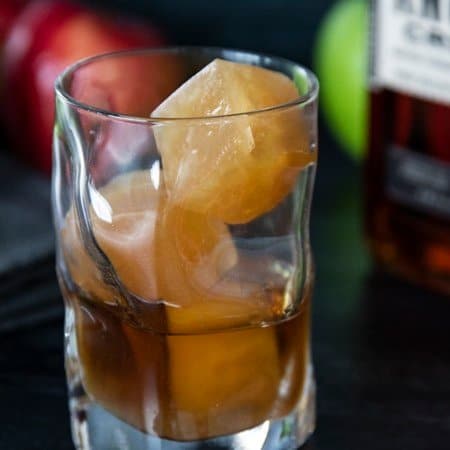 Get your autumn sipping going with this simple and simply amazing Bourbon Apple Cider: It's two ingredients combined in a new way and it's wonderful.
Ingredients
For the Apple Cider Ice Cubes
For the Bourbon Apple Cider
6

apple cider ice cubes

3

ounces

bourbon
Instructions
To Make the Apple Cider Ice Cubes
Pour the apple cider into ice cube trays and freeze for 6 hours or until solid
To Make the Bourbon Apple Cider
Put 3 apple cider ice cubes each into 2 highball glasses. Pour 1.5 ounces of bourbon over the cubes in each glass. Serve immediately. Swirl and sip slowly.
Nutrition
Calories:
117.79
kcal
Carbohydrates:
4.8
g
Protein:
0.04
g
Fat:
0.06
g
Saturated Fat:
0.01
g
Sodium:
2.13
mg
Potassium:
42.95
mg
Sugar:
4.09
g
Nutritional information is an estimate and provided to you as a courtesy. You should calculate the nutritional information with the actual ingredients used in your recipe using your preferred nutrition calculator.