It's finally Fall. I wait all year for this; pumpkins, scarlet maple leaves, blustery wind, butternut squash, grey clouds with bits of brilliant blue peeking through, hay bales, mega-bags of miniature chocolate bars (the best size for stashing in my apron pockets to cover 'mommy-emergencies'), weather that justifies hours-long baking sessions, wool sock and scarf temperatures… And braising. I'm a braising maniac this time of year. If there is another way of cooking meats that is more suited to this time of year I can't think of it. Moist, low temperature, long cooking times warm your heart, stomach and your kitchen. Then there are the fringe benefits of braised foods; the outstanding aromas that fill not just the kitchen but the whole house and spill outside surrounding the home. It has made me teary on occasion.*
*I cry over food that makes me happy. Do you think that's a problem?
When I stumble back to the house chilled and tired after preparing the garden for the winter, raking leaves,  hiking with the kids, or pumpkin and apple picking there are few things that make me feel more like God's in his heaven and all's right with the world than the mouth-watering smell of my favorite Fall pot roast braised in apple cider and ale. Good food should warm you three times; when you prepare it, when you smell it and when you eat it.
Let's just talk about the smell for a moment, shall we? The theme is heady scents of sweet apple cider, malty beer, beef and onions tied together with grace notes of ginger, British-style hot mustard, garlic and Worcestershire sauce and the smallest touch of curry powder. The combination is drool-inducing and perhaps hypnotic.*
*Well, I was hypnotized anyway. How else would you explain my absolute inability to do any other work while smelling this roast cook? I just stood in the kitchen like a doofus and grinned for eight hours while watching the wind blow the leaves off the trees. It smelled so stinkin' good. It was such a perfect moment. If you can call eight hours a moment.

There is more to recommend this roast other than the fact that it makes me weep with its smells and makes my head swim by virtue of the fact that it tastes so good. Really. It takes all of five minutes to get this roast going in the slow-cooker. You don't pre-brown the meat and this step alone saves you time by eliminating the messiest, trickiest step of most roasts. And having tested the recipe both ways, I am compelled to say that this particular roast doesn't suffer in the least from skipping the ubiquitous browning step. So. Before you head off for the day to work, or church, or apple pick, toss one of these together and be rewarded by a spectacular dinner when you get home. Or just put it together and stand in your kitchen watching the seasons change. Either way, you just might weep with joy, too.
For a printer-friendly, photo-free version of this recipe, click here!
Whilst on the subject of photos, let me warn you. The quality of these images is all over the place. The weather was, as I mentioned, inclement. Wind whipped, clouds covered and then uncovered the sun, and I  just didn't care enough to spend time fixing it. The point I'm belabouring is that the food transcends the photos taken of it. Just make the roast. Trust me.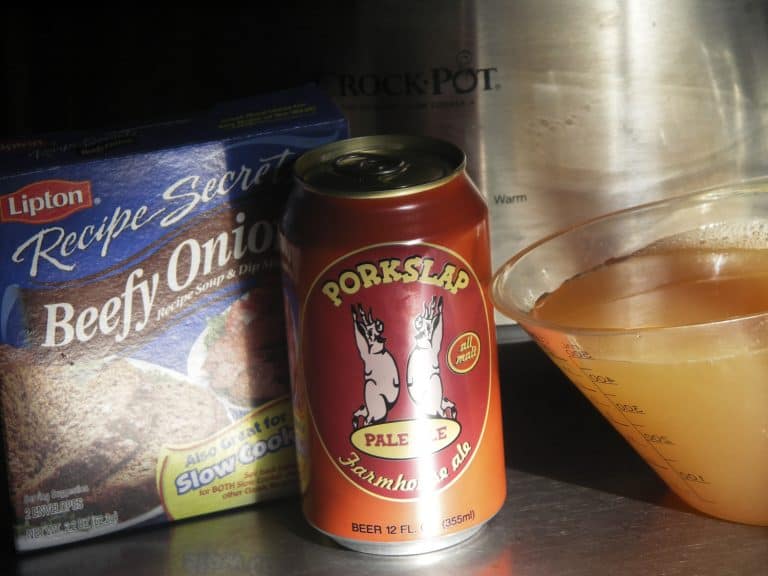 I would also like to point out one other thing before we start with the recipe. Look at that beer can.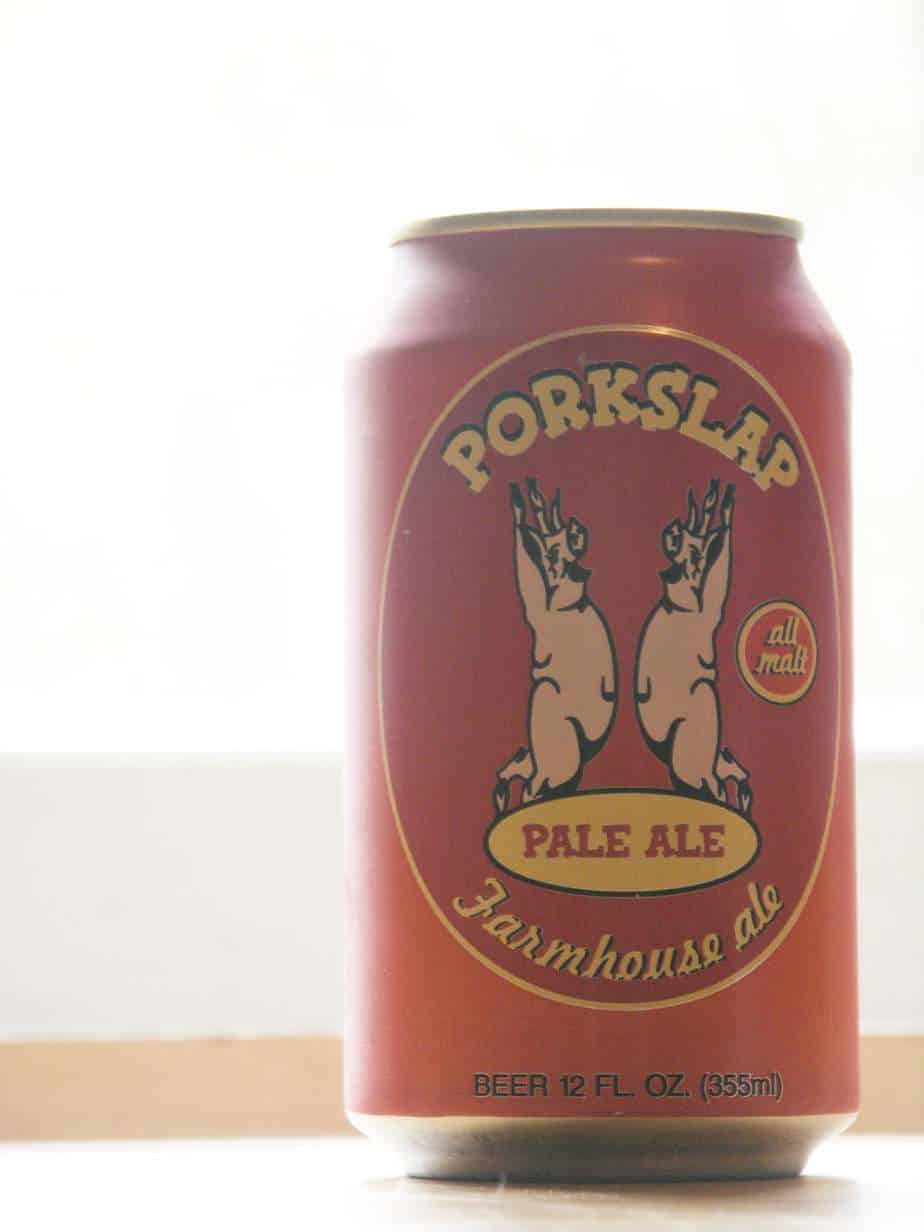 I snorted with laughter in public when I saw it. I bought it. I'm not too proud to admit I bought it because it was ridiculous. The beer inside, however, was anything but ridiculous. I have never, ever had canned beer that good. It was worth the price tag and it came with bonus laughter;  my kind of food.
Apple Cider and Beer Braised Pot Roast
Ingredients:
2-1/2 to 3-1/2 pound Top or Bottom Round beef roast
1 large onion, peeled and sliced into thick rounds
1 packet dry beefy onion soup mix (Any brand will do. Most come in boxes with two envelopes. Just use one!)
2 cups fresh apple cider
1 (12 ounce) can good beer (Do not skimp here. Use a good beer that you like; porter, stout, or ale. I prefer ale in this dish.)
1-1/2 Tablespoons British-style hot mustard (I use Coleman's mustard)
1-1/2 Tablespoons Worcestershire sauce
1 clove garlic, peeled and minced
1 teaspoon dried ground ginger
3/4 teaspoon mild curry powder
Place the thick rounds of onion over the base of the crock of your slow cooker.
Trim as much surface fat from the roast as you can. Place roast on top of the onion rounds. Smear the top of the roast with the hot mustard and sprinkle the dry onion soup mix, curry powder and dried ginger over the top.
Drizzle the apple cider, beer and Worcestershire sauce over and around the roast.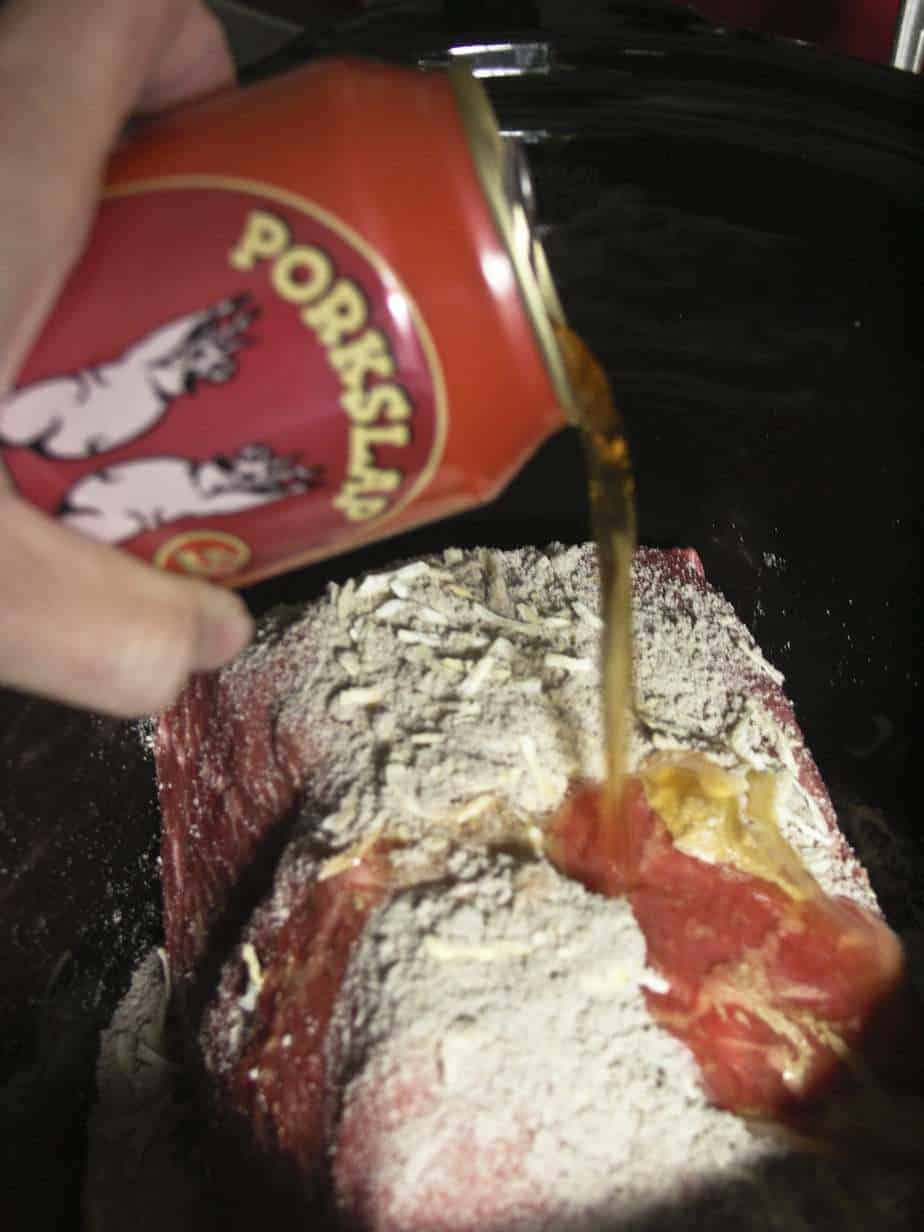 Add the garlic to the liquid surrounding the roast. It ain't perty at this point, folks, but stick with it. It's like an ugly duckling about to turn into a swan. But beefier.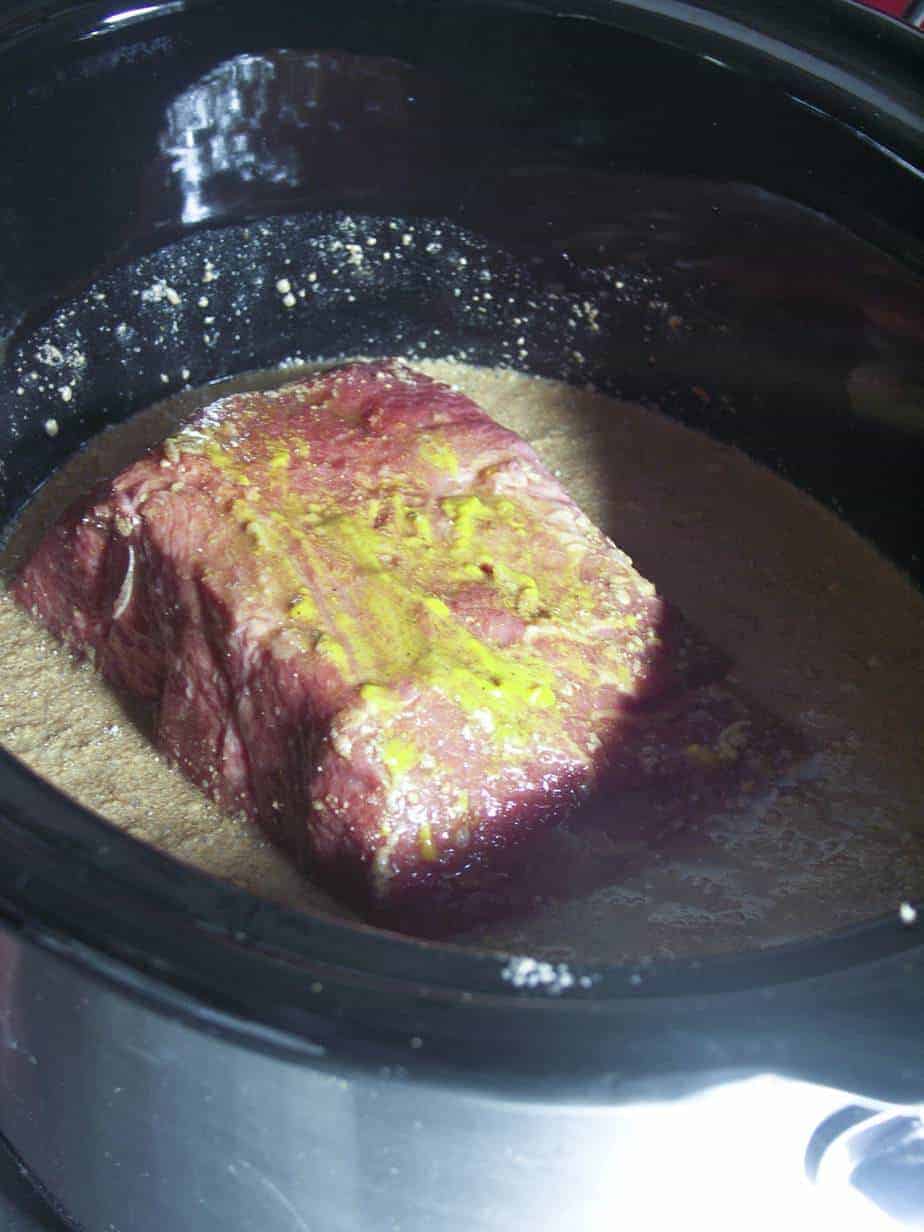 Cover and cook on low for 8-9 hours or until a piece of the roast is easily pulled apart with a fork.
Transfer the roast to a cutting board.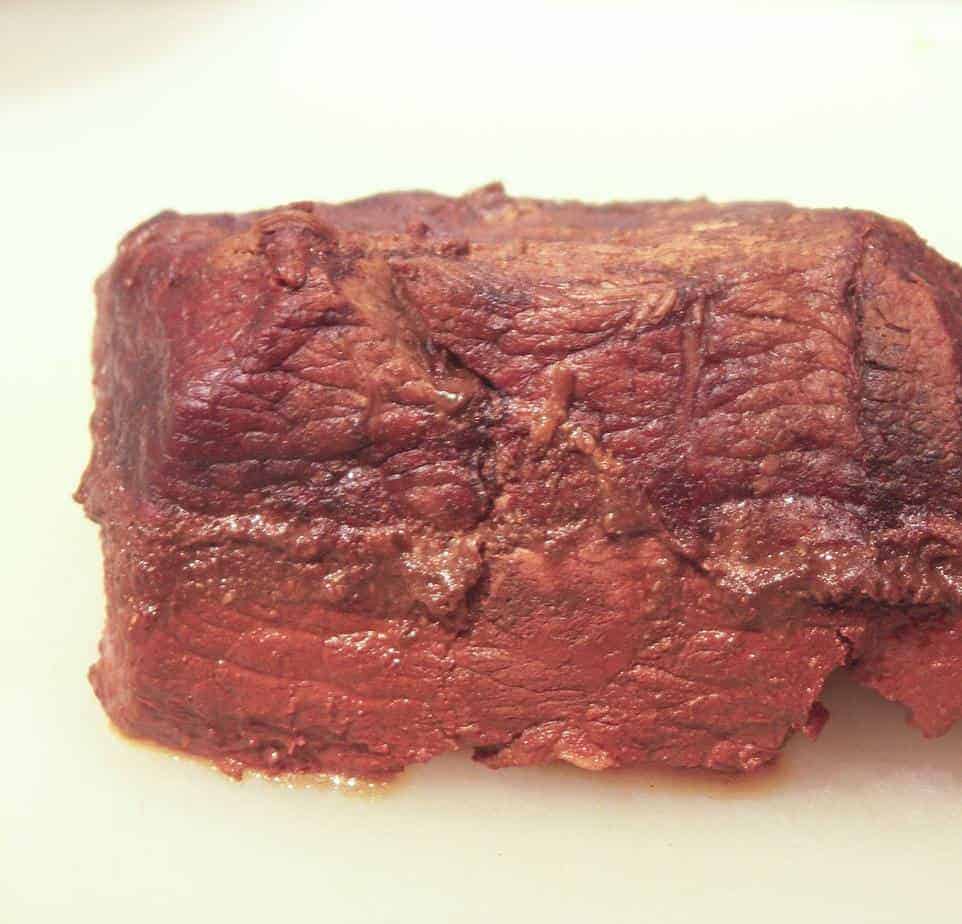 Helpful note:  As counterintuitive as it may seem, meats that are braised have a frightening tendency to dry out at warp speed. (See the top of roast in the picture below for proof.)  To combat this tendency I always toss my braised roasts in their pan juices prior to serving. As often as not, I serve them in their pan juices as well.
Slice or shred the the roast into large pieces and return to the cooking liquids in the crock. Toss gently to coat and serve. My favorite accompaniments are broiled polenta squares (or Italian grits as my kids call them) topped with grated Romano or Fontina cheese, roasted cauliflower, a tossed salad, and hot crusty bread covered in butter. It is equally wonderful with mashed or roasted potatoes and glazed carrots. Sure, this dinner is fifteen shades of brown, but who cares? It's Fall! Brown is savoury! Brown is delicious! Brown is good! Embrace the brown!