Year after year I am gobsmacked by the beauty of fall. It isn't just the vivid hues of the leaves or the stacks of squash and pumpkins at roadside stands, although those certainly don't detract from the view. It's all of that against a gunmetal grey sky and the full-body experience of chilly winds swirling fallen leaves around your ankles. It is cold fingers warming up against a hot mug of slow-cooker mulled cider or homemade pumpkin spice chai latte. It is a blanket on your lap and a book in your hands while the rain splatters the windows. It's the intoxicating aroma of Slow-Cooker Apple Cider Pulled Pork winding its way to wherever you're sitting in the house or greeting you like a hug from your mother when you come home and open the door.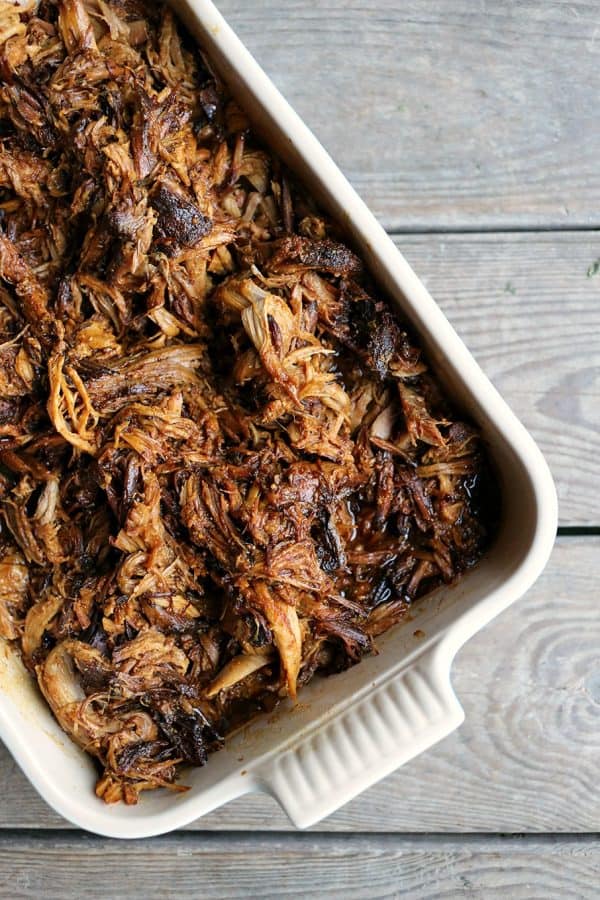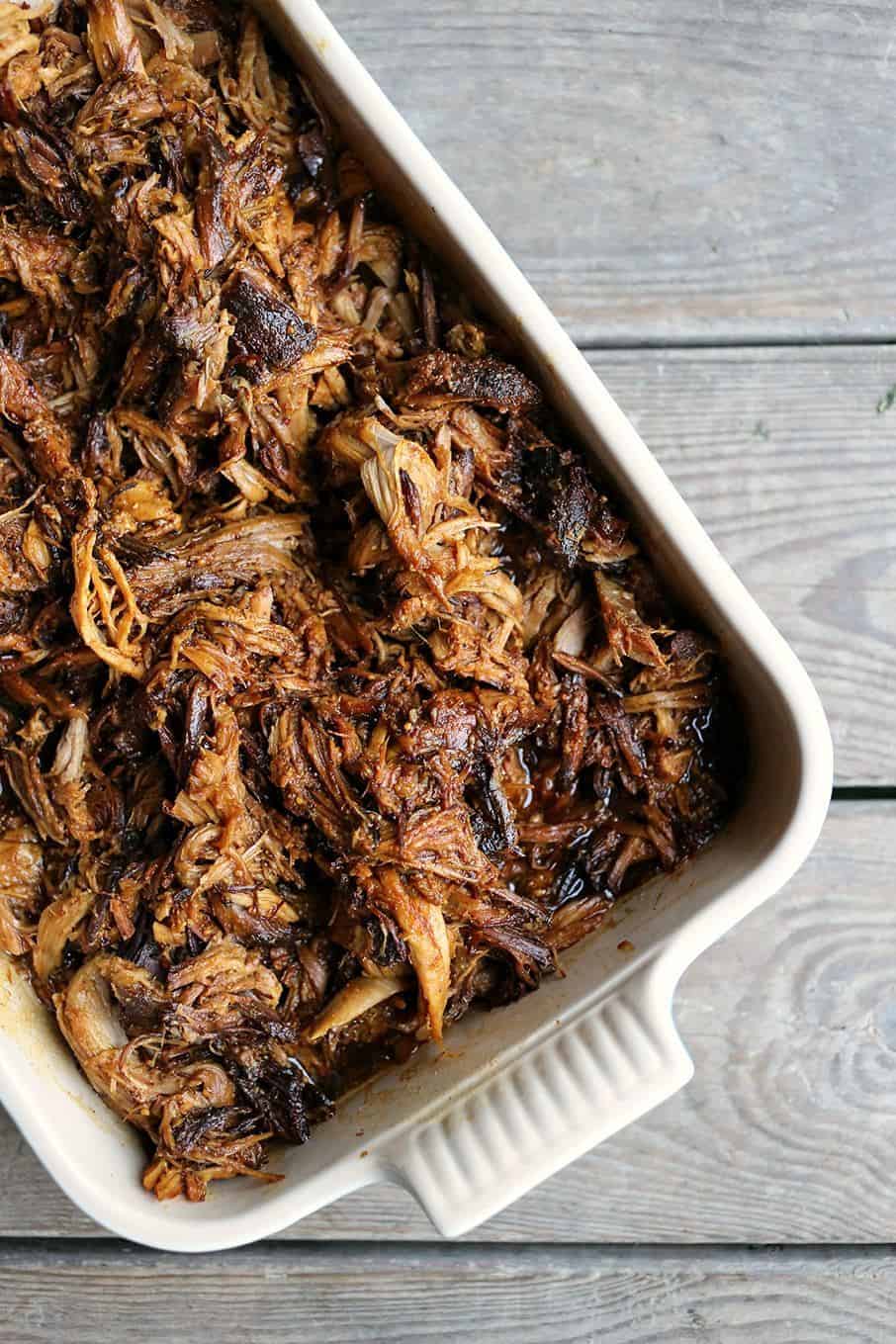 Slow-Cooker Apple Cider Pulled Pork -like most of the best things in life- is simple. One bone-in pork shoulder roast, one cup of apple cider syrup (or mulled cider syrup from Not Your Mama's Canning Book), a couple onions, and a bit of salt go into the slow-cooker. Twelve hours later, you have pork that is so tender it is literally falling away from the bone and almost shreds itself. The pan juices are strained into a saucepan where they're reduced by about 2/3 then enhanced with a little Dijon mustard (homemade or purchased) and honey. Pour that good stuff all over your shredded pork and toss. Serve with bacon fried apples and onions, on mashed potatoes, polenta, roasted root vegetables, or soft homemade bread, for the most perfectly succulent fall meal you've ever made in your own kitchen.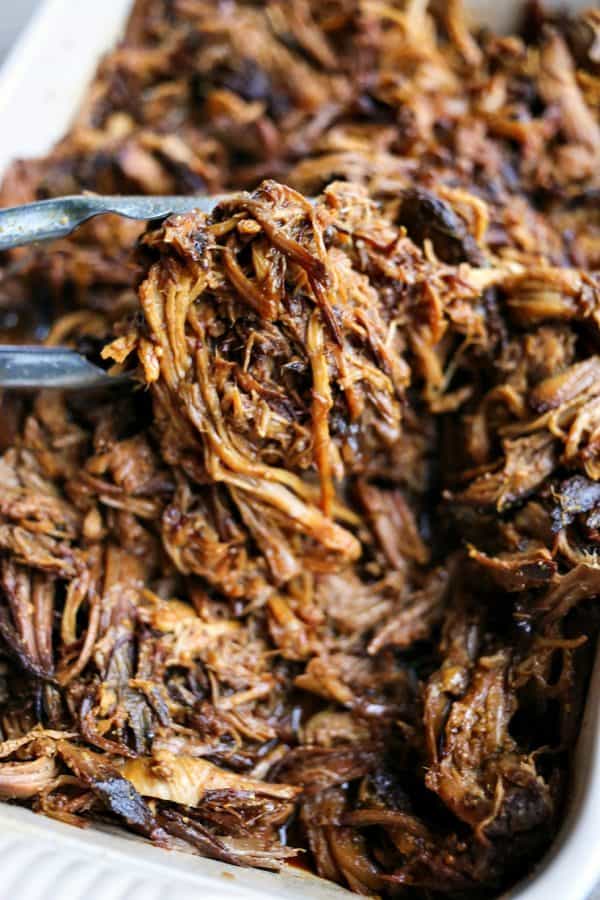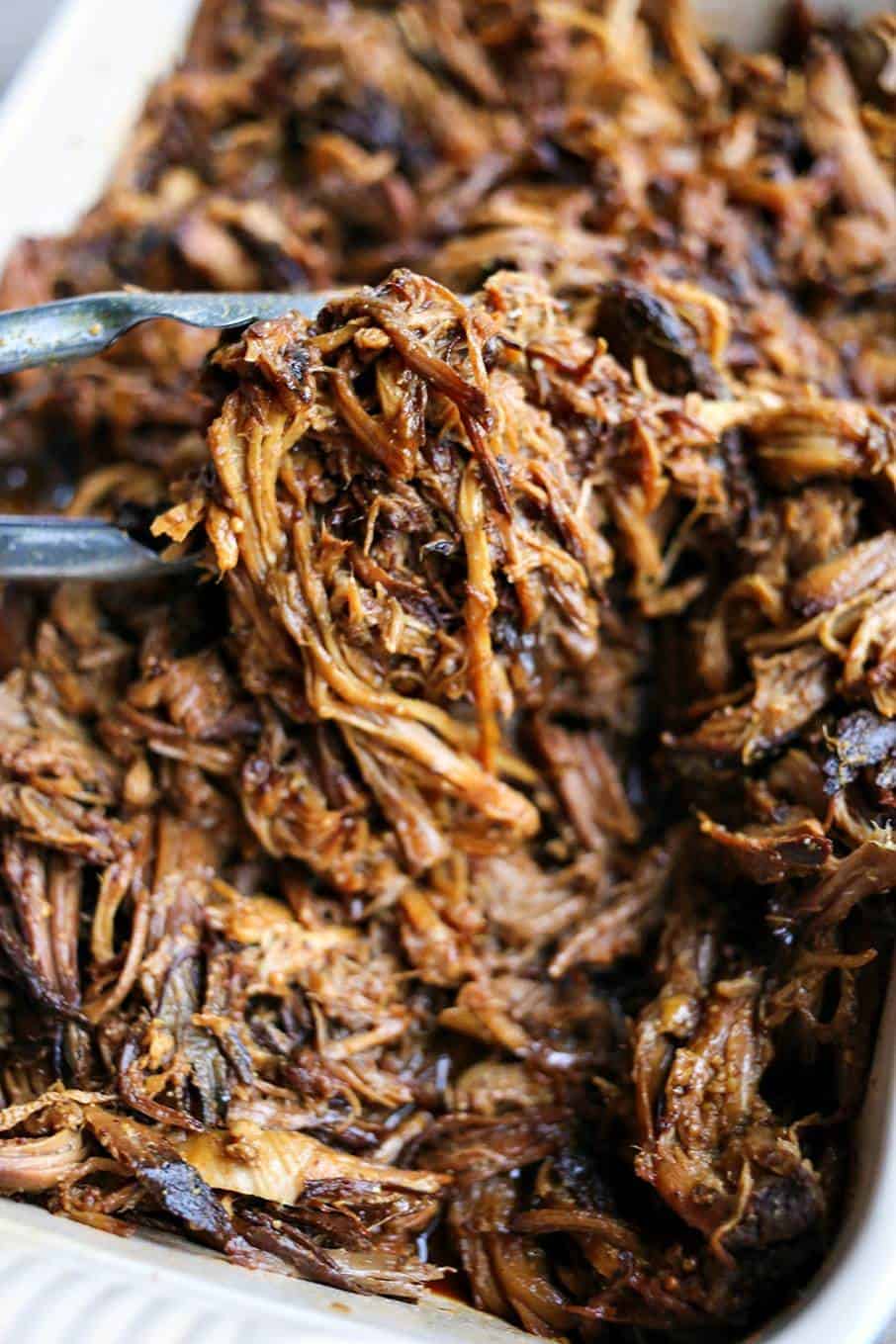 Cook's Notes:
This recipe is designed to be made with a bone-in pork shoulder roast. That yields the most succulent, juicy results and best flavour. If you can't find a bone-in pork shoulder, the next best option is a boneless pork shoulder roast. Third in line would be a boneless center cut pork roast. Those simply don't pack the same amount of fat and flavour as the more marbled cuts, but will still be tasty if that's all that is available to you.
Guys. Don't skip the boiled cider syrup, also known as apple molasses. It's pricey to buy, but ridiculously inexpensive when you make it yourself, and the payoff is immense. If you don't want to make a full batch, just boil a gallon of plain (not spiced!) apple cider in an open pot until it is reduced to about 2 1/4 cups. Transfer half of that into a jar with a tight fitting lid and pop it in the refrigerator to use for a later Slow-Cooker Apple Cider Pulled Pork roast because you will want to make another soon. Use the other half immediately to make this recipe.
A word about the onions: I like to peel them, slice them into thick slabs and lay them on the bottom of the slow-cooker before adding the pork shoulder. I've been lazy before, though, and simply peeled them, trimmed the root end off, and popped it whole into the slow-cooker. Both methods work well; I give a slight flavour edge to the slabs at the bottom of the slow-cooker, though.
Choose whichever Dijon mustard you like best to add to the Slow-Cooker Apple Cider Pulled Pork. I prefer the whole grain homemade Dijon mustard from Not Your Mama's Canning Book, but I have also used commercial whole grain Dijon with great results.
You have a great deal of flexibility with this Slow-Cooker Apple Cider Pulled Pork recipe. I've given instructions in the recipe for cooking and serving it the same day. It's also ideally suited to making ahead of time as you can cook the roast up to 3 days in advance and chill it thoroughly. When you're ready to finish it, remove the solidified fat from the sauce and reduce the sauce as directed in the recipe. Shred the now cold pork as directed, and transfer to a baking dish. Cover tightly with foil and put into an oven preheated to 350°F until the pork is heated all the way through, about 45 minutes. When it is steaming hot, pour finished sauce over the top as instructed in the recipe and toss to coat thoroughly. Leftovers also freeze like a champ, so don't be tempted to reduce the size of your roast!
Connect with Foodie with Family
facebook | pinterest | instagram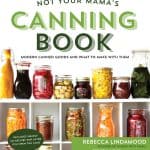 Slow-Cooker Apple Cider Pulled Pork
Slow-Cooker Apple Cider Pulled Pork: tender, succulent pulled pork in a memorable sauce of apple cider, honey, and Dijon mustard. This is fall at its best!
Ingredients
2

onions

peeled and trimmed, sliced into thick slabs

1

bone-in pork shoulder roast

6 to 9 pound

2

teaspoons

kosher salt

1

cup

boiled cider syrup/apple molasses

1/2

cup

mild honey

3

tablespoons

whole grain Dijon mustard
Instructions
Lay the slabs of onion on the bottom of a slow-cooker crock. Lay the pork shoulder on the onions, fat side down. Sprinkle the salt over the pork roast and rub it in, flipping it to fat side up. Pour the boiled cider syrup over the pork roast, put the lid in place, and cook on low for 12 hours.

Use tongs to transfer the pork to a large mixing bowl. Be careful, as the pork will want to fall apart and may splash back into the hot pan juices.

Strain the pan juices into a 2 quart saucepan and let stand for 10 minutes to allow the fat to rise to the top. Skim as much of the fat from the pan as possible and then reduce the sauce by 2/3. While it is boiling, use your hands or two forks to shred the pork, removing the bone and as much fat as possible. Transfer to a casserole or serving dish tented with foil to keep warm.

When the pan juices have reduced, whisk in the honey and Dijon mustard before pouring over the pork and tossing. Serve immediately or cool and divide into meal sized portions in air-tight containers and freeze for up to 3 months.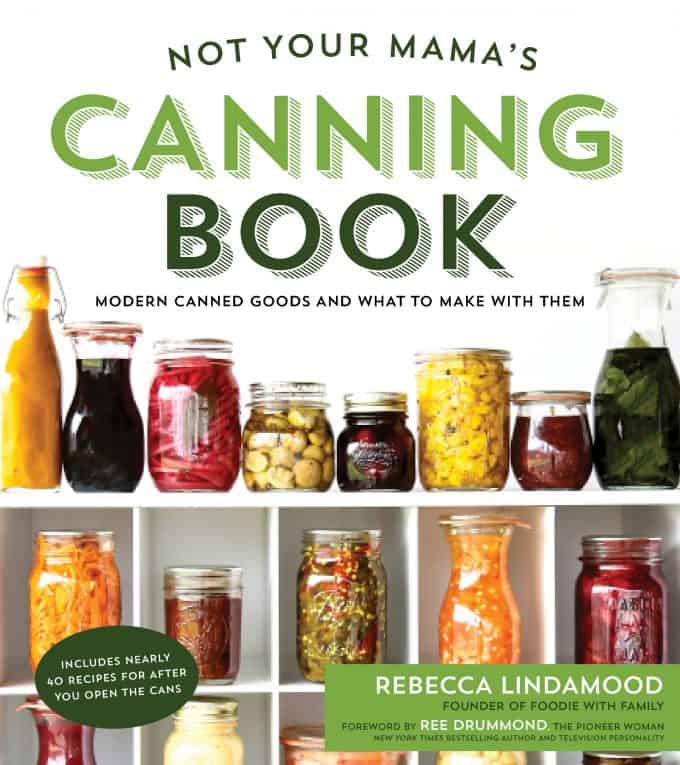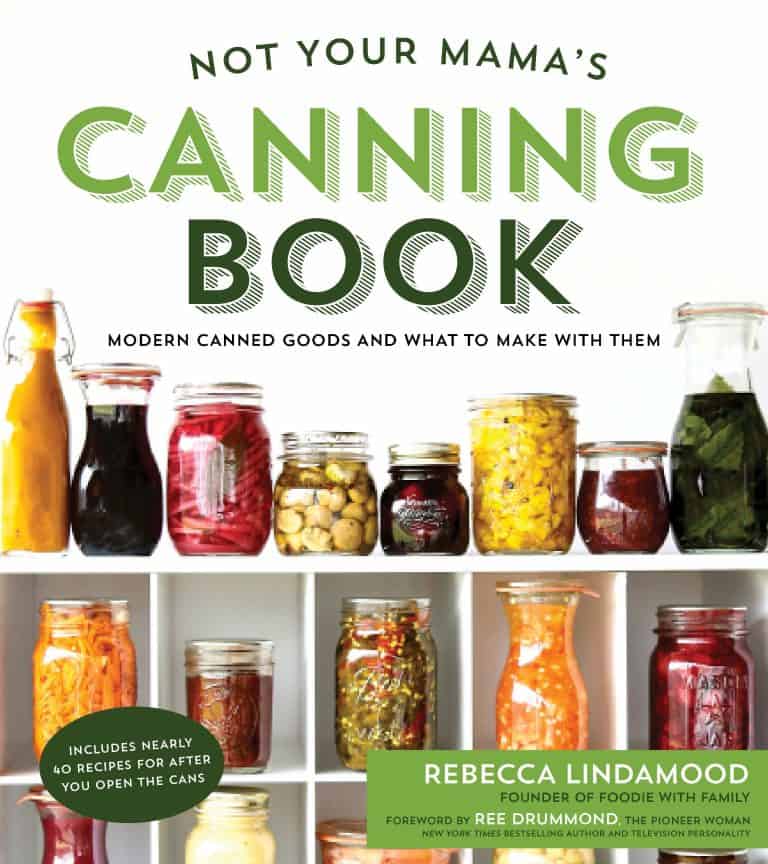 Not Your Mama's Canning Book: Modern Canned Goods and What to Make with Them is available to order through these fine retailers!