Boozy Strawberry Basil Lemonade is the perfect blend of sweet and tart to wet your whistle on warm summer evenings. Made with Strawberry Basil Infused Vodka, this craft cocktail is made with love. Don't fret, though, craft cocktail doesn't mean you have to go to bartending school. Boozy Strawberry Basil Lemonade makes great cocktails achievable for everyman (and woman!) Cocktail power to the people!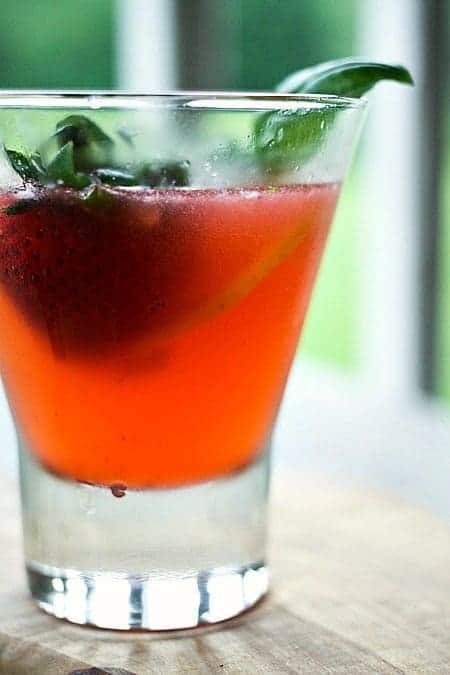 Until recently, my eyes kind of glazed over whenever anyone started talking cocktails. Yep, lots of kinds of liquor and liqueur sloshed into a glass with ice. I found the old school of mixology both unappealing and intimidating. There were too many varieties of hooch to keep track off and I didn't have enough desire to learn about it. Drinks had stupid names like Sex on the Beach. Blah blah blah. I don't care if it's the tastiest drink ever known to man, I was NOT going to a bar and asking for 'sex on the beach'.
I DO, however, like this modern brand of mixology that borrows from the culinary scene. Using things like herbs and bacon and chocolate (not necessarily all together, mind you), mixologists are turning out adult beverages that are complex in flavour but MAKE SENSE. They're taking advantage of alcohol's innate ability to dissolve flavours and its volatility to deliver aroma. I like this stuff. Instead of using a jigger of this and a whoosie of that and fifty billion different little additions, we start with something most people know: vodka. Easy peasy, right?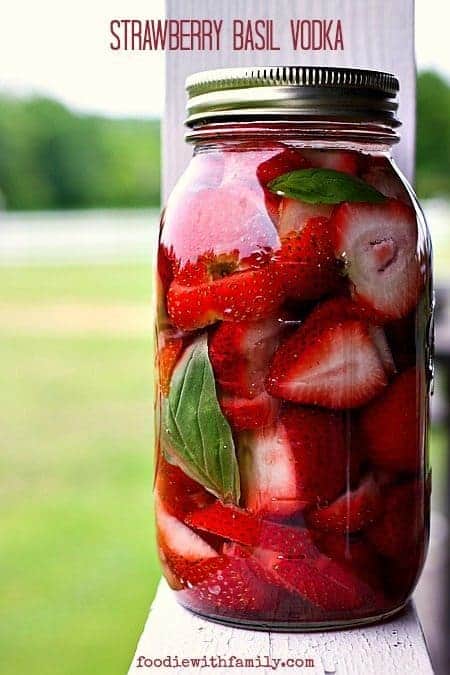 It's infused with perfumey strawberries and fresh basil  then shaken with FRESH ingredients and ice and strained into a glass. THAT'S ALL THERE IS TO IT, but OH the flavour it delivers.
It's such a heady experience. Sweet strawberries and their essence of summer, fragrant basil, tart lemons… it makes you feel like the world's most brilliant bartender and you can sit on your own front porch with your shoes off, Boozy Strawberry Basil Lemonade in hand, chatting with friends and family, watching the sun go down instead of sitting cheek to jowl with strangers in a loud bar with the thumping music carrying away your conversation. Which one sounds better to you? Yeah, how 'bout I pull up a chair on the porch for you?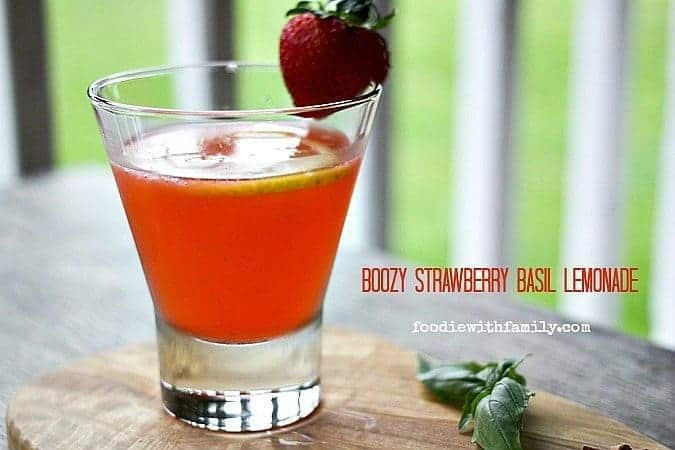 Cook's Notes
This drink is designed to be made with fresh lemons. I know they're expensive right now, but the result is worth it. You get the flavour only fresh lemons can deliver AND the lemon oils from the rind.
The recipe calls for simple syrup; this is simply equal parts of sugar and water (for example 1/2 cup of each) combined in a saucepan and heated while stirring until the sugar is fully dissolved into the water. Cool the syrup, pour into a clean jar, lid tightly, chill well, and store in the refrigerator until used or for up to two weeks.
A cocktail shaker is handy, but not strictly necessary here. In lieu of a shaker, you can add the ingredients to a jar and shake well then strain. Heck… if you're feeling rustic, skip the straining. It never hurt anyone, it just won't be as pretty.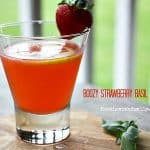 Boozy Strawberry Basil Lemonade
Ingredients
Needed for Each Drink:
ice

1

ounce

simple syrup

2 tablespoons

2

ounces

Strawberry Basil Infused Vodka

4 tablespoons

2

fresh strawberries

divided

1

fresh basil leaf plus extra for garnish

1/4

of a lemon plus two slices

divided

splash of well-chilled plain seltzer water

optional
Instructions
Fill a cocktail shaker with ice then add the simple syrup,

Strawberry Basil Infused Vodka

, and 1 fresh basil leaf and 1 whole strawberry. Squeeze the 1/4 lemon into the cocktail shaker and drop the squeezed lemon piece into the shaker as well. Add 1 of the slices of lemon. Put the lid on the shaker and shake vigorously for 30 seconds to 1 minute, or until the shaker feels very cold. Strain the Boozy Strawberry Basil Lemonade into a martini or cocktail glass and add a splash of plain seltzer water. Garnish with the remaining slice of lemon and strawberry and a sprig of fresh basil.