Have you ever sat on the couch and just desperately wanted a sweet treat? I do that from time to time. I don't buy sweets at the store, though, generally speaking. It's a combination of motivators that makes it a habit… 1) I look at the prices of sweets -be they cookies, cakes, candies- and say to myself, "For that money, I could make far more of them and make them better!" Bombast? Perhaps. But I know my taste buds and I know what I like. 2) I know that if I buy them, I'll eat them and I'm far less likely to make enough of any one thing to over-eat on. There's good money that my home-grown swarm of locust children will descend on anything I've made within mere minutes of its completion and the temptation will be removed beyond recall.
There is a little cheater treat that I keep ingredients on hand for those moments where I absolutely, positively MUST have a sweet or face the spectre of climbing into my car at 10 o'clock at night and driving an hour to the nearest 24-hour store that would carry anything of the sort to sate my need. That saver of gas and arguments is none other than the humble rice crispy treat. Of course, being me, I don't leave it terribly humble; I make Salted Caramel Bourbon Rice Crispy Treats.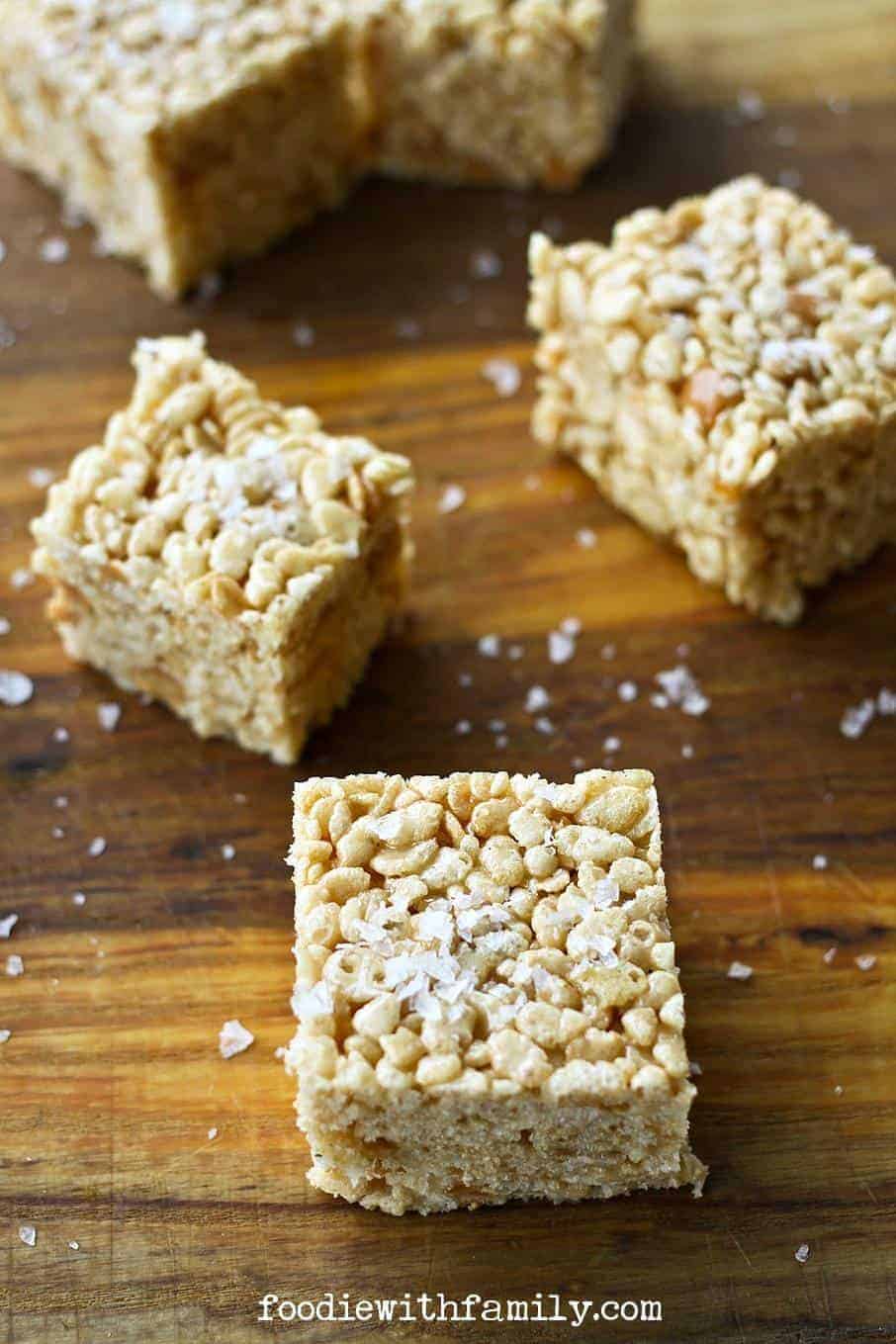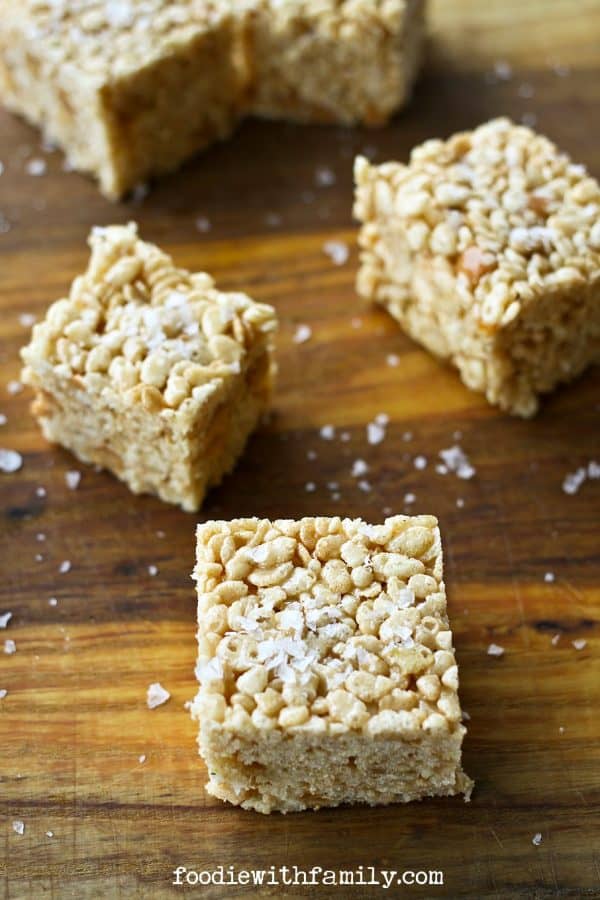 That's right. I pour hooch in my marshmallow treats. It makes sense from a flavour standpoint, if you consider it from all the tasty angles. The slow burning, subtle, rich, oaky, vanilla and caramel notes of bourbon beautifully reflects the sweet marshmallow, vanilla extract, and melted caramel bits. That little bit of finishing salt on top? Those are coarse sea salt flakes, and they take that lovely marriage of bourbon, caramel, and rice crispy treats to a magical place. Salt does that to sweets. It magnifies the subtleties of the ingredients that sometimes get muted by the presence of sugar, making for a much more complex dessert. That's right. I just called Salted Caramel Bourbon Rice Crispy treats complex.
Cook's Notes
If you generously butter the 8-inch by 8-inch pan, the treats should come out pretty easily. If you want a little extra insurance that it'll slide out of there as easy as can be, line the bottom of the pan with a square of parchment paper.
Use a bourbon that is a high enough quality to sip alone. You don't want to add turpentine level bourbon to your fancy-pants rice crispy treats.
Speaking of bourbon, there's very little of it over all in the dessert -just 2 tablespoons- which means that if you cut those treats into 16 generously sized squares, each square would have under 1/2 a teaspoon of bourbon in it. In my book, that makes it pretty safe to serve to people of all ages.
You can choose to slice the treats IN the pan or you can turn them out onto a cutting board to get a better angle at them. It's up to you!
Store any leftover Salted Caramel Bourbon Rice Crispy Treats in an airtight container for up to 4 days.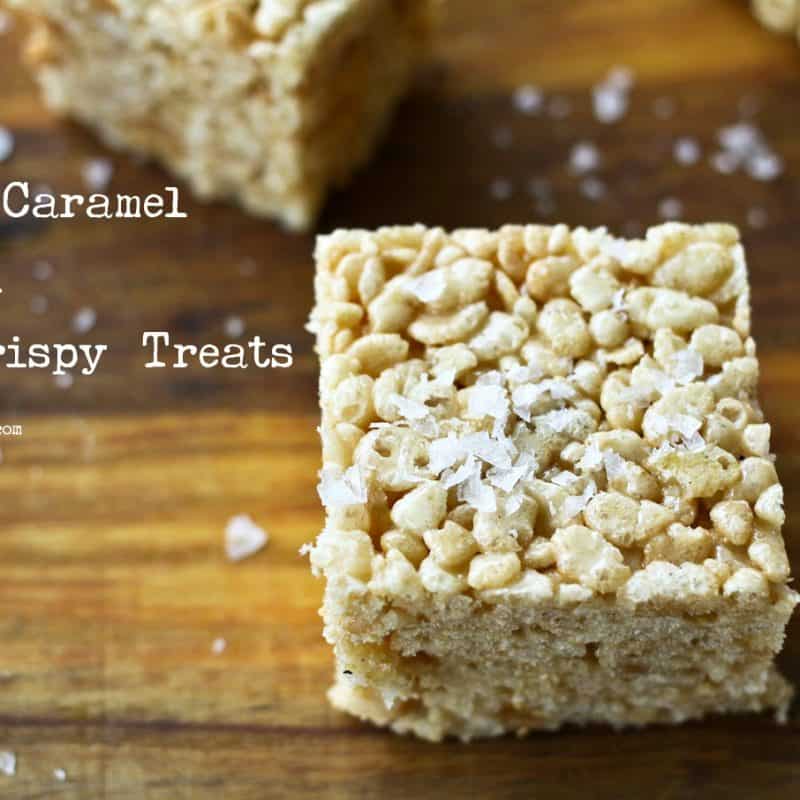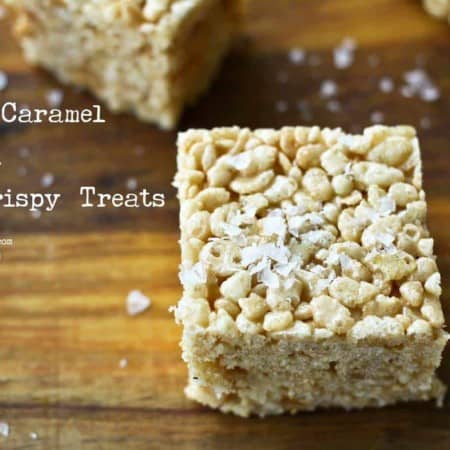 Adapted from
Katty's Kitchen
with thanks to my friend, Lisa, for telling me about them!
Ingredients
1

bag mini or full size marshmallows

10 ounces to 10.5 ounces

1

stick unsalted butter

8 tablespoons or 4 ounces by weight, plus extra for the pan

1/2

teaspoon

kosher salt

2

tablespoons

bourbon

1

teaspoon

pure vanilla extract

5 1/2

cups

crisped rice cereal

1

cup

caramel baking bits

coarse flake sea salt

like Maldon sea salt
Instructions
Generously butter an 8-inch by 8-inch baking dish. Set aside. Put the crisped rice cereal and caramel baking bits in a large, heat-safe mixing bowl.

Melt the butter and marshmallows together with the salt in a 2-quart, heavy-bottomed saucepan over low heat, stirring constantly. Turn off the burner, add the bourbon and vanilla, and turn the burner back on low long enough to stir the mixture together. Pour over the crisped rice cereal and caramel baking bits and gently-but-quickly toss the mixture together. Scrape into the prepared pan. Spray a piece of plastic wrap or parchment with non-stick cooking spray or generously oil it and put it greased side down on the surface of the Salted Caramel Bourbon Rice Crispy Treats. This will keep it from sticking to your hands when you press the mixture evenly into the pan.

Let cool completely. You can either cut into pieces of your desired size in the pan or turn out onto a cutting board to cut it. Sprinkle the coarse flake sea salt over the Salted Caramel Bourbon Rice Crispy Treats before serving.

Store leftovers in an airtight container at room temperature for up to 4 days.
Nutritional information is an estimate and provided to you as a courtesy. You should calculate the nutritional information with the actual ingredients used in your recipe using your preferred nutrition calculator.
Do you need some help locating caramel baking bits and Maldon sea salt flakes? Click the links below to have them delivered to your front door!