Maple Apple Chai Pie was the two-years-running birthday pie for my son who has never repeated any of his other birthday requests. Maple Chai Apple Pie is the one and only food he has ever asked for twice, and for good reason.
Last year, he asked for an apple pie (which made my pie loving/cake-neutral heart rejoice) but asked for a twist; he wanted it to be maple sweetened with cinnamon and other spices.
I happily obliged. I added my own little twist, too, in the form of a goodly drizzle of heavy cream tossed with the apples. The idea was to make it rich and creamy like a chai latte.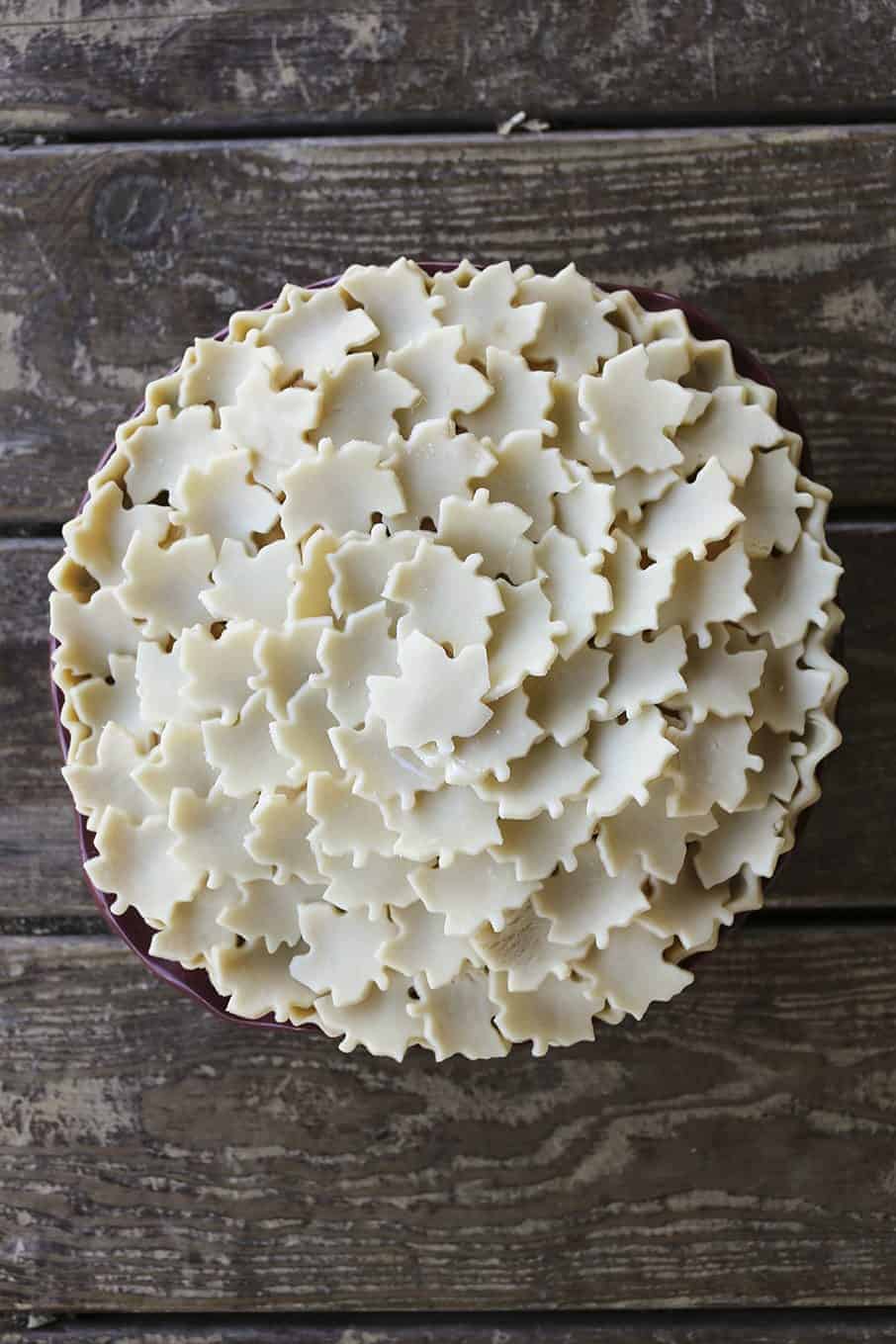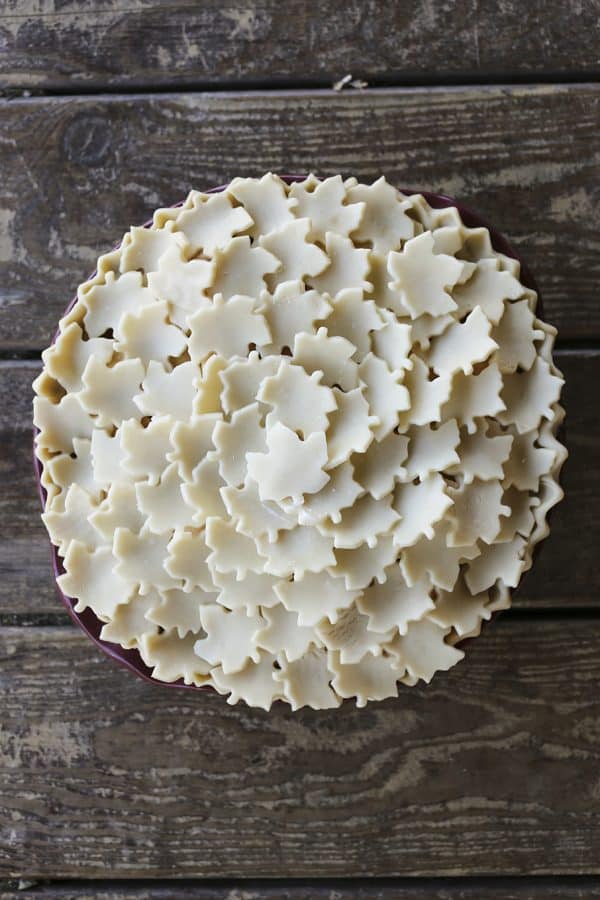 Here's the thing. My husband's usual favourite pie is my Homemade Banana Cream Pie Recipe or Chocolate Kahlua Pie. He's a cream pie kind of guy.
He took one bite of the Maple Chai Apple Pie, though, and promptly declared it to be the best pie I have ever made of any kind. I know this sounds dramatic, but he was right; this was by far the best apple pie I had ever made.
I was more than thrilled that my little man asked for it again. After making it for my birthday boy, my husband seemed sad when I told him that I was happy with my photos of the pie.
He clarified, "I was hoping you might have to make another one." Then he asked to add it to the Thanksgiving menu. I had to say yes. I wanted another slice, myself.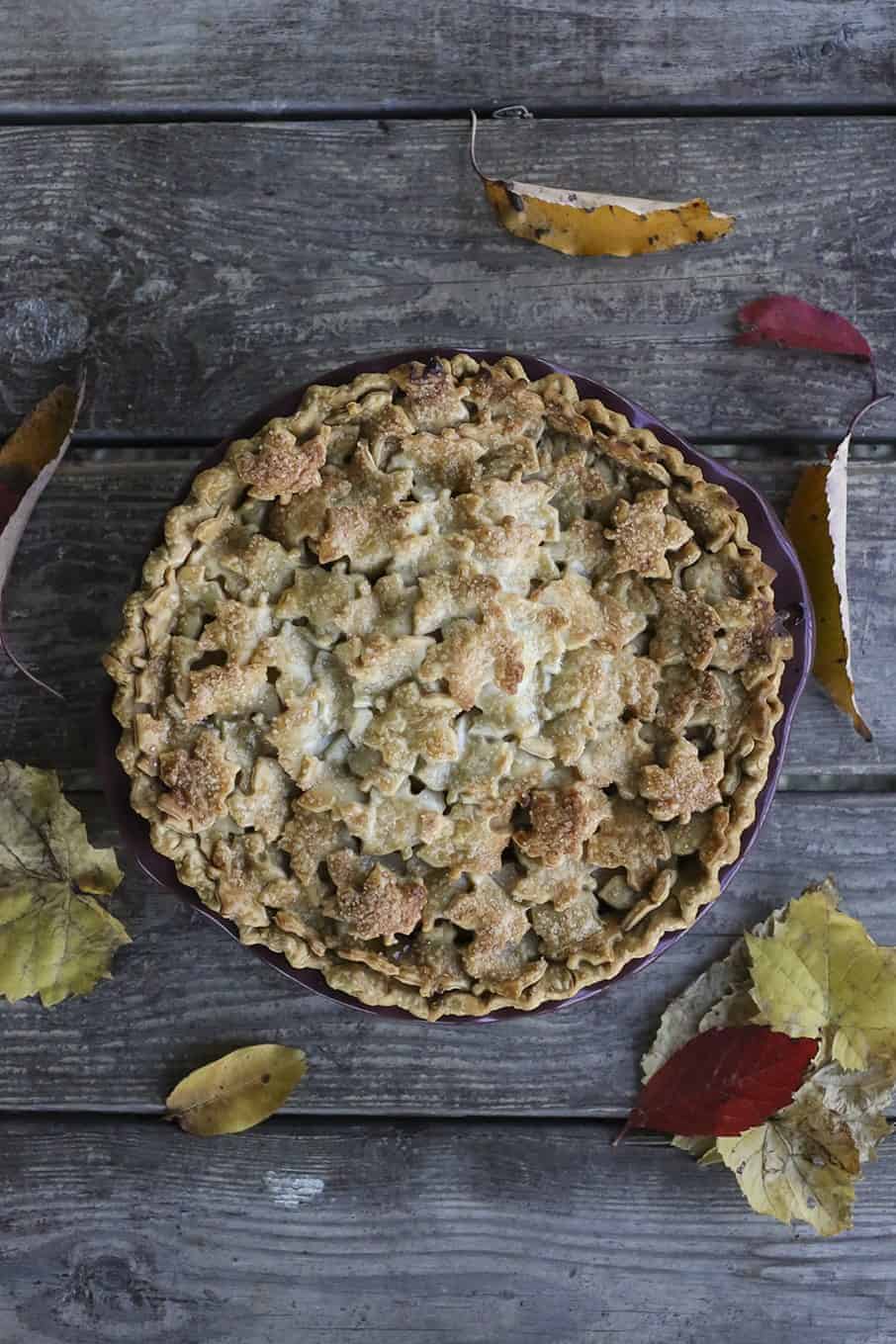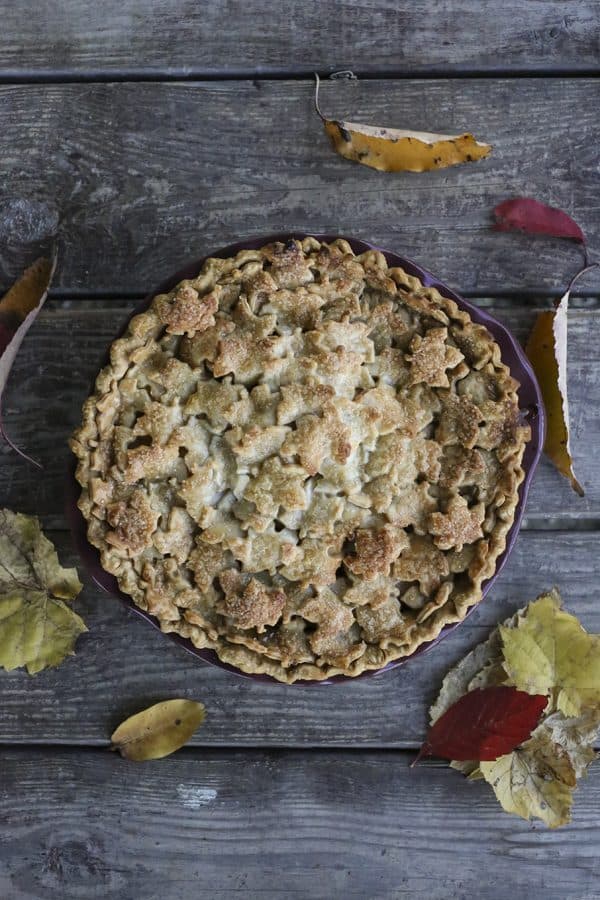 What makes it so memorable? It certainly doesn't hurt matters that it is visually stunning. Maple Chai Apple Pie appears to have been tiled with deep golden brown, sugar crusted fall leaves. Underneath the pie crust "roof", you find tender apples in a creamy sauce spiced with cinnamon, ginger, cardamom, nutmeg, black pepper, and cloves.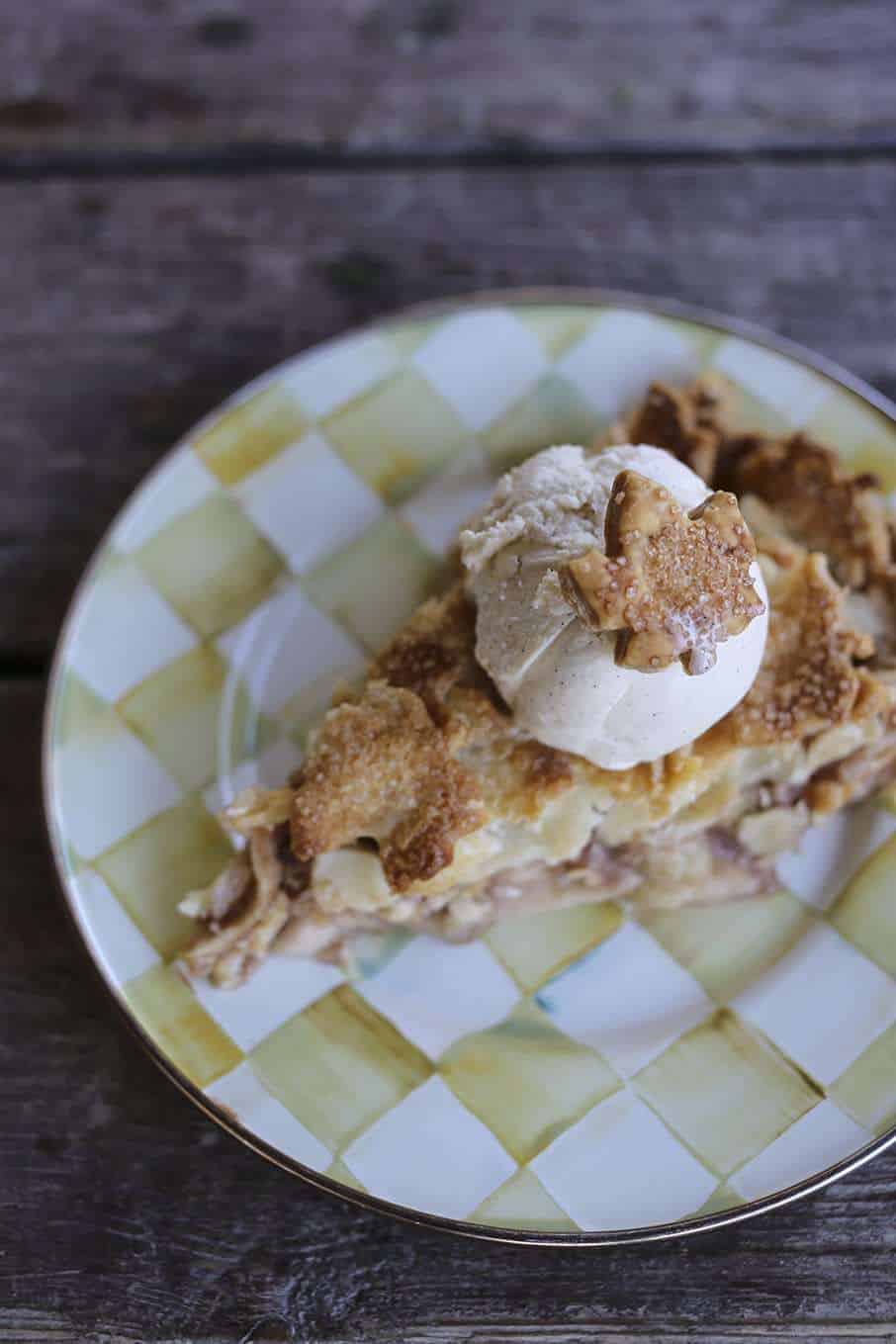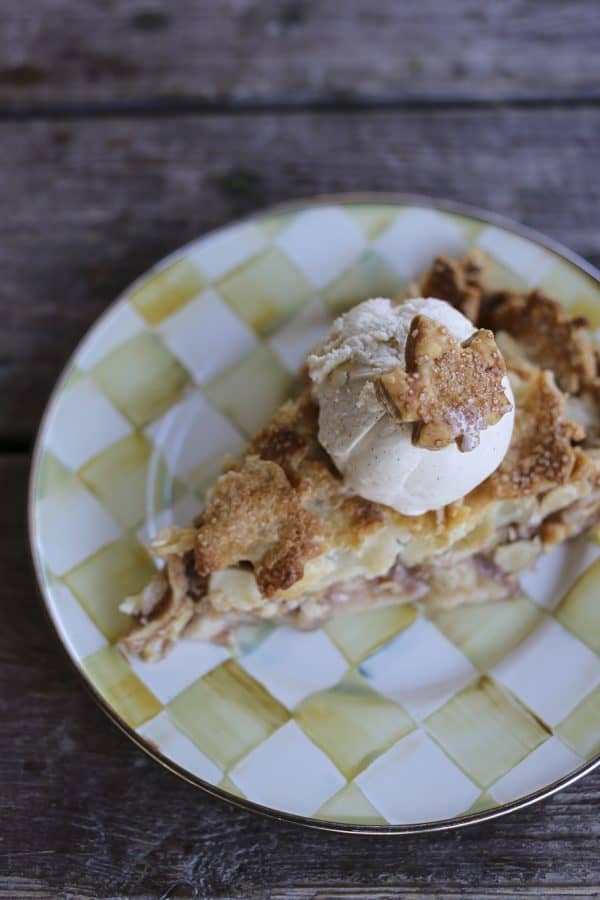 Can't you see this perched on your dessert table for Thanksgiving? Can't you see me sneaking in and yoinksing a piece?
Maple Chai Apple Pie
For this Maple Chai Apple Pie, you need to count on having about 1 1/2 double crust pie dough batches. If you're using pre-made purchased, rolled pie crusts, you'll need 3 pie dough rounds.
To cut the small pieces of pie crust used to cover the top of the pie, I use the maple leaf from this set of small pie crust cutters. Any small cookie cutter will do the job as long as it yields pieces that are about 1 1/2-inches to 2-inches at their largest point.
To tile the pie crust, start by laying out a slightly overlapping circle of the small pie crust leaves or pieces around the outer edge, allowing the crust to overlap the rim slightly. As you get back to the starting point, spiral inward, continuing to overlap the pieces until you reach the center.
If you find the edges of your pie crust starting to brown too quickly -in other words, before the center tiles brown nicely and the juices start to bubble up between the pie crust tiles- you can gently wrap the outer edges with some foil. It will protect the outside edges while the center continues to cook.
I'm not going to be the person who tells you never to dig into a hot pie, because that is one of the great joys in life. That being said, if you'd like slices that hold together, you do need to wait for your Maple Chai Apple Pie to cool almost completely to room temperature before slicing and extricating a piece.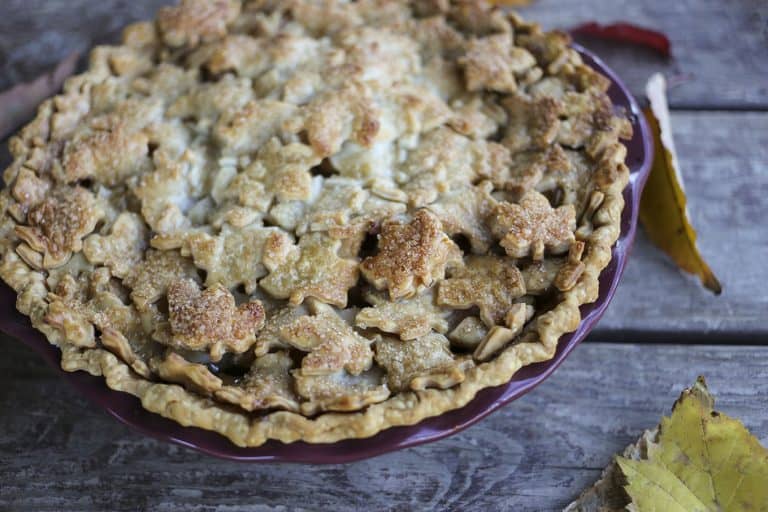 Connect with Foodie with Family
facebook | pinterest | instagram | twitter
I recommend using these to make Maple Chai Apple Pie: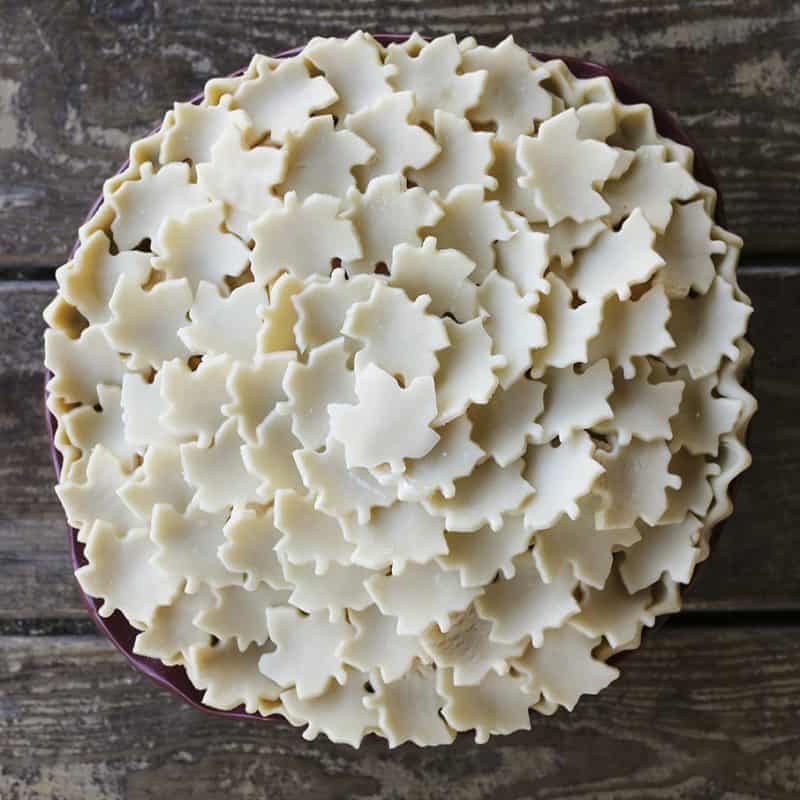 Ingredients
1 1/2

double crust pie dough recipes

or 3 purchased single pie dough rounds

1

cup

pure maple sugar

plus extra for sprinkling on the pie crust

1/4

cup

cornstarch

1

vanilla bean

split and scraped

3/4

teaspoon

ground cinnamon

3/4

teaspoon

ground ginger

1/4

teaspoon

ground cardamom

1/4

teaspoon

freshly ground black pepper

1/8

teaspoon

grated or ground nutmeg

pinch of ground cloves

1/2

cup

heavy cream

plus extra for brushing the pie crust

3

pounds

fresh apples suitable for baking

peeled, cored, and thinly sliced, about 10 apples
Instructions
Preheat oven to 450°F.

If using homemade dough, roll one third of it to about 10-inches in diameter. Fit it into the bottom of your deep dish pie plate. Trim excess crust, leaving about 1/4-inch hanging over the edges. Set aside.

In a large mixing bowl, whisk together the maple sugar, cornstarch, vanilla bean scrapings, cinnamon, ginger, cardamom, black pepper, nutmeg, and cloves until even in colour. Toss in the apple slices until evenly coated. Drizzle the heavy cream over the apples and toss to coat. Scrape the apples into the prepared pie crust and even out the contents as best as you can without fussing too much.

Roll out the remaining pie crust and cut with a small maple leaf or other small (1 1/2-inch to 2-inch) cookie cutter. Arrange the cut-outs in an overlapping spiral starting with the outside and moving inward. When you're done, the pie crust pieces should resemble slightly overlapped roof tiles. Brush the crust lightly with heavy cream and sprinkle with maple sugar.

Place the pie on a cookie sheet to catch any juices that bubble over and place in the oven. Bake for 15 minutes then lower the heat to 350°F. Bake for another 40 minutes, or until you can see juices bubbling up between the pie crust 'tiles'. If the crust begins to brown too much at the edges before the juices start bubbling, you can gently cover the edges with foil to protect them.

Let the pie cool for at least 45 minutes before slicing. If you want tidy slices, let it cool completely to room temperature before slicing into it.
Nutritional information is an estimate and provided to you as a courtesy. You should calculate the nutritional information with the actual ingredients used in your recipe using your preferred nutrition calculator.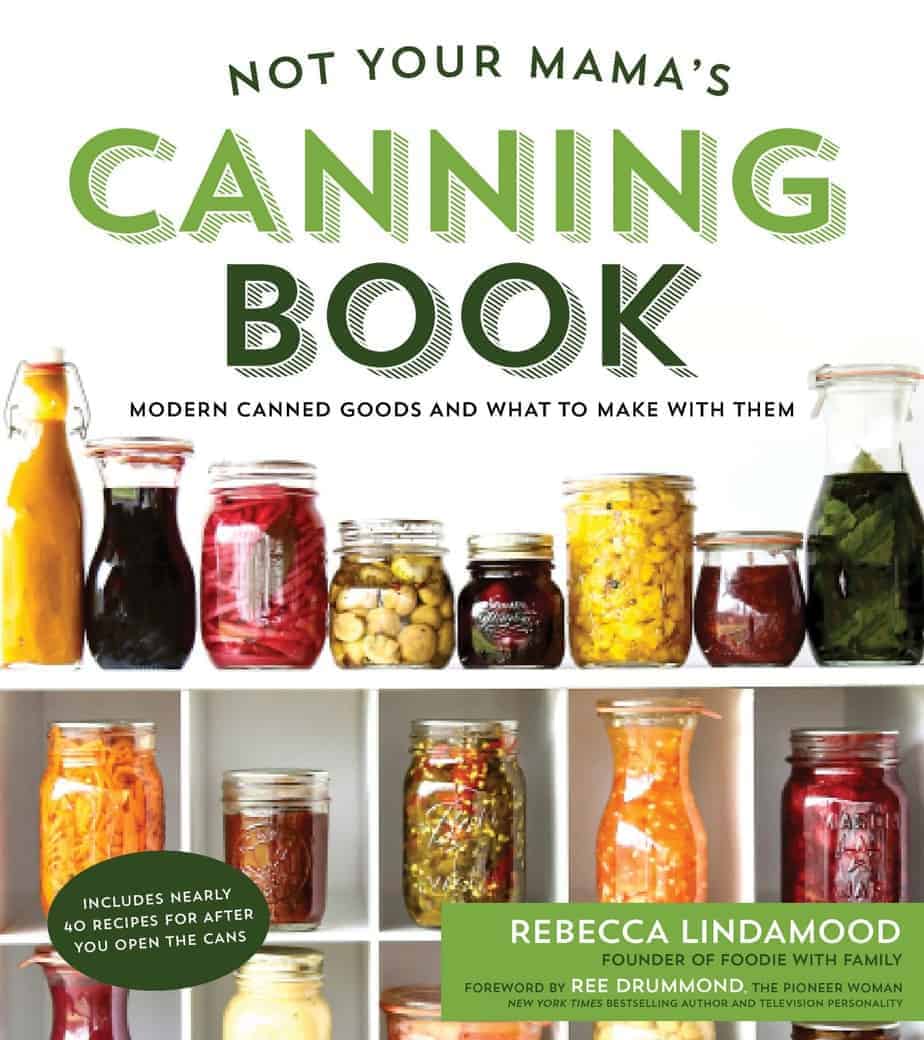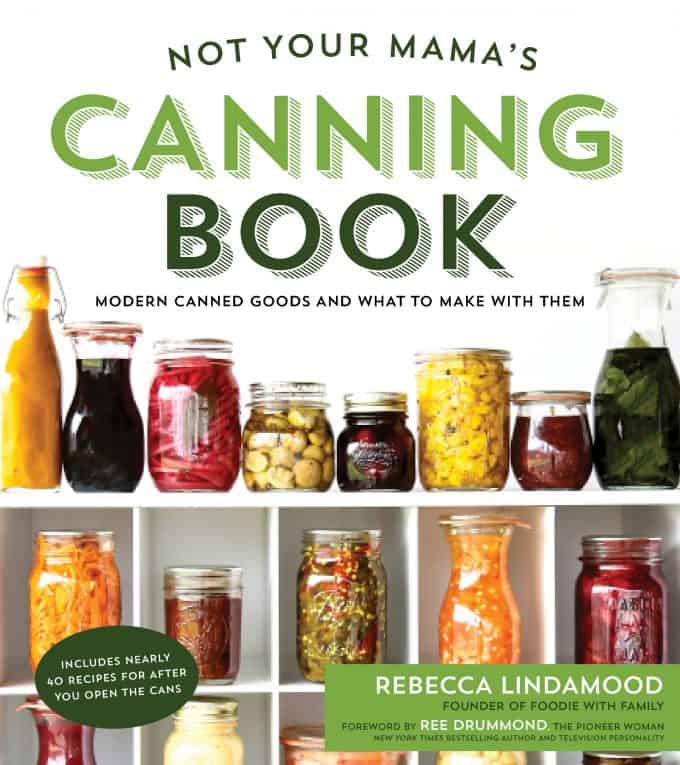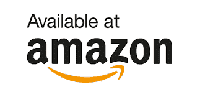 Not Your Mama's Canning Book: Modern Canned Goods and What to Make with Them is available to order through these fine retailers!



This post was originally published October 19, 2016 and was revised in October 2018.