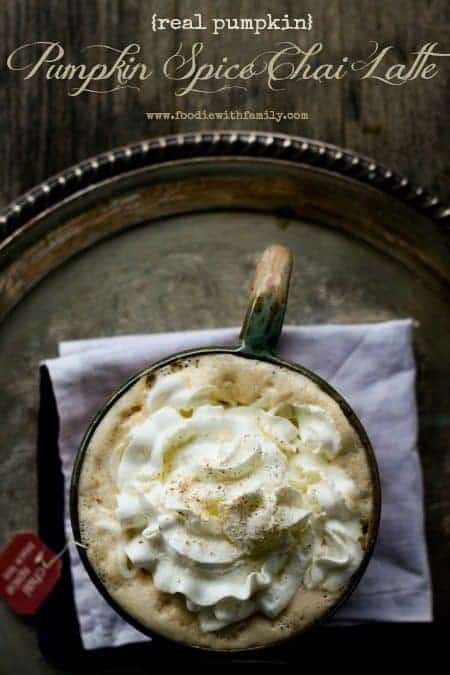 Tea drinkers rejoice: Pumpkin Spice Chai Latte is a great way to warm up in cold weather!

Four out of five of my kids are sick. Snuffling, sneezing, sore throat, goobery, gloppy, walking-petri-dish, tissue-dropping sick. This comes at the end of a week that was so busy that I didn't know whether I was coming or going two-thirds of the time. There are five kids in this house, friends, you can imagine how many extra-curricular activities we have… To cap it off, my darling Evil Genius was on a five day business trip. In fact, as I write this, I'm waiting for him to walk back in the door.
I'm planning on tackle hugging him. He'd better brace himself.
The net effect of this all is that I've been pooped. Super pooped. I've been so pooped that I kind of created my own little song about it. Any ABBA fans out there? COME ON. Admit it. I've been singing "Super Pooper" to the tune of "Super Trooper". Also, remember that "I Love Lucy" skit where she got lit on Vitameatavegamin? Her line was supposed to be, "Do you poop out at parties? Are you unpopular?" After too much of the Vitameatavegamin, she slurred out, "Do you pop out at parties? Are you unpoopular?" I was totally unpoopular this week.
The one and only thing that kept me going was a steady stream of Pumpkin Spice Chai Lattes. Back in the day, I made these with a syrup made with pumpkin. The problem was two-fold… it relied on me remember to actually MAKE the syrup before a craving struck, and it wasn't pumpkin-y enough. Where was my instant gratification fix that all those cool folks who live in places with Starbucks can get? When I saw Lori of Recipe Girl's post of super easy and super pumpkiny Pumpkin Spice Lattes, I knew I had to modify it for the tea drinking crowd (read: ME!)
I opted to make this something I could dig into at a moments notice… Something that would be waiting for me in the refrigerator for a couple of weeks as I dipped into it as the need arose. The need arose A LOT this week.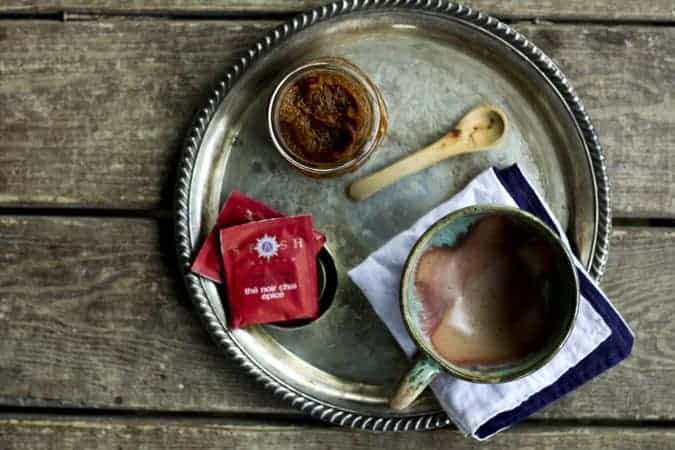 Here's how the process works. Because you will be agog when you realize how fast you'll be sipping your very own fancy-pants Pumpkin Spice Chai Latte recipe. You mix pumpkin puree with brown sugar, vanilla extract, ground cinnamon, ground ginger, grated nutmeg, and a pinch of salt. That's your base! After you've mixed it together, you scoop it into a jar with a tight fitting lid and store it in the refrigerator until you need it. Oh hey… how about you mix one up before you stash it in the refrigerator.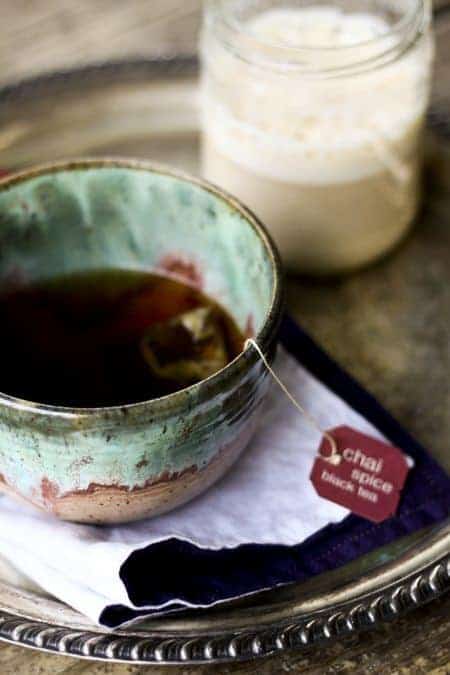 Now you're going to brew yourself a VERY strong, rather small cup of chai tea. Yes, that is one mega mug and there's very little tea in it… I wanted to leave mucho room for the pumpkin latte portion of the program. "Excuse me, miss. I ordered a LARGE?" (Name that movie.) Now you scoop a couple tablespoons of the pumpkin spice base into a microwave safe cup (or a saucepan). Add a cup(ish) of milk; whisk or mix in thoroughly with a fork. Heat it up in the nuker or the saucepan until it's steamy and frothy. Pour it into the tea.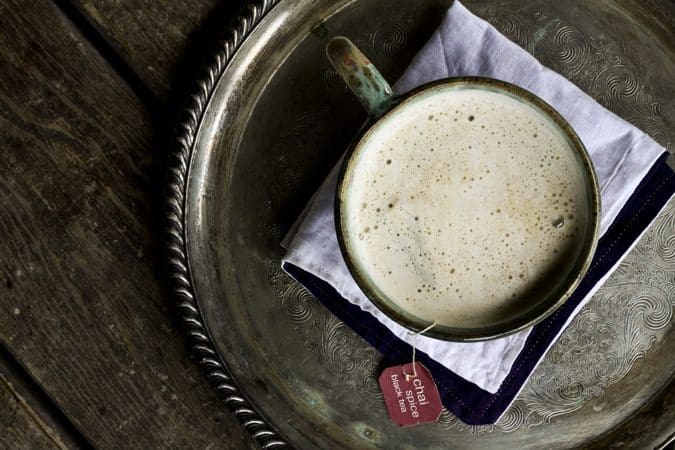 You can serve it up as is… You wouldn't be sorry. I promise.
It's creamy, spicy, and oh-so-pumpkiny. But there's a little something else you could do to take it over the top. You probably know where I'm going with this, right?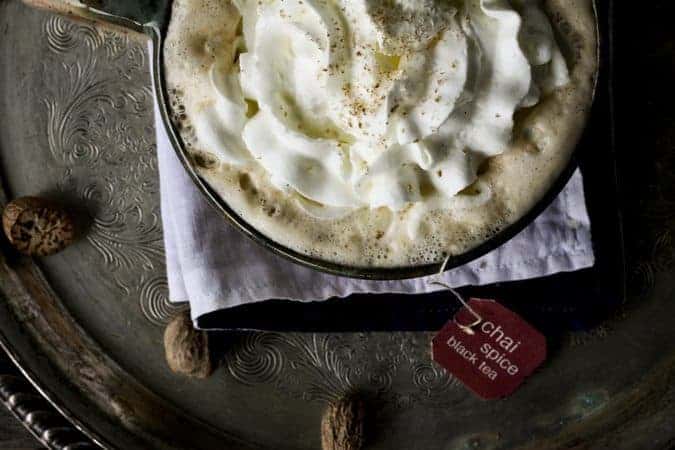 WHIPPED CREAM and LOTS of it! Don't forget to shave a little nutmeg over the top. That you WOULD regret. Believe me. There's one final instruction. Wrap both hands around that mug and slurp. Lick your upper lip to make sure you got all the whipped cream and nutmeg. Now tell me… do you feel happier than you did when you started?
P.S. Coffee drinkers… we tea drinkers are an accommodating crew. If you replace the specified chai with a shot of espresso or a small cup of strongly brewed coffee, you will have yourself a pretty dandy coffee Pumpkin Spice Latte, or so my dearest coffee drinkers have told me.
Use this to make Pumpkin Spice Chai Latte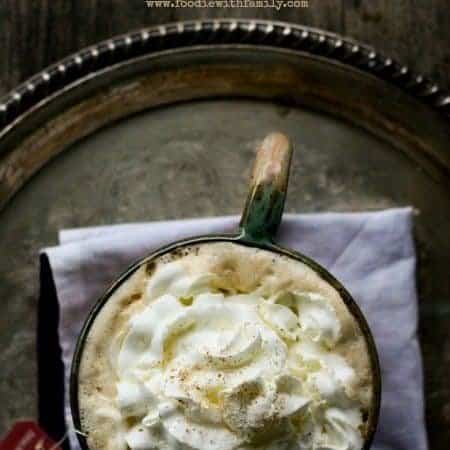 Tea drinkers rejoice! We can get in on the pumpkin spice latte train! Make this beautiful Pumpkin Spice Base and store it in the refrigerator for up to two weeks to whip together a creamy, pumpkiny, sweet cup of chai whenever the craving strikes. P.S. Coffee drinkers, I suppose you can use it, too. xoxo Adapted from and with thanks to
Lori The Recipe Girl
Ingredients
For the Pumpkin Spice Base:
1

cup

real pumpkin puree

not pie filling

3/4

cup

light brown sugar

1

tablespoon

ground cinnamon

1

tablespoon

vanilla extract

1/2

teaspoon

ground ginger

1/4

teaspoon

freshly grated nutmeg

1

pinch of salt
For the Pumpkin Spice Chai Latte:
2

tablespoons

Pumpkin Spice Base

1

cup

milk

whole, 2%, skim, almond, coconut, soy, what have you...

1

chai tea bag. I like Stash Chai Spice best.
Optional for serving:
Whipped Cream

fresh nutmeg
Instructions
To Make the Pumpkin Spice Base:
Mix all of the base ingredients together until it is evenly coloured and darkened. Scrape it into a clean jar with a tight fitting lid. Store in the refrigerator for up to 2 weeks.
To Make a Pumpkin Spice Chai Latte:
Pour about 4 ounces of boiling water over the chai tea bag (unless you're using green or white chai, in which case you use under-boiling water!) Let it sit while you prepare the pumpkin milk.

Stir the Pumpkin Spice Base and the milk together in a microwave safe 2 cup container or a saucepan until smooth. If microwaving, heat on high until steamy and frothy. If heating in a saucepan, heat over medium high heat until steaming hot.

Pour the hot milk into the tea. You can leave the tea bag in if you'd like it very strong or remove it according to your own preference. Serve as is or top with a thick cap of whipped cream and a few scrapings of nutmeg. Say ahhhhhhh.
Nutrition
Calories:
307
kcal
Carbohydrates:
67
g
Protein:
3
g
Fat:
2
g
Saturated Fat:
1
g
Cholesterol:
8
mg
Sodium:
55
mg
Potassium:
348
mg
Fiber:
3
g
Sugar:
60
g
Vitamin A:
12840
IU
Vitamin C:
3.5
mg
Calcium:
186
mg
Iron:
1.8
mg
Nutritional information is an estimate and provided to you as a courtesy. You should calculate the nutritional information with the actual ingredients used in your recipe using your preferred nutrition calculator.

This post was originally published September 21st, 2013, updated September 2015, and again with links and information in October, 2017.
Save
Save
Save
Save