This thick cream cheese dill pickle dip chock full of dill pickle and sweet onion is for serious pickle fans! Dunk pretzels, vegetable sticks, crackers or chips in it or spread on a bun for a hamburger that'll knock your socks off!
Excuse me. Have I told you before that I am a serious pickle maniac? I have never met a dill pickle I didn't love.
You know Cookie Monster? I'm Pickle Monster. Salty, vinegary, crunchy P-i-i-i-i-i-i-i-i-i-i-i-i-i-ickles!
While we're at it and I'm confessing things, I should probably mention that I'm also devoted to dip. All dip.
Creamy dips? Yes. Vegetable dips? Uh huh! Cheese dips? Gimme, please.
Normally, I combine these two loves by dunking pickles in dip, and until last week that made me perfectly happy. Then I saw this on Pinterest. Dill Pickle Dip? What WAS this wonder?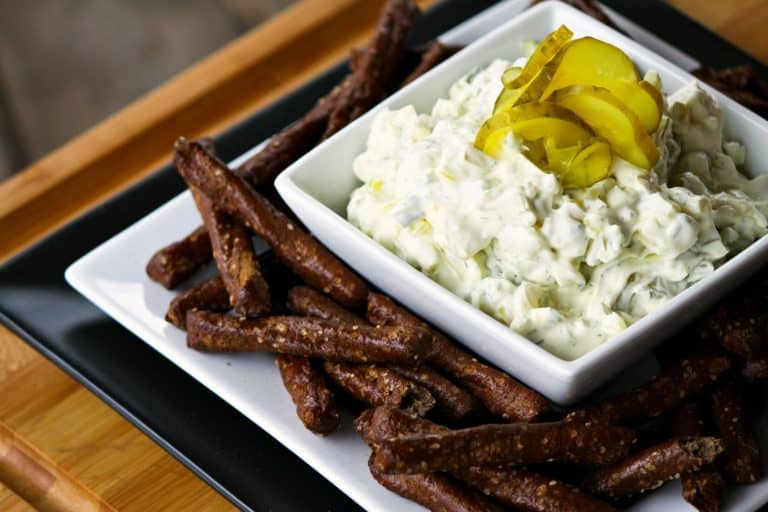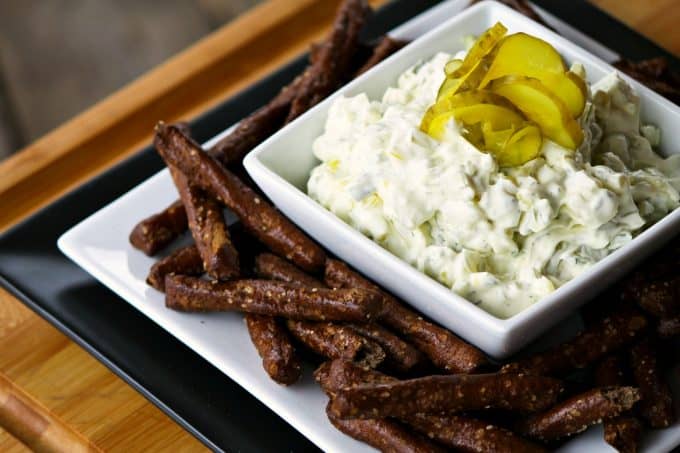 I had never heard of dill pickle dip. What was WRONG with me?
How had I never thought of this? As lovely as the pickle dip looked on that link, I knew I'd be formulating my own.
Her recipe called for cashews (soaked) and we have a rule about cashews here in our house. Namely, if they are here, they will be eaten all. by. themselves.
Knowing that there was no way a dip that uses cashews in any form other than cashew shape would get made, I let inspiration take the reigns and went to town. Not literally.
I don't go to town just to buy dip ingredients.
Well, most of the time I don't.
This time I didn't, because in addition to pickles, dip, and pretty socks, I also love cream cheese and that was what I was determined to use as the base for my dip. Why? Because cream cheese dips are the best dips in the world. Full stop.
After whipping together a simple combination of pickles, cream cheese, pickle juice (YES!), sweet onions (because pickles and onions and cream cheese are BFFs), dill and salt (because pickles, while salty, are not salty enough when stirred into cream cheese), the bowl was stashed in the refrigerator for an hour long rest just to let those flavours mingle.
I grabbed a bag of my pumpernickel and onion pretzels and sat down to inspect my handiwork. I dunked a pretzel, took a bite, and then I kind of blacked out a bit. I'm not sure what happened, but when I came to, the entire bowl of dip and bag of pretzels were empty. It's crazy, isn't it?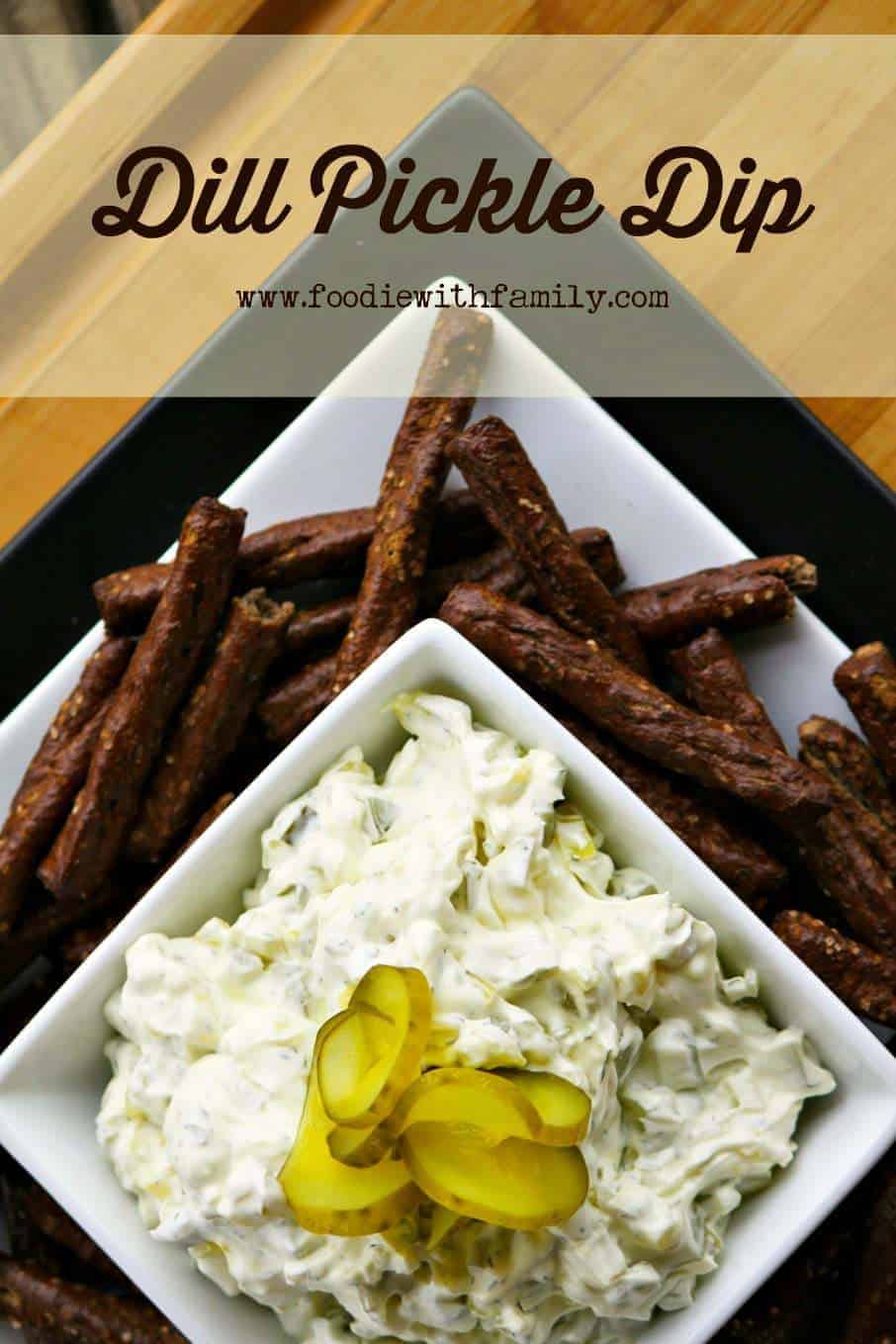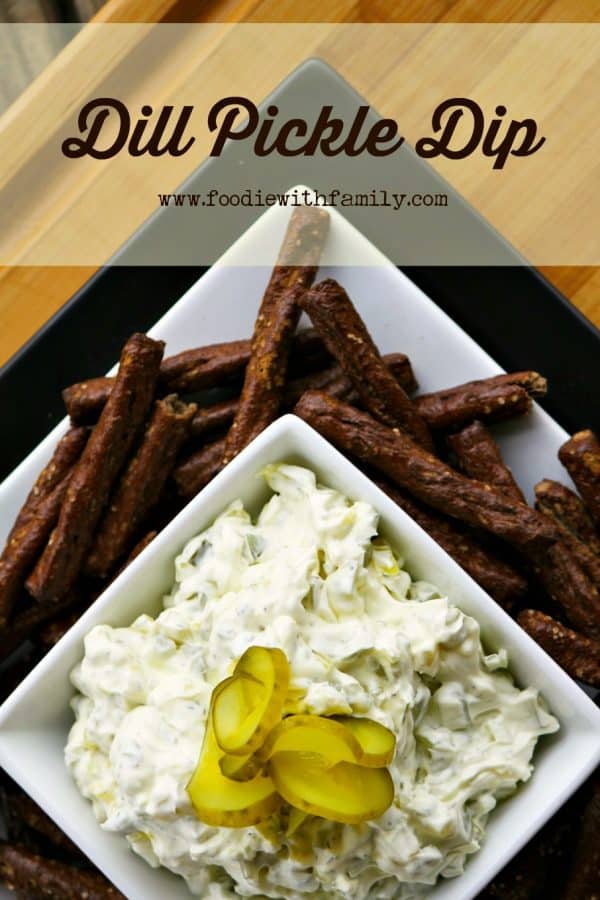 Dill Pickle Dip
Allow me to be Captain Obvious for a moment. This is a dip created by a pickle lover for pickle lovers.
If you don't like pickles you're probably not going to love this. Conversely, if you love pickles, you will love this truly, madly and deeply.
You can send me love notes. I'm okay with that. Psst. You should probably also try our Pickle Pizza if you're a pickle fanatic.
If you chop your pickles finely, you can get more dip on whatever you're dunking. If you chop your pickles more coarsely, you get bigger bursts of pickle flavour. Chop accordingly.
The more pickle juice you add, the less thick your dip will be.
If you or someone you love is bonkers for pickles, do yourself or them a kindness. Make this dip, lay out a bowl of it alongside some sturdy chips or pretzels or crackers or vegetable sticks or a nice, polished spoon and feel the love.
P.S. If you were to trip and fall and accidentally spread a little dill pickle dip on the bun for that nice hamburger you just made, you should probably go ahead and eat it. Again, I'll just point out I'm okay with fan mail.
Connect with Foodie with Family
facebook | pinterest | instagram | twitter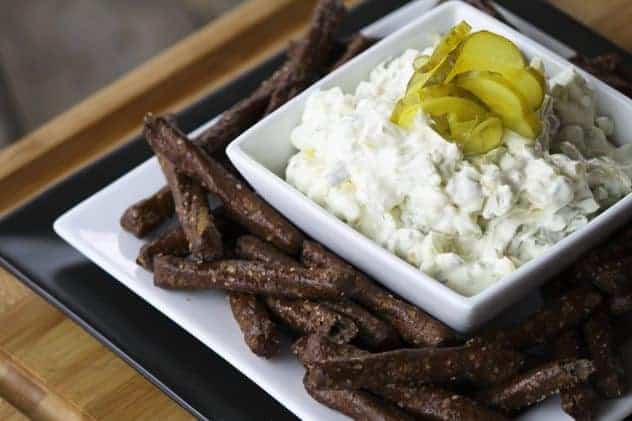 This thick cream cheese dip chock full of dill pickle and sweet onion is for serious pickle fans! Dunk pretzels, vegetable sticks, crackers or chips in it or spread on a bun for a hamburger that'll knock your socks off!
Ingredients
1

package of cream cheese

8 ounce, softened to room temperature

1- 1 1/2

cups

chopped dill pickles

1/4

cup

finely chopped sweet onion

2- 4

tablespoons

pickle juice

use less for thicker dip or more for thinner dip

1

teaspoon

dried dill weed

1/2

teaspoon

kosher salt

freshly ground black pepper

to taste
Instructions
Use a wooden spoon to press into the cream cheese then stir until loosened up and smooth. Stir in all of the remaining ingredients until evenly distributed. Transfer to a serving dish and cover with plastic wrap. Refrigerate for at least an hour before serving.

This dip is good for up to a week when stored tightly covered in the refrigerator. It may become thinner as the week draws to an end.
Nutrition
Calories:
177
kcal
Carbohydrates:
6
g
Protein:
3
g
Fat:
15
g
Saturated Fat:
8
g
Cholesterol:
49
mg
Sodium:
1680
mg
Potassium:
180
mg
Fiber:
1
g
Sugar:
3
g
Vitamin A:
835
IU
Vitamin C:
1.3
mg
Calcium:
98
mg
Iron:
0.7
mg
Nutritional information is an estimate and provided to you as a courtesy. You should calculate the nutritional information with the actual ingredients used in your recipe using your preferred nutrition calculator.
Originally published on February 16, 2012.
Save
Save
Save