I am so happy to partner with Sabra -one of my favourite food companies- for this delicious Hummus After School Snack Board. All recipes, photos, and opinions remain, as always, my own.
Can we have an honest moment? I was an excellent student. I got fantastic grades with very little effort. The truth is, though, that I did it all for the snacks. My mom was the Queen of After School Snacks. Her snacks were the stuff of legend. All of my friends wanted to come over to my house to eat.
And honestly, folks, we had next to nothing because my parents were in full-time ministry. So what was her secret? It was variety!
My mom would pull all sorts of odds and ends out of the refrigerator and pantry and arrange them in a fun way on a cookie sheet or cutting board. She'd plunk it down in front of us with a flourish and announce that our after school snack board was ready. I guess you could say my mom was one of the original food board makers, too.
My mom's boards always had a variety of some tasty carbs like crackers, delicious calcium source like cheese, crunch from raw vegetables and pickles, something spreadable like mustard or cream cheese, and whatever other bits and bobs she could find that filled spaces or looked fun. And we couldn't wait to dig in.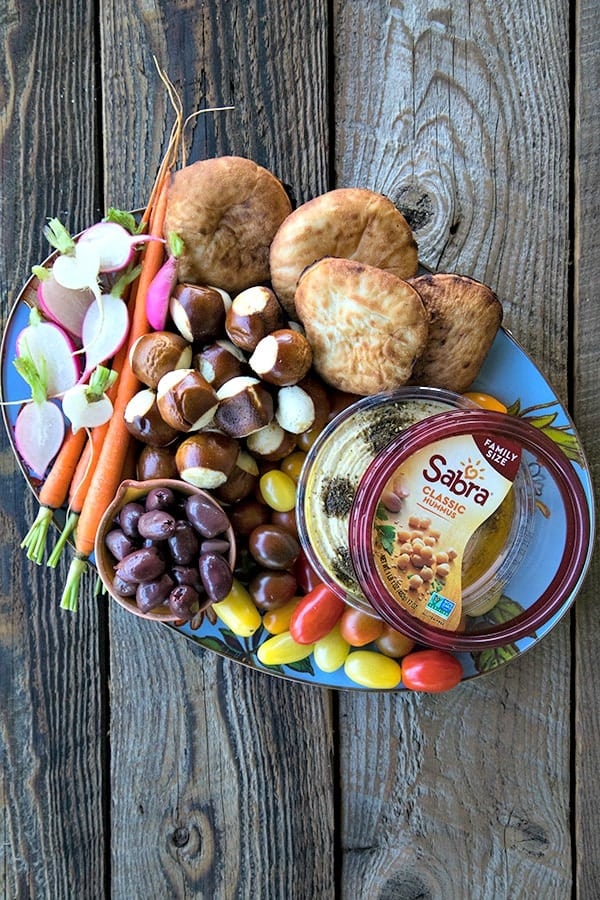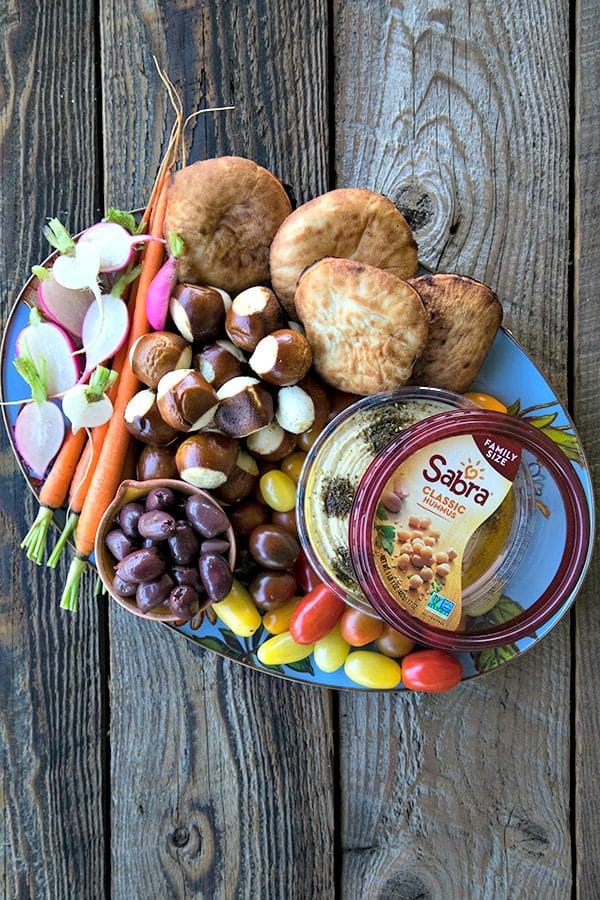 As a kid, I didn't even think about it; after school snack boards were fun and tasty. As an adult, I see the multi-layered brilliance here, though. My mom stretched her food budget while keeping us kids happy and getting us to eat something fairly nutritious!
So as I slowly but inevitably become more like my mom every day, the way most of us do, I celebrate it. Because when your mama is the Queen of After School Snack Boards, it's all good.
And also all good is this delicious Hummus After School Snack Board that I created in partnership with Sabra and in honour of my Queen Mum. My kids also love a good after school snack, and this one is the be-all-and-end-all.
Cook's Notes for Hummus After School Snack Board
Sabra has a hummus flavour to please everyone, and we love the Supremely Spicy, Roasted Garlic, and Roasted Red Pepper varieties here. We also like to gussy up the Classic Hummus for our after school snack board. Drizzle a little garlic extra virgin olive oil over the hummus and sprinkle with a little za'atar for extra flair.
My rule of thumb for these hummus after school snack boards is the 3, 2, 1 Rule. 3 vegetables, 2 carbs or breads, 1 hummus. I always have those on hand. Once I have those in place, any other tasty bits I have in the refrigerator can be added.
This Hummus After School Snack Board is also satisfying enough to pack on a smaller scale as a fun lunch. Just add a single serving size container of Sabra hummus and smaller amounts of the 3, 2, 1 Rule to your lunch bag.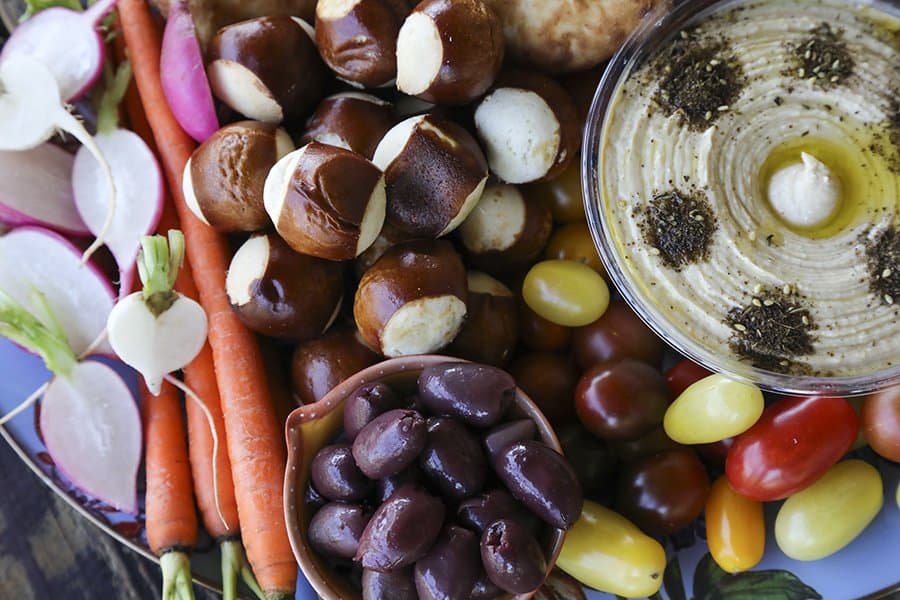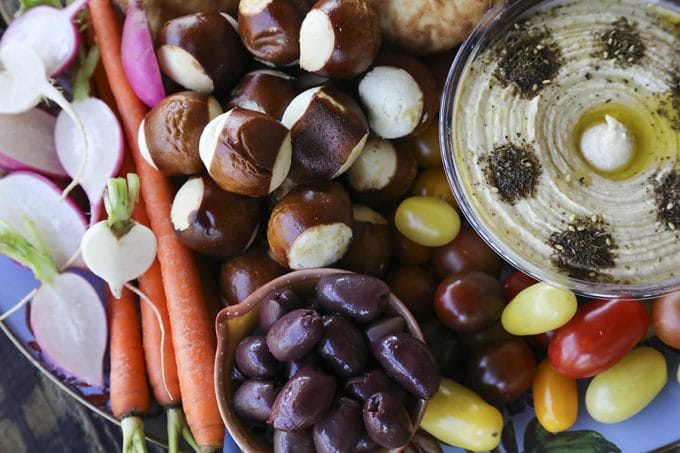 Tasty things to include with your Hummus After School Snack Board
We love to have some Ginger Switchel Drink, Pumpkin Spice Chai Latte, Homemade Larabars, little pieces of Tocino (Filipino Cured Pork), Honey Chipotle Oyster Crackers, Seasoned Snack Crackers, Jalapeno Cheddar Bread, The Best Sourdough Soft Pretzels, Easy Garlic Knots, and Sesame Braided Semolina Bread with our Hummus After School Snack Boards. These homemade graham crackers also look good.
Use these to help make your Hummus After School Snack Board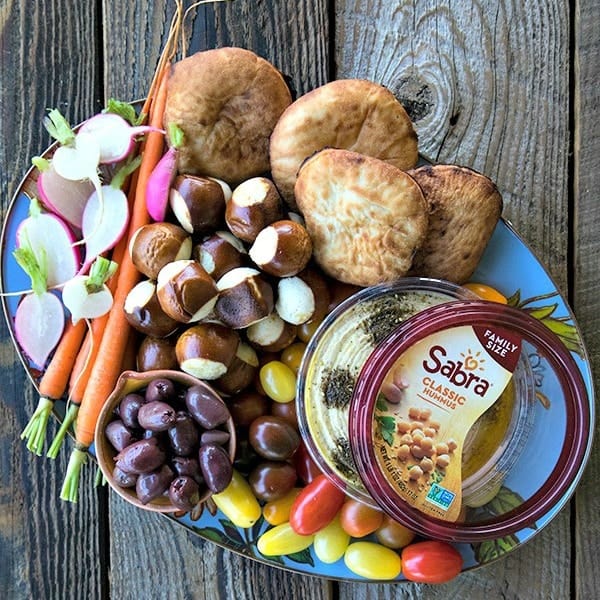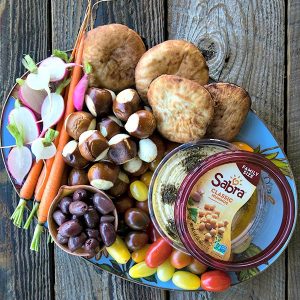 Make the ultimate Hummus After School Snack Board using the 3, 2, 1 Rule and your favourite hummus. Find out how to create a nutritious, delicious, irresistible snack out of what you have on hand with this simple rule!
Ingredients
1

cup

hummus

2

small pita rounds

1

cup

soft pretzel bites

4

radishes

4

small carrots

1

cup

cherry tomatoes

1/4

cup

kalamata olives
Instructions
Arrange all of the ingredients on a platter and dig in!

If you don't have all of these specific ingredients, feel free to swap in something else, remembering the 3, 2, 1 Rule. 3 vegetables+2 carbs+1 hummus or protein!

Nutrition
Calories:
641
kcal
Carbohydrates:
104
g
Protein:
21
g
Fat:
17
g
Saturated Fat:
2
g
Cholesterol:
1
mg
Sodium:
1587
mg
Potassium:
969
mg
Fiber:
14
g
Sugar:
8
g
Vitamin A:
20850
IU
Vitamin C:
25.4
mg
Calcium:
165
mg
Iron:
6.9
mg
Nutritional information is an estimate and provided to you as a courtesy. You should calculate the nutritional information with the actual ingredients used in your recipe using your preferred nutrition calculator.