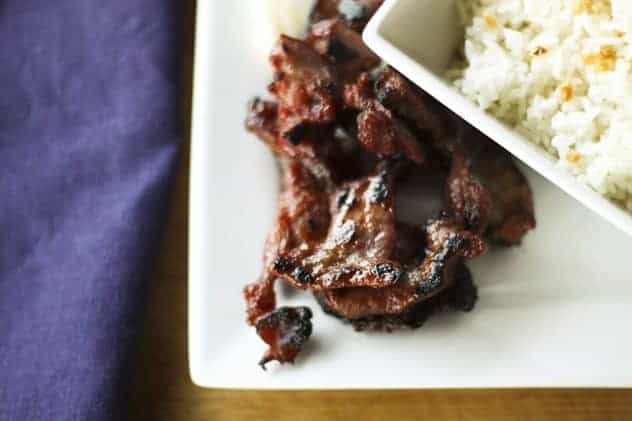 UPDATE: The National Pork Board has generously extended the deadline for The Foodbank donation partnership with you all because you've been asking such great questions! In other words, every question you leave for pork producers in the comments on this post, the Foodie With Family facebook page, or on Twitter with the hashtag #sustainablepork will translate to 1 pound of pork being donated to The Foodbank of Ohio. No strings attached!
Pork.
It's what's for dinner in one form or another in our house most nights of the week. We are a porkcentric household. That has probably been pretty obvious here with all my use of bacon, chops, roasts, Cuban Pork, Cola Pulled Pork, Hot Tex Mess, and more (scroll down for porky goodness.) So when the National Pork Board contacted me to see if I wanted to take a tour of a sustainable pork farm, I replied with a pretty quick 'yes'. Then they contacted me again and made me an offer I couldn't refuse.
They are going to donate one pound of pork to The Foodbank in Ohio for every question you all leave here for me to ask them when I go on the tour up to 1,000 pounds. Holy cow. Or should I say holy pig?
Just think of how many people we can feed if you all are curious enough!
Let's talk for a moment about what I'll be looking at when I head out to Dayton. According to the information sent to me by the National Pork Board, within a 50 year time frame, pig farmers have reduced their carbon footprint by 35%, reduced water usage by 41% and decreased the amount of land needed to grow feed by 78%. Additionally, we are getting more meat from fewer pigs – which helps reduce the use of natural resources to raise pigs.
 The Pork Checkoff has been honoring the sustainability efforts of pig farmers for 18 years with the Pork Industry Environmental Steward Award. The farm I will be visiting on July 24 was recently honored with this award.
So where do you come in on all of this? Just leave me a question in the comment area below (or on Twitter using the hashtag #SustainablePork ) between now and July 13th. All comments and tweets that have questions for me to ask the farmers and the National Pork Board representatives will count and one pound of pork will be donated per question or tweet.
~~
Now I figure you all know me well enough to realize that I couldn't talk this much about pork without giving you a great recipe for it. That would just be unkind. Without further ado, I present to you one of my favourite freezer pleasers; Tocino. (Pronounced toe-see-no.)
Tocino is a Filipino dish that I have loved longer than I can remember. Starting with a humble and inexpensive pork shoulder (about $1.29/lb where I shop), a little slicing and a quick cure in some sugar and spice in a resealable zipper top bag, you end with a salty but sweet, crisped pork that tastes like super meaty bacon. It doesn't take much work, and once you've tossed the pork with your sugar and spices, you can stash the bag in the freezer for up to six months before frying or grilling. Low investment, mega-payoff.
The sugary salty cure that enrobes the thin slices of pork keeps the mixture from freezing totally solid, so you can scoop out what you'd like to serve for dinner and leave the rest frozen for future meals. The traditional accompaniment for tocino is garlic fried rice and a fried egg for the classic Filipino breakfast called Tosilog. Doesn't that sound like just about the best possible way to start a day? I speak from experience when I say it makes one heckuva lunch, dinner or snack, too.
Tocino is traditionally cured with red food colouring or other agents (like the pink salt, or saltpeter, used in curing other meats). I'm not super keen on food colouring, so I use beet powder as recommended by Jun-Belen. That man is a genius. The beet powder adds an appetizing red colour without adding any funky insect or chemical colouring. Lest you fear the beet, let me assure you it does not impart any beet-y flavour to the finished product.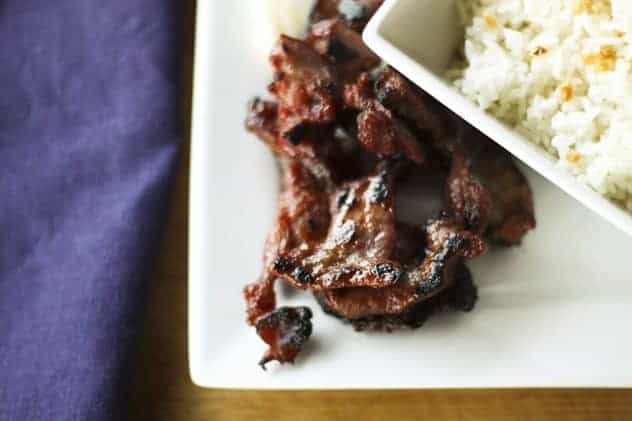 Tocino (Filipino Cured Pork) | Make Ahead Mondays
Rate Recipe
Do you love meaty bacon? Give this traditional Filipino, quick-cured, pork a try. An inexpensive pork should gets a boost from the fast-curing sugar, salt and spice combination and yields salty, sweet perfection that is reminiscent of thick cut bacon. It stores beautifully in the freezer for whenever cravings strike.
Ingredients
3

pounds

pork shoulder

sliced into 1/8-inch thick pieces

3/4

cup

raw or granulated sugar

3/4

cup

brown sugar

light or dark

1

clove

garlic

peeled and minced

3

tablespoons

kosher salt

3

tablespoons

beet powder

you can substitute about 15 drops of red food colouring if you prefer.

1

tablespoon

light soy sauce
For Cooking:
Vegetable

peanut or canola oil for pan frying
Instructions
Combine both sugars, the garlic, salt, beet powder (or food colouring), and soy sauce in a very large resealable zipper top bag (2 gallons) or a stain-proof container with a tight fitting lid. Close the bag or container tightly and shake to combine ingredients evenly. Open the bag or container, drop the pork slices in and reseal. If using a bag, squeeze the bag to thoroughly coat all of the pork with the sugar and salt mixture. If using a container, use your hands to move the pork around to be sure it is thoroughly coated in the mixture then close the container tightly.

Put the bag or container in the refrigerator and let it cure for at least 2 days before using, but up to 4. Alternatively, you can put the container or bag directly into the freezer (letting it sit for at least a week before using) for up to 6 months.

To Cook the Tocino:

Whether using fresh from the refrigerator or directly from the freezer, remove the amount of tocino you want to cook and let it sit in a colander for several minutes to drain any excess liquid.

You may either grill the tocino over high, direct heat, or pan fry in batches. To pan fry, heat about 2 teaspoons of oil in a heavy-bottomed skillet over medium-high heat. Fry the pieces until cooked through and browned with little charred bits, about 2-3 minutes per side.

Serve, if desired, with garlic fried rice and a fried egg for a traditional Filipino breakfast.
Nutritional information is an estimate and provided to you as a courtesy. You should calculate the nutritional information with the actual ingredients used in your recipe using your preferred nutrition calculator.
Don't forget to leave your question for the pork farmers and National Pork Board below. Every question you leave will provide a hungry family with a pound of pork!
From July 23-24, I will be attending a tour of an Ohio family's pig farm with the National Pork Board (NPB) focused on sustainability efforts in the pork industry. NPB will cover the costs of my trip, but all opinions expressed are my own.