Roasted Beets and Za'atar… maybe not what you thought you wanted to start your Monday with, but I assure you these are two incredible tastes that do marvelous things together. Ready to dive into some hot pink good stuff?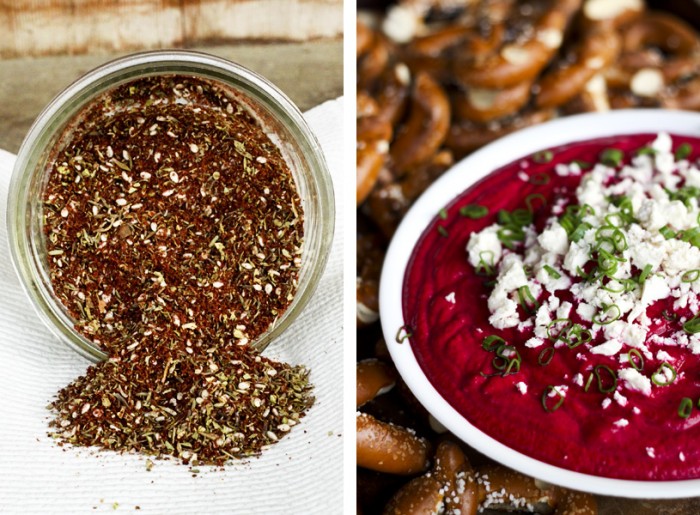 Yum and YUM! That's what I think when I look at these pictures, but I have the advantage of having eaten both of these things in vast quantities. I know the dip is a rather shocking shade of pink. Some of you may already find that appealing. On the other hand, there may be some who aren't accustomed to having their food brighter than a flashing neon sign. As a person who doesn't use many food dyes outside of Easter egg season, I admit I find foods that are day-glo to be automatically suspect. You won't find red velvet cakes here on Foodie with Family unless they're made with (HERE COMES THE TIE-IN) beet powder.
You've seen me use beet powder before, both here and here, for its ability to turn things pink or red, but the only full-on beet recipe I can remember publishing here is this ancient one (in internet terms) from 2008. Oh the formatting and photography… Let's chalk those up to inexperience, shall we? I still stand by that recipe, though! I'll confess, too, that the reason I don't have tons of beet recipes here is that until a couple of years ago, I thought I didn't like them. It turns out that what I didn't like was canned beets which was -until that point- all I'd ever eaten of the beet world. I ate a roasted beet on a salad at a friend's house (because I will NOT say no to food put in front of me at a friend's house!) and was shocked to find I loved it. She filled me in on how she roasted them and it's been a beet love affair ever since. Nowadays, I can't get enough of sweet, earthy, tender, roasted beets.
So that vibrant magenta colour you see in the dip? It's all beet, baby! There isn't a drop of food colouring anywhere near it. The beets are slow-roasted in a moderate oven (350°F), then peeled. Why peel after they're roasted? We wait to peel them until after cooking because the skins slip right off of the tender beets. If we peel them before cooking, it means a paring knife, stained hands, and -in all likelihood- a stained countertop and floor. Trust me. There's another reason, though, that many people don't mention. It's because leaving the skins on the beets while they're roasting adds a small layer of insurance that they won't dry out. Oh sure, you do many other things to help that along (drizzling with olive oil, wrapping in foil, etc…) but every little bit helps.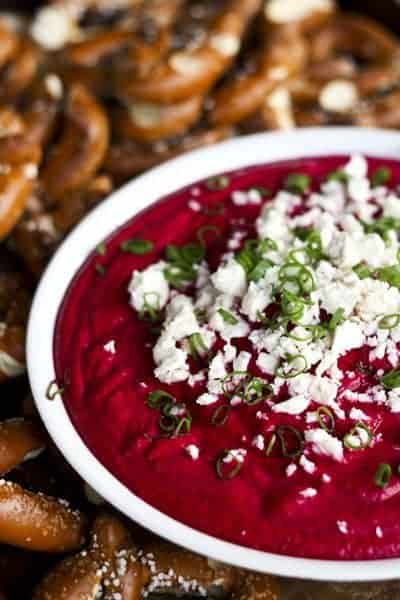 The peeled, roasted beets get cut into wedges and dropped into a food processor along with two to four garlic cloves (I'm on the repelling Dracula end of the garlic spectrum, so I go higher), a little cayenne pepper, and a cup of plain Greek yogurt. Those are whirred together until smooth, then olive oil, salt, and za'atar are added and blended in until you have a velvety, savoury and sweet, earthy, ever-so-slightly spicy, flavourful dip that is perfect for crusty bread, pita chips, sourdough pretzels, vegetable sticks, and more. My husband, The Evil Genius, likes to put a thick dollop of the dip in a bowl of cottage cheese.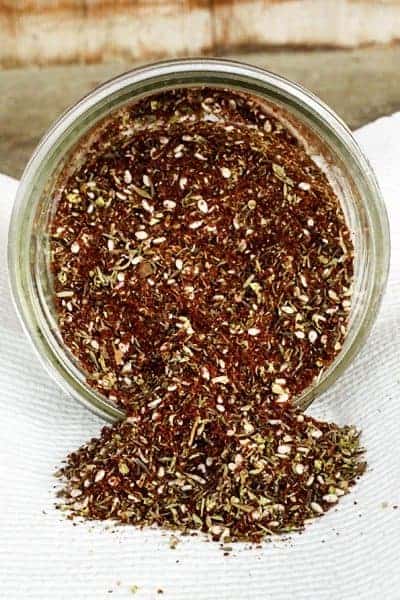 You may be stuck asking, "Za'what?" To which I say, " Za'atar!" It's a super exotic sounding herb blend that is used widely in Middle Eastern food. And it's also the reason today's post counts as a Make Ahead Monday contribution. While it sounds super exotic, the taste is one that is homey and familiar with its blend of thyme, oregano, marjoram, toasted sesame seeds, salt, and (the only possibly unfamiliar ingredient) dried sumac*. Sumac has a citrusy flavour that brightens up the other herbs in the blend. Za'atar is one of my go-to flavours for fish (broiled OR grilled), popcorn, salad dressing, soups, and dips. Shoot. Sometimes, I even sprinkle a little over my pizza before eating it. Please give it a try. If you're not already a Za'atar lover, I think you will be soon! Because it doesn't take much time to whip up, but makes everything it touches so special, I highly recommend you keep a jar of this in a cool, dark pantry at all times. Like most herb blends, it has a tendency to give up some of its punch as it ages, so start with a batch the size of the recipe I'm sharing today. If you find yourself -like me- sprinkling it on and in everything, double the batch next time!
*I gave a pretty solid explanation of what sumac is and why it's tasty on this post, so if you haven't read it, please do. As for this moment, you can certainly wait to gather your own staghorn sumac when it's in season, or you can buy a bag of sumac from Amazon.com.
(affiliate link) like I did a while back so I could make Fattoush. I'd say buy the sumac.
Do you like beets? Did you grow up thinking you didn't like them (like me)? How about Za'atar? Have you had it or do you already love it? Talk to me!
XO Rebecca
P.S. This dip is healthy! Bonus!!
P.P.S. I got my kids to eat it by telling them it would turn their pee pink. They ate it. I win.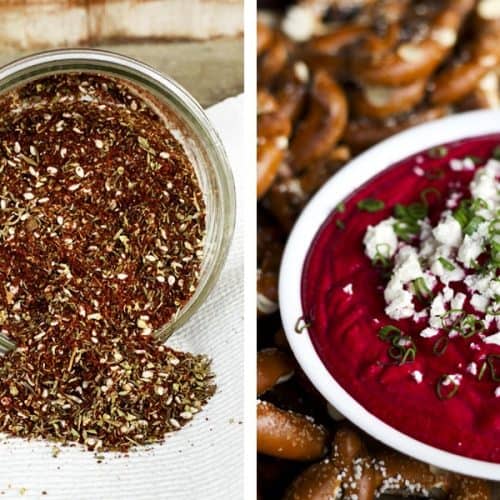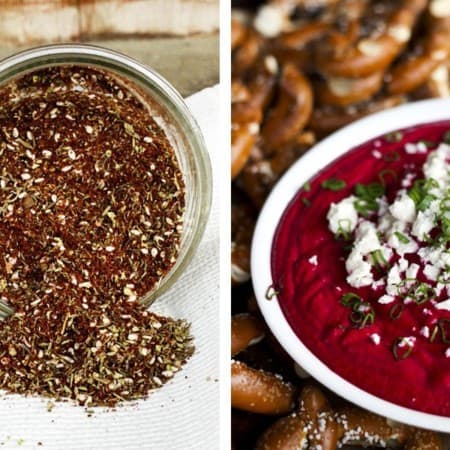 Roasted Beet Dip and Homemade Za'atar | Make Ahead Mondays
Rate Recipe
Make your own Homemade Za'atar blend for a fraction of the cost of store-bought (if you can even FIND it in your local stores.) This flavourful herb and salt blend adds brightness to everything it touches from dips to soups to grilled or broiled chicken or fish. Speaking of dip, add Za'atar, garlic, olive oil, and plain Greek yogurt to roasted beets and whir them in the food processor for a velvety smooth, savoury and sweet, earthy, vibrant magenta dip that is equally at home dipped with crusty bread, pita chips, sourdough pretzels, vegetable sticks, or served with grilled meats. Roasted Beet Dip recipe adapted from and with thanks to
Food and Wine.
Ingredients
For the Homemade Za'atar:
4

tablespoons

dried ground sumac

2

tablespoons

dried thyme leaves

not ground thyme

2

tablespoons

dried oregano leaves

not ground oregano

2

tablespoons

dried marjoram leaves

not ground marjoram

1

tablespoon

toasted sesame seeds

*See Notes

1 1/2

teaspoons

coarse kosher salt

or other coarse salt
For the Roasted Beet Dip:
1 1/2

pounds

fresh beets

scrubbed clean

2

tablespoons

plus 4 tablespoons extra virgin olive oil

divided

1

teaspoon

kosher salt

plus more for the dip, to taste

1/2

teaspoon

black pepper

1

cup

plain Greek yogurt

can substitute regular plain yogurt, if desired

2

to 4 cloves garlic

peeled

1/2

teaspoon

ground cayenne pepper

**See Notes

1

to 2 tablespoons Za'atar

to taste

1

tablespoon

honey

***See Notes, optional

4

tablespoons

feta cheese

crumbled

3

green onions

green part only, thinly sliced
Instructions
To Make the Za'atar:
Add all of the ingredients to a blender, food processor fitted with a blade, or mortar and pestle. Pulse several times to blend and slightly break up -but not obliterate- the herbs and salt. You want to be able to recognize the sesame seeds in the blend. Transfer to a jar with an airtight lid and store up to three months in a cool, dark place.
To Make the Roasted Beet Dip:
Preheat the oven to 350°F. Line a rimmed baking sheet with foil. If the beets still have greens attached, cut them off, leaving 1-inch of stems attached to the beets to make them easier to handle after roasting. Trim off any little 'tails' coming from the beets. If your beets are mid-sized to large (peach sized and up) you may want to cut them in half lengthwise to help them roast more quickly. Place any halved beets cut side down on the foil and drizzle 2 tablespoons of olive oil over the beets. Sprinkle with the teaspoon of kosher salt and the black pepper and use your hands to move the beets around in the oil and salt. Place another sheet of foil over the beets, bring up the bottom piece of foil and crimp it with the top piece all the way around, making a packet to keep moisture in with the beets as they roast. Roast in the oven, checking for doneness every 20 minutes or so. They are done when you can easily insert a fork or butterknife in the thickest part of the beet without much resistance. If the beets seem to be drying out before they're tender, drizzle a tablespoon of water on each beet that is drying out before re-sealing the foil and roasting for more time. You can also remove beets that are done and cook ones that need more roasting for as long as it takes.

When the beets are done, let them rest in a covered bowl until they're cool enough to handle easily. When they've cooled, use a paper towel to wipe off the beet skins. Trim the tops of the beets, cut them into wedges and put them into the bowl of a food processor fitted with a metal blade along with the garlic, yogurt ,and cayenne pepper. Process until smooth. Scrape down the sides of the food processor, add the remaining 4 tablespoons of extra virgin olive oil and 1 1/2 tablespoons of the za'atar. Blend the dip, scrape down the sides of the food processor, and taste the dip. Add salt and additional za'atar, to taste. If the beets aren't especially sweet, you can add the optional tablespoon of honey. Blend one more time just to combine. Scrape the dip into a serving dish, shallow dishes are the prettiest, sprinkle with the crumbled feta and garnish with the sliced green onions. If you wish, you can scatter a little additional za'atar over the dip before serving.

Can be served slightly warm, room temperature, or chilled. Leftovers keep well, tightly wrapped, in the refrigerator for up to a week.
Notes
*If you do not have or cannot find toasted sesame seeds, add raw sesame seeds to a dry, clean pan over medium heat. Shake the pan back and forth until the sesame seeds are fragrant, but not necessarily taking on colour. Immediately pour the toasted sesame seeds from the pan to prevent them from scorching.
**If you are sensitive to spicy foods, you may wish to omit this. If you are like us and like things fiery, you may wish to increase this. I have put as much as 1 teaspoon of cayenne pepper in my dip and been happy. I think 1/2 teaspoon is a happy medium. Start with the 1/2 teaspoon (if you're not sensitive to spice) and increase to taste.
***Most younger, smaller beets are sweet enough without any added sweetener. If you get more mature or huge beets, the natural sweetness tends to drop off and sometimes needs a little augmentation. I prefer to use honey both because it's easy to find in stores and because I think it plays nicely with beets. Do me a favour, though, and don't add anything until the dip is otherwise finished and you've tasted it. I am pretty confident that at this time of year, there won't be any beets that need extra sweetening!
Nutritional information is an estimate and provided to you as a courtesy. You should calculate the nutritional information with the actual ingredients used in your recipe using your preferred nutrition calculator.
Disclosure:There is an Amazon.com affiliate link for dried sumac in the post. If you choose to purchase that or another item after clicking through that link, I receive a small commission from Amazon.com which in no way effects the price of the item. Thank you!