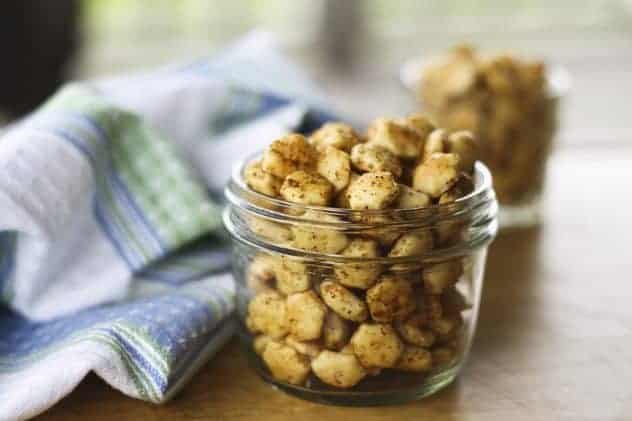 For today's Make Ahead Monday I wanted to go in a not-freezer direction. You know I love my freezer full of goodies, but there are certain staples I make ahead of time that have nothing to do with the chill chest. They're too good not to share and so? I shall share!
I specifically wanted to talk snack food-slash-salad toppers. I have a thing for salads. It's my mom's fault. (Hi, Mom!) Every night we'd ask mom what we were having for dinner. Nine nights out of ten, her answer went something like this, "Some _____, a little bit of _________, a _________, and A BIG GREEN SALAD."
As kids, my siblings and I didn't necessarily appreciate the effort that went into providing a BIG GREEN SALAD (which is always in all-caps because of the enthusiasm with which mom always said it.) in Northern Michigan in deep winter in the middle of nowhere. That took some planning! Mom always pulled out all the stops on salad. This is probably why I'm a salad-a-holic.
My mom's salads have always been festive. There's no such thing as a boring salad from my Mom. Heck. My mom is just festive. Period. But we've covered that ground before. Mom is big on salad toppings. We would raid the camp kitchen for Baco-s (perennial favourite), but we'd also toss on anything that was handy: frozen peas, hard boiled eggs, onions, bell peppers, cheese cubes, raisins, chow mein noodles, croutons, potato chips, corn chips, crushed pretzels, and anything else that held still long enough to get tossed on top. This brings me to a point…
Have you ever noticed that most things that are delicious and crunchy out-of-hand are also wonderful on salads? It's true. It is a universal law. These Honey Chipotle Oyster Crackers are not an exception, but they are exceptional. Exceptionally habit forming, that is. Oh, Mama. Oh, Mom. Slightly sweet and slightly spicy with hints of garlic and onion, these crunchy little gems beat snack-attacks and top salads or soups with equal aplomb. Can snack crackers have aplomb you ask? These ones do.
I've given the recipe here today in what I think of as a baby amount. In other words, it's in a quantity calculated to serve a family that is not as big as ours. If you're a snacky sort (as I am) or you have a bigger family (as I do), you're going to want to double or even triple the recipe. The crackers last for up to fourteen days in an airtight container, and if they start getting a little on the softer side, they can be recrisped in the oven. Whether you simply munch these from a bowl or pop 'em on your salad, you're going to be so glad you made them.
It's Spring; It's time to get your BIG GREEN SALAD on and top it in style! Or as Vince would say, "Stop having boring salad. Stop having a boring life!"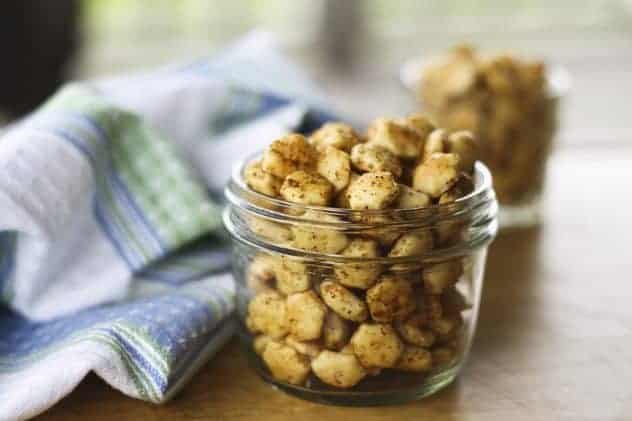 Honey Chipotle Oyster Crackers | Make Ahead Mondays
Rate Recipe
Turn boring old oyster crackers into these slightly sweet and slightly spicy, crunchy little Honey Chipotle Oyster Crackers with hints of garlic and onion that beat snack-attacks and top salads or soups with equal aplomb.
Ingredients
1

10 ounce bag oyster crackers

3

tablespoons

canola oil

1

tablespoon

honey

1

teaspoon

water

½- ¾

teaspoon

chipotle powder

½ - ¾

teaspoon

kosher salt

½

teaspoon

granulated garlic

½

teaspoon

granulated onion
Instructions
Preheat oven to 350°F. Spray a rimmed 11-inch by 17-inch (or equivalent sized other pans) with non-stick cooking spray.

In a medium sized mixing bowl, whisk together the canola oil, honey, water, chipotle powder, salt, granulated garlic and granulated onion until it is smooth and even. Add in the oyster crackers and toss gently to coat them evenly, then spread them in a single layer over the prepared pan.

Bake the crackers for 15 minutes, stirring -especially around the edges- every 5 minutes, or until the coating is dried on the crackers. Let cool completely on the pans and transfer to an airtight container. These will be good for up to 14 days.
Nutritional information is an estimate and provided to you as a courtesy. You should calculate the nutritional information with the actual ingredients used in your recipe using your preferred nutrition calculator.