Today's post on How to Cook Pork Shoulder is sponsored by my good friends at the National Pork Board. All photos, opinions, and recipes remain -as always-my own.

Have you just rifled through your freezer to find a giant, frozen pork shoulder that you bought because you were impressed by the low cost per pound of that giant cut of pork and have no idea what to do with it? You're not alone.
First, thaw that big pork shoulder for a couple of days in the refrigerator, then let's talk about why you're about to be as happy as a clam that you had the foresight to stash one of my favourite cuts from any protein source ever.
Stay tuned for recipes from both me and my friends at the Pork Board to help you figure out what to do with your freezer full of meat!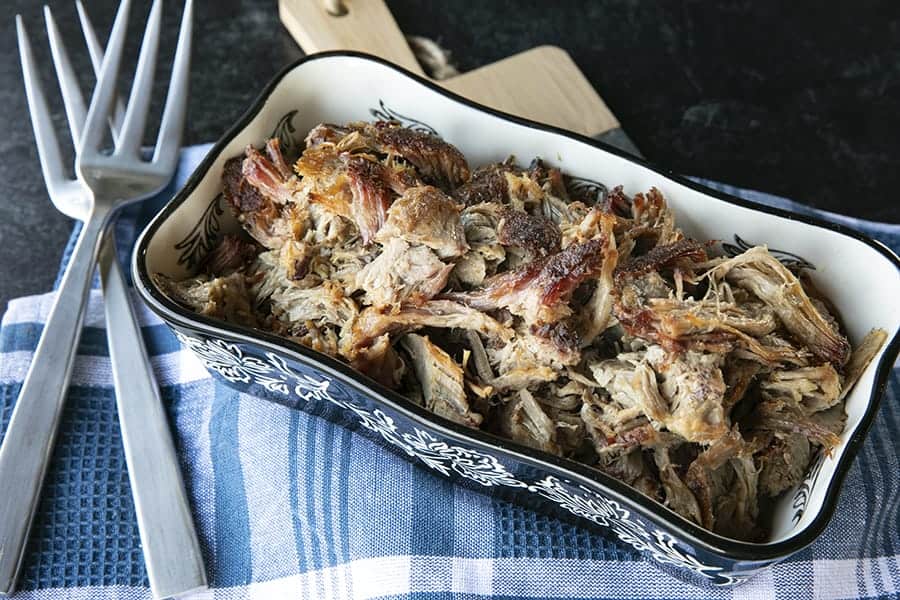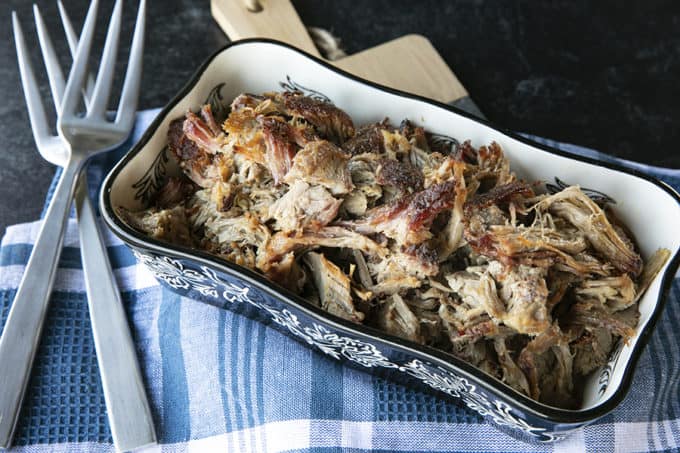 Why Use Pork Shoulder
I'm so excited to teach you both how to cook pork shoulder and why/how you can get more meals out of cooking one (not-so) little pork shoulder than just about any other cut of anything. I mean that sincerely.
Pork shoulder is an incredibly economical cut. Where I purchase pork shoulder, it is generally $1.69/pound.
Even if you count on losing 40% of the starting weight to cooking (see the section below on how much to use), you're still ending up with a big bang for your purchasing dollar because pork shoulders are generally quite large.
All that wouldn't matter much if it was a fussy cut to cook. Thankfully, when you consider how to cook pork shoulder and just how simple and versatile it is, you'll be awfully glad you have that pork shoulder on hand.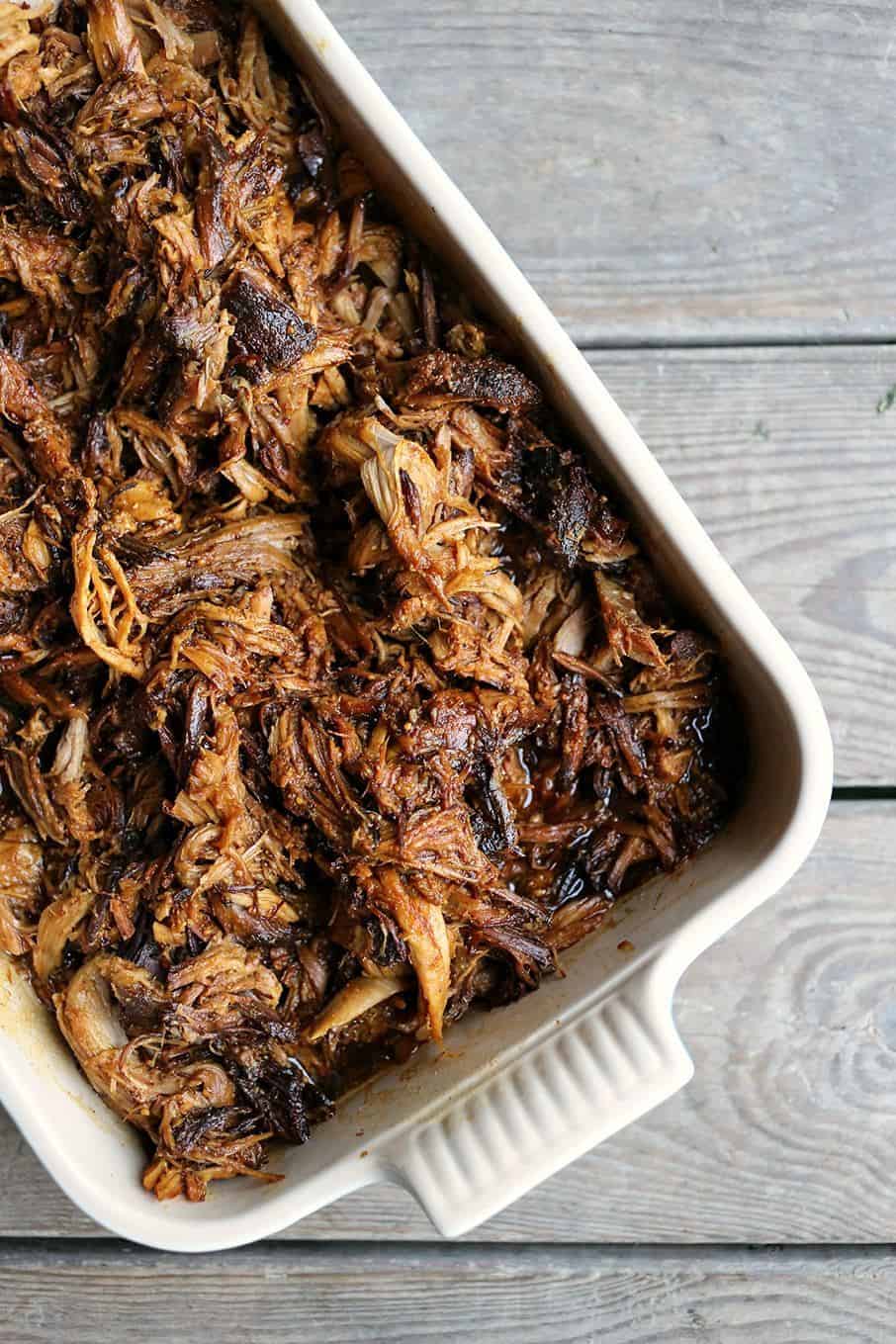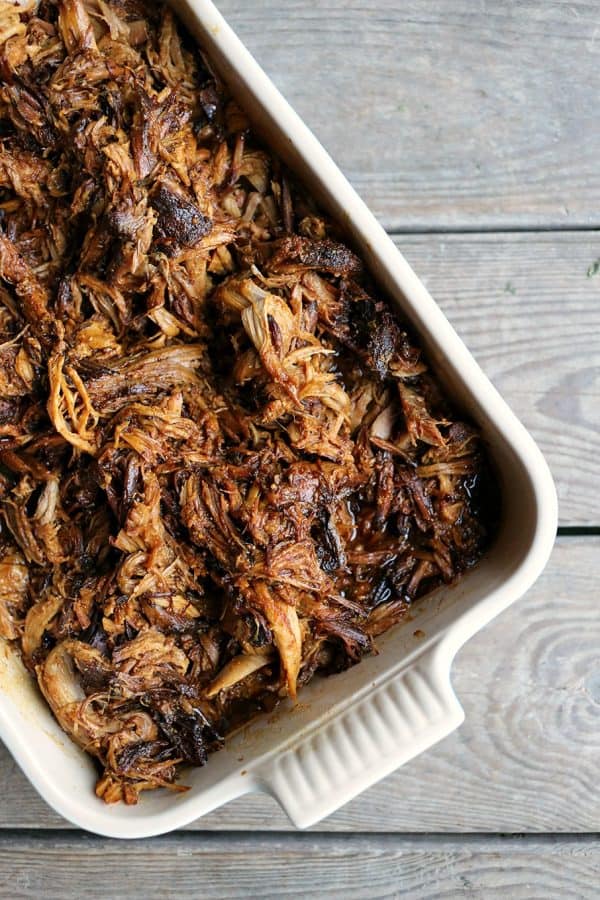 How to Cook Pork Shoulder
You have so many options here, it's almost an embarrassment of riches. From the slow cooker to the smoker to the grill to the Dutch oven, it's virtually assured that your kitchen is equipped to make one today.
How to Cook Pork Shoulder in a Slow-Cooker
Your slow-cooker or crockpot will need to be at least 5 quarts to manage a pork shoulder, but honest-to-pete, you are only limited by the size of your slow cooker vs. the size of your pork shoulder. This is the easiest method BY FAR.
It is as easy as unwrapping your pork shoulder, plopping it into the slow-cooker, adding your desired seasonings, covering it, and letting it go on HIGH for one hour then LOW for another 7 hours or overnight. It becomes so tender it falls right off of the bone.
One of my first popular recipes on the blog here was our slow-cooker Cuban Pork, which we still make and devour on a regular basis.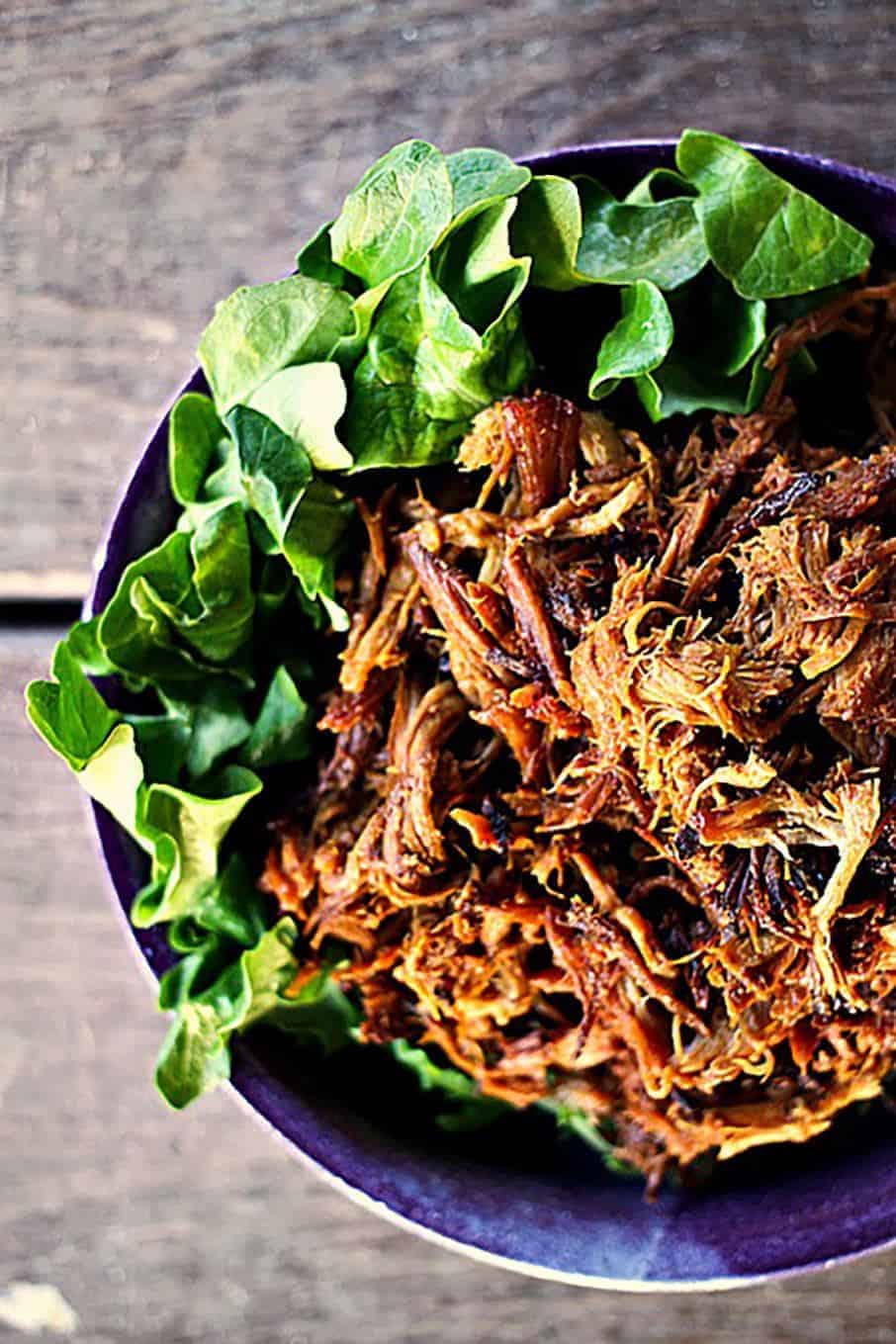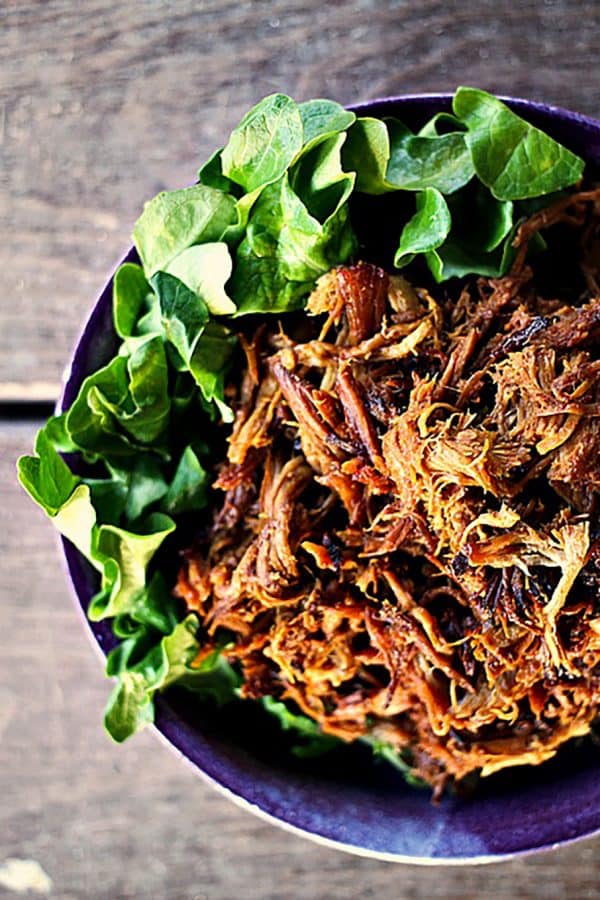 Instant Pot Pulled Pork
Bless those Instant Pots and other counter top pressure cookers. They sure make life easy!
This fantastic instant pot pulled pork recipe from the National Pork Board shows you how simple it is to prepare pulled pork in an instant pot using a boneless pork shoulder. In just a little over an hour, you'll have succulent pulled pork and be ever so pleased with yourself.
How to Cook a Pork Shoulder in a Dutch Oven
If you aren't much for slow-cookers or instant pots, I'm betting you have a Dutch oven on hand. I think this method is almost as easy as the slow-cooker method, but just requires a little more attention since you start it on the stove top and then finish it in the oven.
Searing it first is optional, but is always tasty. You add it into the Dutch oven with either water, broth, hard cider, or a lager style beer and bring to a simmer before covering and transferring it to the oven to braise slowly for a couple of hours.
How long the process takes depends on a few things including the size of your pork shoulder and whether it has a bone or is boneless. It's ridiculously hard to over-cook pork shoulder, though, so don't worry about that so much as whether you've achieved that fall-apart tender state that characterizes amazing pulled pork.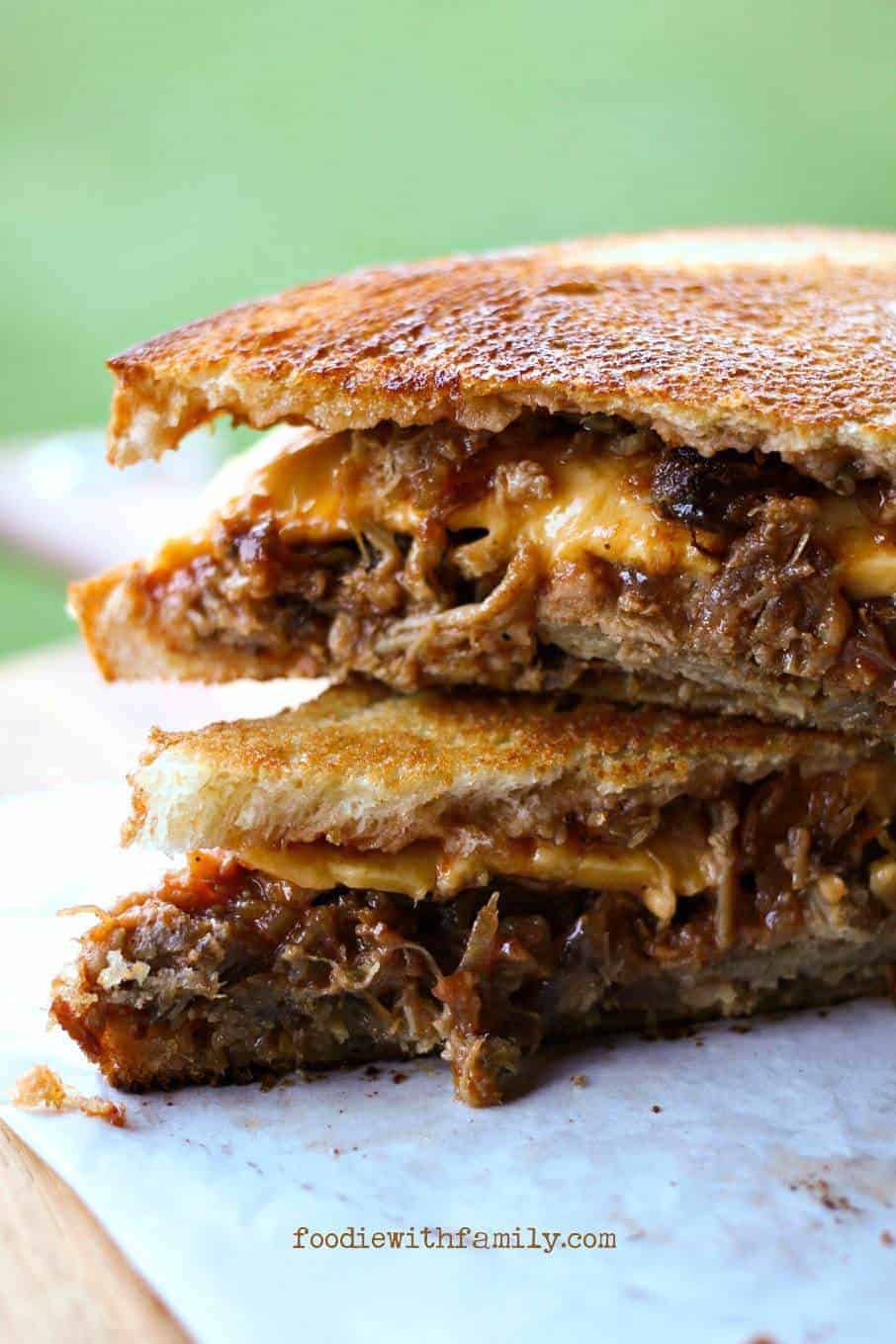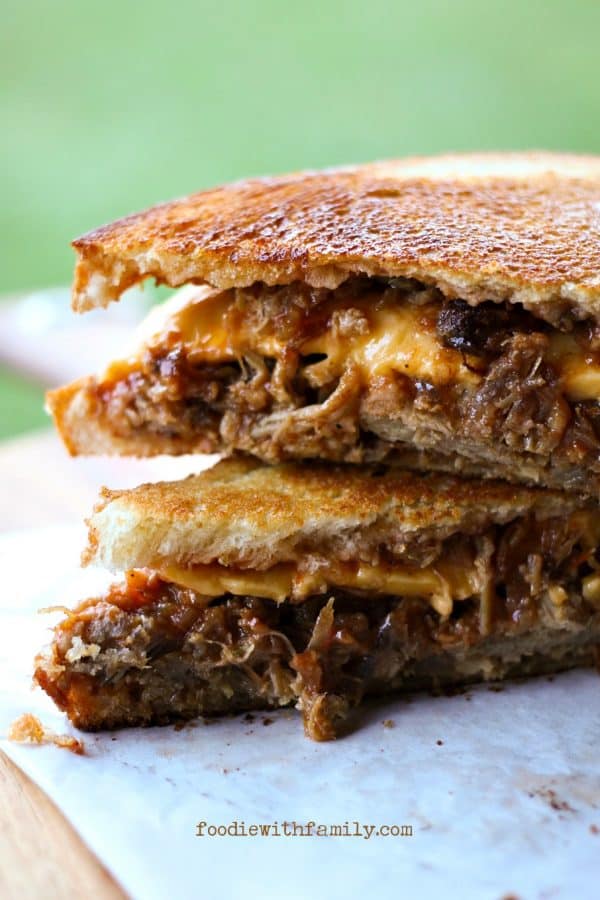 How Much Pork Shoulder To Use for Pulled Pork
When you cook a bone-in pork shoulder, you should count on losing about 40% of the starting weight regardless of cooking style. To determine how many meals you'll get out of a pork shoulder, multiply the starting weight by 40% then subtract that from the overall weight.
That will give you a general idea of how much pulled pork you'll end up with after cooking the shoulder. Then assume you'll want ⅓ to ½ a pound per person, per meal.
For instance, if you start with an 10 pound bone-in pork shoulder, you can generally figure you'll end up with 6 pounds of cooked meat which will yield between 12 and 18 servings. If you start with a boneless cut, you'll have less loss of weight in cooking, but it will almost invariably be more expensive to purchase per pound.
And friends, if you really want pulled pork but don't have a shoulder, you can substitute the following cuts and prepare the same way; pork butt, pork sirloin roast, boneless spare ribs or country style ribs, or boneless pork loin in equal weights. Just keep in mind that the smaller cuts will cook much faster than the larger cuts and pay attention to cooking times.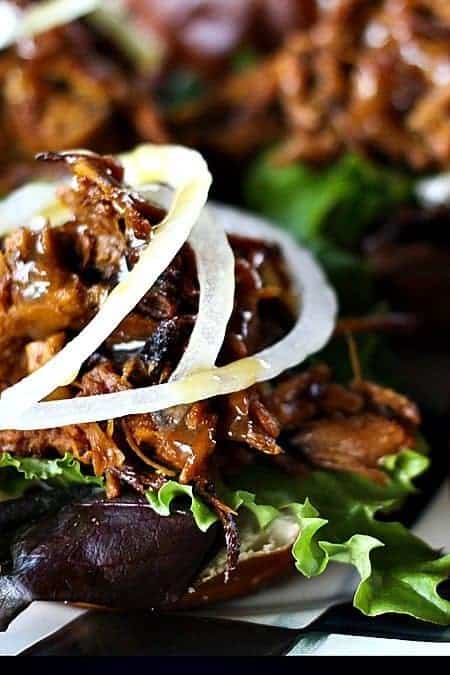 Pulled Pork Recipes
If you're looking for more pantry-friendly ingredient combos for pulled pork recipes, I have more choices for you. You can make Slow Cooker Honey Mustard Pulled Pork, and Apple Cider Pulled Pork, in addition to the aforementioned Classic Slow-Cooker Cuban Pork.
Let's say you've already cooked your pork shoulder and are looking for ways to use it up in pulled pork recipes, you lucky dog. Right here on Foodie with Family, I have Pulled Pork Huevos Rancheros, Filthy Burgers (beef, barbecue, pulled pork, and bacon burgers), Barbecue Pulled Pork and Toasted Cheese Sandwiches, Barbecue Pulled Pork Pizza, BBQ Pulled Pork Overstuffed Shells, and Pulled Pork Walking Tacos, to name a few.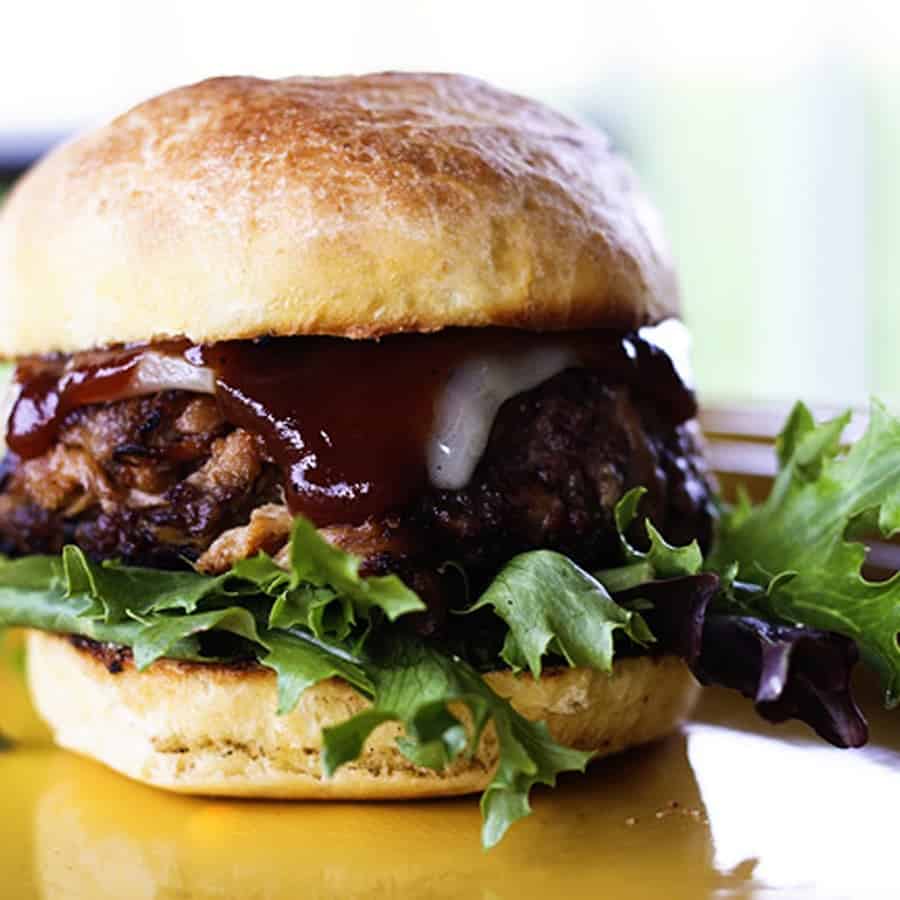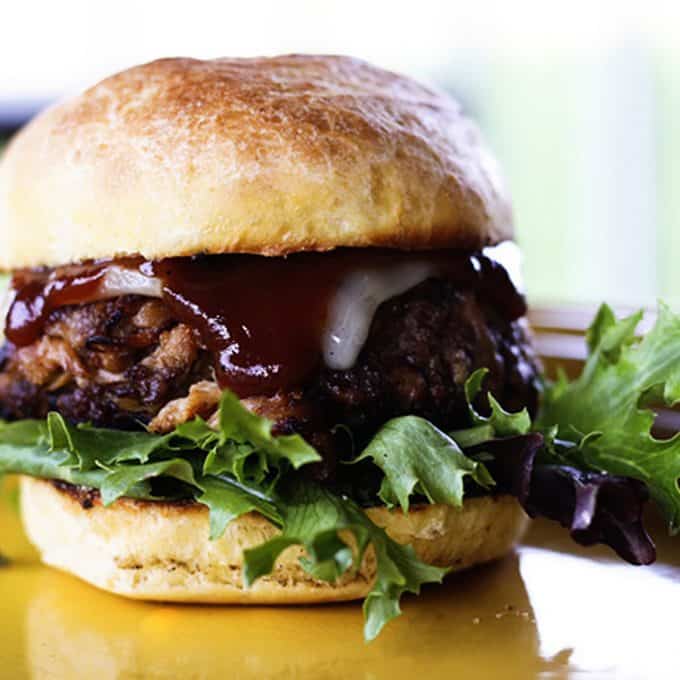 The National Pork Board is a fantastic source for recipes using pulled pork in delicious ways.
They have pulled pork mac and cheese, pulled pork nachos, and pulled pork soft tacos. But they also have tons of recipes where you can sub in pulled pork.
These Tex-Mex Stuffed Peppers from the Pork Board call for ground pork (also delicious!) but if you have pulled pork on hand and no ground pork, just sub in 3 cups of pulled pork for the ground and skip the browning of the pork since it's already fully cooked.
Likewise, if you find yourself craving this black bean pork chili but have no raw boneless pork sirloin roast, don't despair! You can easily substitute 3 cups of pulled pork for the cut up roast and proceed as directed with the bonus of it being done sooner since you're starting with already cooked pulled pork!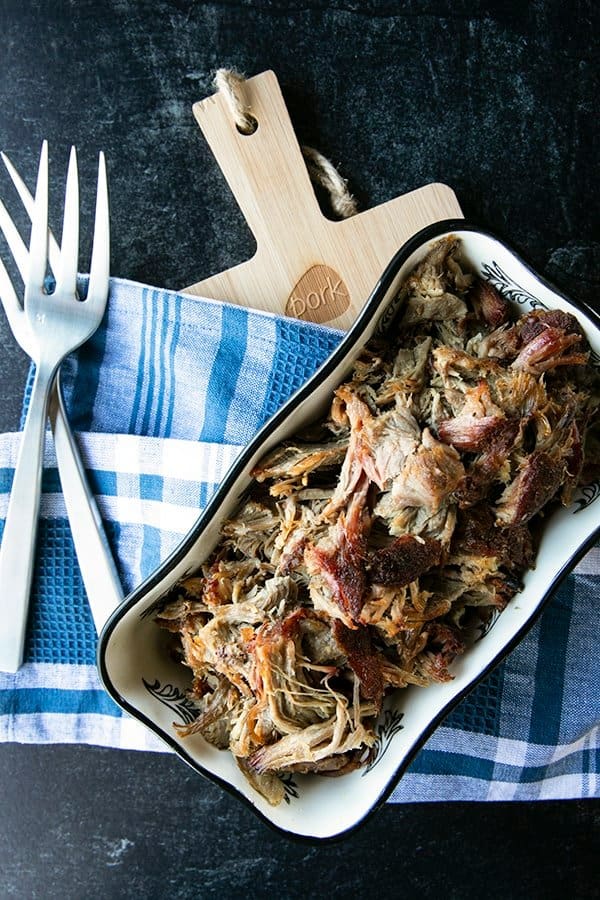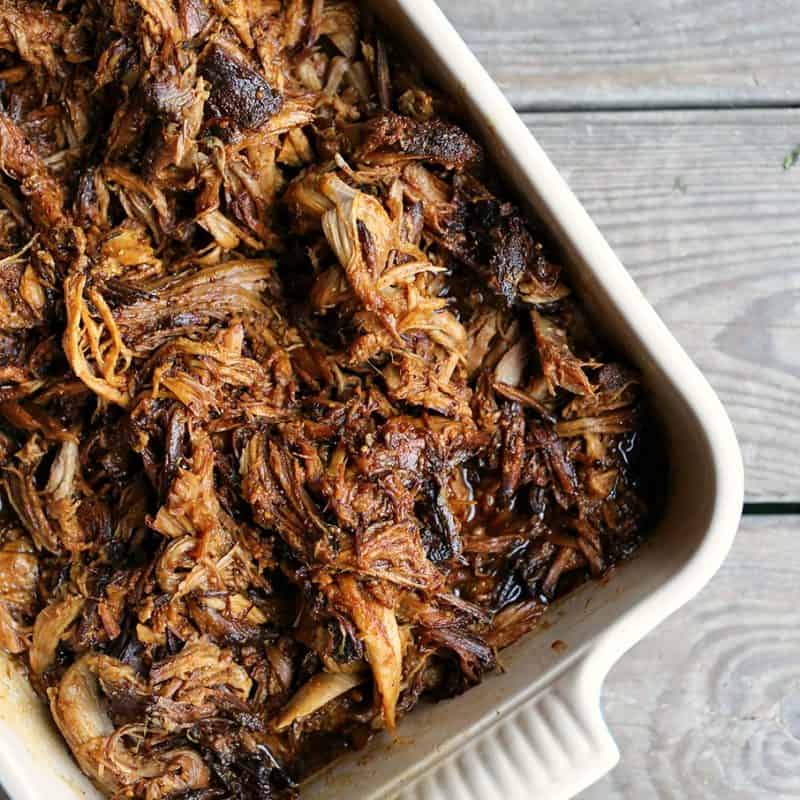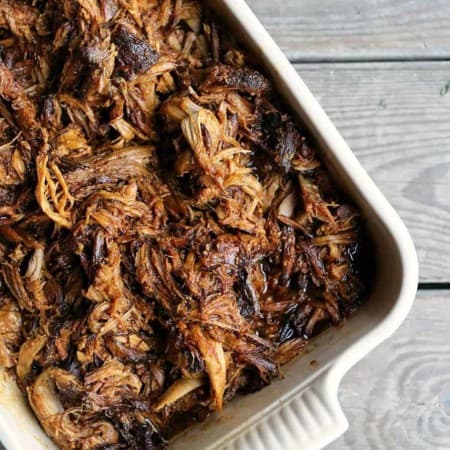 Whether you're looking for how to cook a pork shoulder and make pulled pork in a slow cooker, Dutch oven, or smoker, this is the recipe for you! All instructions are included!
Ingredients
1

tablespoon

olive oil

or vegetable, canola, sunflower, or peanut oil

10

pounds

pork shoulder

bone-in or boneless

2

onions

peeled and sliced into thick slabs

12

cloves

garlic

peeled and left whole

1

tablespoon

kosher salt

1

teaspoon

freshly ground black pepper

2

cups

water, broth, orange juice, hard cider, or lager beer
Optional
stems of fresh cilantro or parsley for flavour and taste

other aromatics like toasted dried chile peppers, fresh hot peppers, or spice blends
Instructions
How to Prepare a Pork Shoulder for Cooking
Trim any large sections of fat away from the outside of the shoulder, leaving small amounts and interior fat. Sprinkle the surface with salt and pepper.
How to Cook Pork Shoulder in a Dutch Oven
Preheat the oven to 325°F.

Place your 5 quart or larger dutch oven over medium high heat. If you'd like to sear the pork shoulder first, you can, but it's not strictly necessary.

To sear the pork, drizzle a tablespoon of oil into the Dutch oven and place it over medium high heat. Add the pork shoulder and brown on all sides.

Nestle the sliced onions and garlic around the sides of the pork shoulder, add the liquid, then bring to a simmer. Cover with the lid and carefully transfer the whole thing to the oven.

Set the timer for 2 hours when you'll begin checking it for doneness. The time it takes your pork shoulder to be done cooking will vary wildly based on a variety of factors including the starting weight and whether it is bone-in or boneless.

Check the pork shoulder every 30 minutes after the 2 hour timer for doneness. A finished pork shoulder will fall away from the bone or shred easily when prodded with forks.

When in doubt, cook for another half an hour. It's nearly impossible for you to over-cook pork shoulder, particularly when you're checking it every half hour.
How to Cook Pork Shoulder in a Slow Cooker
Place the prepared shoulder into a large slow-cooker. A 10 pound shoulder will likely require an 8 quart or larger slow cooker. Smaller pork shoulders can go into smaller slow cookers.

Add all remaining ingredients, put the lid in place, and cook on HIGH for 1 hour.

Turn the slow-cooker to low, and cook for 7 to 12 hours, or until the meat is fall-apart tender.
How to Cook Pork Shoulder in a Smoker
If you like, you can use a barbecue spice rub on the trimmed pork shoulder in place of salt and pepper. Just rub it generously.

Preheat a smoker to 250°F with the wood of your choice for at least 10 minutes.

Place the pork shoulder directly on the grate with a drip pan underneath it to catch fat. Smoke for 3 to 5 hours hours, or until the internal temperature reaches 160°F.

Transfer the pork shoulder to a disposable aluminum pan and add in the onions, garlic, and pour in apple cider, hard cider, or lager beer with the pork shoulder. Do not use herbs or other aromatics with smoked pork. Tightly cover with foil and continue cooking for an additional 3 to 4 hours or until the internal temperature of the pork at its thickest part reaches 204°F.
How to Pull Pork
When it's so tender it falls apart, carefully move the pork shoulder to a large, heat-roof mixing bowl. Strain the cooking liquid and any aromatics through a fine mesh sieve or colander set over a saucepan on medium high heat.

While the pan juices reduce to 1/3 of their original volume, use two forks or my favourite heat-proof barbecue gloves to shred or pull the pork into bite sized pieces.

Add the reduced pan juices a couple of tablespoons at a time, tossing to coat until the pulled pork is as dressed as you'd like it.
Nutrition
Calories:
291
kcal
Carbohydrates:
2
g
Protein:
36
g
Fat:
14
g
Saturated Fat:
5
g
Cholesterol:
124
mg
Sodium:
608
mg
Potassium:
660
mg
Fiber:
1
g
Sugar:
1
g
Vitamin A:
11
IU
Vitamin C:
3
mg
Calcium:
34
mg
Iron:
2
mg
Nutritional information is an estimate and provided to you as a courtesy. You should calculate the nutritional information with the actual ingredients used in your recipe using your preferred nutrition calculator.