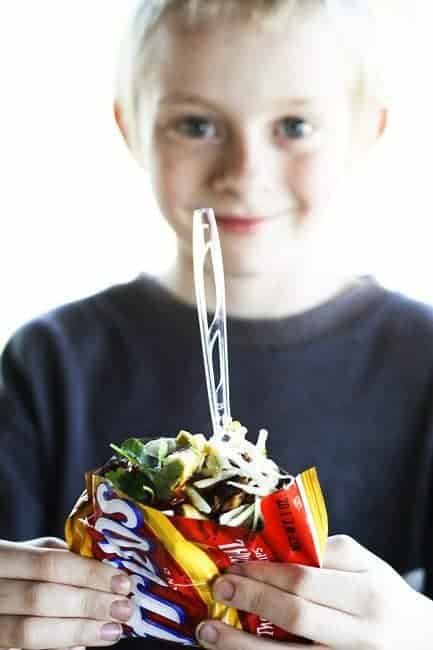 First, I need to get something out of the way. Isn't my boy adorable? Look at those eyes. That face. That smile. This boy melts my heart. Now, let's talk about what he's holding in his hands that's causing that smile.
It's that GO GO GO GO time of year. Everything from buds on trees to school schedules is running at breakneck speed toward an explosion of greenery and excitement. Snow has melted here and whether it stays that way remains to be seen, we ARE in New York State after all. The kids, however, are busy puddle jumping, creek stomping, tree climbing, and biking like it's their job. I suppose it is.
Busy days and activity filled evenings are the standing order. Sometimes you just gotta meet the challenge with a walking taco.
Right about now, there's a big part of the Central U.S. saying, "You betcha!" and quite a few other folks scratching their heads. A Walking Taco, as I have known it, is a snack sized bag of Fritos (!) or Doritos (?) that is sliced open down the side and piled high with taco toppings.
Yes, you must slice it down the side instead of popping it open in the usual way. Observe my hand model with the filthy-playing-outside-all-day nails.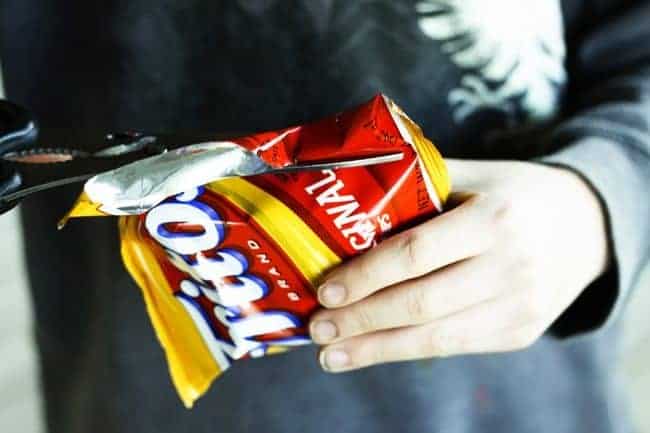 Why do it this way? Well, it's for fittin' in all the stuff, of course. Just look at this spread.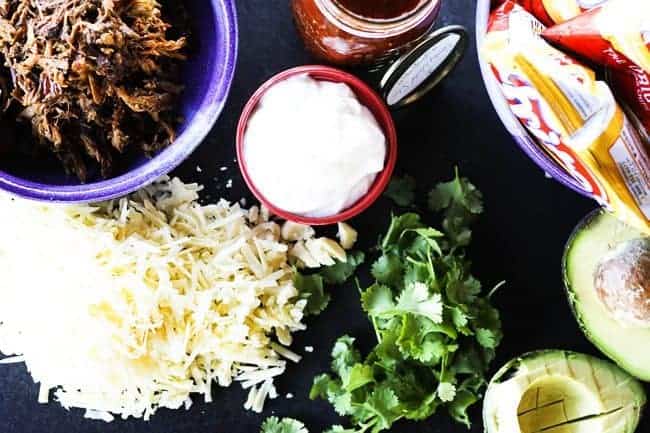 This standard of high school football, baseball, softball, and soccer games, wrestling matches, and community fundraisers is popular both for its ease of preparation and for the lack of additional serviceware needed for it. The chip bag forms the bowl, you pile in all the toppings that you possibly can and a plastic spoon or fork is all you really need to deliver the goods where they're intended to go.
Since by this point you probably know I'm more than a little fixated on pulled pork (see examples here, here, here, and here) and I've waxed on and on about making a ridiculously inexpensive huge amount of pulled pork to keep in the freezer (examples here and here) I'll spare you that harangue this time around. I'm going to go ahead and assume you have a stash in your freezer or have plans to make some soon. If you don't, I'm pretty sure you're aware you can make it easily ~or~ you have a source for purchasing pre-made pulled pork. Any which way you shred that pork shoulder, a Pulled Pork Walking Taco is sure to make your entire crew gleeful.
Heck. It makes ME gleeful. You know how I feel about Fritos.
Can a meal get easier than this? Well, sure… if you call someone to deliver it, but even with the bagged chips, I'm thinking you're still ahead when you make this at home. With a little creative insulated packaging, you could even take this on a day excursion or a trip to the park for a fast dinner.
What's your favourite fast meal? Have you indulged in Walking Tacos?
XO
Rebecca
P.S. Here's a free pro Walking Tacos tip; after you open your bag of chips, but before you start piling in the goodies, slightly crush the chips. This helps them to mix into whatever you add in the bag a little more easily.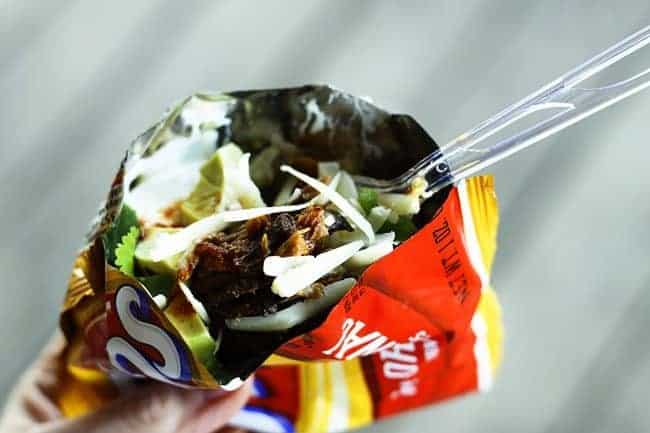 This is a Midwestern and Central US classic gussied up a bit; Fritos or Doritos in a snack-sized bag topped with Pulled Pork, sour cream, salsa, fresh cilantro, avocado cubes and whatever else your heart desires. These fun, portable meals please kids of all ages and make clean-up beyond snappy!
Ingredients
For Each Walking Taco:
1

snack sized bag of Fritos or Doritos

1/3

cup

fully cooked pulled pork

reheated You can use this recipe, or this recipe, or use purchased pulled pork.
Optional Toppings:
Shredded Cheddar or Monterey Jack Cheese

Shredded lettuce

Fresh cilantro leaves

sour cream or Greek yogurt

salsa

chopped tomatoes

chopped black olives

chopped avocados

guacamole

barbecue sauce

hot sauce
Instructions
Slice the bag of chips open along the side rather than the top. Slightly crush the bag to break up the chips a little bit. Pile the pulled pork in and add as many toppings as you'd like. Pop a fork in there and eat immediately!
Nutritional information is an estimate and provided to you as a courtesy. You should calculate the nutritional information with the actual ingredients used in your recipe using your preferred nutrition calculator.
Giveaway Closed: Congratulations to Jennifer (comment beginning: "Other than fresh bread…")! Check your email for information on your prize package!
P.P.S. About a month ago, I was invited to take part in a Kitchen Conversations webinar discussing trends in food that was put on by Land O'Lakes. Given my past work with Land O'Lakes, I was thrilled to say yes.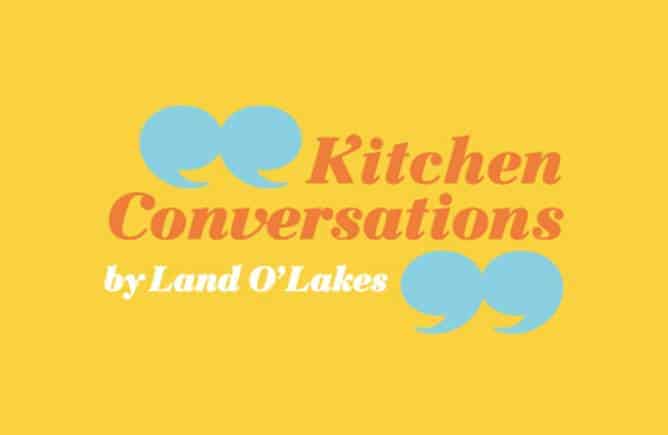 The webinar featured top bloggers Ree Drummond a.k.a. The Pioneer Woman, Julie Deily of The Little Kitchen, Sommer Collier of A Spicy Perspective, Maria of Two Peas and Their Pod, and Brenda Score of A Farmgirl Dabbles. I have to tell you that each of these women is a wizard with butter and nobody does butter better than Land O'Lakes. You should most definitely click on over to their sites and look at the drool-inducing butter-centric recipes they created for the Kitchen Conversations push. I'm just going to say "Butter Chicken Sliders", "Beef Bahn Mi", "Meatball Tortilla Soup", "Garlic Rosemary Parmesan Popcorn"and "Curried Cauliflower with Israeli Couscous and Grains". Are you drooling yet? I was so hungry by the time our Kitchen Conversation was done. Don't go until you've entered the giveaway, though… Wait 'til you see what Land O'Lakes has in store for you!
As a thank you for a stimulating discussion on what foods are on the rise in popularity this year, Land O'Lakes sent me a gift package to review and will send an identical package to one of you, my readers. Wanna see what's in it? Of course you do!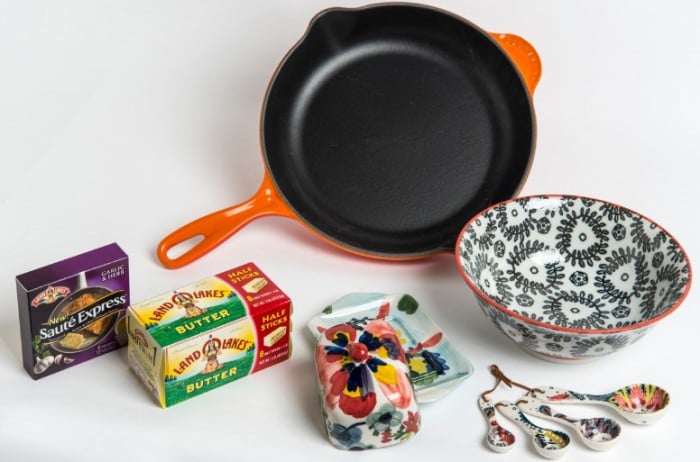 The giveaway includes:
-one BEAUTIFUL and seriously serious Le Creuset enamelware sauté and frying pan.

-THREE gorgeous kitchen items from Anthropologie

-one full-value coupon for any Land O Lakes® Butter Half Sticks

-one full-value coupon for Sauté Express® Sauté Starter which includes butter, olive oil and herbs or spices.
How to Enter:
This doesn't get much easier. Just leave a comment here on the blog telling me what your absolute all-time favourite dish is that's made with butter! That's it! The winner will be announced on this post on Friday, April 12, 2013. Good luck everyone!
Disclosure: Land O'Lakes sent me a gift package as a thank you for participating in the webinar and is sponsoring the giveaway of an identical gift package to one Foodie with Family reader. This contest is only open to U.S. Residents. Sorry, international friends! All opinions remain my own.