I'm hard pressed to think of a single food I love more than eggs. Fried eggs on a variety of bases (rice, bread, noodles, burgers, etc…) have saved my proverbial bacon on more than one occasion. Luckily, my kids and hubby like them every bit as much as I do. When I am at a loss as to what to make for dinner (which happens more often than it should considering I'm a professional cook and recipe developer), I always turn to the incredible edible egg. But as far as applications for eggs go, my current fave -the top of the heap- is by far this Pulled Pork Huevos Rancheros. Wikipedia tells this American mutt who was raised in Northern Michigan (before there was a food scene there) that the definition of Huevos Rancheros is "a fried or poached egg on a tortilla with a spicy tomato sauce." As I am neither bound by family nor cultural tradition, I play a little fast and loose with this, but the results are ones that I'm fairly certain would be accepted the world over.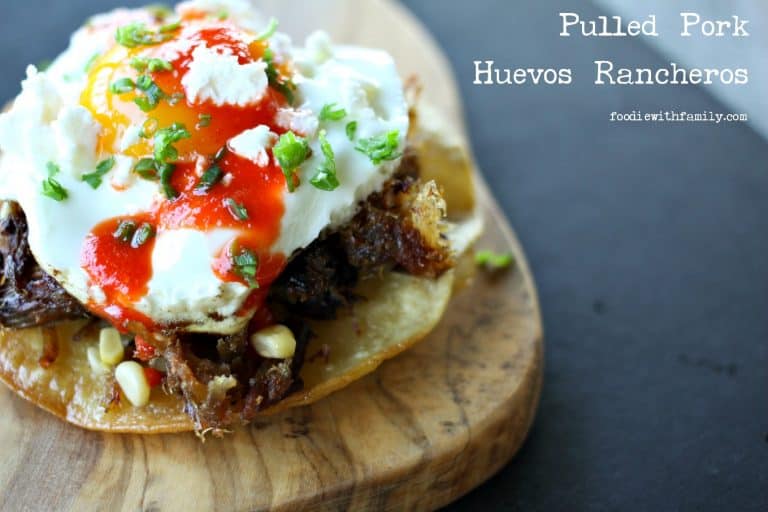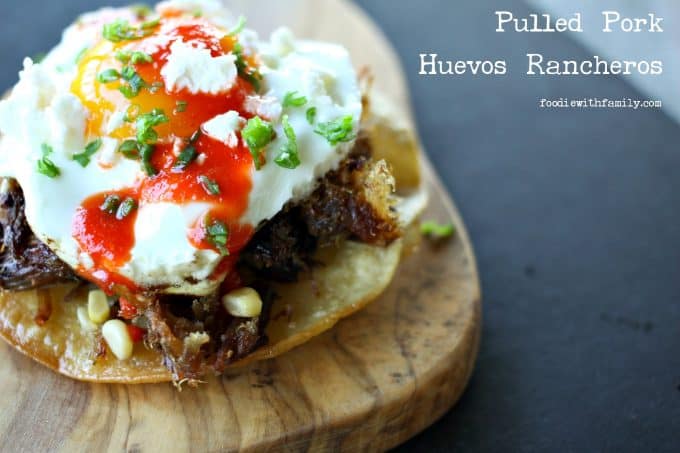 Pulled Pork Huevos Rancheros are the ultimate in hearty convenience food. Instead of using a spicy tomato sauce, I top a pan-fried corn tortilla with my favourite pulled pork , corn relish or corn salsa, a beautifully fried egg, some crumbled queso fresco, chopped green onions (because THIS girl ran out of cilantro!), and Fruity, Fiery, Smooth Habanero Salsa! If you've made and frozen pulled pork from one of my 1–2–3 recipes here on Foodie with Family, and you have some tasty corn salsa or relish (homemade or purchased), and you're in possession of some fabulous hot sauce (whether homemade or purchased) you're simply a pan fried tortilla and egg away from breakfast, lunch, or dinner to remember.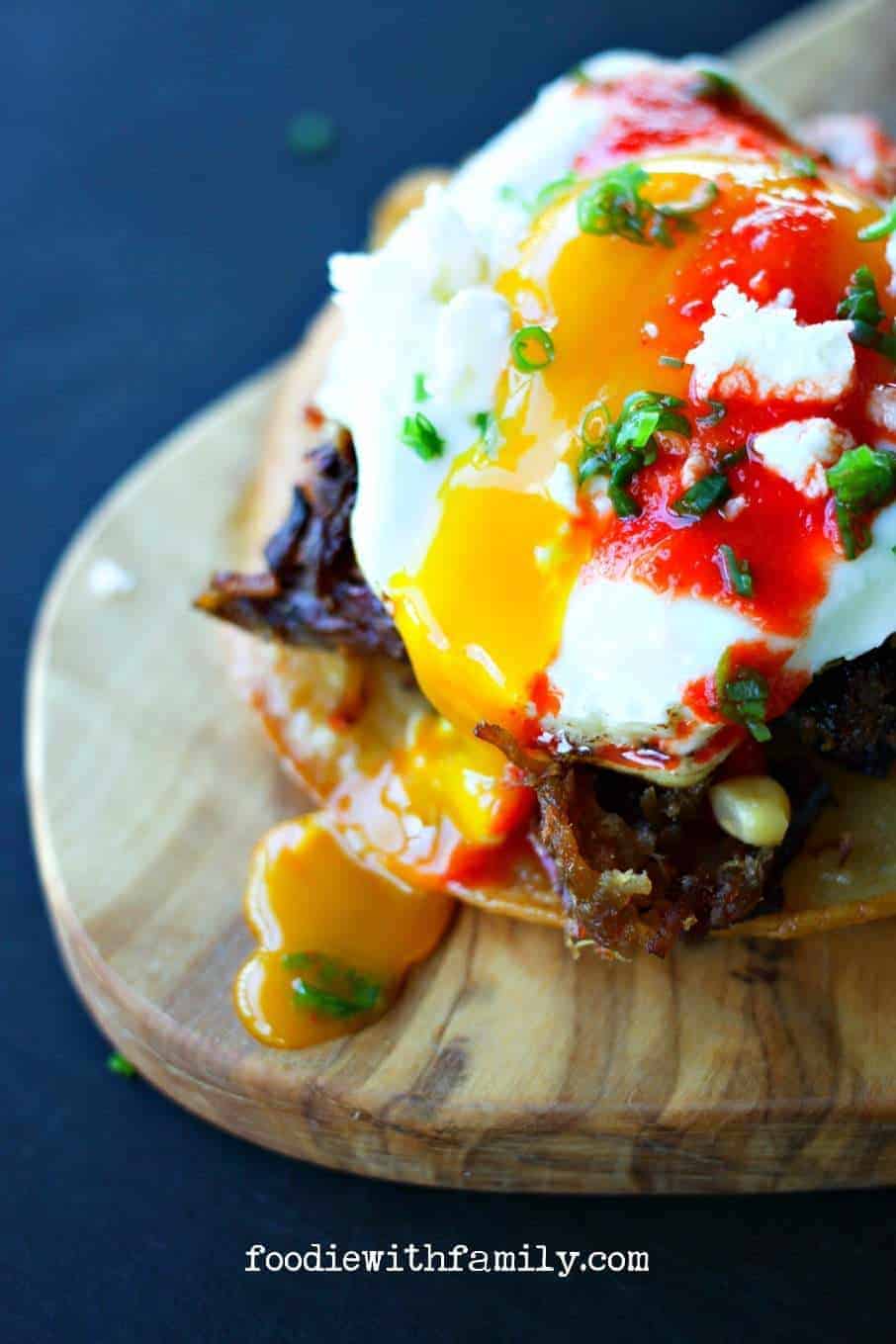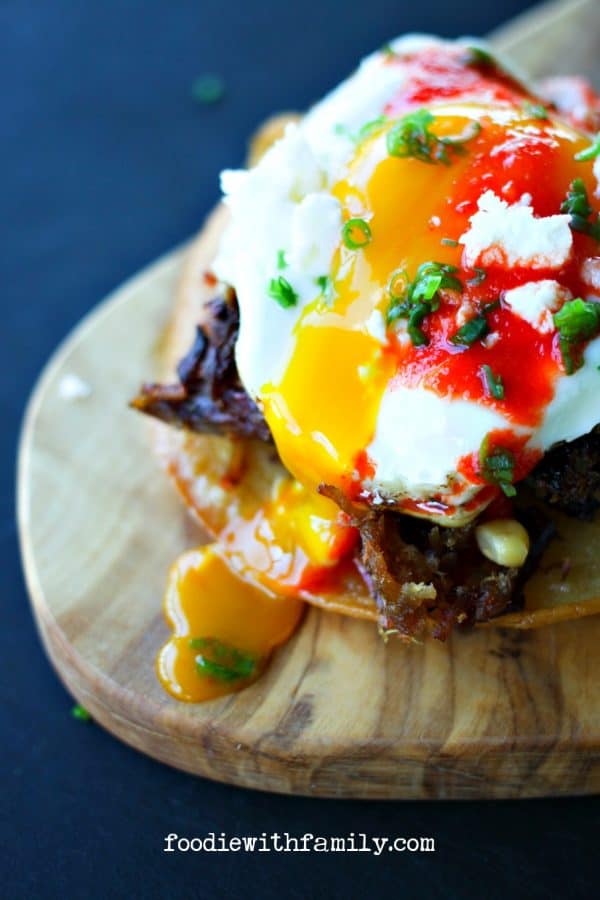 Cook's Notes
Have carnitas but not pulled pork? Sub them in for the pulled pork. The long and short of this is that you want moist, tender, shreddy pork.
Please, please, please do not substitute flour tortillas for the corn tortillas here. Corn tortillas have superior flavour and crunch when fried.
If you're afraid of your cooking skills before having been sufficiently caffeinated and you plan on serving this for breakfast, you can absolutely fry the tortillas and wrap them in a tea towel to store at room temperature overnight. In the morning, nuke 'em for 10 to 15 seconds to reheat!
There is a 1-2-3- order in which to do this. 1) heat the pork in the pan, 2) fry the tortilla and transfer to a plate, and 3) fry the egg. The reason for this is that the oil you use to fry the tortillas will be the same oil you use to fry the eggs.
Let's talk about the corn component for a mo, shall we? I prefer Zesty Corn Relish, but corn salad is also lovely. No time? Sub in a good jarred corn/black bean salsa from the store!
I love, adore, pink puffy heart the Fruity, Fiery, Smooth Habanero Salsa over these Pulled Pork Huevos Rancheros. I feel like that spicy, smooth burst of pepper brightness is the perfect foil to the creamy, earthy eggs. If you don't have the ingredients or the desire to make the Fruity, Fiery, Smooth Habanero Salsa, you can certainly sub in your favourite bottled hot sauce. It'll still be good even if it isn't precisely the same.
Now, cheese. I love the crumbly creaminess of queso fresco (procured from the cheese section of my local Aldi, but also readily available at better stocked grocers and ethnic Latino markets.) but if you absolutely can't find it, crumbled feta will offer a more pungent but similar texture. If you dislike feta and just want to go for the creamy, use grated Monterey Jack cheese!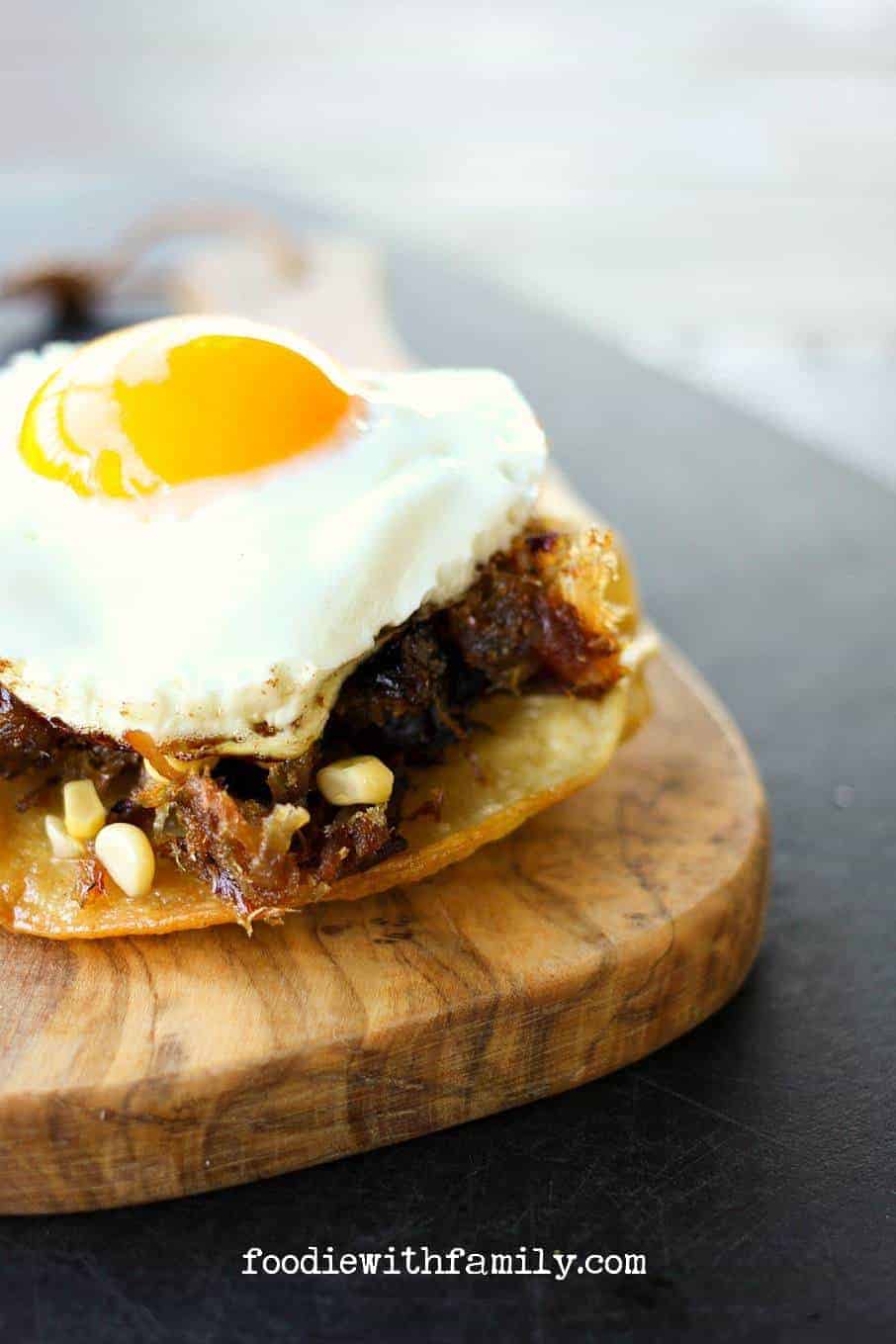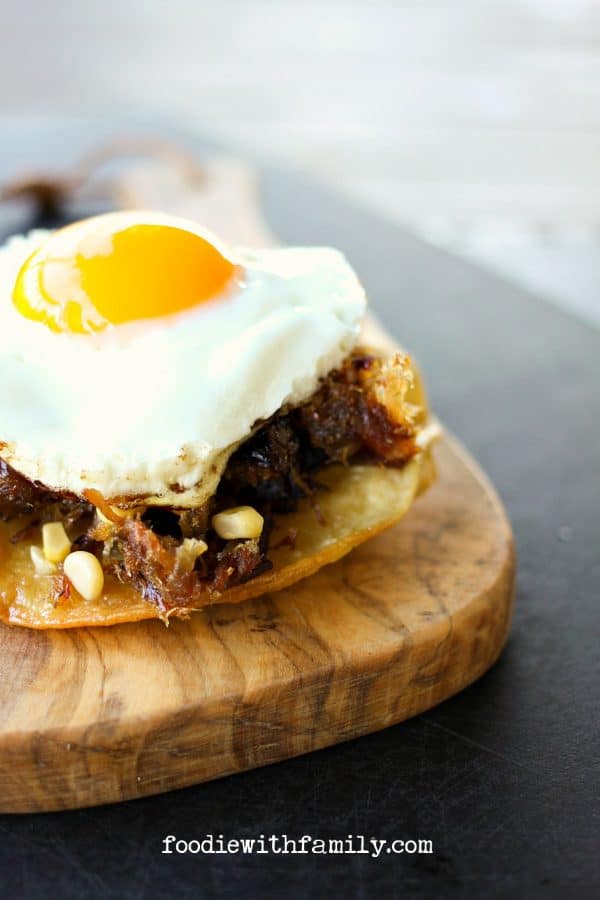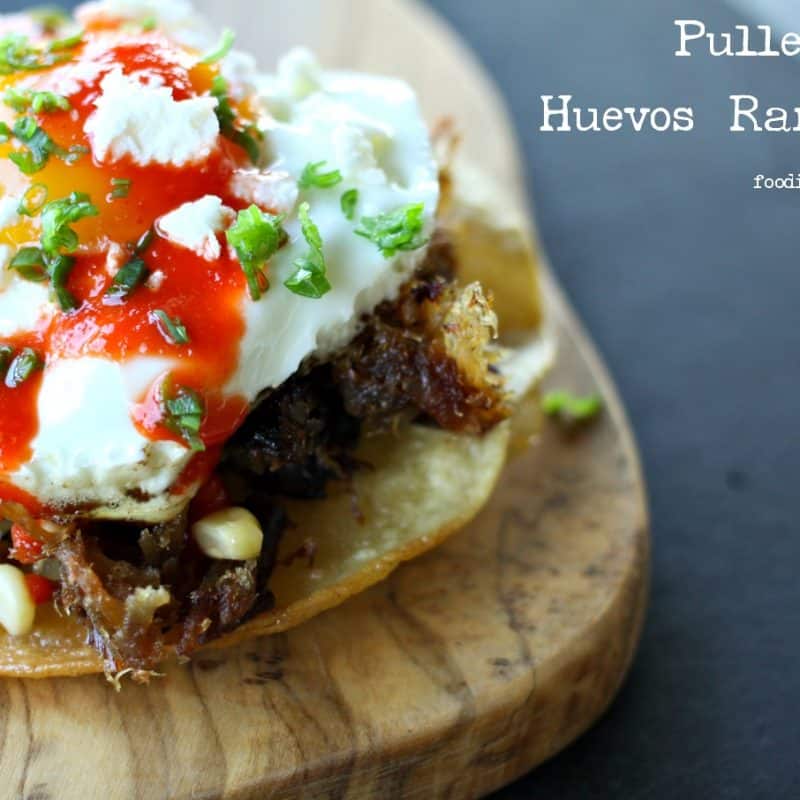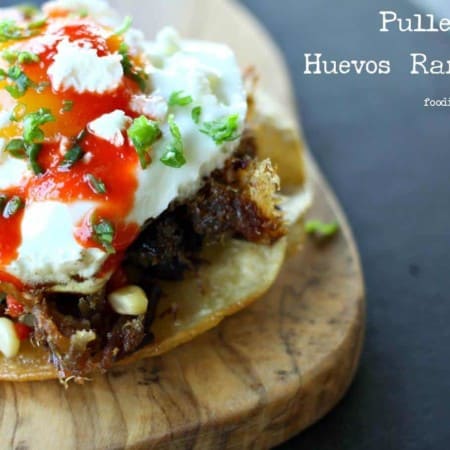 Ingredients
Per Pulled Pork Huevos Rancheros serving:
3

tablespoons

corn or olive oil

1

corn tortilla

1/2

to 3/4 cup pulled pork

2

tablespoons

corn relish or corn salsa

1

egg

1

tablespoon

crumbled queso fresco or feta cheese or grated Monterey Jack cheese

minced green onions

Fruity

Fiery, Smooth Habanero Salsa or hot sauce to taste
Instructions
Place a 8 to 10 inch, heavy-bottomed skillet over medium high heat. Add the pulled pork to the hot pan and toss, allowing it to fry until crispy around the edges and hot all the way through. Transfer to a bowl. Return the skillet to the burner.

Heat the oil in the skillet over medium heat. When it is shimmery, carefully lay the corn tortilla in it until it bubbles around the edges and is golden brown on the bottom. Use tonges to gently over the tortilla and fry the second side until it is golden brown. Transfer to a paper towel lined plate and drop the heat under the pan to LOW.

Crack the egg into the pan and fry until the whites are set all the way through and the yolk is still runny. Remove the pan from the heat.

Stack the tortilla, heated pulled pork, and corn relish or salsa on a plate. Use a spatula to carefully transfer the fried egg onto the stack, then top with the crumbled or grated cheese, chopped green onions, and Fruity, Fiery, Smooth Habanero Salsa or hot sauce. Serve immediately.
Nutritional information is an estimate and provided to you as a courtesy. You should calculate the nutritional information with the actual ingredients used in your recipe using your preferred nutrition calculator.