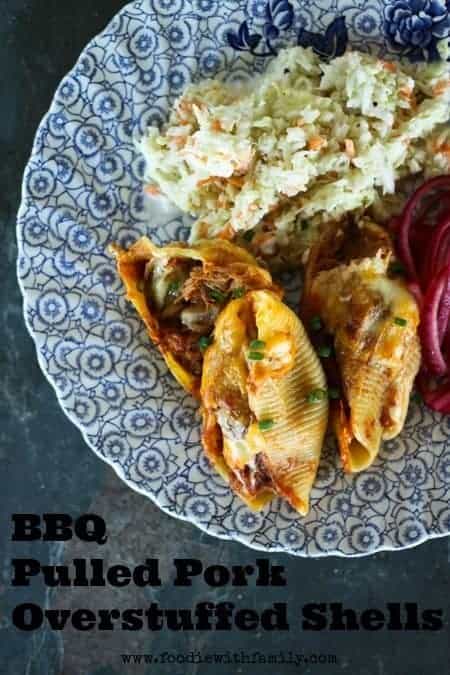 We don't do thinks in a small way in our household. I don't just mean overstuffed chairs or oversized sweaters, both of which -by the way- I love madly. When we wanted to move up in size from our old house we didn't just buy the next size up nearby; we bought a big Amish farm an hour away that had no electricity, plumbing, or interior walls then did all the work ourselves.
When I say "did all the work ourselves", I mean my husband did it while I said encouraging things like "I can see my breath inside the house" and "I wish I had a flush toilet" and toasted hot dogs over a kerosene heater until we had propane and a stove in place.
Have a son? Just one? We'll go you four better and have FIVE BOYS thankyouverymuch. Need a new couch because of the wear and tear inflicted by the aforementioned five boys? We didn't go to Pottery Barn (because they'd ruin that one, too!) or even Value City Furniture. We built a new one sturdy enough to take a beating but comfy enough to stretch out on that took up one-fifth of our den.
By 'we built one', I mean that my husband did it while I clapped and offered cookies and coffee.
It stands to reason, therefore, that when I make pasta, it's going to be over the top. For instance, take today's recipe.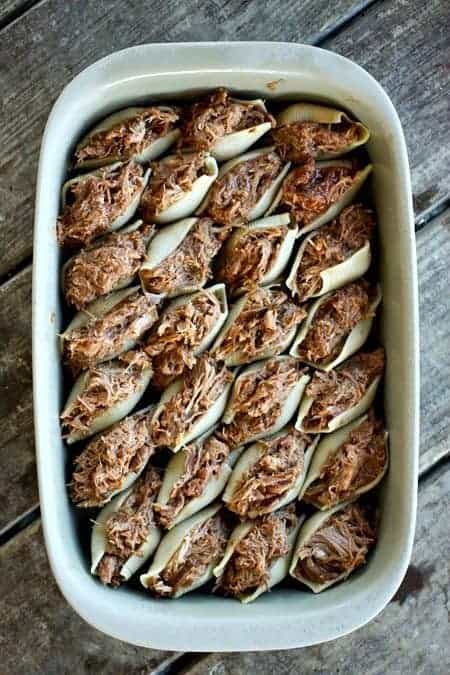 This recipe holds the distinction of being the most requested dinner in our house right now. It's not hard to explain WHY all my guys love it so. We're talking about tender jumbo shell pasta stuffed to the breaking point with pulled pork tossed with our favourite barbecue sauce topped with cheese that is melted until bubbly and brown served with coleslaw and pickled onions. When we make this, everyone eagerly awaits it coming out of the oven with forks at the ready.
When I say 'we make this', I mean I do the work while my husband is prostrate on the floor clutching his stomach saying supportive things like, "When is it going to be done?" and "I'm so hungry!"
In all seriousness, though, this is one his favourite dishes I make.
Cook's Notes:
The recipe uses 1 full box of shells. Examine your box. If there are quite a few broken ones, you may want to boil a second batch to ensure you have enough intact shells to stuff.
When you boil the shells, you do not want them to be fully cooked. They will continue to cook in the sauce that surrounds them while they bake. The shells I used (Wegman's brand) were perfect for stuffing after boiling for 8 minutes and the package specified 12 minutes for full done-ness. To determine when yours are ready, watch for the point where they start curling closed in the water. If you can pick one up and gently open it without it breaking, it's ready!
Immediately after draining the pasta, be sure to run a great deal of cold water over them. This will make them cool enough to handle, but it will also stop the cooking process so that it can finish cooking in the sauce in the oven. This will make them more flavourful all the way through!
When you take the baking pan from the oven, remove the foil, and add the cheese you have a decision to make. You can pop it back in the oven just long enough to melt the cheese, or you can take it to the extreme (I think you can guess which one we choose) and bake it until the cheese is bubbly and browned in places.
If you feel the urge, you can pass a bottle of barbecue sauce around the table with the shells. We find them to be plenty saucy for our liking but it's a nice option.
While these are lovely by themselves, they really sing when served with pickled onions and coleslaw. You can make THESE quick pickled red onions, or THESE longer, canned ones and THIS coleslaw if so moved, or purchase them. Either way, don't skip 'em!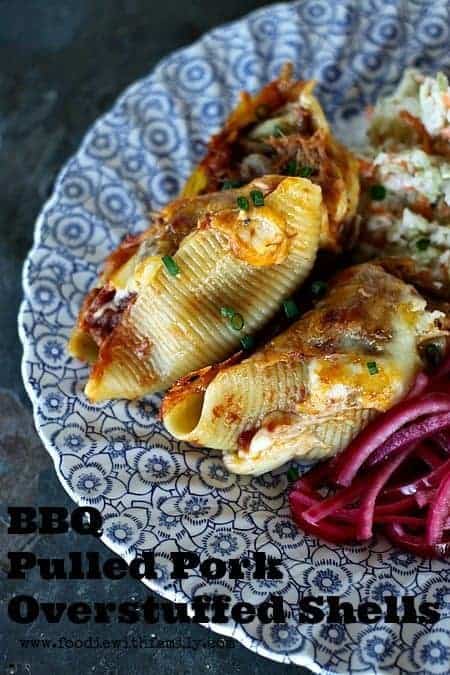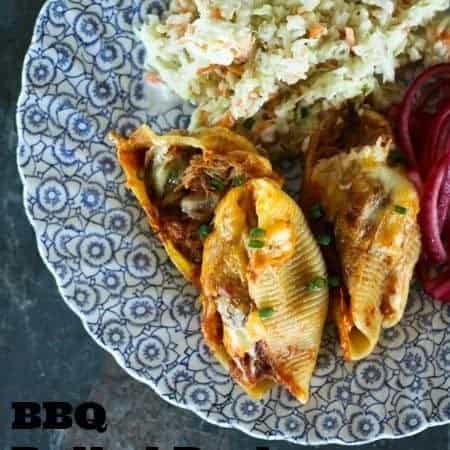 Ingredients
1

box jumbo shells

8

cups

fully cooked pulled pork

You can use this pork, this pork, or purchased pork

2 1/2

cups

plus 1 cup barbecue sauce

divided

1

cup

water

1 ½

cups

grated Monterey Jack cheese

½

cup

grated Cheddar cheese
Optional Garnish:
sliced green onions

additional barbecue sauce
Instructions
Preheat oven to 350°F.

Bring a large pot of generously salted water to a boil. Add the jumbo shells and cook just until they are pliable. You do not want to fully cook the shells at this point. They should still be very toothsome when tested. Position a colander in the sink and drain the shells into it. Rinse thoroughly with cold water to stop the cooking and make them cool to the touch.

Use a fork to toss together 2 ½ cups of the barbecue sauce and the pulled pork. Lightly spritz a 9-inch by 13-inch baking dish with non-stick cooking spray. Fill one shell at a time with the barbecue pulled pork until the shell is quite full. Position them in rows –open side up- in the prepared baking dish. When you have used up all the pork and filled the pan, pour the remaining barbecue sauce over the shells and the cup of water. Crimp foil tightly over the pan and bake for 30 minutes. Remove the foil, sprinkle the cheese over the top and return the pan to the oven for 15 minutes or until the cheese is bubbly and lightly browned in places.

Serve hot or room temperature with coleslaw and Quick Pickled Red Onions.
Nutritional information is an estimate and provided to you as a courtesy. You should calculate the nutritional information with the actual ingredients used in your recipe using your preferred nutrition calculator.