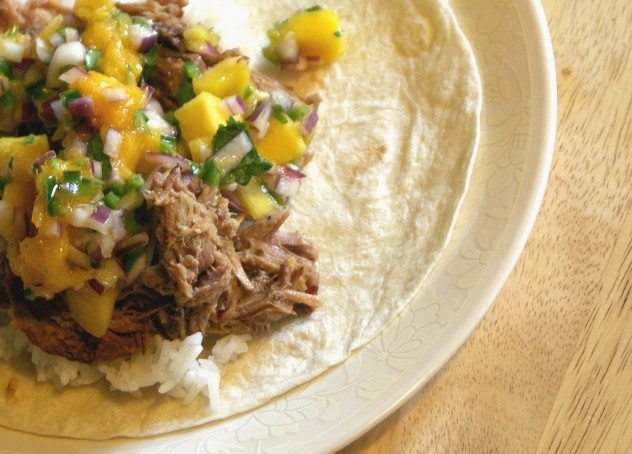 Back in March of 2009, this blogging novice posted a recipe that remains one of the most popular ever here on Foodie With Family. And let me tell you, it deserves every bit of its popularity. Slow-Cooked Cuban Pork is one of those crazy recipes that somehow manages to be dead simple, insanely inexpensive, habit-formingly delicious, almost infinitely customizable, and wickedly versatile. This is the original Foodie With Family unicorn recipe.
A testament to how fabulous this recipe actually is is the fact that so many of you made it even though I split the recipe into two different posts and made you go to two places to print it. Mea culpa. Mea maxima culpa. I was a newbie. So today, for Make Ahead Mondays, I am finally righting my wrong against you all with a bright, shiny, easy printable version of this classic recipe. I'm doing a little roasting two pigs with one post action, too… because in the last several months the readership here has grown explosively AND I LOVE YOU ALL MADLY FOR IT but that means that some of ye who are new around these parts may not have yet seen the Slow-Cooked Cuban Pork and in a wild display of run-on-sentence-ery, I'm here to tell you that you must, must, MUST make one or several.
If the five reasons given above weren't good enough to convince you to make this at the soonest possible moment, I have a couple more to persuade you.
It makes a massive amount which makes it good for…
FREEZING. I realize I'm type-screaming a lot with the all-caps today, but I'm very excited to share this recipe again.
This is truly Make Ahead Monday friendly. You get a gigantic amount of shredded pork to eat off of and freeze into individual portions. Win/win!
We use leftovers from this recipe for Barbecue Pulled Pork Sliders, Barbecue Pulled Pork Pizza, and Hot TexMess among other things. A couple containers of this pork in the freezer is the best guarantee against the "I have no idea what to make for dinner" syndrome.
Over the past three years, I've received all sorts of emails from people who have up-sized the Cuban Pork enough to feed a couple hundred people at church suppers, wedding receptions, and down-sized it to feed a singleton or a couple. If you've been around here for a while, and you're one of the many who HAVE tried the recipe, would you tell us how you made it? Did you serve it for a special occasion? Did you make any changes to it? Add anything to it that you absolutely love? Fill me in!
If you prefer the old posts along with the photo tutorial, they're still there and here, but I, for one, will be using this brand-spanking new all-in-one, easy-print version below.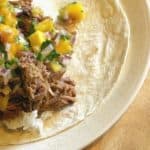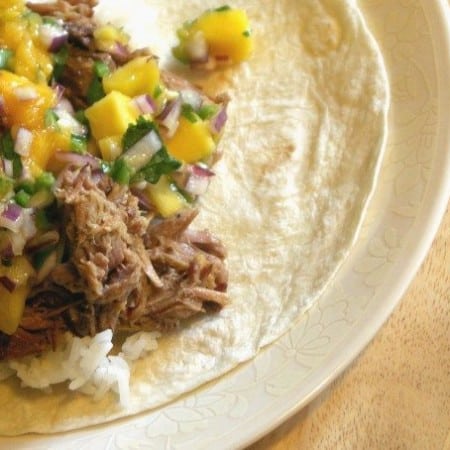 Print
Classic Slow Cooker Cuban Pork
Of all the recipes published here on Foodie With Family over the years, this remains one of the best loved and for good reason. Fragrant, garlicky, moist and yet crispy, this mouth-watering pork is as easy to make as it is wonderful and habit forming. The recipe yields a large amount making it perfect to feed a crowd or freeze for quick meals in the future.
Ingredients
Step 1:
1

8-10 pound bone-in pork shoulder, make sure it fits into your slow-cooker. Cut to fit if necessary.

1/2

cup

frozen 100% orange juice concentrate

1/3

cup

lime juice

fresh squeezed or bottled

1

Tablespoon

olive oil

8

whole peeled cloves fresh garlic

or 1 Tablespoon granulated dried garlic

1

Tablespoon

or more, to taste ground cumin

1

Tablespoon

dry oregano leaves

1

Tablespoon

or more fresh ground pepper

2

teaspoons

kosher or sea salt

1

teaspoon

crushed red pepper flakes

optional

if available

2 stems (no leaves, just stems) fresh cilantro
Step 2:
Slow-cooked pork shoulder

thoroughly chilled

Cooking juices from slow-cooked pork shoulder

2

Tablespoons

lime juice

2

Tablespoons

white wine or cider vinegar

1

teaspoon

minced garlic

1/2

teaspoon

crushed red pepper flakes

1/2

teaspoon

dried mustard powder

2

drops liquid smoke

optional
Instructions
Step 1:
Drizzle the olive oil in the slow-cooker bowl. Place untrimmed pork, fat side down in the bowl then flip fat side up. Toss garlic cloves in around the roast and sprinkle with salt, pepper, cumin, oregano and crushed red pepper flakes. Use a spoon to dollop the frozen orange juice concentrate over the top of the roast. Pour the lime juice around the edges of the roast, toss on cilantro stems- if using, cover, and turn cooker to 'HIGH'. Allow to cook for 1 hour, turn the heat to 'LOW' and continue cooking for another 7 hours or until meat falls apart when prodded with a fork. When the meat is tender, turn off slow cooker and place the slow cooker bowl in the fridge. (If your slow-cooker doesn't have a removable insert, transfer the contents to a large container with a tight-fitting lid and pop that into the fridge.
Step 2:
Use a spoon to remove the congealed fat from around the pork shoulder. Discard the fat. Transfer pork shoulder to a large cutting board, preferably one with a groove to catch juices. Otherwise, keep the paper towels handy! Let sit while attending to the pan juices.

Pour the cooking juices that surrounded the pork through a fine mesh strainer positioned over a saucepan. Remove and discard any solids left in the strainer. Add the lime juice, vinegar, garlic, red pepper flakes, dried mustard powder and liquid smoke to the cooking juices. Whisk until evenly combined and bring to a boil over medium high heat. Allow to boil (while working on shredding the pork) until reduced to about 1/4 of the starting volume. Set aside until pork is fully shredded.

Pull the bone out of the pork and discard. Scrape as much fat as you can from the outside of the pork shoulder. Throw away the fat or give it to your spoiled and lazy dogs. Pull large chunks of the shoulder apart. It should naturally come apart at places where there is additional fat you can remove. Take as much of the fat out as you can without wasting meat.

Using your hands -or two forks- shred the meat into small pieces. When you've shredded all the meat, you can leave it as is or chop through it quickly with a knife to ensure that you have small bite-sized pieces. It depends on what you'll do with the pork. I usually run through it with the knife since I have so many little mouths eating it. When pork is fully shredded (and chopped, if desired) transfer to a 9? x 13? baking dish with sides. Pour the reduced pan juices over the pork and toss. Tightly cover the pan with foil. If you plan on serving it immediately, put into a preheated 350ºF oven and heat for 25 minutes, or until hot all the way through. If you are preparing this ahead of time you can either place the pan directly into the freezer or into the fridge.
To reheat from chilled:
Place, still covered in foil, in a preheated 350ºF oven for 30 minutes, or until heated through.
To heat from frozen:
Place, still covered in foil, in a preheated 350ºF for 45 minutes, or until heated through
Nutrition
Calories:
299
kcal
|
Carbohydrates:
3
g
|
Protein:
36
g
|
Fat:
14
g
|
Saturated Fat:
4
g
|
Cholesterol:
123
mg
|
Sodium:
533
mg
|
Potassium:
689
mg
|
Sugar:
1
g
|
Vitamin A:
120
IU
|
Vitamin C:
10.1
mg
|
Calcium:
45
mg
|
Iron:
2.9
mg