This lasagna soup recipe is for when you're craving lasagna but don't want the prep work involved with assembling a whole lasagna. Rich with Italian herbs and seasonings, with a generous amount of cheese, this soup has a definite authentic lasagna taste!
Inspired by the Turkey Sausage Lasagna Soup from the Wegmans hot bar, this creamy soup makes even the pickiest eaters happy. You'll love how easy this soup is to make–not to mention, budget friendly!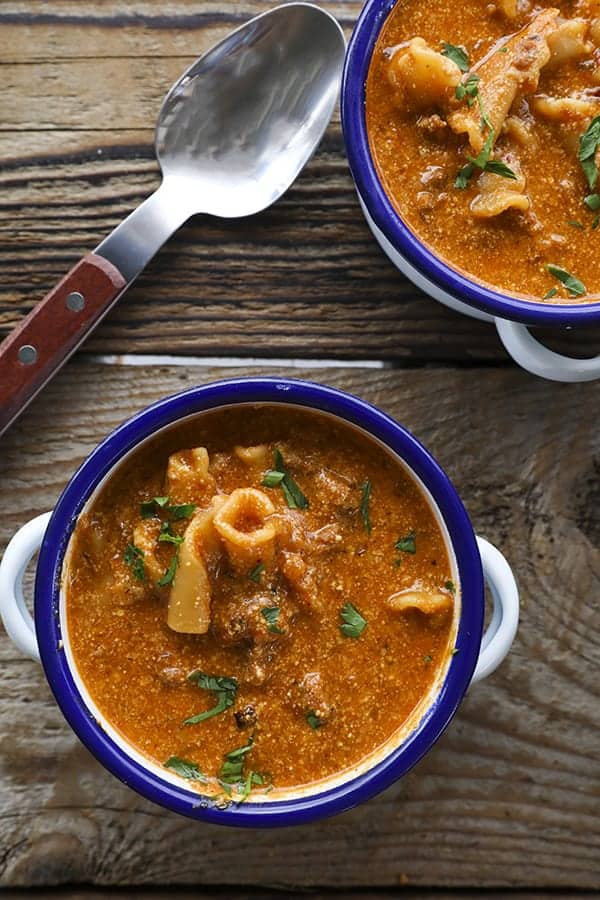 There's plenty to love about living in Western NY. Sure, we have winter for more than half the year, but we also have the world's best Wing Sauce, plenty of natural beauty from Niagara Falls, Letchworth State Park, and the Finger Lakes, and the Buffalo Bills.
But more importantly than all of those things–yes, even wing sauce–is Wegmans. Wegmans fills the deepest parts of my soul with joy. Wegmans never lets me down.
Wegmans is not just a grocery store. It's a lifestyle.
Shopping at Wegmans hardly feels like a chore. If I have the time I love to browse the different cheeses, pick myself up a fresh Black Olive Roll from the bakery and, if I'm very very lucky, even stop by the hot bar for a cup of soup.
If you're not fortunate enough to live close to a Wegmans, you have my deepest sympathies. But the recipe I have for you today will bring you a little taste of one of my favourite soups from their prepared food section: Lasagna Soup.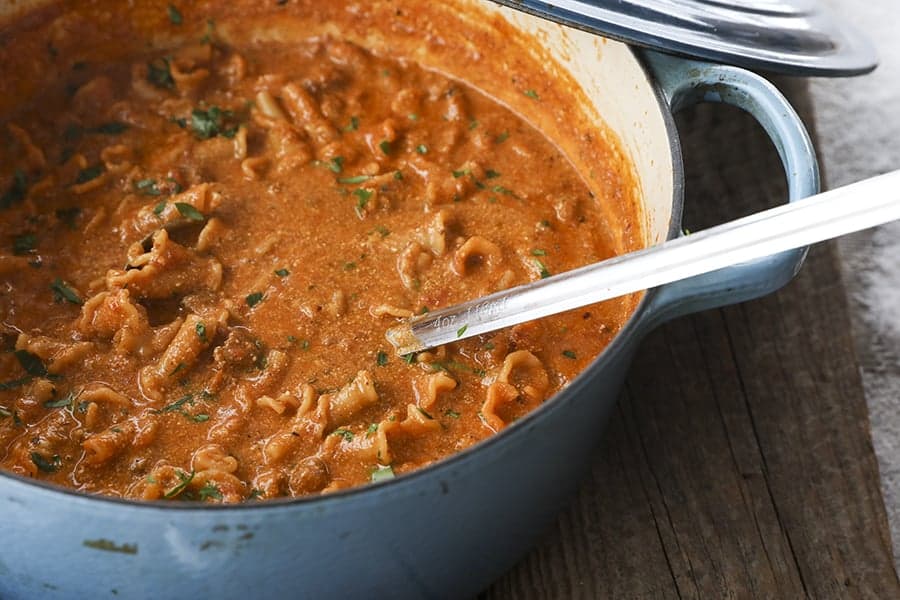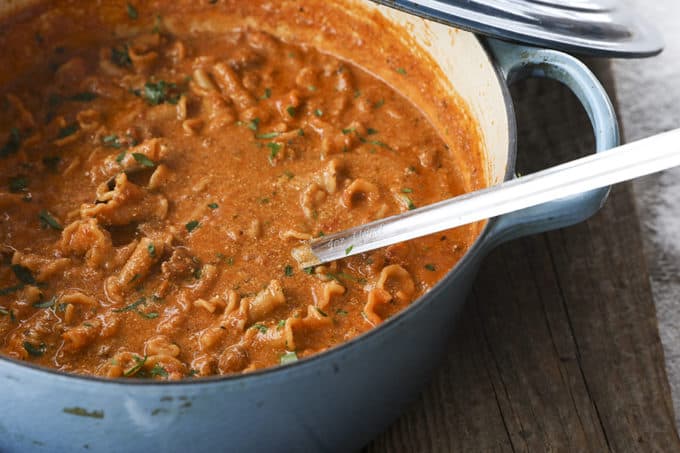 Wegmans Lasagna Soup
Have you ever tried lasagna soup? It brings together all the components of lasagna–meat, tomatoes, cheese and noodles–in a creamy broth, no baking time required and no hassle.
I've made various Lasagna Soups over the years, but the Wegman's Lasagna Soup Recipe is by far my favorite. I first tried this soup when we swung by the Wegmans hot bar on a busy afternoon to grab a quick lunch.
It was a freezing cold Buffalo day and I needed something that would warm me from the inside out. This Italian turkey sausage soup did the trick better than I could have expected.
I liked this soup so much I started thinking about how I could recreate it at home. (I'm a bit obsessed with figuring out cost efficient ways to recreate my favorite restaurant dishes at home. See: Copycat Chipotle Barbacoa and 5 Minute Restaurant Style Salsa.)
After picking up some Italian sausage and lasagna noodles and tinkering a little, I came up with the soup recipe I'm sharing today. I served this for dinner this week and something absolutely miraculous occurred.
There was silence at my dinner table. Remember, I have five loud and energetic sons ranging from teenagers to young adults. For a few minutes, everyone stopped talking to focus on slurping down every bite of this delicious soup.
That's no small feat, folks. Even my pickiest eaters absolutely loved this Lasagna Soup.
Made with turkey Italian sausage, this soup is brothier than the average Lasagna soup recipe, but creamier, too. The spices in the sausage pair well with the tangy tomato sauce and creaminess of the ricotta cheese. This soup is hearty, satisfying and kid-approved.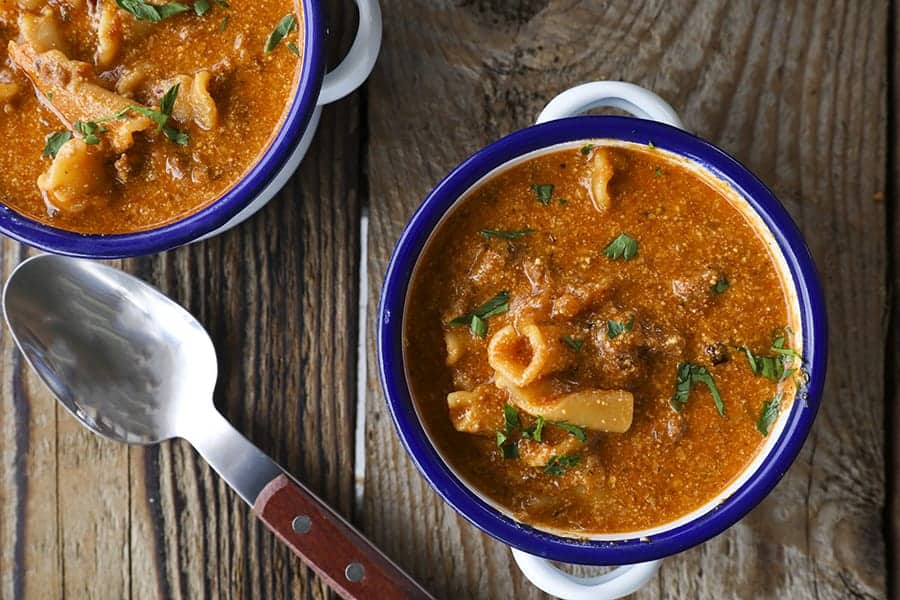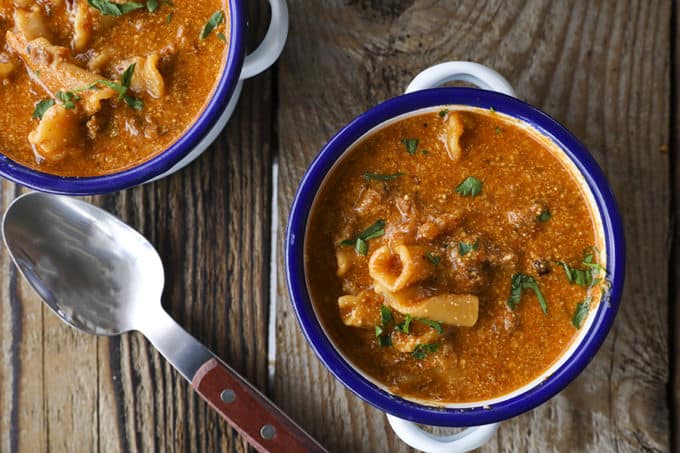 Lasagna Soup Ingredients
This is a very pantry-friendly soup, using canned tomatoes or tomato puree, jarred spaghetti sauce, chicken or beef broth, dried noodles, turkey or pork Italian sausage and ricotta cheese. Don't let a lack of of particular ingredients stop you from making this soup, though.
If you're low on ricotta cheese, you can substitute small curd cottage cheese with good results. If you have neither of those, don't sweat it; just add some extra grated mozzarella for creamy, cheesy happiness.
No jarred spaghetti sauce? No problem; just add in a couple of tablespoons of olive oil, a tablespoon of dried Italian seasonings, and a couple of cloves of minced garlic to three cups of tomato puree.
The non-negotiables are these: have noodles of some sort, tomatoes of some sort, broth of some sort, and cheese of some sort. Just be willing to taste and adjust as you go when you substitute ingredients.
While you're in a soup making mode, though, you may also want to save this Vegetable Beef Barley Soup and my Hearty Kielbasa, Bean and Vegetable Soup for later. You could also grab a copy of my bread cookbook –Ready, Set, Dough! Beginner Breads for All Occasions– to help round out your meal.
Another thing to love about this soup recipe? It could not get easier.
Everything comes together in one pot. This means you only have to wash one pot.
Thus, more time spent eating soup. Or napping. I'll take either one over dish washing.
What kind of meat to use in Lasagna Soup
Wegmans uses Italian turkey sausage for their Lasagna Soup Recipe. This is a delicious and budget friendly option but you can also substitute Italian pork sausage in this recipe!
You can make your own bulk Italian sausage using this recipe. If you're out of turkey or pork Italian sausage, you can definitely substitute in a pound of ground turkey, beef, or chicken and just increase the seasonings to taste.
This soup helps you turn whatever you have on hand into something delicious and budget friendly that the whole family will love. That's a winning proposition.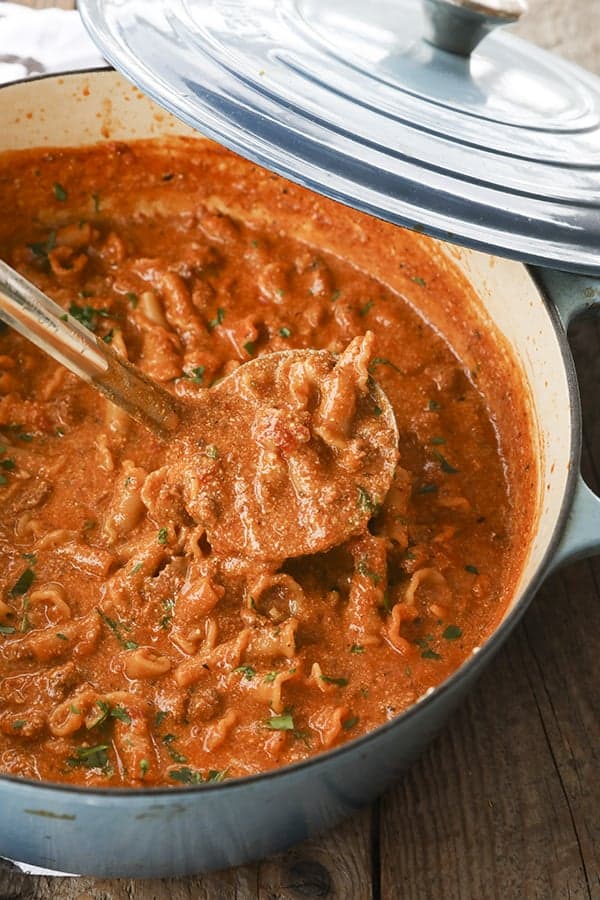 What noodles to use in Lasagna Soup
I love to use campanelle best for this soup, because I think the ruffled edges are a nod to an authentic "lasagna-y" soup experience. You could also use either no-boil or regular, actual lasagna noodles broken into pieces.
If you don't happen to have either of those but still want to make this lasagna soup recipe, you can substitute any small shaped noodles. Rotini, farfalle, mini wheels, pipettes, elbows, gemelli, and basically any noodles that can hold sauce well make good choices.
A hearty and creamy turkey sausage soup that tastes just like the best lasagnas. Inspired by the Wegmans recipe, this is an easy and budget friendly meal that also happens to be 100% kid approved!
Lasagna Soup Recipe
It's as easy as pressing the sausage into a patty in the bottom of a deep soup pan and letting it cook undisturbed for 4 minutes before breaking it up. Add in the carrots and onions and cook, stirring frequently, until the sausage is well browned.
Add in the garlic and cook until fragrant. Next you'll add the marinara sauce, tomatoes, and broth and bring to a boil.
Lower the heat and simmer until the carrots are tender, then add the noodles and simmer until they're tender, too. Smash the ricotta cheese, mozzarella, and granulated garlic together before stirring it into the soup you've removed from the heat.
Garnish with parsley and basil, if desired. Dig in!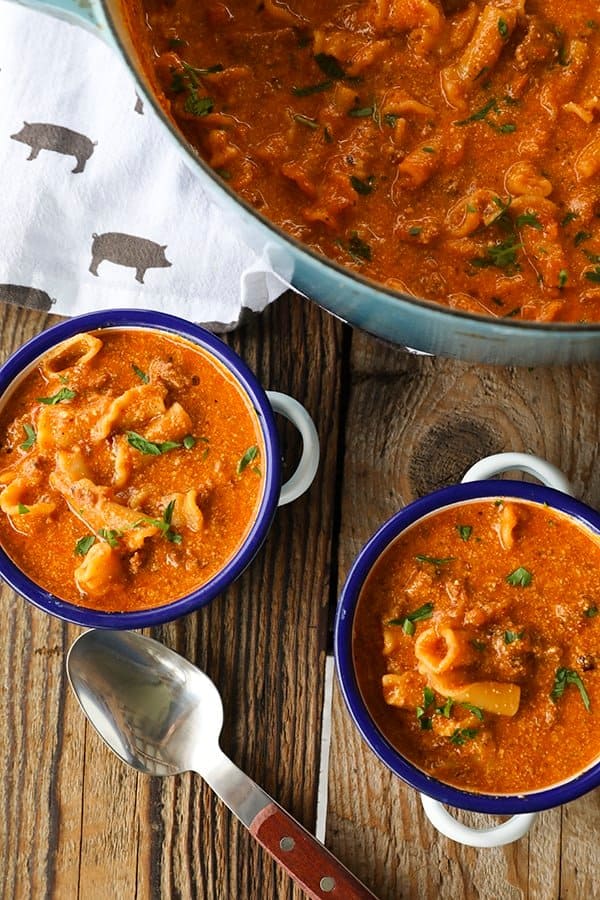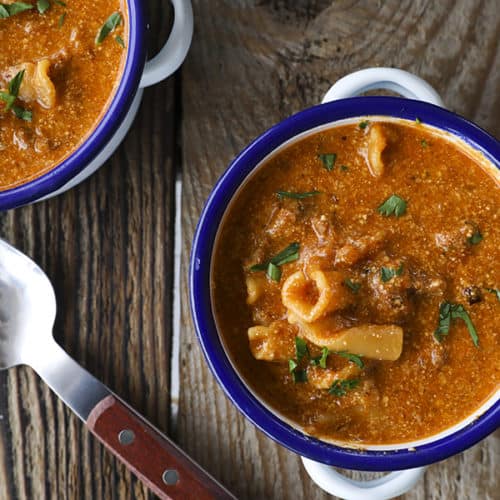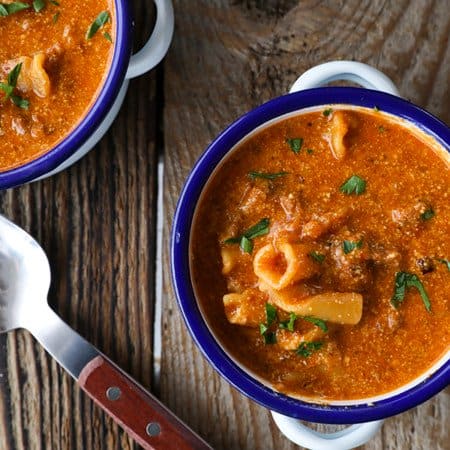 This Lasagna Soup recipe is hearty, creamy, and tastes like all the best parts of lasagna, minus the hassle and it only takes one pot to make!
Please note that the nutritional information uses turkey sausage for calculation purposes.
Ingredients
1

pound

bulk Italian sausage

turkey or pork

1

onion

peeled and diced

1

carrot

scrubbed or peeled and diced

4

cloves

garlic

peeled and minced

1

jar

marinara or spaghetti sauce

1

can

diced tomatoes or tomato puree

28 ounces

8

cups

chicken broth

or beef broth

3

cups

campanelle pasta

or broken lasagna noodles, rotini, elbows, small shells, or other small shaped noodles

1

cup

ricotta cheese

1

cup

shredded mozzarella cheese

1/4

teaspoon

granulated garlic

or garlic powder
Instructions
Press the sausage into the bottom of a large soup pot into a patty. Place the pot over medium high heat and let cook for 4 minutes undisturbed, then use a spoon to break up the sausage.

Add the diced onion and carrot and stir into the sausage. Continue cooking until the sausage is well browned. Add the garlic and cook for 1 minute, or until fragrant.

Add the marinara or spaghetti sauce, diced tomatoes or tomato puree, and broth, and raise the heat to high, bringing the mixture to a boil.

Drop the heat to medium low and simmer until the carrots are tender. Stir in the pasta and cook until the pasta is tender.

In a small mixing bowl, smash together the ricotta cheese, mozzarella, and granulated garlic. Remove the soup from the heat and stir in the cheese mixture until evenly distributed.

If desired, garnish with fresh parsley and/or basil.
Nutrition
Calories:
374
kcal
Carbohydrates:
40
g
Protein:
25
g
Fat:
13
g
Saturated Fat:
6
g
Cholesterol:
69
mg
Sodium:
1837
mg
Potassium:
892
mg
Fiber:
3
g
Sugar:
7
g
Vitamin A:
1976
IU
Vitamin C:
30
mg
Calcium:
202
mg
Iron:
3
mg
Nutritional information is an estimate and provided to you as a courtesy. You should calculate the nutritional information with the actual ingredients used in your recipe using your preferred nutrition calculator.