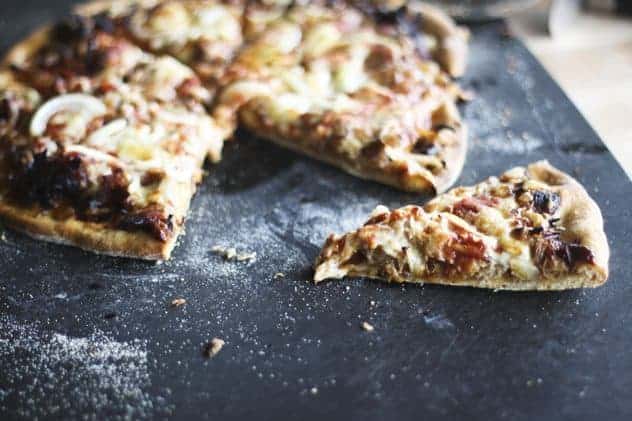 Today I have the second of the three pizzas I planned to share with you for Pizza Week. You can see the dough recipe here and the Spinach and Garlic Alfredo Pizza here. Hooray for pizza! Now, I can't speak for your own mother, but I -for one- would be thrilled with a homemade pizza for Mother's Day.
By now you all know how I feel about pizza, but there's one very big reason to love it that I haven't mentioned yet. It's frugal. Oh, baby, it is the frugal hausfrau's best friend. You can put nearly anything on a pizza, so it's great for using up odds and ends in from the refrigerator and the pantry. Granted, not every combination will be a winner. A good rule of thumb to keep in mind when figuring out what to load onto your crust is "Would this taste great together on a sandwich?" If you answer yourself with a yes, chances are good that it will make a wonderful pizza.
With my own rule in mind, I raided my chill chest and put together today's pizza. Using a little leftover pulled pork (I used this from one of my most popular posts ever here on Foodie With Family but this one would be great, too!)  barbecue sauce, enchilada sauce, pepper jack cheese and onions from hamburgers, I put together this beautiful Barbecue Pulled Pork Pizza. It was a handful of this and a fistful of that and a pinch of another thing. We're talking about little ingredients that so easily could've been lost in some forgotten corner of the refrigerator, but they became dinner. In fact, they became a glorious barbecue pulled pork crossed with pizza. How could that be anything less than wonderful?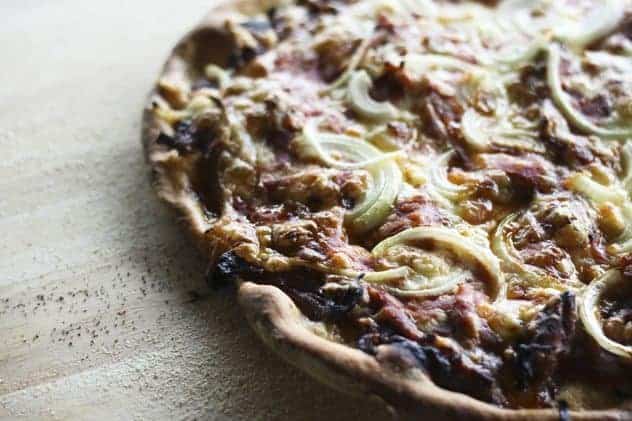 Another great advantage of making pizza at home is the infinite ability to adjust it to your own preferences. You're not an onion lover? Leave them off! You dislike barbecue sauce? Replace it with pizza sauce or hot sauce. The world is your oyster, or rather, your pizza!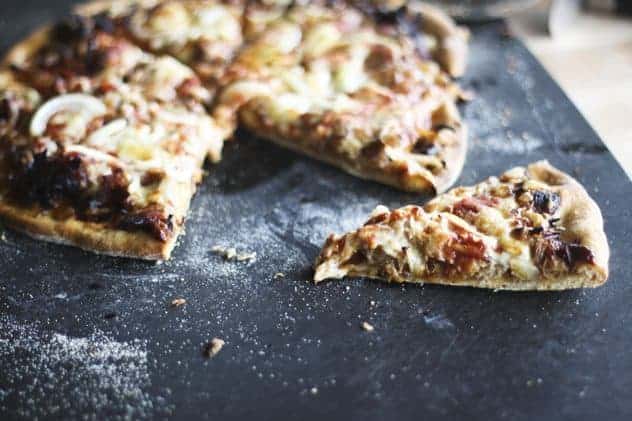 This pizza is a delicious multi-tasker. Yes, it tastes amazing- pizza meets pulled barbecue pork on a crackly crisp crust- but it's also a great user-upper of leftovers from the refrigerator.
Ingredients
1

piece

about 5 ounces or the size of a large plum, of No-Knead Whole-Wheat Semolina Pizza Dough

1 to 1 1/2

cups

leftover pulled pork

1/4

cup

barbecue sauce

I use this but you can use whichever is your favourite.

1

cup

shredded pepper jack cheese

1/2

cup

shredded part-skim mozzarella cheese

2

tablespoons

hot sauce or enchilada sauce

Optional

but tasty:

2-3

quarter-inch thick

half moon slices of onions

mixed salad greens

additional hot sauce
Instructions
With a pizza stone situated in the bottom third, preheat the oven as high as you can get it. We use a 500°F setting on our oven.

Lightly flour your work surface. Form your pizza dough into a ball by gently stretching the top of the dough underneath itself. Place the dough on the floured work surface and pat it out gently with your hands into a disc shape until you cannot make it any wider. Flour a rolling pin and gently roll the pizza dough out. This works best if you look at the pizza dough as a clock. Start rolling from the center of the circle toward 12 o'clock, rotate your pin and roll from the center to 3 o'clock, then from the center to 6 o'clock, and so forth, ending back at 12 o'clock. Do this until you have a circle that is about 10-inches in diameter.

Sprinkle a pizza peel generously with semolina flour or cornmeal. Carefully transfer the dough to the peel. Shake gently to be sure no part of the dough sticks. This is crucial. You will be shaking the peel gently after each addition of toppings to make sure the dough can still move freely. If at any point the dough sticks, gently lift the offending area and throw a bunch of semolina or cornmeal under it.

Dot the barbecue sauce over the dough to within a 1/2-inch of the edges. Shake the dough to make sure it's not stuck.

Pull the pork apart with your hands and arrange it over the barbecue sauce to within a 1/2-inch of the edges. Again, shake to be sure it isn't stuck

Sprinkle the pepper jack and mozzarella cheese over the pork and then drizzle with the 2 tablespoons of hot sauce or enchilada sauce. If you're using the onion, separate the slices into individual pieces and arrange over the top. Shake! Shake! Shake! To be sure it isn't sticking.

Open your oven, position your peel over the back edge of the pizza stone. Flick your wrist to get the dough moving, pulling the peel back as you transfer the dough to the stone. Shut the oven and let the pizza bake on the stone for 8-10 minutes, or until the crust is the desired colour and the cheese is melted and bubbly with golden brown or charred areas. Slip the peel back under the pizza and give a little jerk to move it safely onto the peel. Transfer the cooked pizza onto a cutting board. Let it rest 3-5 minutes before slicing.

If you'd like to, and I almost always do, serve the slices with a handful of fresh salad greens and another drizzle of hot sauce over the top.
Nutritional information is an estimate and provided to you as a courtesy. You should calculate the nutritional information with the actual ingredients used in your recipe using your preferred nutrition calculator.